Ye gods, is the busyness ever going to end?...

OK. So, in reverse order... we've had the plumbing system cleaned - Tom the Plumber drained everything, put a cleaning lquid through the pipes on Monday - we've had the heating on twice a day to activate it until he came back today to drain it and refill it with inhibitor to help keep everything clear in the future. Can be topped up every few years to keep everything flowing freely. He's replaced all the horrible old pipes in the bathroom with copper, fitted new bath and basin taps, serviced the boiler and replaced the tatty old hall radiator. He recommended us getting a new boiler (the current one was fitted when Kai was about 5 and isn't the most efficient in the world) but that will cost about £3K, and we'd rather spend the money on having the roof replaced, solar panels installed, and going all electric. Which will cost a lot more, but be much more eco-friendly. I'll start saving...

Anyway, that's all done and safe now, and should be fine for the next decade or so.

Yesterday - probably the last dry and sunny day for the foreseeable future - Kai and I picked the last of the fruit from the trees, put all the windfalls into the compost bin, and I pruned back the fruit tree branches. Hopefully next year I'll be able to save more fruit (pear branches broke this year as they were too long to support the weight of the pears, and an awful lot of apples were blown off in the high winds we had).

The clouds were very pretty yesterday...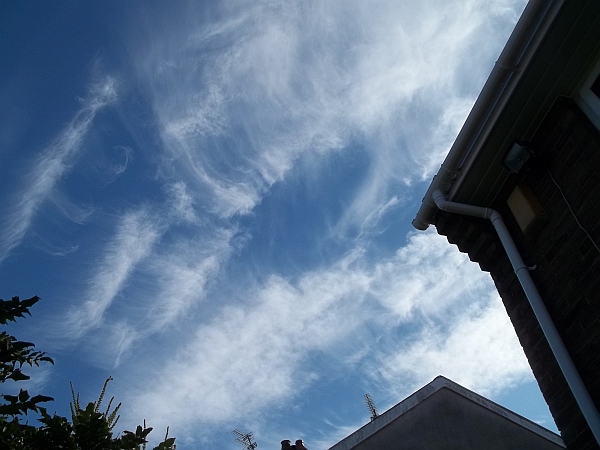 There is an egg in the garden.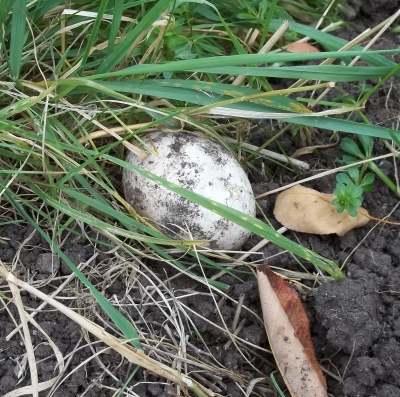 We can only assume either a random hen has visited or one of our foxes has brought us a present. Not entirely sure what to do with it, so we're just leaving it there for now.

Maybe one of our magpies will eat it...

I painted the areas of the bathroom that still suffer from occasional mould (the window wall mainly) after Tom had left on Monday. Looks great! Ronseal anti-mould paint blends in perfectly with what was already on the walls and made the job a lot quicker and easier. Happier with it now, and it's healthier for us all.

Kai constructed my soft fruit bed last weekend!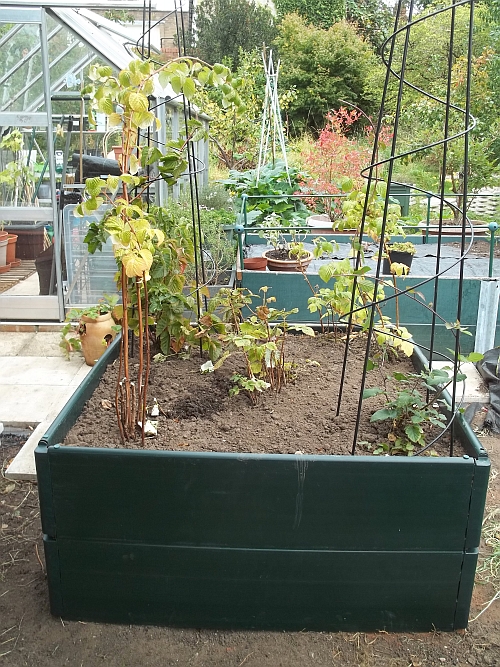 We've had to cover the open soil with rocks as we found yesterday the foxes had tried to dig holes. [sigh]

Did I mention Kai has finished putting up the wisteria supports in the front wall of the house? Two rows of long, strong vine eyes every 18 inches with 2.5mm steel wire strung through them (borrowed a ladder through the local Nextdoor community group - I joined a couple of years ago, incredibly handy! - for the top row, as our ladder wasn't long enough to be safe) and has been climbing up and training the fronds along it. It's going to be beautiful once it's properly established. Photos next spring, hopefully!

In the search for my missing spiral orchid supports Kai and I risked venturing into the left hand end of the shed. Didn't find them: I've had to order some less nice ones as I need them now - AO definitely has a flower spike coming -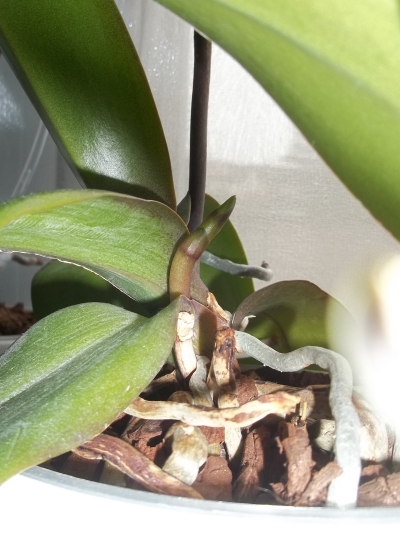 - and I need to start training it in a spiral very soon. They should arrive this afternoon. However, we were able to clear out some rubbish (and get my Tf action figure boxes up into the loft, where they'll be a lot safer. Kept them as the figures are worth more with their original display packaging.) Will have another go at tidying it all up next reasonably nice weekend we get.

RO is doing splendidly! Quite proud of this as it's the first one I've brought on completely by myself.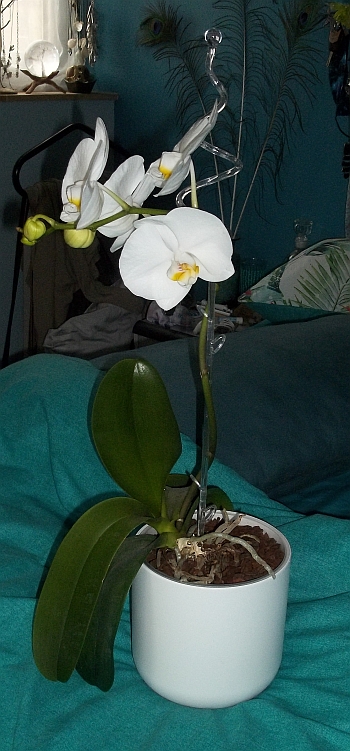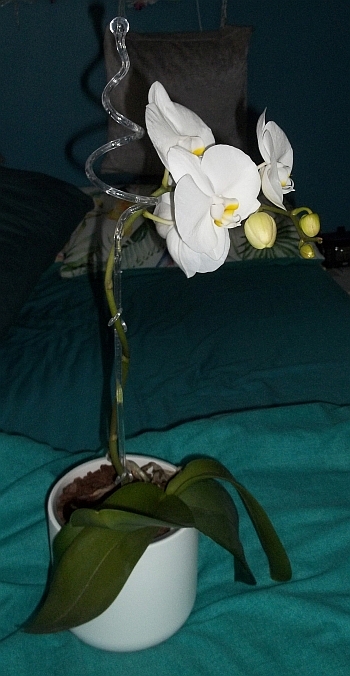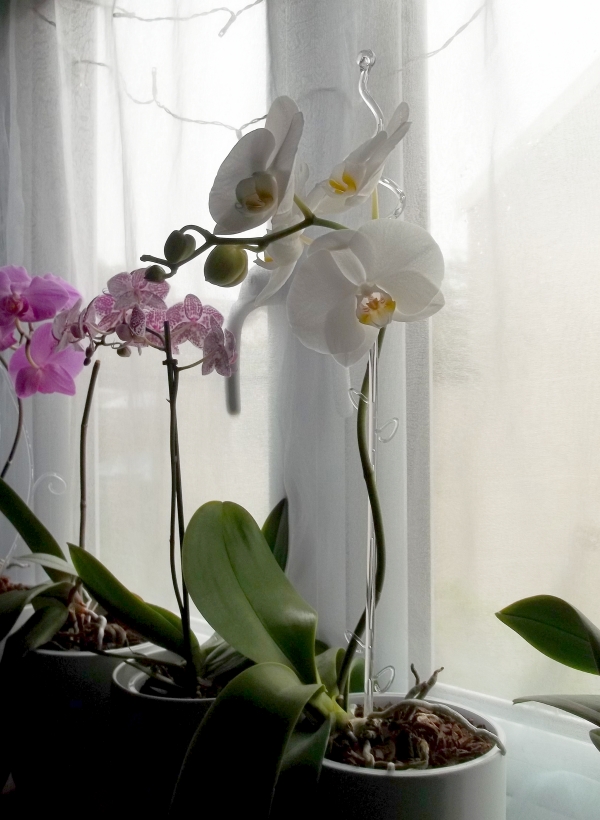 I've just had a 'parcel' delivered...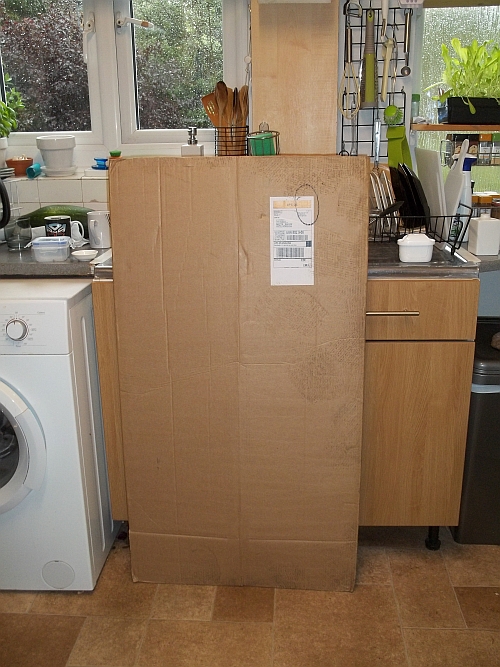 It's my orchid supports...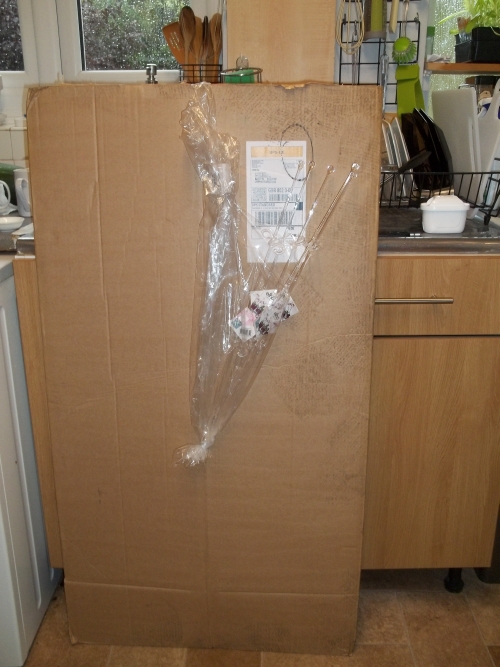 [Shakes head in... something...] Might be slightly OTT that...

Will get one in place for AO after posting this.

Kai and I had our flu jabs. Reaction hit me very fast and I felt awful for 24 hours - then it just vanished and I was fine. Lasted a bit longer for Kai, but it's now done and hopefully we'll be fine this winter.

Media... The Librarian boxed set arrived and we've watched 1 and 2 - rollicking silly fun, perfect for a rainy Saturday afternoon matinée. And Legends of Tomorrow season 5 arrived, and Ken and I have been racing through it. We thought season 4 was bonkers: season 5 is even more so! Wonderful stuff.

Considerably less wonderful is that some of our post is going missing - stolen, we think. Ken has been collecting old postcards of Brislington for a possible book, buying mostly from ebay. Not overly expensive, but some are incredibly rare - and they haven't been arriving, even with proofs of posting (and one was sent recorded delivery). This goes back to two envelopes containing money sent to us (for work Kai did) earlier in the year from a technophobe acquaintance (who has now been convinced to BACS payments instead) which also never arrived. Envelopes containing Ken's postcards look very similar, and we're sure someone in the PO system is stealing them in case they also contain money. I've opened an official complaint with Royal Mail, as needless to say we are VERY angry about this. So far 5 postcards have gone missing, all of which are pretty much irreplaceable. Not to mention it does Ken's rep no good at all for him to keep having to request refunds from the sellers.

Will let you know what happens.
Labels: busyness, domesticity, films, garden, medical matters, nothing's ever easy 'round here..., orchids, Royal Mail, theft