The last two months have been strange and interesting (in the Oriental sense)...

House.

We finally found someone to do the kitchen tiling for us, using the NextDoor neighbourhood website. He's done a very nice job.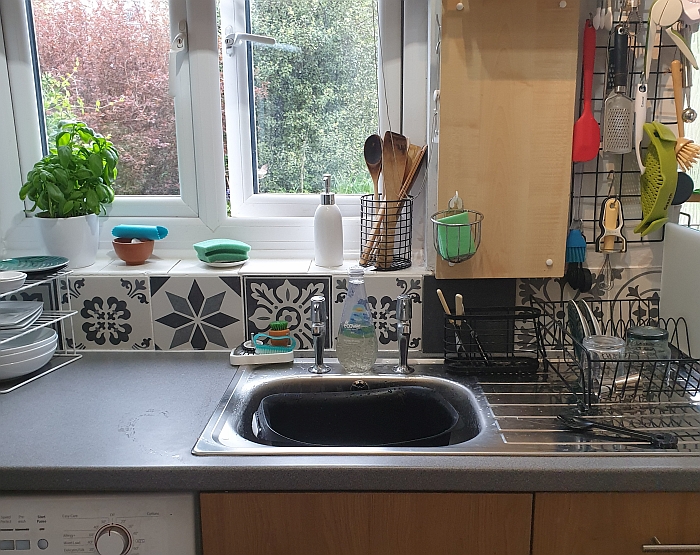 Dog Banksy's original artwork is now up...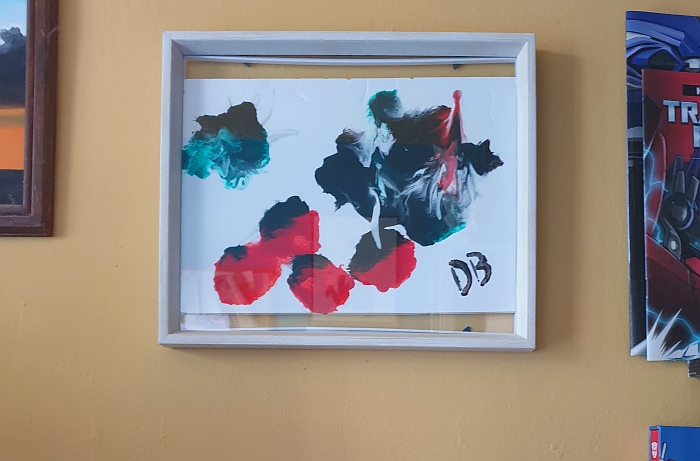 And apparently I forgot to post the Yule tree photo I took back in December...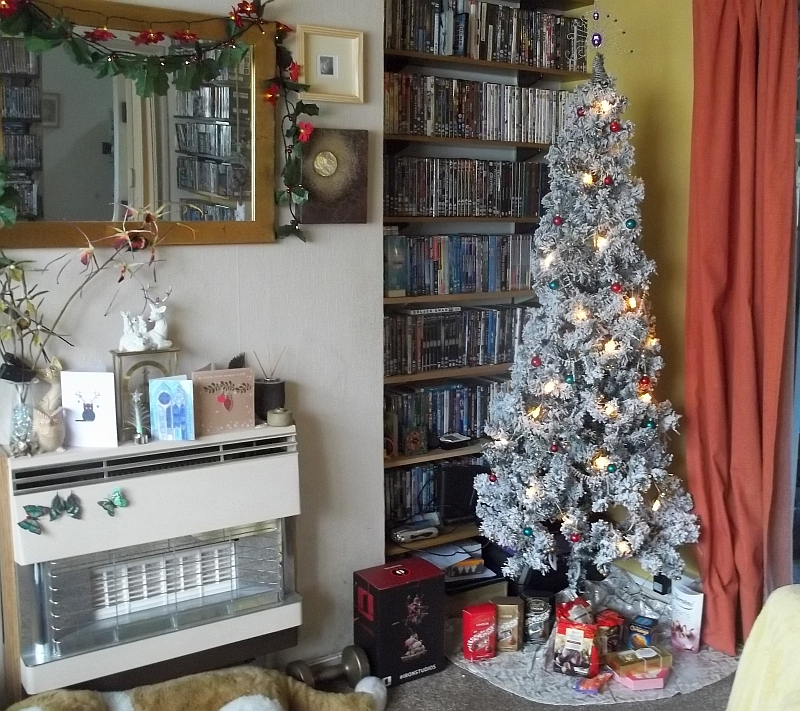 After a bit of research, we're signing up with Scottish Power for their Smart Energy export. They pay better than any other company.

Not really house, but this is on the top of the Post Box at the end of the road! (It's chained in place so no-one can walk off with it!)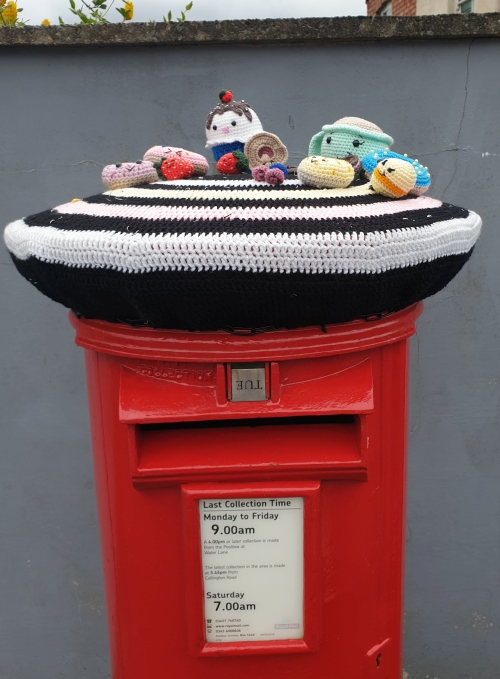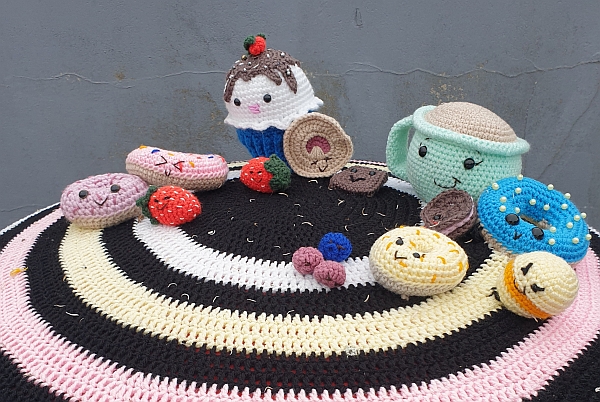 Found this when out walking Ella at Arno's Cemetery.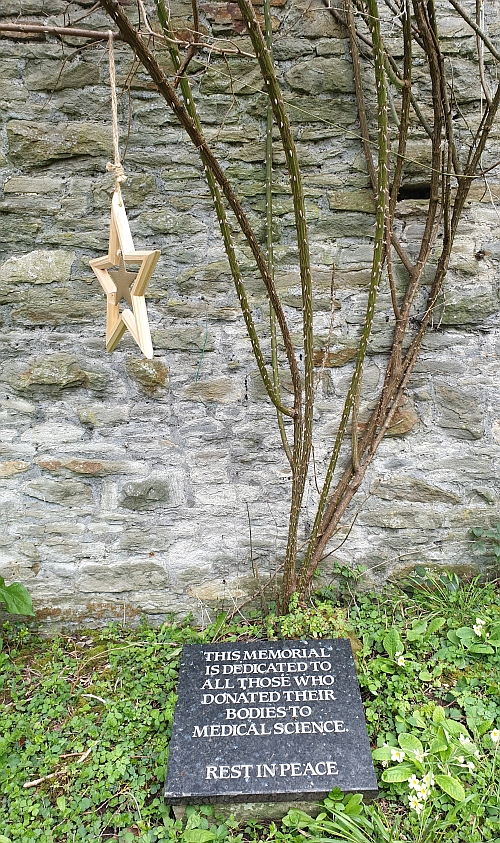 This plant is growing in a garden up the hill I walked up to get to Jubilee Pool. Don't know what it is but it's bloody impressive, nearly as tall as the house!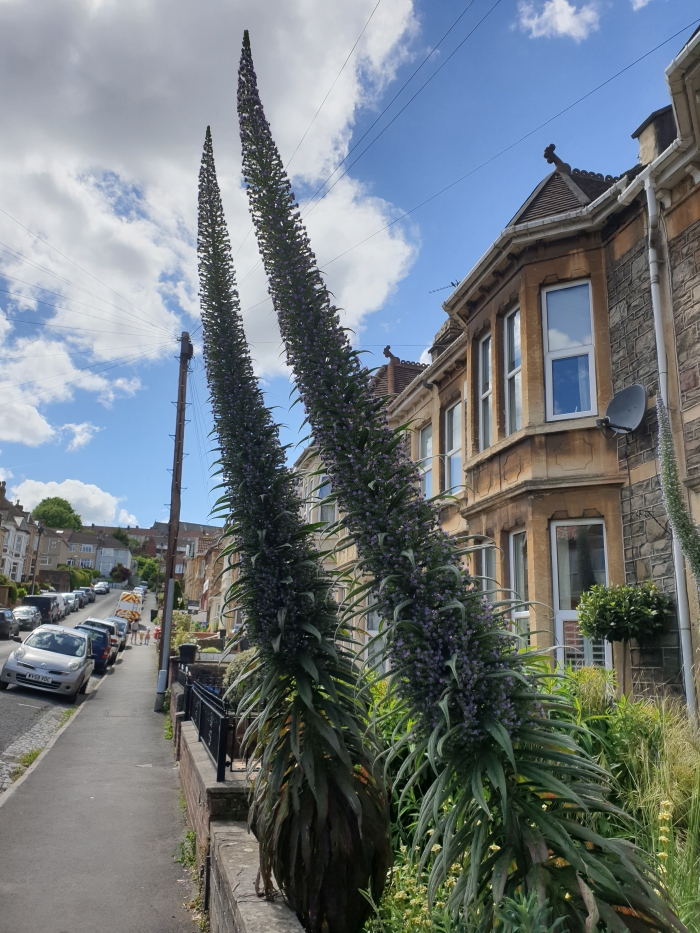 Anyone recognise it?

And on the subject of the pool, I finally got really pissed off with the fat ugly moron who insists on swimming in the medium lane (I've seen faster snails) and gossiping with his friend in the slow lane, getting in everyone's way. Last time I was there I shouted at him, and complained to the life-guard, but I know they won't do anything, so Kai and I went through to Keynsham to investigate their pool. It's lovely and modern, and you book in advance for a lane of your own (or maybe two people, the assistant I spoke to was new and not quite sure. Better than struggling with any number of people, at any rate!) Of course, I'll need to get the bus there - but then I found out, quite accidentally, that I'm eligible for a free disabled person's bus pass (travel pretty much anywhere in the UK for free during off-peak). So I applied, and it arrived on Monday!

Now I just need a new swimming costume...

Ella has fitted in very well with the family, and is now truly one of us. She's very vocal, with a wide range of strange noises - we think she speaks a different language from dogs here! Her favourite walk is Arno's Vale Cemetery: lots of places to explore and all dogs must be on leads, so we don't have to worry too much (she still doesn't get on well with other dogs, or children, or cats, or old, short men (!!), or flies (she snaps at them and eats them), or pigeons (they don't bother her anywhere else, but she chases them in the garden), or... a lot of things, actually. It makes walks interesting...)

This is Bloomfield Rd, the one I walk along to and from Sainsbury's...

Have been having some very strange dreams recently. One (25/3/22) was set in a university, where I volunteered to do Radditsu's (my favourite character from DBZ) washing for him! Only I couldn't find the laundry...

Lastly - in this section - I've now lost three stone (42 lbs/19 kilos) since January. Still have a way to go, but that's not too shabby!

Garden.

The heuchera bed is splendid this year! The lily of the valley we moved last year has all survived and flowered, and everything is interspersed with enchanter's nightshade...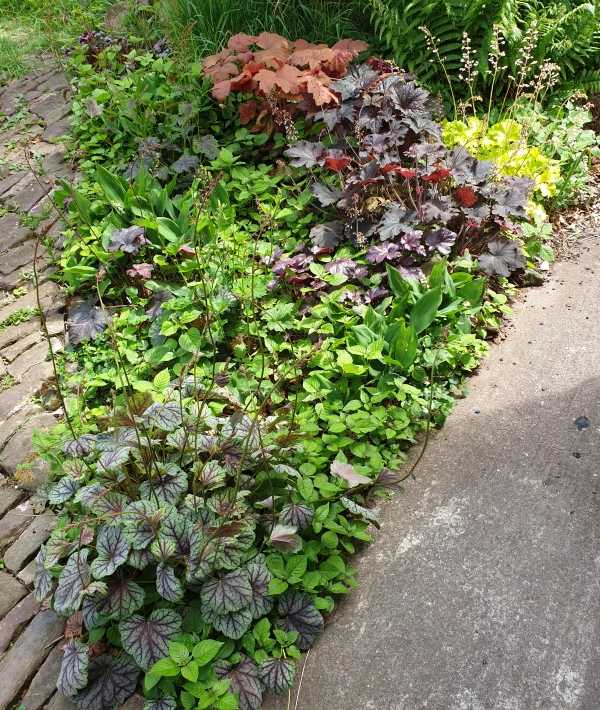 The asparagus is doing fairly well this year - we've been able to have smoked salmon, asparagus and scrambled eggs in a wrap several times so far, and there's more coming - as is the new strawberry bed (nothing quite like having fully ripe, homegrown strawberries and cream/ice cream for dessert once a week!) My tayberry bush is absolutely full of developing berries too, so planning on making Eton Mess with them later.

Bean, mange tout, sugar snap peas, courgettes, and pak choi are all doing well, as are the fruit trees. Kai's almost finished organising the platform for the new seats, enough that we go out for Ella's last garden around midnight most nights and sit and watch the sky for a few minutes. Seen the ISS go over a dozen or so time, once when the Starliner was leaving! We've seen several other satellites and a number of meteors too, one of which left a long streak behind it.

Of course, it's not perfect for viewing now BND has a bright light above the cameras on the wall (he's paranoid, but since he goes out of his way to make other people hate him, I'm not surprised.) I'm exploring the legalities of putting up something on our wall to block it.

Media.

We re-watched Legends of Tomorrow seasons 1 - 5 (season 4 is superb, the best and most bonkers of them so far) and finally got to see season 6. Only one more to go and it ends, alas.

(Afterwards I had a weird dream of Rory from Legends in a Bake Off episode completely mucking up a cake...)

Picked up 10 Cloverfield Lane at a charity shop - rather good, but it goes nuts at the end.

Love Death and Robots Season 3 was on Netflix. Oh, these are so good!

Altered Carbon was also on Netflix - finished watching it yesterday. Season 1 is amazing: season 2 not so much. Most intriguing, stimulating and thought-provoking.

That's the more memorable things from the last two months. No doubt I've forgotten a few things, but they won't be vital!

Oh, one last thing... BND made a complaint to the council about our 'hedge' damaging his fence if it grew any bigger. Firstly, it's not a hedge, it's a shrubbery specifically planted to provide food for bees and shelter for birds year round. And normally we prune everything back in the autumn, but the end of last year was so busy it slid down the list. We've done it now - everything's pruned back so you can walk up between the shrubs and the fence - but I refuse to cut our taller plants, as they are the only thing stopping him from spying on us/invading our privacy. I sent a message to the council explaining this - mentioned I'd been in contact with VOCAS, and gave them the log reference for our police complaints against him.
What's actually amusing, though, is that Sean from BCC came to talk to Ken about the complaint while Kai and I were out walking Ella - and it turns out that he and Ken were work colleagues back when Ken was with the First Response team! They're effectively old friends. So now the police, Citizen's Advice, Victim Support, the College of Policing, VOCAS and Bristol City Council have BND noted as an abusive, harassing neighbour!

Karma can be such a bitch... [grin]