Yesterday morning... (OK, starting from yesterday and working backwards!)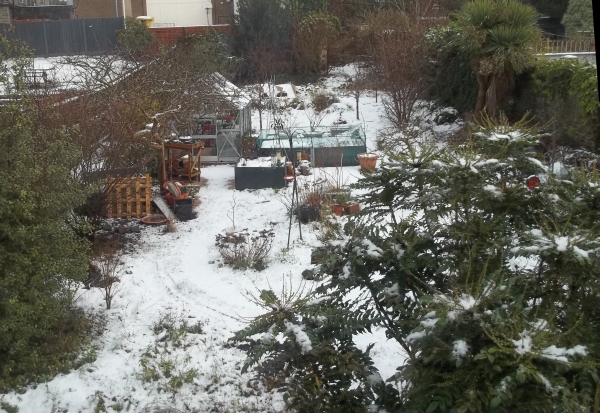 Last night I thought to myself - it's about time you reported Luke Jones (of Fixit) to the gov dept responsible for tax (after all, we paid the costs of the work to build our drive into his personal bank account, which I believe is somewhat illegal if, as we assumed, he planned to not declare it), so logged into google to check on the status of the so-called company...

I found this...

Rogue traders imprisoned for fraudulent home improvement work.
I read it - jaw dropping further and further open and eyes widening as I did so. I had to read it twice. And then - imagine me pogoing around the house fist-pumping the air and singing Justified and Ancient as loud as I could - all virtually, of course, it was 2 a.m. and although Ken's on two days annual leave he's not sleeping all that well atm, didn't want to wake him.

These are the relevant bits. (The site is public and I've provided the link so I don't think this is illegal).

David (69) and Luke Jones (30), both of Bank Road, Pilning, appeared at Bristol Crown Court on 25 June after pleading guilty in February to a single charge of participating in a fraudulent business. The pair were imprisoned and made subject to a largely indefinite Criminal Behaviour Order (CBO) banning them from cold calling at properties and delivering leaflets and fliers to them.


The court heard that the case involved a total of 18 victims of the pair's tactics from which they generated in excess of £70,000, but attempted to gain much more. However, where costs of rectification works were known, the losses to victims were put at £90,000.


The case was taken by South Gloucestershire Council's Trading Standards team who first started investigating the pair four years ago when they looked into a business called Fix It Roofing which had targeted two elderly residents in Warmley by cold calling them.


It was established that the pair had approached a recently bereaved 81-year-old resident and initially made a verbal agreement with her to clean her UPVC porch for just £70. However, once she had given her agreement David Jones, who used the false name of 'Johnny', and his son Luke became intimidating towards her and demanded more payment, as well as doing additional work not agreed to. They drove her to the bank for payment twice and took a total of £4,618 from her which basically wiped out her life savings.


Further investigations revealed that the pair used other business names such as Fix It Building & Landscaping, B&C Building and Landscaping and Fix It Landscaping and Driveway Contractors, and not only cold called victims, but also approached people advertising for building work to be done on various online platforms [[that includes us]]. Several other victims were also discovered, including a number traced through banking records in the name of Luke Jones who accepted payments for jobs by bank transfer.


Trading Standards officers worked closely with the Council's Anti-Social Behaviour team during the investigation, particularly regarding the CBOs. The CBO is indefinite in the case of David Jones and, in addition to banning him from cold calling and leaflet dropping, he is indefinitely banned from working on behalf of himself or another regarding building maintenance work without first having specific written approval from Trading Standards.


Luke Jones is subject to the same CBO regarding cold calling and leafleting, but in his case Trading Standards' approval of his involvement in building maintenance work is only required for 10 years from date of sentence.
We probably didn't start the ball rolling, but my complaints to Citizen's Advice, their referrral to Trading Standards, and my CCJ against them must all have helped. We may never see the money we're due, but the sacks of shit won't be able to scam anyone else - for at least 10 years in the case of Luke, and never for that vile little bully his father!

I've been grinning fit to burst all day.


And I used the first saffron (all six threads) I picked from my crocuses - back in the summer, even though they shouldn't really start producing until next autumn - in the rice for tonight's teriyaki chicken, and it worked beautifully! Lovely yellow colour and a subtle but very pleasant taste. A good investment, it appears. Chuffed about that!


Muse had a new album out (back in 2018. Why we only find out about these two years after I will never know...) So I bought it... Simulation Theory (which I keep calling Simulation Therapy...) You know how much I love Muse, and this is the best yet. When it arrived I played it three times straight through (seriously, usually once is enough!) and had to resist playing it a fourth time. I've played it again, pretty much every day, usually more than once. I'm addicted. It's fabulous! I think Thought Contagion is my favourite...

Although... Algorithm is bloody good too...

Ah, of course! I keep thinking it's Simulation Therapy because that's what it is for me - therapy. The whole album makes me me feel GREAT!

So, having got that sorted out... It's been a month of making mental connections. Not sure I've ever mentioned how much I absolutely loathe those hideous more than life-sized nutcracker soldiers that seem to be in every xmas decoration and tableau in the US for the last few years. I can't stand the things! But I couldn't work out why. Well, they're pretty ugly, but my reaction was a lot more than simple dislike.

Then I remembered.

Waaaaaaay back, when dinosaurs ruled the earth and I was just a wee kiddie, we watched a Doctor Who episode that scared me rigid. All I could remember was toy soldiers chasing the Dr and his companions through a wood made of letters. A couple of years ago I found a Dr Who twitter channel, and described it, asking if it really existed or if I'd had a nightmare. The owner said no, it's a real episode, part of The Mind Robber. It was good to know I hadn't dreamed it, but then I left it - until, with a Christmas24 channel film on the background, I realised that OF COURSE those hideous nutcrackers reminded me of the toy soldiers in the episode! Why it hadn't clicked before I don't know - but anyway, I found the DVD on ebay and bought it, and we watched it a couple of weeks ago. It's actually not bad, as ancient Doctor Who series' go. And the toy soldiers are still really creepy!

This is fantastic news!. Swimming is the thing I've missed most of all with the lockdowns. My health has suffered too - normal exercise just doesn't do the same... I shall be back three weeks after I've had my first Covid-19 jab.

We've been catching up with the watching stuff, of course...

Johnny Mnemonic was released in 1995 - Kai's birthyear - and the film starts on Jan 17th (or 15th? I though the screen said 15 but everyone else says 17...) January 2021. Kai had never seen it, so we watched it on the 17th. Rollicking good fun, if very violent, and it's aged quite well.

Spider-Man: Into the Spider-Verse... wow... just wow. I was expecting something fun, but this is extraordinary. Really good.

Unfortunately the same can't be said for Absolutely Fabulous: The Movie - which is absolutely dire. Such an embarrassment (for everyone who was in it too...)

We watched Avengers: Endgame in preparation for Spider-Man: Far from Home. Which is... OK. Not brilliant, though quite a bit of fun.

The Planets is an amazing watch. It strikes a really nice balance between the science and comprehensibility for the masses. (Muse's The Void, which is on Simulation Theory, is the intro music too. Nice choice!) I could have done with a tiny bit more science, to be honest, but it's still beautiful and compelling.

We followed that up with Planetary Traveler, which I picked up years ago but which we'd never quite managed to watch. The whole thing is here: Planetary Traveller

And it's gorgeous!

I picked up Pokémon Detective Pikachu because Ryan Reynolds is in it, not expecting much - but it's another surprise, really good and gorgeously made (although you do need to be familiar with Pokemon for it to make sense - we are because Kai went through the craze when he was little).
Voyage of Time: Life's Journey was a xmas present from (ach! Sue? GoodTwin? really sorry, I can't remember!) It's a fascinating film, nothing actually new in it, but beautifully made and quite haunting. Prospect - xmas presesent from (again, Sue or GoodTwin) is very good, obviously low budget but extremely effective regardless. I'd recommend both!

Another one I picked up ages ago is Kick-Ass 2, but I've been put off watching it because it stars Jim Carrey, and I can't stand him. Ken and I decided to watch it, just to get it over with, and... it's... exceptionally violent, and the gutter humour is off-putting, although fitting in-film... and... OK, I didn't even recognise Jim Carrey, and he was rather good, so looks like he's aged well... Can't really say I enjoyed it, but I'll probably watch it again at some point - it's kind of compelling...
I bought Mune: Guardian of the Moon for Kai for Yule and it's utterly sublime. Stunning. Went straight onto the Best of the Best shelf. It's like nothing I've ever seen, completely original (as far as I can tell), and gob-smackingly beautiful. LOVE it.

Kai decided to get himself Netflix back before Yule. I mentioned that I'd read about Love, Death and Robots and that it sounded good...

GOOD?? Wow, I sometimes amaze myself with understatement. It is absolutely brilliant. And clever. And uproariously funny - in places - and viciously satirical - in places - and tear-jerkingly distressing - in places - and overall... wow. Worth getting Netflix just for this. Really hope a second season materialises.

Way back just after the dinosaurs extinction, I watched a thing called Search. Well, I watched a couple of eps of it, anyway. I remembered liking Doug McClure. So I hunted through the IMDb and then amazon and found both the original pilot, Probe, and the SEARCH series, and in a fit of nostalgia bought both from mum T for me for Yule.

Ken and I are currently hauling through it, but it's aged horribly. The rampant sexism is teeth-gritting cringeworthy - which does at least make it a somewhat interesting social document. But I can't recommend it to anyone.

I'm about half way through Guns, Germs and Steel (another pressie from Sue/GoodTwin... it's no good, you're going to have to sign your names on presents!). It's very good, if very depressing, but excellent for world-building background info. Also inspires questions, always a good thing!

And I think that's probably it for the moment. I've been busy, of course - we have a new book proposal to go to Chelsea tomorrow (details if it gets taken up) - Ken (who was eligible for a free flu jab so finally got one on the 9th) is still working from home, but trying to go out for walks for exercise with Kai as often as time and weather allow. Kai is currently fending off a cold, so not at his best, but is still busy with online friends and his own projects. Can't do much in the garden until the weather improves, but then we have all the planting planned out. I should have a bit more time to devote to the veg this year, we have no major house-thingie things planned!

And finally - this is my Ryuk mask. Ai lubs it!!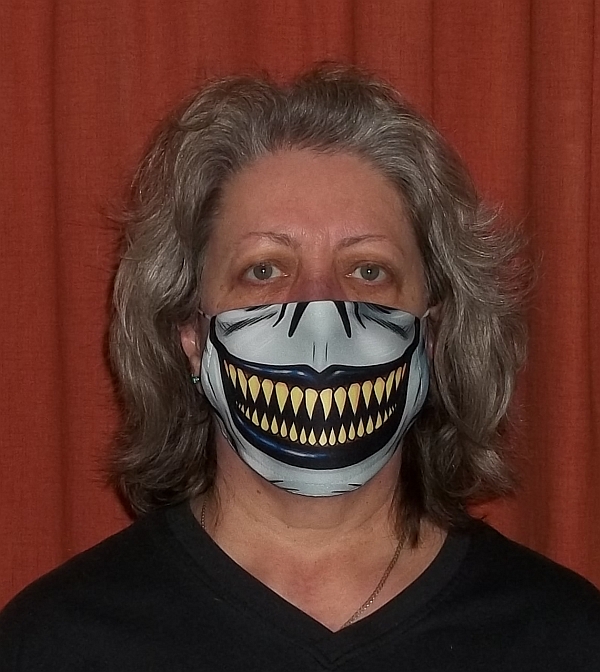 Later, everyone. Please stay safe and well.
... off to listen to Simulation Theory again...
Labels: Death Note, films, Fixit Landscaping and Driveway Contractors