Phew. That was all a bit knackering...

However, all three books (and the revisions/small rewrites) are now done and off with the designer. Our contact says the reactions at the publisher have all been favourable, which is very good news. We'll be getting the pdfs to proof-read soon, and that's the final stage for us before publication. Not sure when that will be but probably in time for the Yule market. It'll be interesting to see how they've edited and illustrated what we've written!

(For anyone interested, crystals was written to Mike Oldfield's Songs of Distant Earth and Sarah Brightman's Dreamchaser, and witchcraft to Inkubus Sukkubus - Wytches, Heartbeat of the Earth, and Belladonna and Aconite, principally.)

Hopefully we'll be paid soon, too...

Ken and I took a day off writing and bussed through to Glastonbury for the day... I forget when. Three weeks ago? It was fine - always a fun place to visit, but the prices of everything have gone through the roof. I found a few bits and pieces (two lovely cards to finish off the cards in a display I now have on the bedroom wall - photo later if I remember!) but not a lot, and there was a long queue to get into the organic supermarket - only letting a couple of people in a time - so we didn't bother.

Orchids...

RO, which is the most magnificent orchid I've ever had!!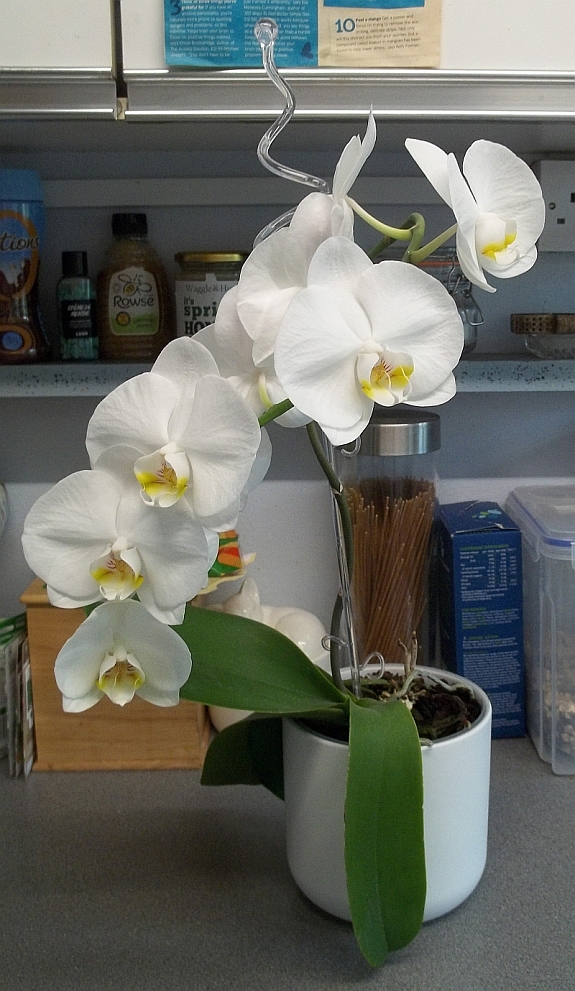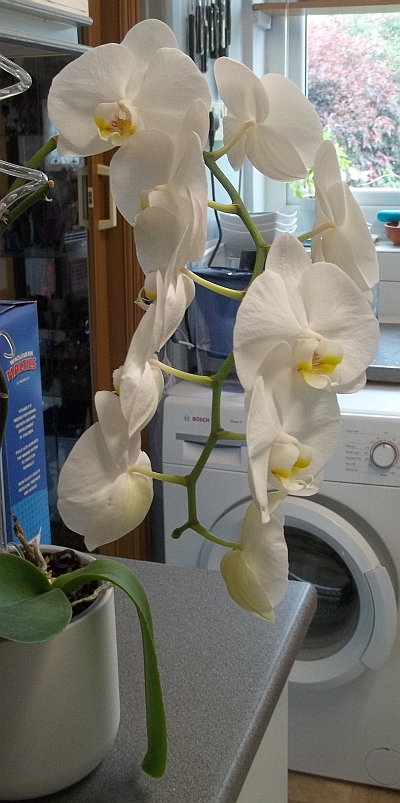 Ten flowers!! Ten! So splendid!

GO is doing something quite strange too, flowering in all directions. Photos when I can get some.

I did also rescue another. Well, I mean, it was sitting all alone and lonely on a wall on the way back from Tesco, saying vewy vewy quietly "I'z pwetty norkid. Pweeeeze give me nice home..." How could I say no? It's a phalaenopsis, but it's just leaves at the moment, no idea of the size or colour of the flowers. Though that's half the fun, waiting to see what happens!

The garden is tootling along well - too much grass, but hopefully we can get things a little more under control come autumn. I bought a Bosch strimmer, which should help. Veg and fruit beds doing very well: planning to get another square raised bed for strawberries later in the year, the trough isn't big enough for them, and they are delicious. Apples great. Plum and pear not so good this year, both have some sort of fungus disease that I didn't catch soon enough to kill off. Might not be a huge harvest this year, but I'll prune them later and treat them in the hope it won't come back next year. Will need to keep an eye on them...

Our foxes visit most nights, with a couple of cubs now. I don't think they were born here, but they are now using the top as a playground, which is a delight to watch!

Derpy is now taxed, booked in for her service and MOT at the beginning of August, and I've switched insurance companies to one half the price of Aviva but still with most of the services we might need. She hasn't been off the drive in a year so gods know what will need doing. (I did ask, and Renatec - just down the road and around the corner - will come and tow her to the garage if I can't get her going...)

Books. Not sure I mentioned before, but I've been going through a spell of non-fiction. Guns, Germs and Steel, some of which I knew but had never quite joined up the dots. Essential reading for world-making for my own writing, and a cracking good read. Notes from Deep Time, read for background to the crystals book - fascinating and highly recommended! Something Deeply Hidden: Quantum Worlds and the Emergence of Spacetime... OK, I'd hoped to have worked through my Dummies Algebra, Physics and Quantum Mechanics books first, but I just haven't found the time. Something Deeply Hidden is definitely written for someone with at least a grasp of maths (I just about managed to get through my O Level maths and then pretty much gave up, although in recent years I've improved significantly). An awful lot of it went right over my head, but just every now and then something made a weird sort of intuitive sense - but only for a second or so. I'm glad I've read it - the bits I could understand are fascinating - but it's not exactly easy going.

I did also struggle through The Wisdom of Crowds... Sorry Wendy, it's pretty poor. I believe it was written for American males - 'proving' statistics by devoting 5+ pages to an analysis of betting on American football teams?? - and is horribly misogynistic. As far as I can see the author never wrote anything else, and I can't say I'm surprised. What he had to say is reasonable, but hardly new and earth-shaking.

I now have Liu Cixin's Remembrance of Earth's Past trilogy on order. I adored The Wandering Earth (book and film), so I thought I'd see what else he has to say!

Media... Ken and I finished Deep Space 9. It was OK, but there's so much better available today it looked a little dated. Fun all the same: glad we re-watched.

Netflix had the superb Space Sweepers, which I shall buy when it becomes available, and Stowaway, which is pretty good.

Ad Astra... Hm... Glorious cinematography and sfx, but I found the story a little... staid? Kai thoroughly enjoyed it though. Heh, maybe I've just seen too many films in my life and have become extremely picky!

Then there was the Angry Birds Movie. Wasn't expecting too much but it's really good! Very funny, very clever, and very enjoyable. And we had fun spotting the homages to other films.

Ken and I watched Another Earth, which is intriguing (if horribly bad at the science). Can't say it's a favourite, but it was thought-provoking, which is never a bad thing.

Can't say the same about Scream and Scream Again... I actually signed into the IMDb and left a review...

"Vincent Price, Christopher Lee, Peter Cushing - AND Michael Gothard? What's not to like?" I innocently asked my husband.


Absolutely everything, unfortunately, is the answer. One of the worst (most incomprehensible and boring) films I've ever seen, and I've made a point of watching 'worst films ever made' over the years. Plan 9 from Outer Space? Yup. Starcrash? Oh ye gods. Santa Claus Conquers the Martians? The Incredibly Strange Creatures Who Stopped Living and Became Mixed-Up Zombies? Howard the Duck? Battlefield Earth? Galaxina? Meet the Spartans? Seen them all. This isn't even as interestingly awful as most of those (well, except maybe Meet the Spartans, which is Just. So. Bad...)


Don't bother. It's a waste of time.
Truly dire

And then there's Constantine... God it's good! I first thought the female lead, Zed, was a Mary-Sue, but now I don't think she is. The whole thing is wonderfully gritty and bloody and daft and HUGE fun. So so sad there's only one series (of only 13 eps, too...)

When we've finished Constantine we're going to watch The Watch on iplayer - keep seeing trailers for it and it looks like enormous fun. Well, anyone who uses a baby dragon as a flame thrower's got to be worth a look, ne?
Not sure if I've ever mentioned Simon Drake - fabulous magician, his Secret Cabaret TV series is wonderful - but Ken and I went to see him at the Bristol Hippodrome waaaaaay back soon after we'd bought the house (Yule present? Birthday present? So long ago now I can't remember!) and loved it so much I can still visualise most of the show. Anyway, while turning stuff out I found the ticket, and two posters, and some photographs - and a rubber hand with his signature on it! (rather faded now, but still just legible.) I've bought a display frame (3 inches deep) and when I've got it sorted I'll post a pic here.

Oh, and I'm getting Revoltech Deadpool for Yule!!

I'm working my way back through the blog, correcting coding and changing the non-working links to the correct ones (after we moved JAT to the WaveWrights site.) I've got as far back as 2009, and hope to have it finished in the next couple of months. It's hard going as blogger now don't give you the option to choose years - to get to old updates you have to page down, and down, and down, and down, and down... However. I can now remove the clunky comment boxes from old entries, and just leave the actual comments visible, which is a great help. (Also, oddly, it says I'm based in Brisbane, Australia. Perhaps the two cities are directly opposite each other, if you draw a line through the centre of the earth?) I want to archive the blog offline when I'm done, as it covers nearly 20 years of my life at present...

And last, BND. I rang Victim Support, who told me they don't handle the legal side of things, and referred me to VOCAS - the Victims of Crime Advocacy Service. I sent them a detailed email last week, now waiting to hear back from them, but not expecting a speedy reply as I have no doubt they're snowed under at present. Main thing is I've started the ball rolling, and feel a lot better for it. In the meantime I'll just keep adding incidents to my list (currently 10 word pages long) and taking photographs as and when necessary.

Wonder if the Beeb is still interested in making new eps of their Nightmare Neighbours series...?
Labels: BND, books, busyness, Constantine, Derpy, films, foxes, garden, Inkubus Sukkubus, musekicks, orchids