And also the Revoltech Deadpool...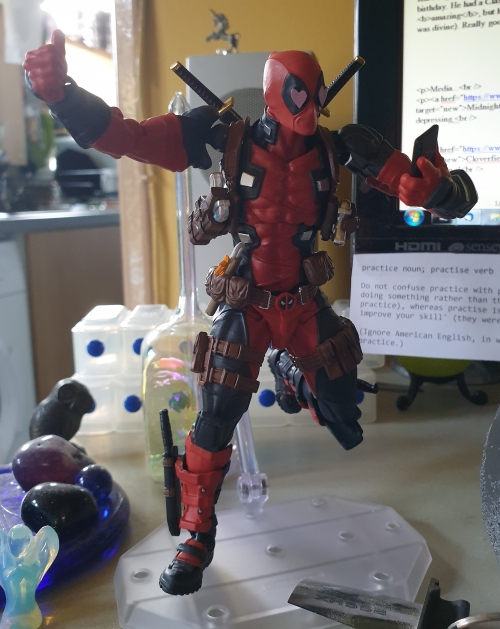 ... which comes with four different heads, six different pairs of hands to mix and match, more weapons than he can actually hold, and a couple of other cute things, like his phone and a lit stick of dynamite...

Really looking forward to Deadpool 3 - if it ever gets made...

I took Kai to Weston-super-Mare for a meal at Revo (and to visit that wonderful Just Stuff - now under new ownership - antique shop Wendy and I found when we were there: Kai bought a skeletonised Chinese watch and a tiny German automaton clock) for his birthday. He had a Classic Revo Burger, I had a pulled pork toastie, both amazing, but huge, so we shared a Revo Whippy Sundae for dessert (which was divine). Really good day out.

Media...

Rewatched and thoroughly enjoyed Childhood's End. Fabulous mini-series.

Midnight Sky. Hm. Well, it was OK, but not great. Rather depressing.

Cloverfield Paradox. Interesting, gory, fun in its own way with a great ending!

Jubilee. Oh, it's aged badly. Distinctly of its time - which isn't now.

Primeval: New World. Finally got around to watching it. Quite good - not as good as the original - with the most cliff-hangerly of all cliff-hanger endings. Not sure to be sorry there was never a second series, or happy that the finale leaves the future open to however you want it to be.

I suddenly got a hankering to watch The Prisoner: haven't seen it for 50 odd years. Was a bit pricey to buy - but then it appeared on Freeview's Sci-Fi segment of their Horror Channel, starting with ep 1 yesterday! So at 18.00 for the next couple of weeks we're watching it after dinner. The acting is a little stilted, but I'm enjoying it and Kai is loving it! (Heh, and in yet another example of synchronicity it was one of the answers on Pointless tonight...) (2 weeks later... it gets more and more random and incomprehensible the further along we go. Not enjoying it so much now - though Kai still is - and not too surprised it only ever had 17 eps.)

After watching (and not particularly enjoying) Under the Skin the film, I read the book... grump. The book's not bad - not great, but intriguing. The only relation it has to the film is the main character being female and her picking up hitchhikers. The book is far better than the film.
Finished reading The Ocean at the End of the Lane and ended up quite enjoying it. It'll never be a favourite, but it's very good.
Now struggling through Higgs...

The BT switchover went without a hitch and we still have our old phone no.

The move to British Gas hasn't been quite so smooth. Our (photographed) electricity meter reading is lower (by all of 11 units) than the one they were using for our first meter reading with them - so we're not getting charged for that. Although I can't set up a direct debit for monthly payments until they match, so will have to keep taking readings... The last bill from Bristol Energy has us slightly over £500 in credit, which will be a great help with the forthcoming increased energy prices.

A week and a half later - now sorted, and our new monthly direct debit will be £190. Ouch. Was £75 before... Of course, once we've got the solar panels registering, that should go down a little, and it doesn't take into account the credit Bristol Energy owe us.

We bought the new cooker, which was installed on Monday 14th. Great delivery guys - closed off the gas and removed the extraneous pipe, took away the old gas cooker for recycling, and put the new one in, all in less than an hour. Really good job (although now I have to fill holes in and repaint the wall: we have someone coming to look at what's needed for retiling the kitchen sink splashback - will ask if we could have the wall above the cooker tiled as well...) And it's so incredibly efficient and easy to use! Really chuffed with it.

And they gave me a little free green AO teddy bear as well...

We have decided Ella is part greyhound, part pointer, part gazelle! The first time we let her off the lead in the garden she zoomed around it three times in less than 10 seconds. Never seen a dog move so fast! She looked like she was flying. Though she was pretty knackered afterwards - she is a senior dog after all. We're getting on really well - much less barking now, happy walks, and she's learning commands surprisingly quickly.

(Yes, those are my new galaxy curtains behind her.)

Kai has finished building and installing the new dog-proof garden gate, and done a fantastic job. We now have a latch and strong padlock for security.

22.3.22 - On her 'last garden' with Kai before bedtime, Ella encountered our hedgehog - and picked it up, in her mouth. [sigh] Not likely to try that again! Well, I suppose she doesn't know hedgehogs. Not sure they have them in the Caribbean...

Annoyingly, my camera packed up three weeks ago, and while my phone takes perfectly adequate pix, I rather miss it. Now on the lookout for a replacement that doesn't cost too much.

Wednesday 23rd Ken and I trained down to Babbacombe to visit mum-in-law: it's her birthday on the 24th but Ken had to work that day. She's doing OK, but getting frailer. She had considered selling the flat and using the money for us to build an extension to the side of the house for her, but can't find out how much she'd get for the flat. I had a couple of builders come to give us an estimate, and a single story extension would be about £50K, a double £90K (just for the build, doesn't include furnishings) and take about 20 weeks, which is a significant amount. Everything's on hold for the moment, but she really needs help down there. Her cleaner only comes once every two weeks (and it doesn't look as though she does a very good job), and mum really can't groom the Pomeranians very well any more...

After discovering Phil Lober's If (see last entry) I looked a little further into techno-trance music and found the Bristol Tranceation Station on radio garden. It's now on most of the time... Lovely music.

And now Ella wants out for garden zoomies. Will try to update sooner next time!