7.9.21 - sky was gloriously clear. We took the telescope out and found Andromeda Galaxy, and ooohed over Jupiter's bands....

And now it's October. OK, let's try to get an update done before my haddock mutiny completely and leave for Andromeda...

I've completely lost track of the days and dates things happened, so I'll just write things in rough order.

Domestic stuff first, perhaps.

Painting in the bathroom is now done (except for touching up the pencil line Kai made accidentally when measuring up for a new loo roll holder, a sturdy old-fashioned one that Ken and I found in the Wells ironmongers that matches well with the retro-look new radiator and won't work its way out of the wall like the modern ones do - silly little screws too close together make for a very unstable device...), and the new kitchen sink and surround is now installed: looks really good, matches the other worktops, and is very strong. Makes it a bit of a squeeze to get to the larder, but that's a good reason to lose weight!

We need to put up new tiles on the wall above the sink now, so a trip to B&Q for me and Kai is on the cards, most likely next Fri.

Kemp Carpets came to measure up for new carpets right through the ground floor, and give us a price (actually cheaper than I'd allowed for which is good), then Kai and I walked up there to choose the carpets we want. Relatively soft but hardwearing for the hall and lounge, harder wearing for my room, and this -

for the kitchen (Kai said he'd like something that looked like slate tiles, and this was the most natural and rustic vinyl Kemp had. I really like it!)

This time I've insisted on a good thick underlay for the carpets, as I'm fed up with cold floors!

The bedroom orchids are still doing really well and looking beautiful.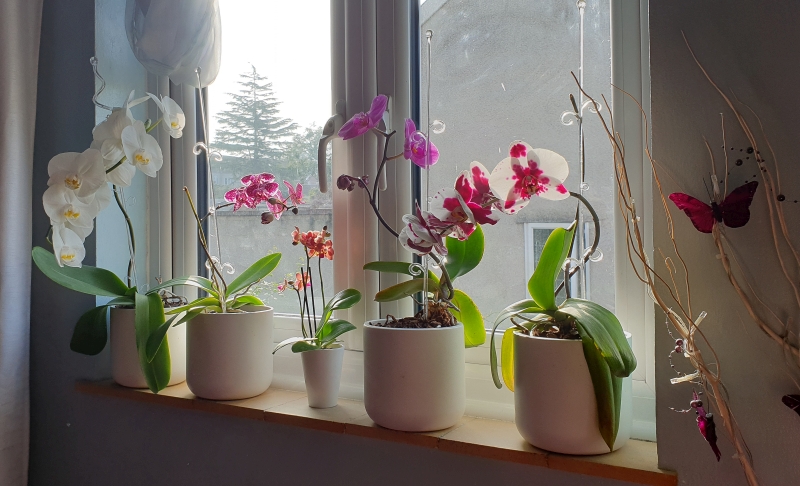 I'm thinking the teeny one will be WO (for weeny orchid). This is the inner pot it was in when I bought it - no wonder it was unhappy!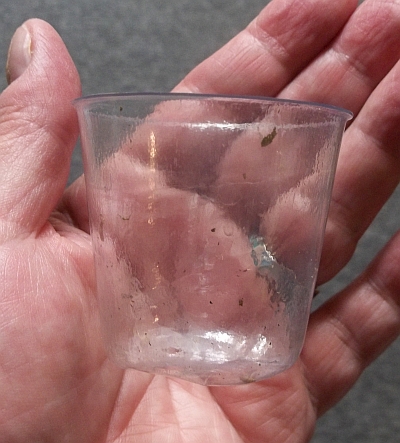 The dendrobium has a new plant sprout - though as yet I don't know how to remove it to grow it. It's right at the bottom of the original shoot, and I'm hoping that more sprouts may appear higher up. Will wait and see...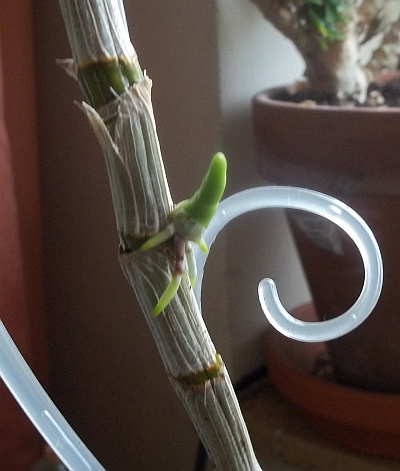 CO is also looking beautiful.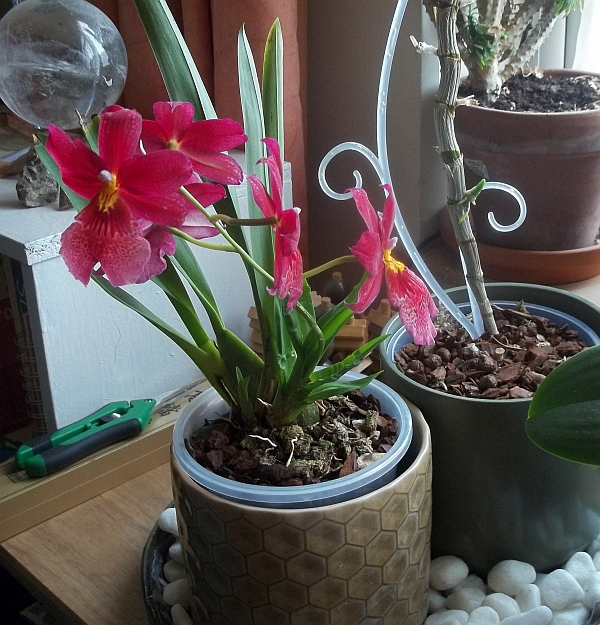 Kai has upgraded my PC a little: it now boots up, and turns off, silently and in about 10 seconds instead of the 5 mins it used to take. I also have double the memory that I had before, and he's talking about putting a new graphics card in for me as well. Sometimes it's very handy having a son who can build a computer!

We visited mum-in-law in Babbacombe middle of September, and finally managed to give her the bronze pot with heucheras that she was supposed to get for her birthday two years ago. Nice bright colours so she can just about see it.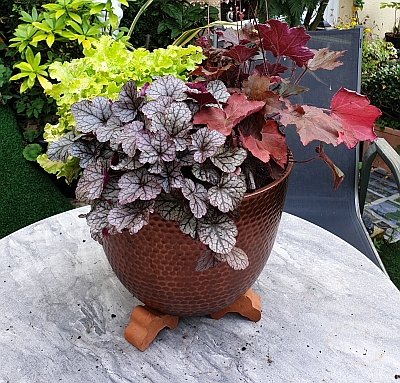 While we were there we walked up to the precinct and found a load of things we'd been looking for, so it was a very useful shopping trip as well.
Just for the hell of it, a back street in Wells, just up from the antique store Kai likes. (I found the Vulcan patch there.)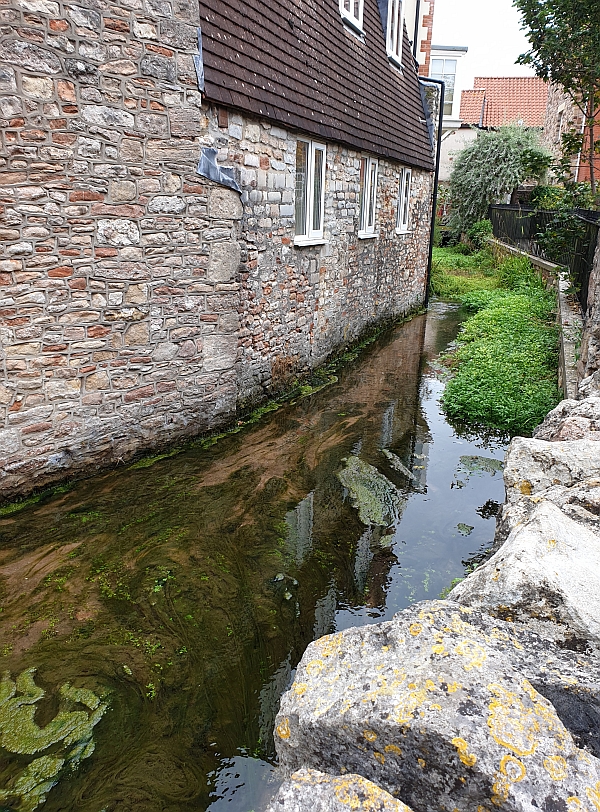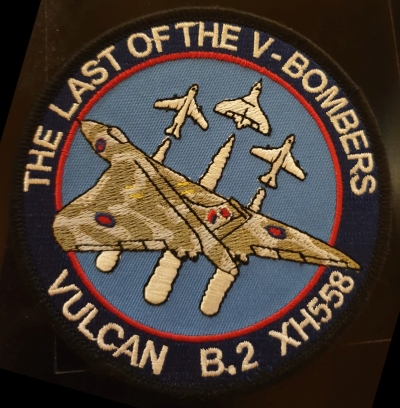 Kai and I managed our planned trip to the plateau at Eastwood Farm last week. The clouds were quite spectacular, especially seen from Arno's Park at the end of the road on the way to the bus stop...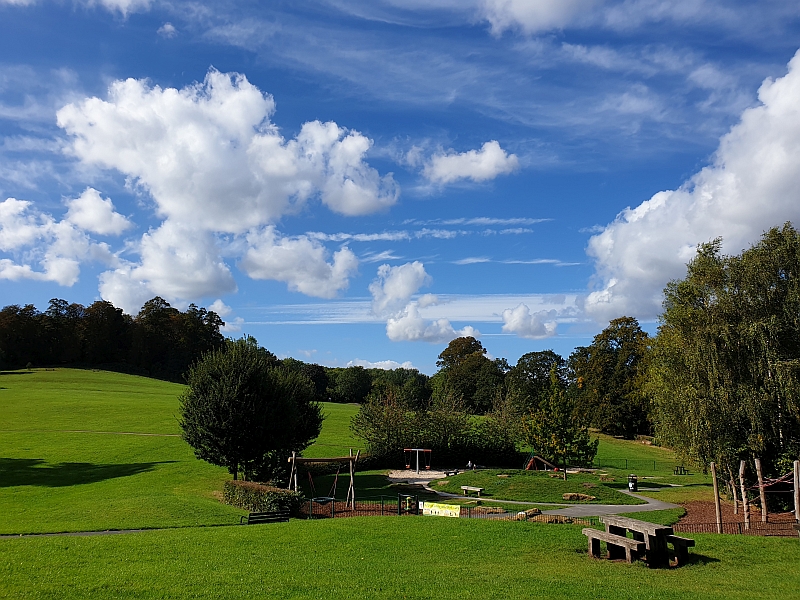 I think the distinctive trees on the Farm's plateau are grey poplars. We thought they were silver birch to start with, but the leaves are wrong. They look fabulous when it's breezy, the silver underside of the leaves sparkling in sunlight.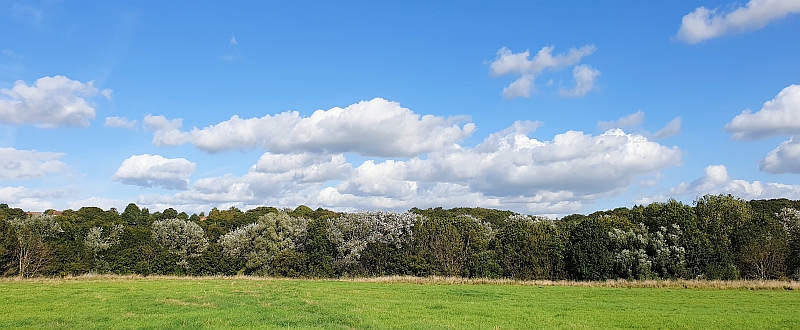 Lovely walk. Aiming to try to do it regularly and record the leaves' changing colours.

There was an interesting moth at the bus stop at the bottom of Sandy Park Rd -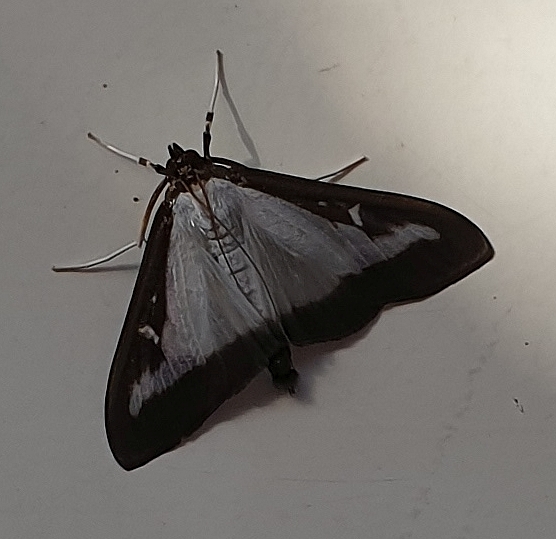 Very pretty, but it's the Asian invader box tree moth whose caterpillars kill off box trees, so not entirely welcome here.

The trip to Weston-super-Mare was great fun! Wendy and I both took (separate) trains - they're making big changes to the centre of town/the front, and FirstBus doesn't go to the front any more - and walked to the centre (about 10 mins away from the station, so very handy).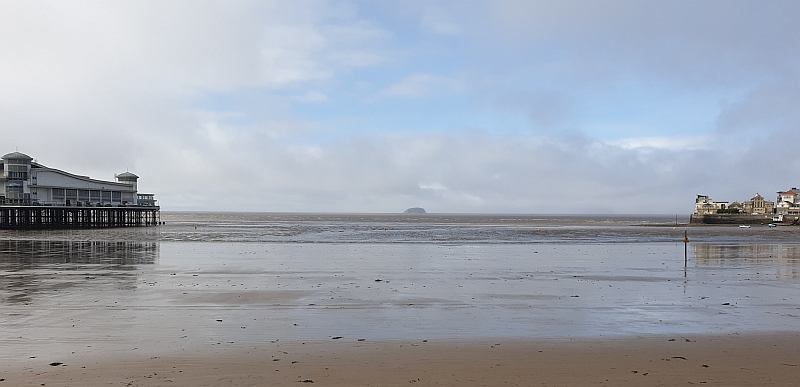 Pier on the left, Knightstone Island on the right, Steepholm in the middle...
Explored the shopping mall, and the pier, then went on the big wheel, then walked along to what used to be the seaquarium (which had gorgeous volitans) but is now the Revo restaurant. (Website not up to much but the location is beautiful, on stilts built out over the beach and with wonderful views out to the estuary. And their salted caramel gateau is to die for...)

There was a Luke Jerram installation on the beach just a short distance from the restaurant -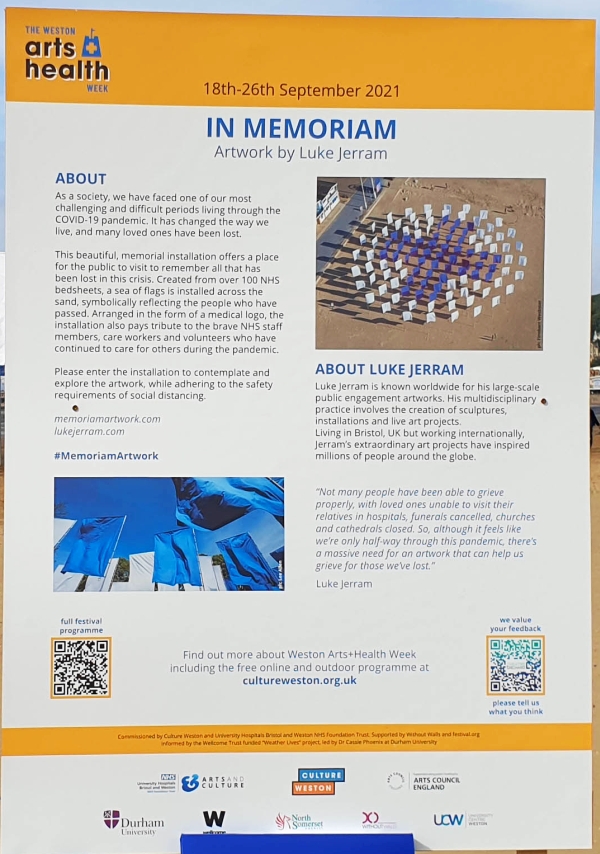 That makes three I've seen this year!

Fantastic day - thanks Wendy!

Today we've had Acorn Stairlifts visit to measure up (mine and Ken's knees are going, and if we have mum T to live here we'll need one, she can't manage steps at all.) It's doable, and sounds excellent, but I'd like to get another company's prices before deciding...

Coincidentally, Companion Stairlifts also rang as I was making dinner and we have someone calling to measure up and give us a quote (and see if a walk-in shower is possible) next Thurs pm.

Media...

We all re-watched and thoroughly enjoyed the Angry Birds movie, in preparation for Angry Birds 2, which I recently ordered. Hopefully we will watch it this weekend, maybe after we've all had our flu jabs on Saturday.

Kai and I watched Centaurworld on Netflix... it's... one of the most surreal, psychedelic, insane things I've ever seen. And oddly addictive... Really hope season 2 becomes a reality...

BND...

VOCAS got back to me. It was a long phone call, but very instructive indeed.

1. Wooden fences are considered, legally, to have a lifespan of about 10 years. Any damage they suffer after that is just normal wear and tear. We kept his fence going for at least twenty years by treating it with Cuprinol (for which we got no thanks, or even acknowledgement, and for which he owes us £1,000), so it was well past its use by when the split happened. Ergo, unless he can prove we caused the damage - which he can't, as we did not cause it, and I have photographs to prove it - it is simple normal age-related damage, and all his actions and harassment towards us (I should say, specifically me) since then have been illegal.

2. He has subjected us to 'low-grade harassment' for the last eight years. While this is obviously not life-threatening or legally serious, it is still illegal and we can take action. HOWEVER, at present court cases are taking a minimum of 18 months to be heard and have to be more serious to be considered worth what I would consider decent action (if that makes sense). At present I have more important things to do with my money so will simply carry on keeping the diary (which VOCAS recommend: lucky I'm so organised!) until such time as I can comfortably start proceedings.

3. VOCAS advised that if the harassment continues, it is perfectly legal for me to film it (on my phone) and send the footage to the police. That's very good to know.

4. Any further incidents, get straight back to the police.

It's useful to know where I stand legally, because of course the moron never learns, and was out threatening and abusing (and taking photos of!!) our Tesco deliverer on Tuesday: he had to park partially on the pavement by our drive as the next car up was a bit close to the DISABLED on the road for him to pull in safely. Perfectly fine, of course, as the guy said, legally they can park like that for up to 20 mins if making deliveries. Unfortunately for BND he picked the wrong person, as the deliverer was a delightfully foul-mouthed, aggressive character who gave as good as he got and rang his boss to report the incident. (When I said to ignore him, we've had endless problems with him, deliverer offered to come back later and sort him out!! Oh, so tempting... [grin])

Anyway, I reported it to the police as well, giving BND's log reference number so they could refer back to everything he's done so far, and got a very nice email back saying unfortunately as the harassment wasn't actually aimed at me, the deliverer would have to report it himself - which I doubt he will as he sounded as though this was pretty much par for the course for him (and I can believe that!) - but if they could do anything else to assist me to let them know. I guess the Sarah Everard situation has most forces now treading very carefully...

Anyway... now I know where I stand, I'm happier about matters. Have to admit since I shouted at him (and mentioned legal proceedings) he's stopped the worst of the harassment, though I can't see that lasting as he obviously considers himself above the law.

So that's where we are right now. He's abusing and upsetting more and more people all the time. I can't understand his mindset, (not that I really want to) and it gives me a headache trying to think down to the level of his room temperature IQ. Fortunately he's a lot older than us, has smoked for most of his life and didn't follow any of the Covid rules, so how much longer he'll last is anyone's guess. He won't be missed...

Later folks! Stay safe out there...
Labels: BND, busyness, domesticity, films, garden, orchids and more orchids