OK, let's see if I can remember what's happened in the last couple of weeks...

Starting with medical. Bussed over to Hengrove Community Hospital for the ultrasound to my foot, and it's sortof good news. It's not a Morton's neuroma, so no risk of potential surgery. Apparently it's flexor tendinitis and bursitis (the tendons and fluid filled sacs cushioning the bones of my foot are inflamed. Usually affects shoulders, elbow, hips and knees, but of course I have to be different.) Dr has referred me to orthotics for further exploration, but even pre-lockdown appts took 20 weeks, so gawdknows when I'll hear anything. In the meantime pain relief gel has been recommended, but on further investigation all of them contain ingredients that I've been told to avoid (like ibuprofen) so it looks like it's a matter of just putting up with it for now. At least it's not likely to get any worse, and it may go away by itself, but given my usual luck that's not likely. We'll see.

Derpy... [wince] £397. And 7p. Mustn't forget the 7p. Though that does include £168 for the service and £45 for the MOT, so not as bad as it sounds. The horn unit wasn't working (had rusted due to lack of use and the awful rain we've had, so needed replacing). But she's now fine and legal - although there were a number of 'advisories' we'll have to get put right next year, like the left hand front tyre which is close to the legal limit for wear, and some rust that will need sorted. I'll start saving...

Remember RO (the orchid rescued from the skip up the road)? It finally has a flower spike!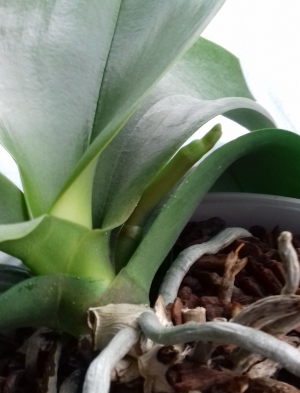 That was two weeks ago. Today we have this: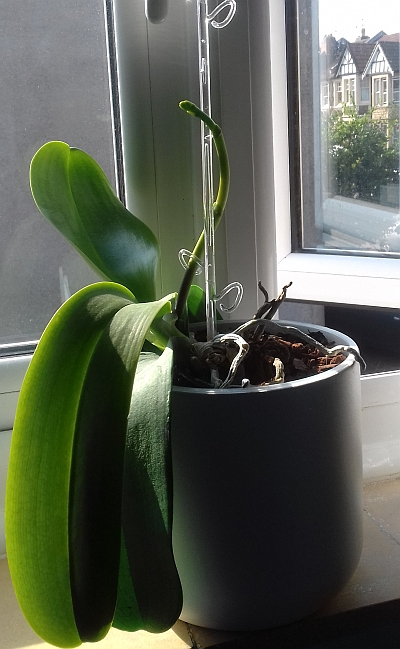 I'm seeing if I can get it to grow in a spiral around that supporting spike...
In the house... A month or so ago I bought a new saucepan lid holder for the kitchen wall between the fridge and the cooker - so that wall is finally fully painted! The holder is metal and holds all five lids, which is great. Then one of the hooks (the one holding the colander) pulled out of the wall beside the sink, so I had the bright idea of buying grilles and hanging my kitchen utensils on them so they're handy. Found some on amazon...
... and Kai put them up for me! All very neat and handy. The hooks came from Proper Job. (The colander wouldn't fit so it's now hanging from the shelf over the pantry door.)

While on the subject of kitchen stuff, I bought one of these... nice pan, but the lid is appallingly badly designed: I burned my fingers on it. I've left a 1 * review on amazon to try to warn others, but if you read this and are tempted, please don't. Luckily the good, safe lid from the old pan (which I kept because it fits my wok) fits it, so I've ditched the new.

I've started photographing my old diaries and backing up the blog for the archives, so I'm correcting all the photo links as I go along. Unfortunately a lot of the info links go to sites that no longer exist, and I really don't have the time or energy to chase the new ones down, so they'll just have to stay non-functional. I've reached Jan 2004 so far.

Had a fright though. Found that some of the pages simply would not load from the archives no matter what I did (including taking the s off the https url) , so put a query on the forum, and had a helpful reply from one of the other blog owners. Simple cure - take the www off the url - but I had 18 years worth of corrections to make. Kai talked me through the find/replace of notepad ++ (which I'm not familiar with) and then overwriting the entire archive. It's fine now, to my relief.

Garden... I've started clearing the brambles and nettles from the square, but the green compost bin is now full and we have a prolonged spell of rain, so can't finish the job for a bit. Still, it's a start...

And finally, media.

It's been fun! Picked up Dolittle and Jumanji: the Next Level on a 'buy 2 for £8' (instead of £10 each) and they are the most enormous fun! Jumanji: the Next Level is actually a little better than the first film, although you do need to see that in order for the sequel to make sense. Thoroughly enjoyable.

Jesus Christ Vampire Hunter... yers, well... picked it up cheap on amazon just for the hell of it, and it's absolutely awful - but then, it's supposed to be, and we laughed all the way through it! A lot of fun but I doubt we'll ever watch it again and I can't really recommend it, unless you want to watch a deliberate B movie for comparison with other, better films.

And that brings us to Legends of Tomorrow season 4... I swear the writers made the conscious decision to just ditch any pretensions to realism near the end of season 3, because season 4 is completely insane, and HUGELY enjoyable! My favourite season so far! It's also very very clever: I am somewhat in awe of the way the writers have created such a massively complex and intricately detailed and consistent multiverse. I've even come round to liking Constantine - grew on me a bit like a most unwelcome fungus to start with but now I quite like the character. (I was initially annoyed because he sounded like an American trying - very badly - to imitate a weird English mix of accents - Welsh, Scottish and Cockney came initially to mind). So I looked him up. Turns out he's Welsh born, bred and raised.

... ohkaaayy...

Anyway. Flawed character (they all are to some extent) but that's part of his... 'charm'...

So that's about it for now. I'm off to pre-order Legends season 5 - out next month, can't wait - then just take this afternoon off. Ken's finishing early today, and Kai has gone out for a walk: I may go up for a lie-down and some music in an hour or so. It's too wet to garden...

Later!
Labels: busyness, car, drama, films, garden, medical matters, orchids