Welcome to frog bonking season!

Yes, Roeg's Pool is seething with frogs. I anticipate a lot of frogspawn later...

Well, pretty much as usual it's been manic here. But good manic...

Back before Yule I decided that my Isogel pillow had finally become too uncomfy for my neck, so took the plunge and ordered a Tempur classic pillow. Was unimpressed when it arrived - heavy, and a bit like pressing down onto thick mud (except not wet), so wasn't expecting much - but wow. Can't remember the last time I slept so well. It's amazing, unbelievably comfortable! Never going back to anything different now!

We've had the coffee table in the middle of the lounge for years, and I was getting a bit fed up with it being always cluttered. Plus I needed more surface area for my plants, especially the citruses while they're growing up (which they are doing very well). So I googled side tables, and found this beauty -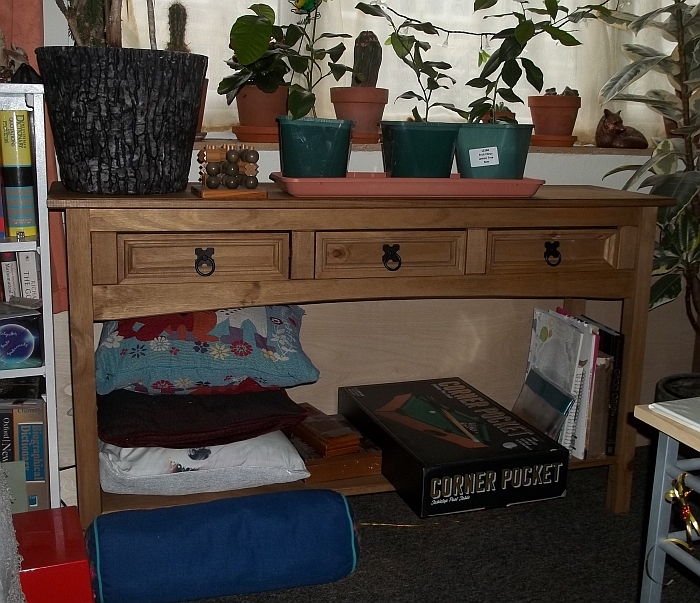 - at Dunelm. It's perfect, and looks a lot more expensive than it actually was. VERY pleased with it! (And the coffee table is now empty except for Kai's computer tools and a box of tissues. I'd be happy to see it go but I suppose it is still useful.)

A few weeks ago I was tidying up, and noticed a folded piece of newspaper tucked away on a bookcase. So I opened it out...

It's the double page Daily Mirror newspaper moon map, released back on Friday 18th July 1969 just before the first lunar landing, that I'd cut out and kept.

Ye gods. It's survived, and I bought some acid-free backing paper and conservation grade sticky stuff, and Kai and I finagled it into a glass frame.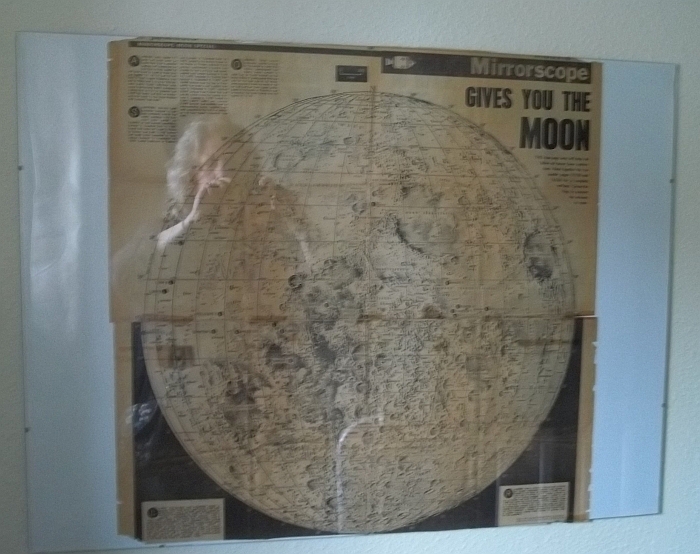 And that takes me back. I was 10, and vividly remember (watching or hearing, can't remember now whether we had it on TV or the radio) that "small step", then going out into the garden and waving at the moon...

I feel old!

Anyway, after putting that up, we thought we'd populate the stairwell, so the next one to go up was the Open University poster I ordered a year or so ago - Earth from Space. It's double sided, so it's in an acid-free plastic envelope so we can turn it periodically.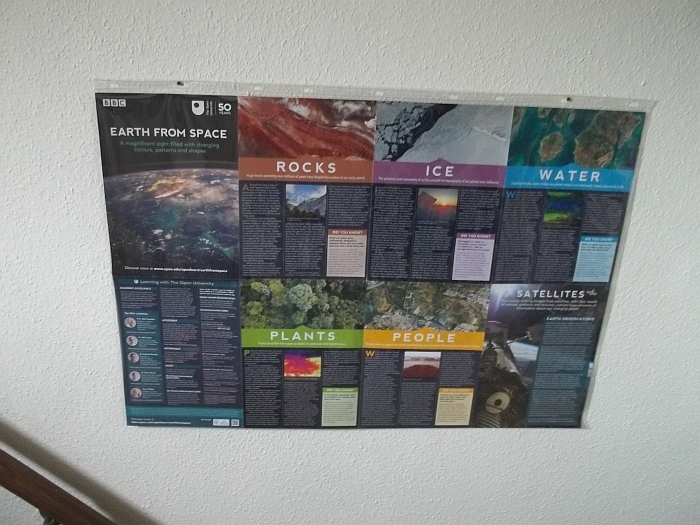 Together they look quite nice!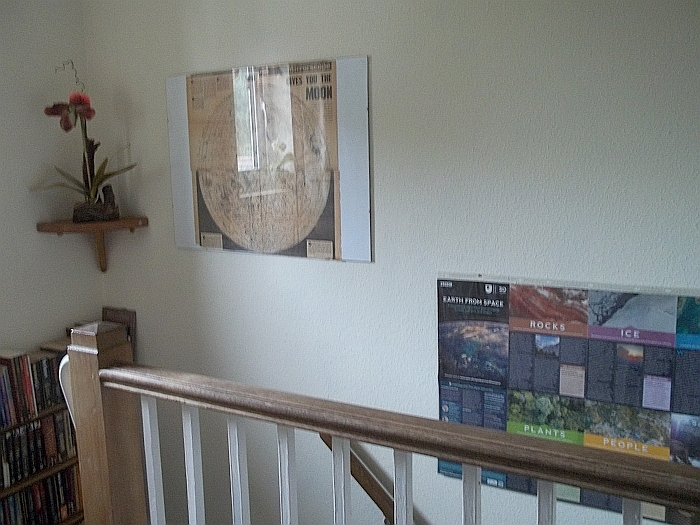 Next month I plan to dig out the Simon Drake poster I got when Ken and I went to see him at the Bristol Hippodrome - must be about 26 years ago now? - and get that put up too! Photo when done.
I had cause to physically go down to Sainsbury's a couple of weeks ago, and found a clock lying on a wall. Don't know about anywhere else, but around here, if you put something out on your wall it's an invitation for anyone who wants it to just take it, whether there's a note or not (I did it with a whole pile of very large plant pots I no longer needed and they were snapped up in about 6 hours!) Anyway, it was rather nice, so I went and did the shopping - took about 45 mins, I wanted to browse their clothing - and decided that if it was still there on the way back I'd bring it home with me.

It was.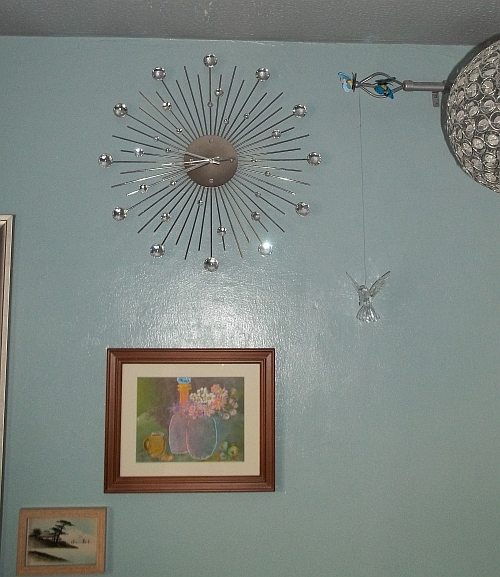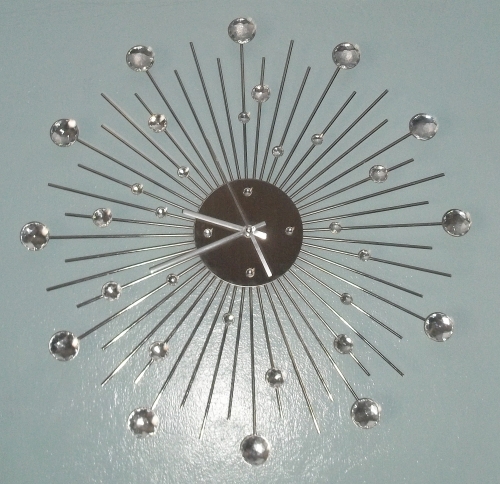 It wasn't working, but with Kai that's not even a thing, so he fitted a silent mechanism for me, and there it is! It catches the light beautifully, and is so pretty! (All the round things are 'crystals', so it sparkles in the light.)
Then I was looking at pretty bedding on amazon, and found this...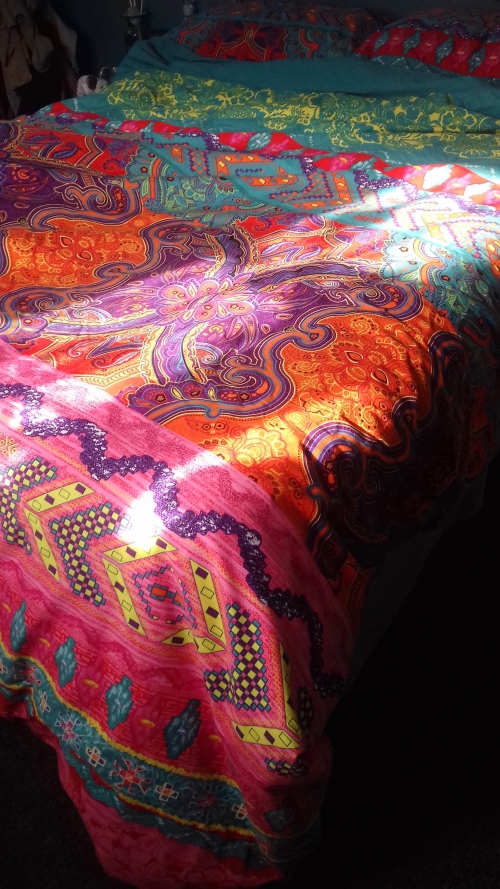 Couldn't resist - and it's gorgeous. Jewel coloured and wonderful thick soft pure cotton, feels fantastic against the skin. Debating getting another...
The orchids are doing well. GO has a new flower spike (I had planned to repot it when it had finished flowering but that will have to wait now)
EO's current flowers are a lot smaller than they should be, so when it's finished I shall cut the whole spike off and let it sleep for a few months - it's been in flower now for about a year and a half and the rest will do it good.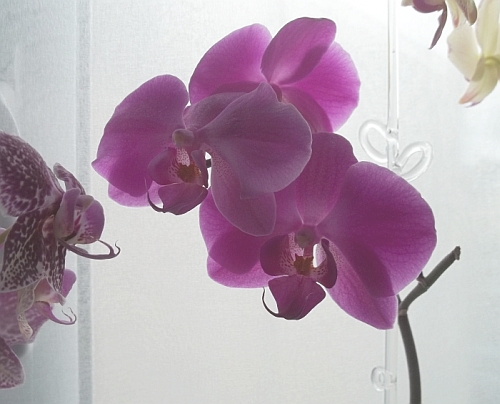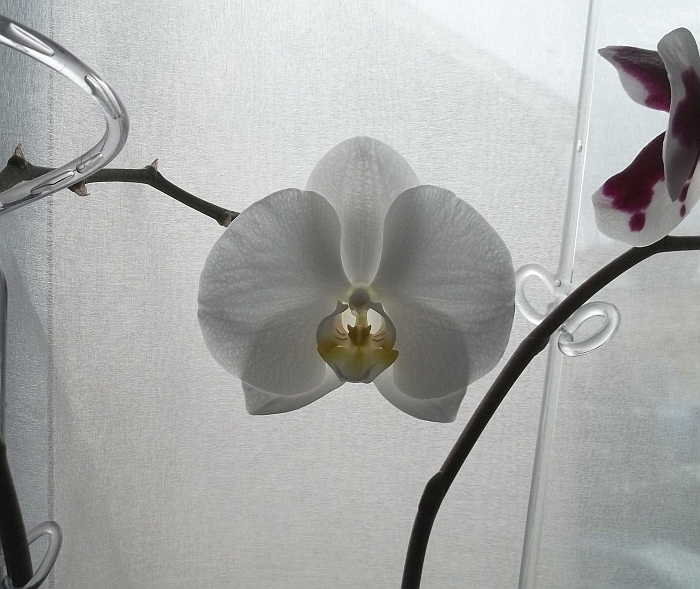 RO is now down to one (perfect) flower, so perhaps not as long lasting as the others, but still an absolute beauty.

Tyjer is being his usual self...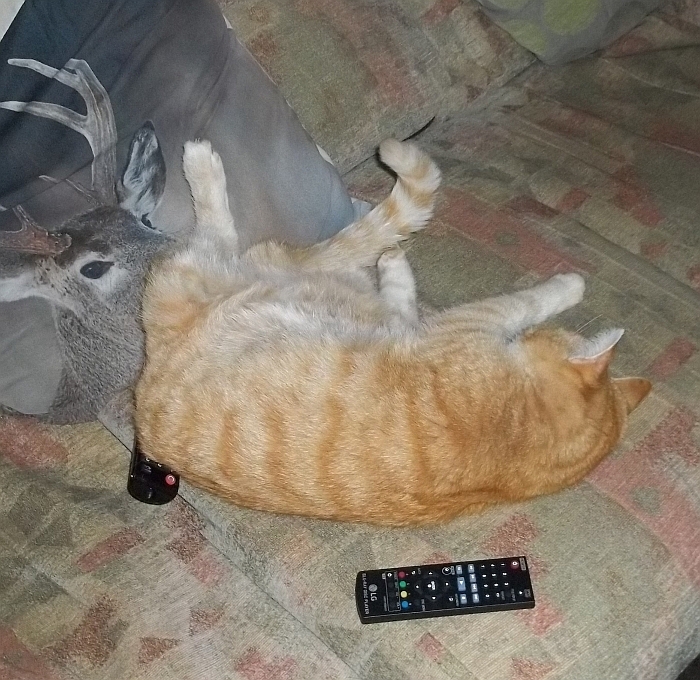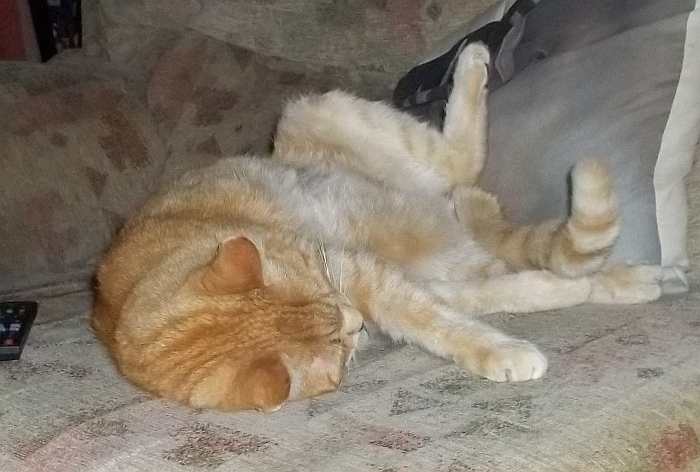 Media!

We recently bought a decent DVD/Bluray multi region player - we now have one device instead of three! Much better - and have been buying the odd Bluray now we have a player that actually plays them. Ken and I watched The Purge (which I found up at Cash Converter in Broadwalk, along with Prison Break season 3: the two of them for £2.60. I like the two main actors in this - they were great together in Legends of Tomorrow so wanted to see them together in something else, and at that price it doesn't matter if I hate it!) The Purge is interesting - thought-provoking, which I hadn't expected. Won't buy any more, but it was good to see the first one.

Zodiac has great reviews, and with that cast I thought we'd give it a go. It's rather good!
We all watched Watchmen (the film) in preparation for Watchmen (the series). The series takes its cue from the graphic novel ending though, so I had to explain to K&K what that was. We still prefer the film ending, but the series is very good indeed.

And then there's The Orville. Bloody hell. I'd say Orville and Expanse are THE best sci-fi available today. Orville is superb. It's touted as Star Trek as it should have been, and yes, in part it is, but it's so much more... Half way through season 1 I HAD to order season 2, which arrived yesterday, so we'll probably start it tonight. Fabulous series.

(Also bought The Expanse season 4 on Bluray (was cheaper than DVD, no idea why), but we'll have to watch season 3 first as it's been a couple of years...)

And then it was my birthday, and I got a fantastic present - my first Covid-19 innoculation at Stockwood Medical Centre! Surprisingly easy and quick, completely painless, and apart from feeling a bit more tired and achey than usual I feel fine now. Hoping K&K can get theirs soon too.

The other presents were fantastic too - Alpahville and Rosencrantz and Guildenstern are Undead, and a moon lamp and organic chocolates and The Lathe of Heaven, a gorgeous little Chokin pot from Kai, and robot soap (yes, you did read that right, thanks Sue!), and a bottle of Prosecco from Kim, who I discovered had her first jab in January, as she's a key worker with the Brandon Trust, so fingers crossed we can start going swimming again when Jubilee Pool reopens end of March!

And today Kai and I planted garlic and Dutch irises in the garden and saw the biggest bumblebees ever in the heathers: I have a good dozen tomato shoots on kitchen window/in the greenhouse during the day, while Ken went for a walk with Dawn and to pick up some oxygenating plants for the pools, to encourage the frogs and any newts that are still here. The daphne up at the greenhouse has only just started flowering and the perfume is filling the back garden already - absolutely beautiful. Happy garden. Happy owners!

Will try for a rest tomorrow!
Labels: domesticity, films, fun stuff, garden, medical matters, sci-fi, The Orville