Why is it, when one of the family manages to get some very nasty ailment, it always sounds innocuous? I mean, Kai's aplastic anaemia, and now my cellulitis...

What's the big deal with cellulite? I asked myself. Then I was given more details...

So - this is the ward. Photos of my leg underneath if you want to risk it.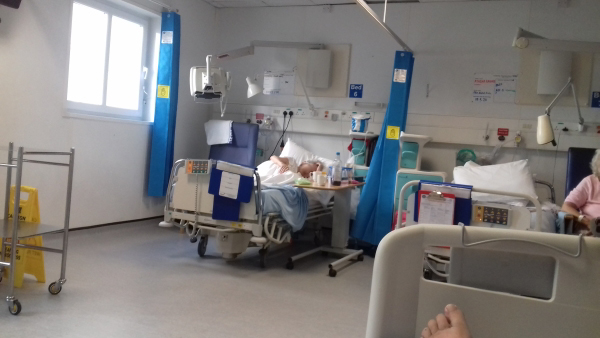 The jet engine above my bed!!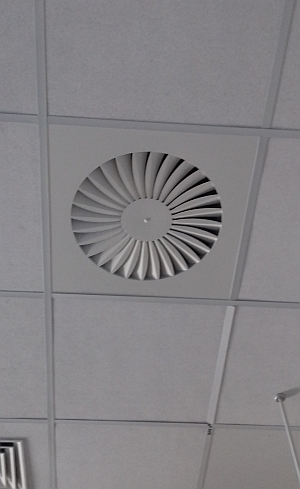 What my legs should look like. (Excuse the foreshortening, not easy to get a good angle.)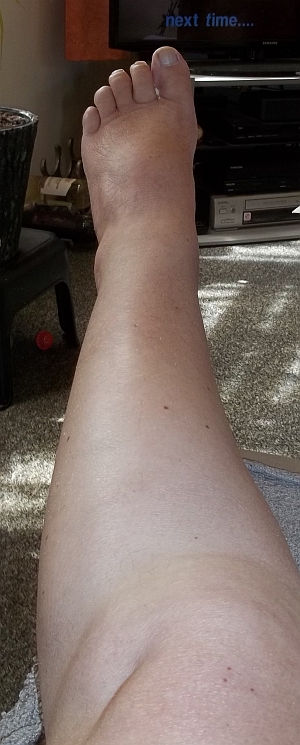 Right leg Sun 10th May.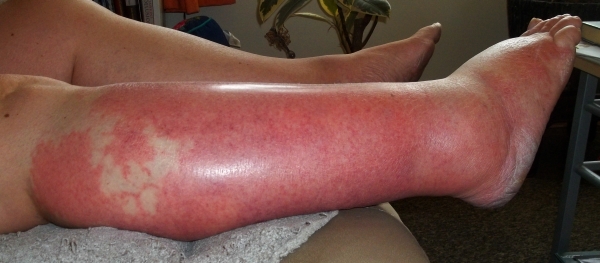 Right leg after fall and admission into hospital 15.5.20. The purple line was the doctor marking the extent of the infection so they could check if it increased or decreased during treatment. You can't see the massive purple splotches around the lower part of the leg here.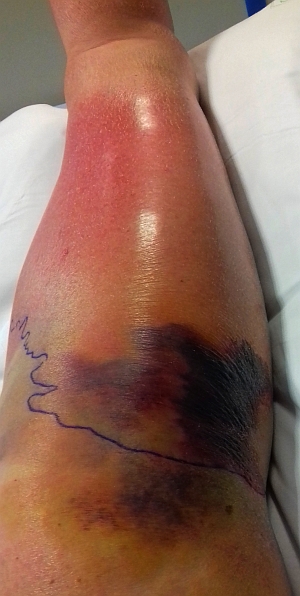 Brief rundown of events - as best I can remember them. Apparently I was rather more ill than I realised and a combination of cellulitis, kidney problems and the flucloxacillin antibio (which did NOT suit me at all) had my temperature spiking a lot. So they switched me to intravenous tazocin for 48 hours, which worked better, while they took umpteen blood tests to try to establish what the hell was going on.

Stopped my BP meds immediately, as apparently they (indapamide and ramipril), along with the ibuprofen I rely on for pain control for the back and hip problems, were combining with the infection and the antibios to have me headed for kidney failure. At least, that's what I understood from what they were saying. They kept taking blood samples, anyway, and reporting back, and on Monday(? I think?) one of the microbiologist (lovely black guy with the most beautiful eyes I've ever seen) was able to tell me that the markers were heading in the right direction and the kidneys were going to be OK. But I must stop taking 'pufen for good. Oh joy. Paracetamol just doesn't have the same effect...

They took me off the i/v taz and tried me on tablets instead - my temperature went right back up. So they started yet another antibio - co-amoxiclav, first by injection via the cannula, then as tablets, which I'm still taking at home. They do seem to be working: the swelling has reduced significantly and my skin feels soft as usual on my calf and the outside of my leg (shin is still bruised and painful from the fall - and it feels as though there may be a small lump under the skin on the inner side. May have to ring surgery about that if it doesn't go. It feels softer and less obvious today, so fingers crossed...) All the skin is peeling off my leg though, and it itches like hell. Small price for healing...

I'm back on ramipril, but only half the dose I was on, and I've been told to skip the indapamide altogether, so may need to find an alternative once everything's healed. Already missing the prufen though.

But the worst was the nights. I wasn't sleeping well anyway - combination of pain and meds and dropping off during the day - but I kept waking up to nightmares. I don't usually get nightmares. Yes, the occasional unpleasant dream, but nothing too scary. But here...

It didn't help that the ward walls were pale and tended to recede into the background at night unless there were lights on (which there mostly weren't). First time - around 4 am Sun I think - I woke up believing we were all in the morgue, and wondering why we were all still breathing as we were supposed to be dead. Second time - again 4 am-ish but not sure what day - L had some kind of episode and the nurses rushed in, talking loudly and with lights everywhere: I could have sworn we were in the middle of some kind of black ops where we were all linked up telepathically and trying to contact aliens! Was sure I heard helicopters (which I might have done, BRI has a helipad for the air ambulance). I remember being thoroughly pissed off at that point, a mood that lasted until half way through the next morning. Third time - again around 4 am. What is it with 4 am?? - I woke with absolutely no idea where I was. I actually had to hobble to the ward door and ask the night nurses where I was. They told me, but I was absolutely certain the entire ward had somehow been physically moved, and if I walked out the entrance I'd find myself in Pinhoe, in Exeter...

Fourth time - yes, 4 am-ish - I thought we were on an open plain, waiting to be picked up for some sort of experimentation under some sort of government coverup.

Can you tell I don't like hospitals much?

FINALLY, on my last night there, I worked out that the way to stop this was to leave my reading light on, tucked down behind the head of my bed, so when I woke I'd be able to see I was just in the ward with the others. And what do you know, it worked. Just annoyed it took me that long to work it out, as the previous nights had been absolutely terrifying - and I don't scare easily these days.

I told Ken about it later, and his reply was interesting and instructive. He said that it sounds similar to how dementia sufferers feel (he has dealings with such matters in his work at BCC). I have a new understanding of the awfulness of it.

So to now. K&K managed really well while I was away, but I think they're quite glad I'm back. Kai is learning to cook. Tyjer spent the week sleeping on my pillow, I understand: when he came in and saw me in my recliner he froze, and his eyes went huge - then he went to be petted by Kai. I got the cold shoulder for a few hours, which I'd expected, then he came and sat on my head, so we're all back to normal now.

All for now - have to go put leg up for a few hours. Films etc next update.
Labels: hospital, medical matters