Sooo - had my second Covid jab yesterday, feeling a bit 'meh', so taking this as a good excuse to finally update this monster.

We've been working on an updated version of a book we - or rather Ken - wrote waaaaay back in 1998 over the last few months, and it was finally in a state to send to our agent Chelsey back in Feb. She offered it to a few publishers, some of whom were interested but not enough to go ahead with it just now - but a thing happened that keeps happening when we send off a poss book idea: she came back to us with an offer. Bright Press were looking for authors for a little series of Beginners Guides (Crystals, Tarot, Witchcraft, Chakras) and would we be interested in the Crystals and Tarot books?

Of course we would. These are on commission, so would be one-off payments not royalties, but that's pretty much standard these days. So we started the process of agreeing the content and contracts beginning May. (All had to be done quickly as the deadlines are, as usual with this sort of thing, completely insane - 30K words in 4 batches by mid-June - and given Ken's day job with BCC he had to start writing RIGHT NOW.)

So everything was looking good - then the evening of the last Tues of April I got what I thought was indigestion. It got worse, until by 2 am on Wed it felt like bricks crushing the centre of my chest. Cue a phone call to 111, who ordered an ambulance, and I was whipped into BRI A&E.

Where I had about 14 different sensor electrode thingies stuck all over me, was hooked up to one of those machines that continually measure heart beat, BP and breathing (at one point that one stopped working and a nurse came in, looked at me and asked with a grin, "You are still breathing, aren't you?".) Had an ECG, which as usual was perfectly normal. (The rest of me may be falling apart but my heart - so far - has always been absolutely fine. Medical staff usually can't quite believe it and keep taking ECGs to check...)

So I sat for hours in a room to myself, putting my mask on every time anyone came in. When they finally had a room for me on the ward I'd been awake for 37 hours, the pain had gone, and I was not in a particularly good mood. But the room was nice - all to myself with a single bed and attached shower/loo room. Not much a view (ambulance one floor down to the front and the access road for the ambulance to one side), but it would at least allow me to get some writing done once Ken had brought in my laptop.

Heh. Best plans and all that. Damaged blinds let in a lot of light, ambulances aren't exactly the quietest of vehicles, the noise from the corridor outside was HORRENDOUS, but worst of all they attached me to a saline drip with N-acetylcysteine in it (which I didn't find out until later).

The only time I've felt that ill in my life was when I was taking GCSF to boost my stem cell production for Kai's bone marrow transplant. Two hours to start with - then a 10 hour overnight drip... I spent the night throwing up, bile after my stomach was empty. Still not sure why they gave it to me: something to do with clearing paracetamol out of my system? And when that drip had finished and I'd basically passed out, a doctor came and quickly and without speaking hooked up ANOTHER two hour drip...

When that one finished a different doctor came in and I said I CAN'T have another one of those (they were going to give me another 10 hour one!) It took a bit of mild arguing and me tearing up, but she agreed and gave me an intravenous anti-emetic, which finally stopped the nausea and stomach pain...

A little later they took me for a CT scan (I think I've now had every sort of scan possible except for an angiogram.) Ever had one of these? They wanted to check my aorta and liver were functioning correctly: they inject a dye before the scan so they can see what's up. And the dye, for some reason, gives you a hot flush (mine was only on my upper lip, which was weird, but then my whole life has been so why not?) but worse, makes you feel as though you've wet yourself. The tech went to great pains to explain this is perfectly normal, a function of the dye, and not to worry, I haven't wet myself...

[eyeroll] They had to give me two doses, and it was as horrible as it sounds. However, they were able to get all the info they needed so I didn't need to go for an ultrasound as well, which had been mooted earlier.

And guess what? Heart fine, liver and gall bladder a little aggravated by...

Gall stones. Bloody gall stones!! One had blocked a bile duct, and caused all that pain - until it passed while I was waiting in A&E.

AAAAARRRRGGGGHHH!!!

So I'm now on the waiting list to have my gall bladder removed, and they suggested a low- or no-fat diet to help prevent it happening again - which it will after the first one. Our diet is relatively low-fat anyway to try to control the weight (not been much help this last year) so that's not a problem.

But by the time I got home and the after-effects of the NAC had worn off I'd lost four bloody days of writing (I did manage to get a little done in hospital but nowhere near enough).

I've gone off the last week of April/first week of May. Gall stones this year, acute kidney injury last year - I'm cancelling them next year!

I have finally had enough of BND and am getting organised for a legal case against him. The last straw was him abusing and threatening our Sainsbury's delivery guy who had parked across his drive (instead of illegally over the DISABLED across our drive). I went out and glared at him until he turned to me and started swearing - at which I bellowed over him, "Are you illiterate as well as being a pig-ignorant moron? You were told anything you have to say to any of us you PUT IN WRITING." Then turned to the delivery guy and said, "Ignore him. We've had nothing but hassle from the hateful old bastard and we're getting together a court case against him." Yes, I startled myself. Never been so loud and forthright in my life, but the situation made me realise two things: firstly, he's that much of a coward that he only bullies women, specifically me as - I think - he's jealous, and secondly, he's all threats and no action (well, unless you count his baseless vendetta against us, which pretty much shows the emotional maturity of a spoilt, five year old brat throwing a tantrum.)

So I'm getting together everything I've prepped over the last seven years. Everything since 2014 has been photographed, recorded, documented and in a couple of cases filmed. I've made three complaints to the police against him, which have been acted on since they were serious. He's neither worn masks, nor social distanced, even with the people (also maskless) he's had coming to do work during the lockdown. I added legal case expenses to our house insurance a couple of years ago, just 'in case', and I believe, since part of my complaint involves criminal damage to the house, they may be prepared to take it on, but if not, I'll pay myself with the money earned from the new book.

In the meantime I haven't heard a peep out of him. I think I shocked him. He's got a bigger shock coming.

Onto more fun things!

Jeff cut my hair last Monday. I fancied a little bit of a change, and as I now have a pure white streak at the front on the left I asked him to leave it long - which he did, and I rather like it! It's all much tidier and looking pretty good, if I say so myself.

The garden.

I love spring. Everything is flowering.

Irises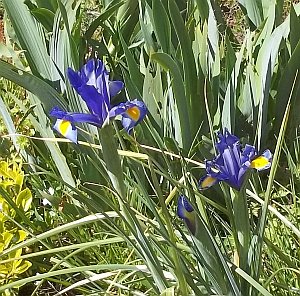 The Robinia.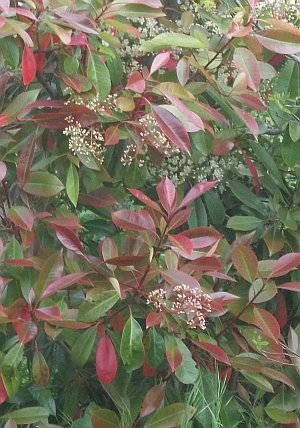 The bay tree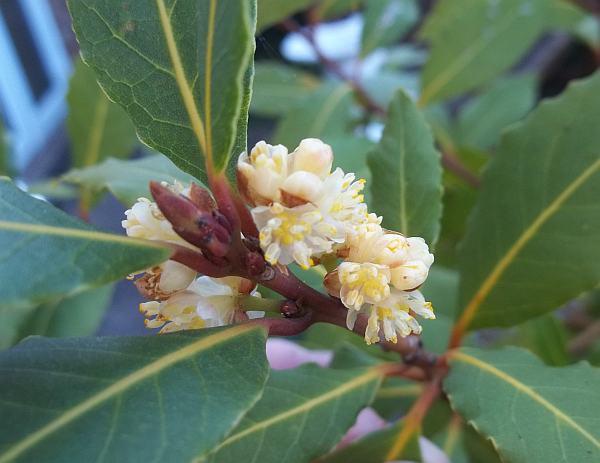 The lilac behind the greenhouse.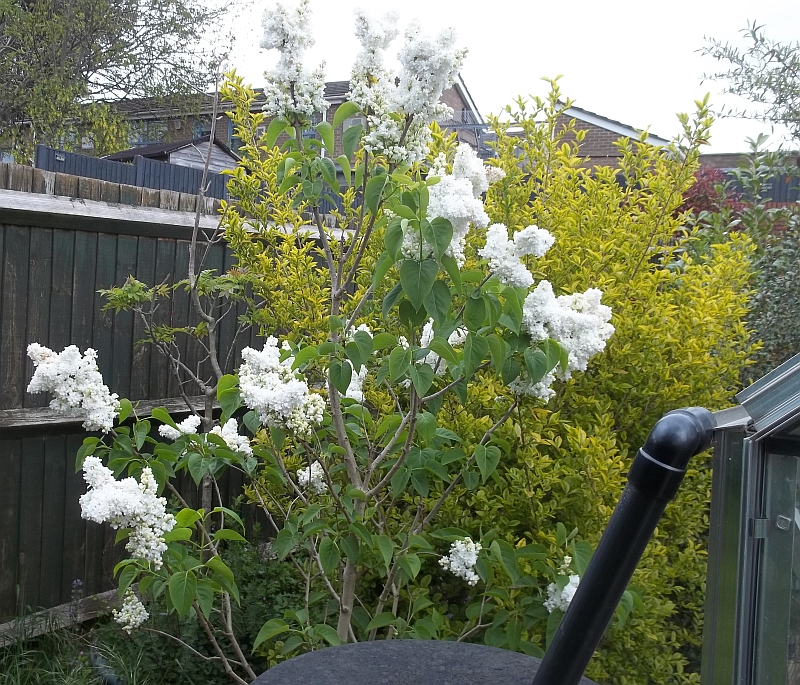 The red devil apple tree!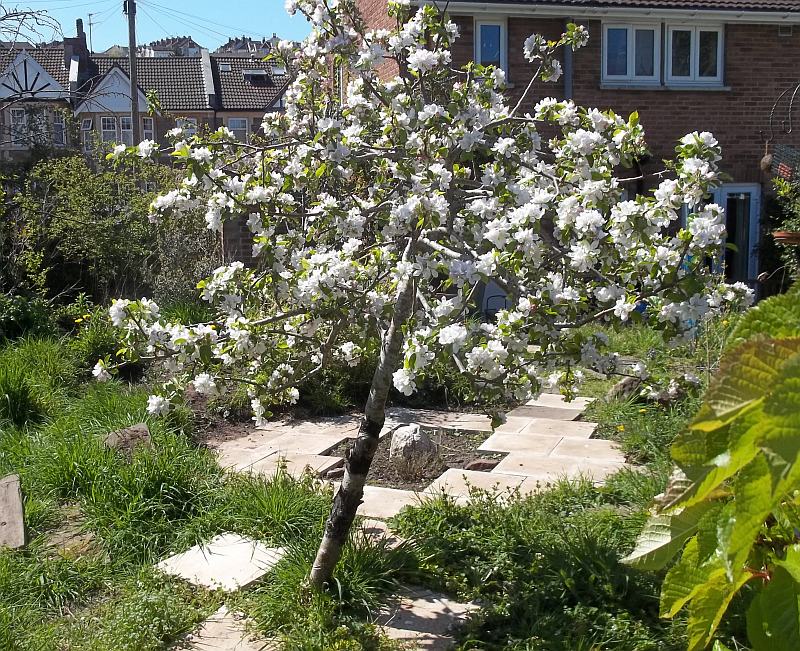 The prunus.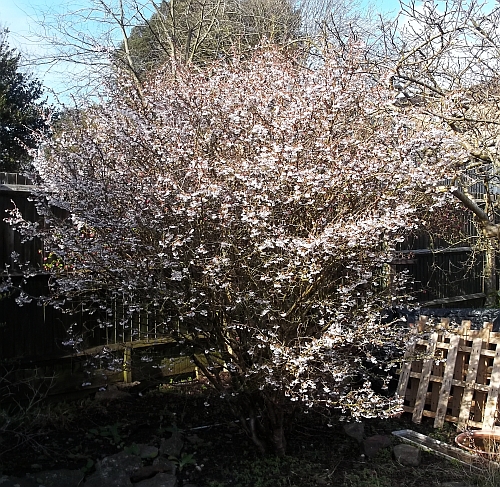 The heuchera bed with enchanter's nightshade and lily-of-the-valley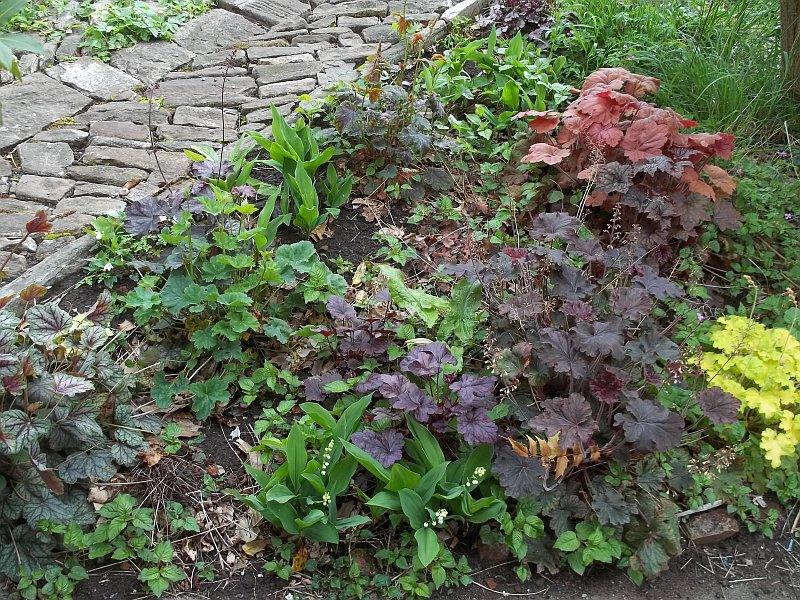 The glorious cascade of wisteria... the smell is fabulous.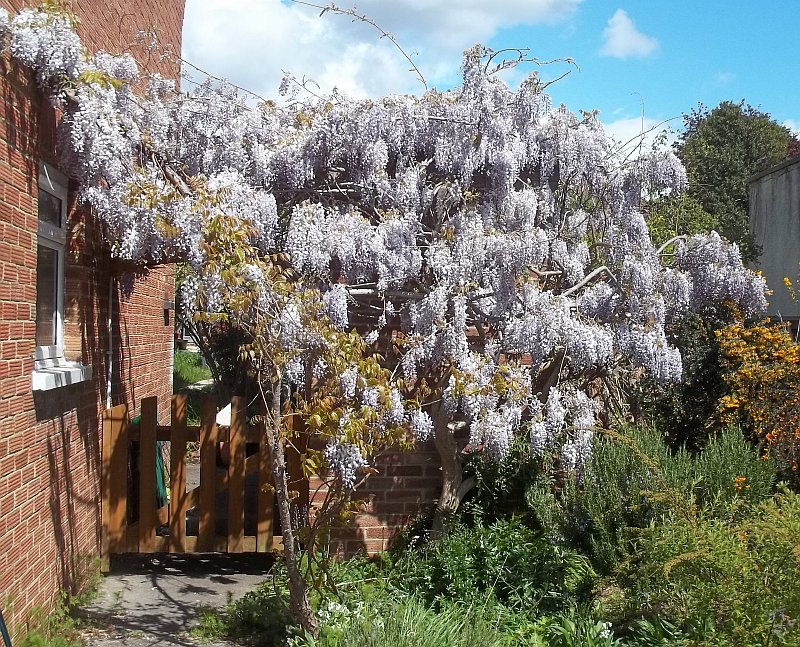 The ramsons. Give them another year to come on and I'll start using them in cooking.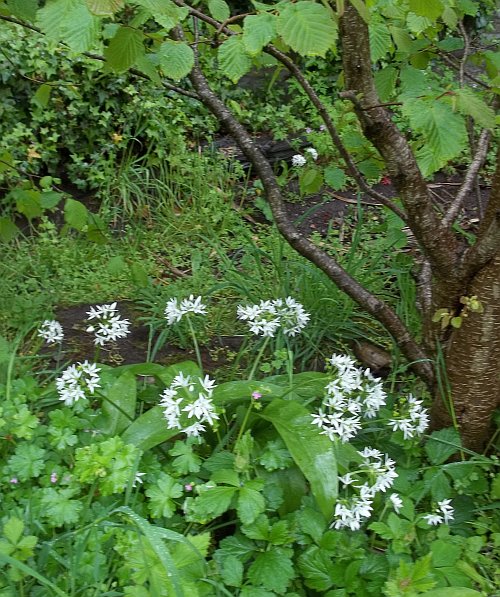 The foxes. Remember last year they nested here and had a couple of cubs, and I said I didn't want them messing up my garden in future, so we put down repellent and filled in the holes? Well... Spot the fox...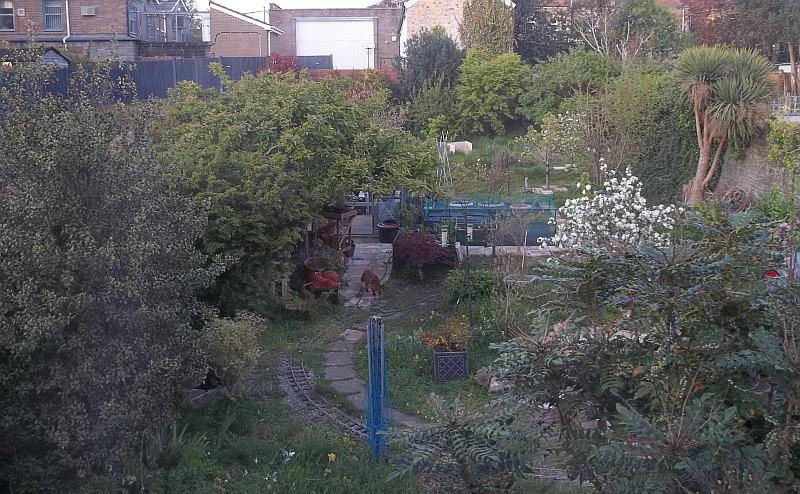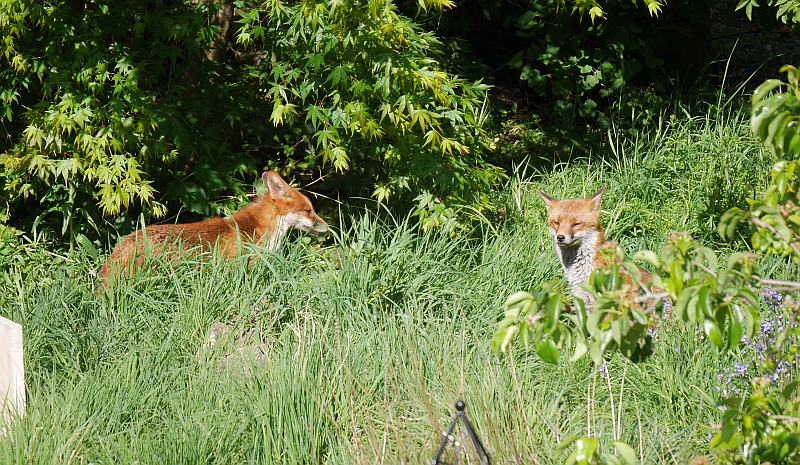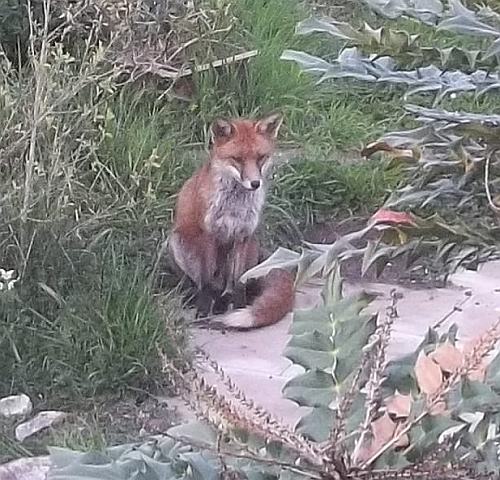 We've decided there's no point trying to keep them out. I've netted all the growing fruit and veg and bought some more pricklestrip to put down as needed. They're welcome to call the top of our garden home!

Orchids. GO specifically. Do you think I'm feeding them too much?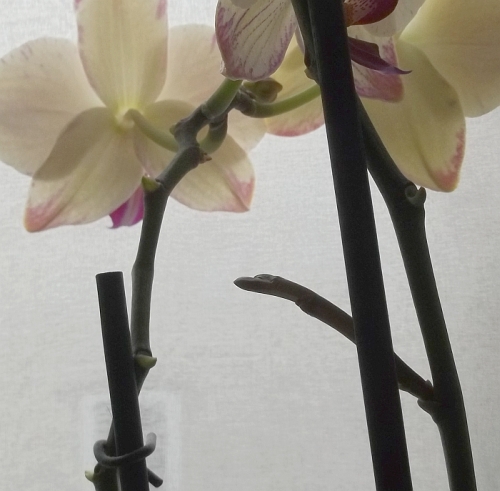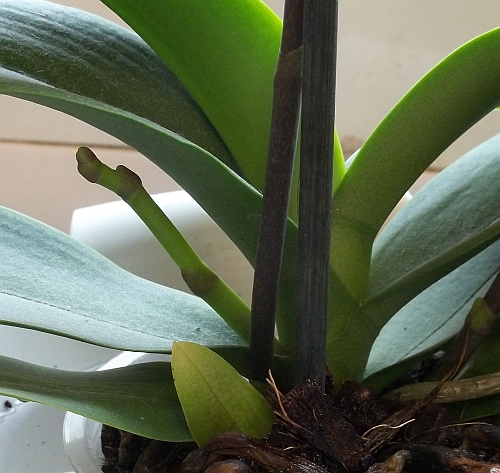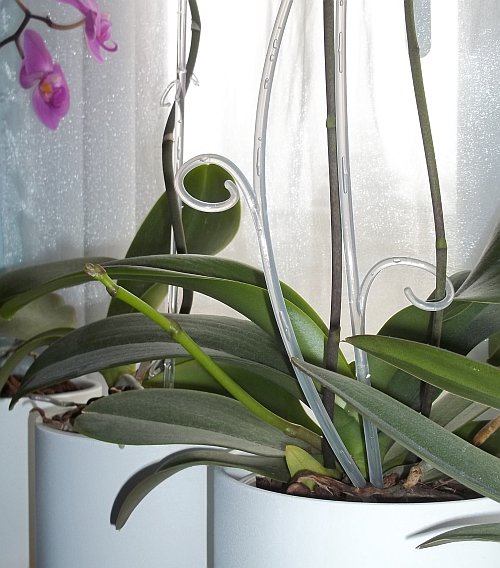 RO.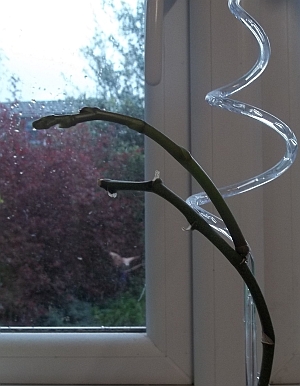 We finished paying the mortgage in 2016, and it's finally clicked that we have a little spare cash now for treats. I've been collecting recipes for years, probably since I started uni in 1977, so you can imagine the size and weight of my recipe folder. I could barely lift it and trying to find anything in it was a nightmare - not to mention it kept springing open and showering pages all over the place.

So I bought myself a tablet from amazon just for recipes. Most expensive recipe 'book' in the world!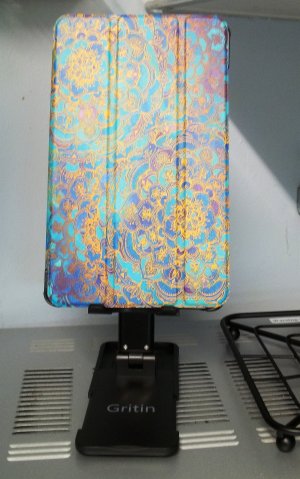 &nbsp&nbsp&nbsp&nbsp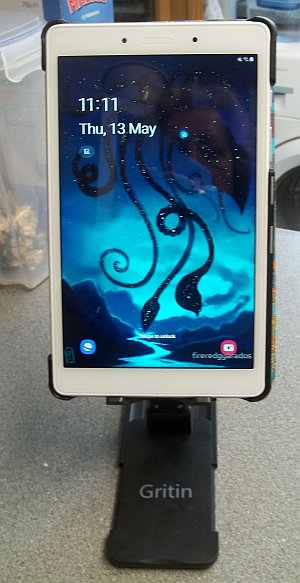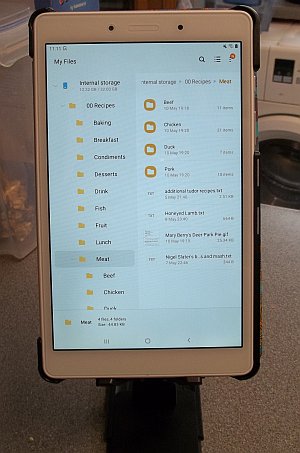 &nbsp&nbsp&nbsp&nbsp&nbsp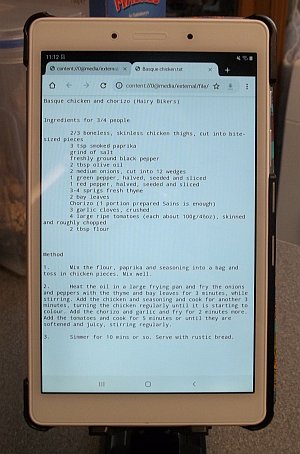 I am VERY happy with it. Samsung is the same as my mobile, so everything is familiar and easy to use.

Perfumes. Yes, an odd thing for the blog, but I was over at Tesco and saw this -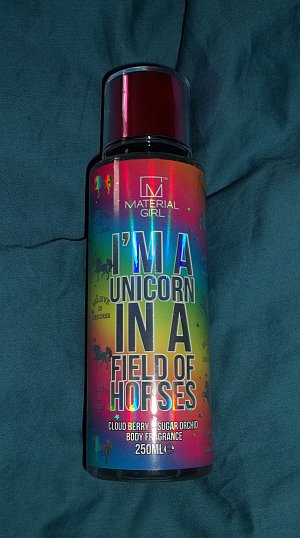 Cloud berry and sugar orchid body spray called 'I'm a Unicorn in a field of horses'? How could I possibly resist?! (It's actually, fortunately as I couldn't smell it before buying it, a lovely light, very slightly spicy/herby fragrance... sort of. It has a variety of perfumes in it, all of them very soft and gentle. A very good find.)

I bought wisteria fragrance oil from the wonderful House of Candles a year or so ago - yes, more wisteria, that and the delicate scent of Sultan's Palace irises are my favourites - and found that they also do wisteria body spray, so ordered more oil with it. Absolutely gorgeous.

And lastly, I was in the WMCA charity shop up the road in Broadwalk, and spotted a bottle of Opium perfume for what I thought was £1.50 - I assumed it was a knock off as I remember Opium from when I fell in love with it while working a Saturday job at Boots way back in the 70's: even then it was far too expensive for me. Picked it up anyway, as it's a rather stylish bottle. The woman at the till complimented me on my taste: I thought she was referring to the lovely iridescent silk scarf I had in my basket: it wasn't until I got home and checked that I realised the perfume was £15, not £1.50. And the real thing! Massive saving as the cheapest I can find is £56 a bottle... it smells as lovely as I remember, and actually has a hint of the fragrance of iris. I am very happy!

Media!

Skyline, Beyond Skyline, and Skylines are a sci-fi trilogy with inexplicably dreadful ratings on the IMDb: I was intrigued by the plot and picked them up cheap, and they are a riot! Rollicking good fun, alien aliens for once, perfectly OK acting, pretty nifty sfx and cgi - altogether a really good watch. Most enjoyable (even with the gore.)

I've probably raved about how much I love The Sentinel in the past. Bought it from mum T for my birthday, and Ken and I watched it back to back over a few weeks. It's still as wonderful as I remember it (although unfortunately the quality of the DVDs in the boxed set was very variable, and the seller appears to no longer be on amazon. It's watchable, so I can live with it.) I was sorry when it ended. May watch it again later this year...

I've also raved about The Expanse. We all watched season 3 in preparation for season 4 and it's just getting better and better. Now looking forward to season 5!

Because we like completing series', I bought Dirk Gently's Holistic Detective Agency season 2 when it finally came down to a more affordable price, and it's brilliant! So funny, and yet moving, and a little bit racy and unexpected. We loved it.

Lastly, Roeg's Pool is full of tadpoles and the occasional frog, and Tyjer is buried at the back, under all the rocks...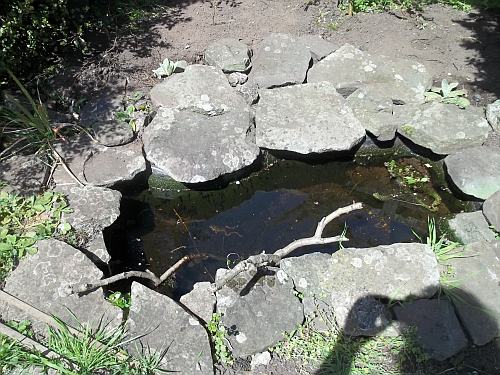 I miss him. I keep looking behind me before rolling my chair back to make sure I'm not running over his tail. Every time I hear a 'bump' from upstairs I expect him to come running down for food or a treat. A couple of times, when I've managed an afternoon lie down, it feels as though he's jumped onto the bed to cuddle up - not right beside me, of course not, that would be too dependent , but close enough to purr and be stroked. But he had a wonderful life and a quiet ending. We couldn't do much more.

Back to the crystals handbook...
Labels: BND, Dirk Gently, films, garden, medical matters, nothing's ever easy 'round here..., orchids and more orchids, The Expanse, The Sentinel, treats, Tyjer