OK, who stole October...?

Ah, of course, it was the haddock reversing direction.

ANYway... Woken up at 8 am by horrendous drilling and hammering - BND having new windows installed next door, going to be awkward for Ken's weekly zoom meeting - so decided to take advantage and finally update.

So, on the 12th of Oct Kai and I headed off to meet Dawn for a walk along the river, and in one of those synchronicities that just keep happening we met the deliverer who BND abused in my last update, and I was able to tell him that he would need to make a complaint himself and how to do it online, so hopefully he then did so (he was with his family, who he'd told about the incident - and no doubt they'd told all their friends, so that's another couple dozen people who hate him...)

The walk was nice. We found some astonishing street art at the lane at the bottom of Edward Road: -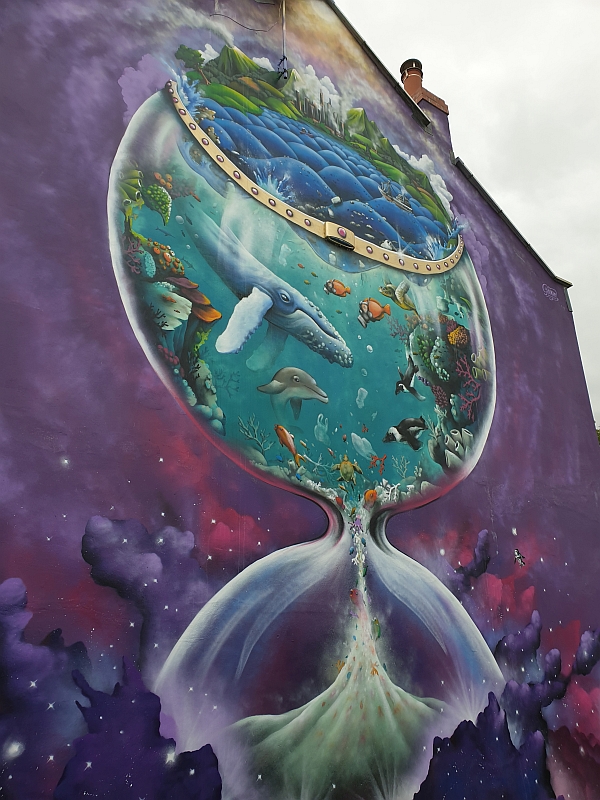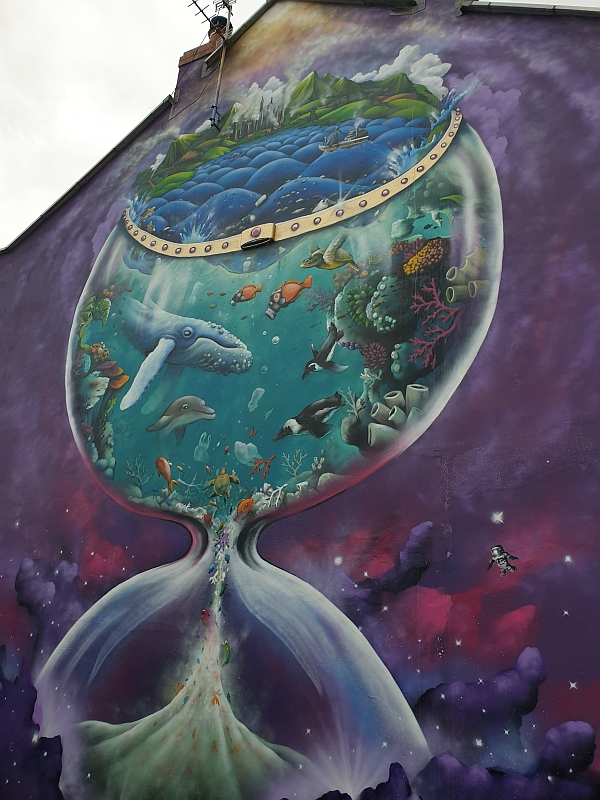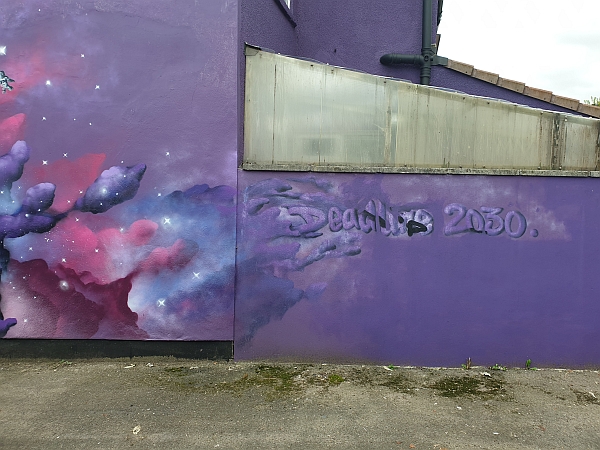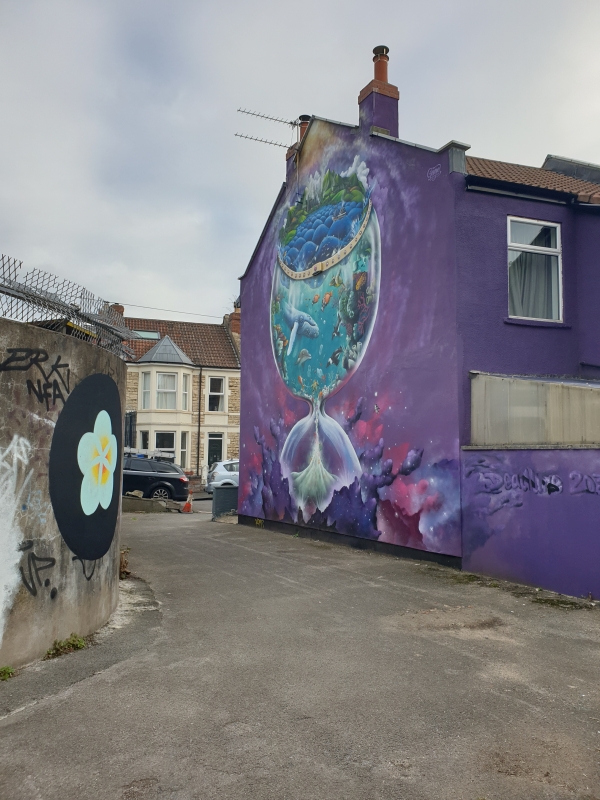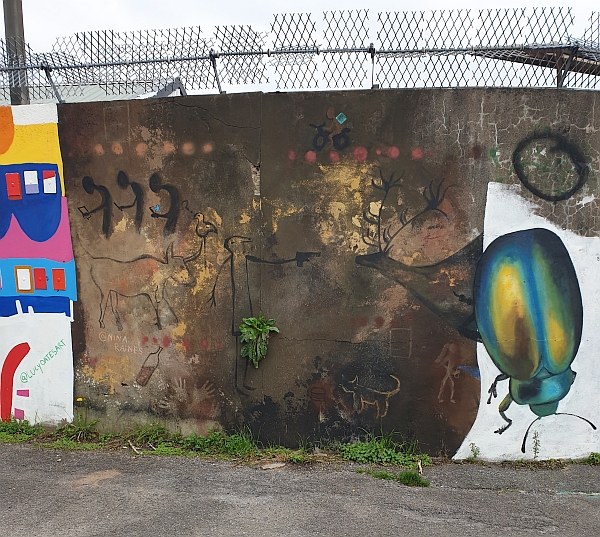 Gorgeous, if somewhat depressing.

Also gorgeous, and a lot less depressing, the acer at the top of the garden...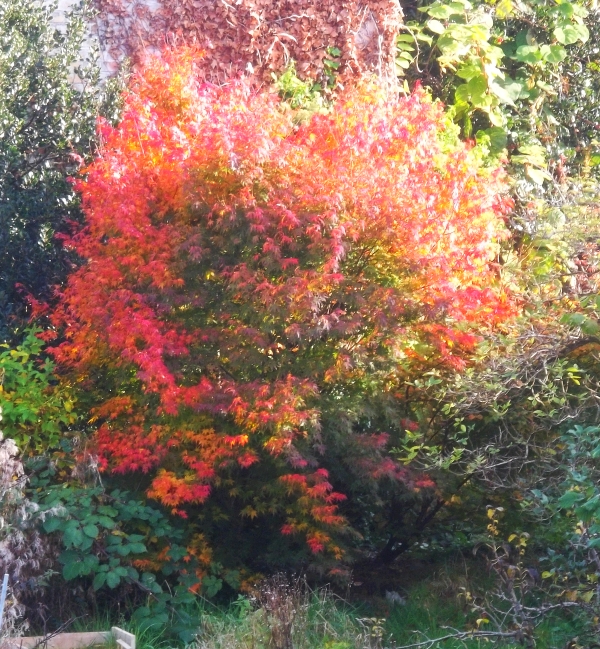 Hallowe'en was incredibly busy this year, and Derpy got some laughs!

Domestic bits and pieces...

Lounge and hall carpet was laid last week of September and looks lovely - and is so warm! Nice thick underlay at last. Wonderfully warm and comfortable. End of the same week the Acorn stairlift was installed: we've had a hinge put in at the bottom just in case we can ever manage to get the side extension to the house built, as that's the only place we could have a door between the two buildings. As mum Taylor has decided she's probably going to stay down in Babbacombe, now, the need to organise more living space has receded somewhat (although I'd still like Kai to have more room. Might be possible to have a dormer put in the loft - basic cost is £20K - but given the arrangement in the loft I don't know if it would be doable...) But the stairlift is useful for me - my back is getting worse, as expected - and will be fine if she ever comes to visit.

We now, finally, have a new sink unit (and sink)! And the kitchen vinyl was laid week before last, and is lovely. We still need to get the sink splashback tiled - haven't managed to make time to get out to Cribb's Causeway B&Q yet - and a plank to cover the water pipes above the sink, and as of last Friday evening we need a new light fitment in the kitchen too, as the fluorescent tube fizzled and flickered and died the death. Have found a nice one on amazon that should arrive today, then hopefully Martin the Electric can fit it for us asap as it's not really safe in the kitchen with just a desk lamp! He's put the new sockets in the lounge - 12 of them, should be enough! - and will be back to do Ken's office and our bedroom hopefully next week, after SolarSense have installed the solar panels on the roof...

Did I mention that? They came and surveyed the house a week or so ago, and have authorised the installation of 10 solar panels on the south-eastern facing slope of the roof under the Green Homes grant from BCC. They won't feed directly into our supply - you need a solar battery for that and the recommended one is £10K+ - but we should get the amount produced taken off our electricity bill. And we'll also be saving nearly 2 metric tonnes of CO2 a year, which is certainly worth it! They're due to do the work next Monday: scaffolding should be going up this Friday, they'll ring (maybe!) to let us know when they'll be arriving.

My room has also now been carpeted, and I love it. It almost sparkles: Ken says it looks like stars. So I have the universe at my feet! (Yes, we're watching Universe, of course.) I now want to find some starry material to make new curtains for out here: I have my Covid booster Mon 6th Dec (at Redcliffe pharmacy at 8.25 in the am!! Erk...) so as I'll be in town I'll pick up mum Taylor's Yule present from Hotel Chocolat, check out Fabricland, and get the bus back to Pets@Home to look for small dog presents for the pooches. We're planning to go down to visit at the beginning of December and take the presents with us.

Orchids...

RO has finally lost all the last crop of flowers - but has two new flower spikes coming! Going to be absolutely beautiful when they mature, next year.

And TO also has two new flower spikes coming, although the current spike is still going strong - has grown in a very graceful curve which is so far resisting my efforts to take a good photo! Will keep trying...

And I have now potted up the baby dendrobium (apparently baby orchids are called keiki, Hawaiian for 'little one'! How cute can you get?)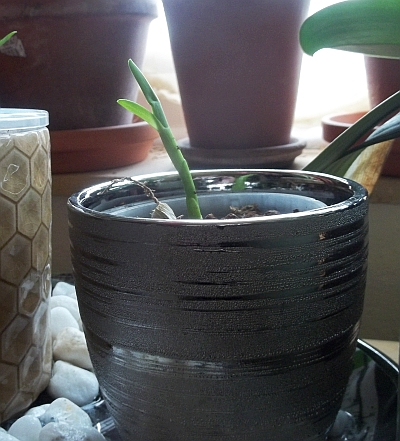 Media...

I managed to finish the Foundation trilogy, though it was a struggle. It has NOT aged well. Followed that up with Clarke's The City and the Stars, which I enjoyed, although it was slightly overshadowed by the connotations of the main character's name - Alvin. My first encounter with the name was Alvin and the Chipmunks... Now reading The Songs of Distant Earth (I love the Oldfield album of the name and as it was evidently inspired by the book though I'd probably better read it.) So far I'm not impressed...

We thoroughly enjoyed Angry birds 2: Tenet is extraordinary (and requires more than one viewing): Squid Game is... whoa... most intriguing, if exceptionally violent: and Free Guy is absolutely brilliant! Gloriously funny (and more than a little thought provoking...) Ken and I are currently watching Special Unit 2, which I bought cheap on a reasonably good home-produced version - not great, but watchable - and loving it. I've also just ordered Legends of Tomorrow season 6 (will need to rewatch at least season 5 first. Might see if Kai wants to watch it this time around and start with season 1!)

New favourite song (anyone who watches TV with ads may have heard the first snippet of this as the advert for holidays in Turkey: I did the usual, looked up the lyrics and found and bought the full song...)

And finally, just for fun - I bought a packet of our favourite off-brand Viennese biscuits from Tesco -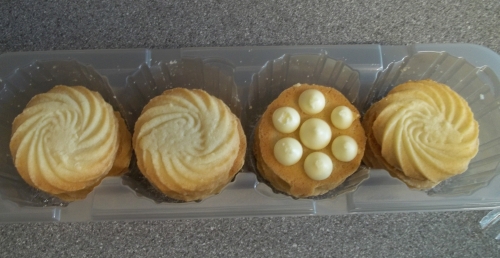 Well, it's kind of pretty...

No doubt there's more I've forgotten - it has been exceptionally manic this last few weeks - but for now I'll sign off. We're having burgers for lunch, and I need to get them under the grill before Ken's meeting finishes and he takes his half-hour lunchbreak. Tomorrow I have an appt for a blood test at the surgery: while I'm up at Broadwalk I'll dive into the dentist and see about getting an appt to have the left bottom back molar removed: it's nothing but filling anyway and just recently three chunks of said filling have fallen out (one while I was eating a soft cake and the other two when I was cleaning my teeth. Not a lot of point in keeping on paying for fillings that are just going to come out again..)

Please stay safe and well. Later!
Labels: BND, books, busyness, domesticity, films, orchids