The orthotic insoles arrived middle of last week - much earlier than expected! Going to be interesting wearing them...

Sat pm I heard high pitched squealing from the garden: Kai was bent down fending off Tyjer. Went out to see what he'd caught... We know we have mice in the compost bin - it's a great place for them, safe, warm, food always available (we did have a rat or two at one time but the foxes ate them) and Tyjer does occasionally catch one. Only they are usually babies, tiny little things. This one was full sized.

I picked it up - forgetting what I learned 50-some years ago when I had mice as pets - and instead of picking it up by the base of the tail, I lifted its body into my hands...

It bit me. Four times on three different fingers. Gordon Bennet, they have strong jaws! (Luckily not sharp teeth, so it didn't break the skin, or I'd be in a much worse state. The bite sites are still red and painful today.) Talk about biting the hand that feeds you! It did finally let go when I lowered it to the logs and plants behind the compost bin and released it, but I won't be doing that again in a hurry.
We watched Gantz a week ago, and loved it, so I looked for the sequel - Gantz: Perfect Answer. It's not easy to get hold of, but I found a copy on amazon from a German seller... [sigh] Yes, the subtitles were in German: I had to send it back and get a refund. Found an English version from the States, which arrived yesterday, so will watch that this afternoon.

And Legends of Tomorrow season 5 has just arrived - will probably start that this evening after dinner.

The last thing I wanted to happen in the current situation did, and a chunk of filling cracked off a back molar. Luckily the tooth is pretty much all filling, so nothing hurts or is sensitive, just a bit sharp to my tongue. Dentist recommended getting some pharmacy-bought temporary stuff, and I have an appt for 24th October. Won't bother getting the tooth refilled: if she just grinds down the sharp edges that should do. It worked with the same tooth on the other side, after all.

Kai and I have booked our flu jabs for this Thurs...

Decided that rather than waste the fruit in the garden, we'd have a go at making apple, pear, plum, and medlar wines. Have ordered the equipment, now waiting for it to arrive.

Yesterday K&K got an awful lot done in the garden. I now have a wonderful paved platform in front of the greenhouse, and we've decided where my small, new raised bed - for the fruit bushes (the raspberries were great this year!) - is going to go. Everyone's too tired to do any more today though, so Kai and I are hoping to carry on this week (before the rain starts again on Wed).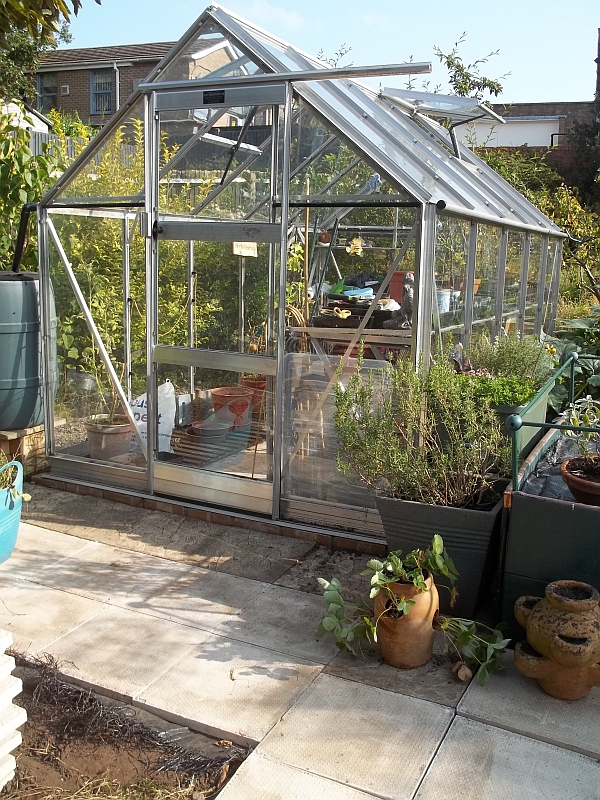 And RO finally flowered...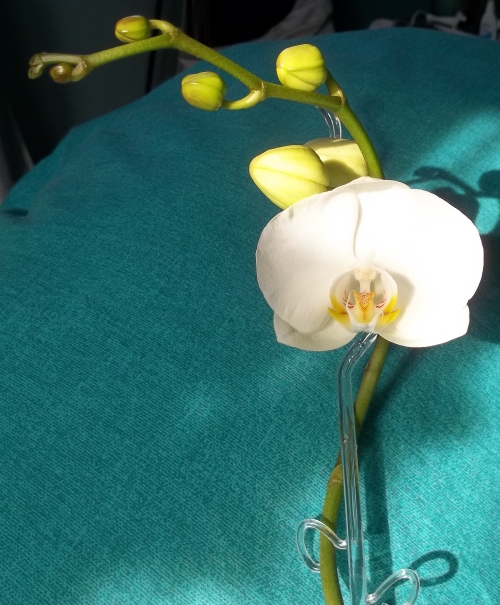 I was right about the colour!

... y'know, I'm now not entirely sure GO, TO and AO are phalaenopsis. Going to have to check that...

I think that's all for now. Catch you later - please stay safe!
Labels: garden, Japanese films, orchids