OK, who stole August?

[sigh] Well, it's been another of those months. Let's see if I can condense it all into something that won't take hours to read.

Let's get the 'orrible stuff out the way first, neh?

Medical matters (icky photo a bit further down. Nothing too icky, just... gall stones. Lots of 'em.)

First up, my new glasses are wonderful!

And second up...

So the MRI showed "persistent stones in [my] bile duct" and the unit booked me in for an endoscopy to remove them (in prep for the op to remove the gall bladder). Appt came through for the 2nd Sept, which was fine. In the meantime I had three 'episodes' - disabling pain in my midsection which passed in a few hours, helped, oddly, by throwing up violently: dunno, perhaps it twisted things internally and persuaded the stones to shift? Anyway, it helped - which I just put up with as I knew what they were and there's not a lot the BRI can do to help with them. However, this Wed noon-ish it started again, worst yet. Couldn't move, throwing up didn't help, and then my temperature started climbing. Cue another phone call to 111, who sent an ambulance, which took five hours to arrive, which whipped me off to the BRI. And in which I waited for four hours as they had no beds or staff. Predictably, when I finally got into a cubicle the pain was mostly gone - except for a HORRENDOUS headache - and my temperature was back to normal - so they discharged me straight to the heptobiliary unit (wrist tag and peripheral venous catheter still attached) for my endoscopy.

Which was... a weird bit of a non-event, despite the eight people in the room (they did x-rays during, I gather). The local anaesthetic to the throat was as horrible as ever, and the intravenous sedative (mixed with all sorts of other stuff including antibios) had the effect of making me think I was still awake while a group of people were felling trees inside me... (welcome to my brain. It contains galaxies. Some of which are really not safe to visit.)

Took about half an hour, then I was wheeled into a recovery room. Felt fine after about 10 mins, but they insisted on a four hour wait before discharge. Kai came to meet me and make sure I got home OK, but honestly, apparently I recover from sedatives even faster than anaesthetics.

So - the result. When they said 'gall stones', I envisaged two or three, but no. Don't know about other people but I had (and still have, I think, they couldn't get them all) dozens. Have a photo of my insides.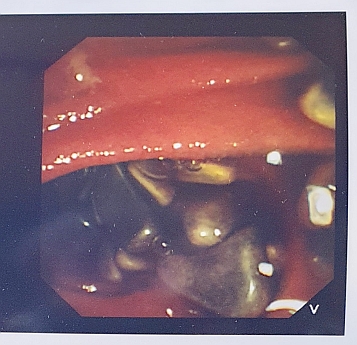 They even gave me some of them in a container - the biggest is a tad over half an inch/nearly a centimetre across!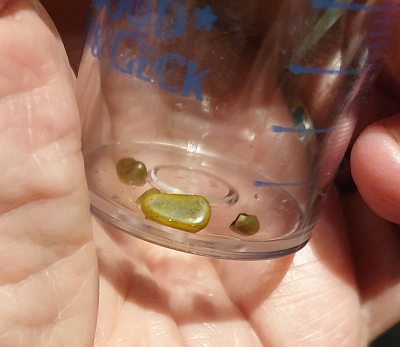 Fragging evolution! I want a new body.

Anyway. Hoping they'll get me in for the op soon so I can get shot of the whole bloody thing.

Interestingly, though, today (after 10 hours sleep - didn't get any the 35 hours prior) I feel better than I have in months. Maybe the stones were what was making me so draggingly fatigued all the time.

And on to prettier things!

The picture frame now on the bedroom wall left of the orchid window...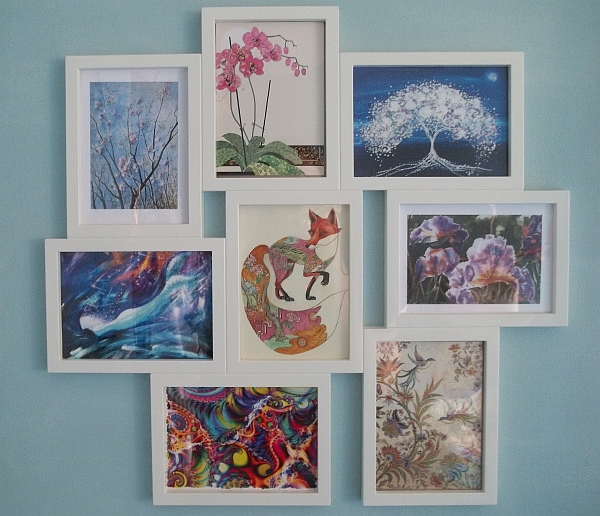 And the teeny weeny orchid I bought at Tesco today...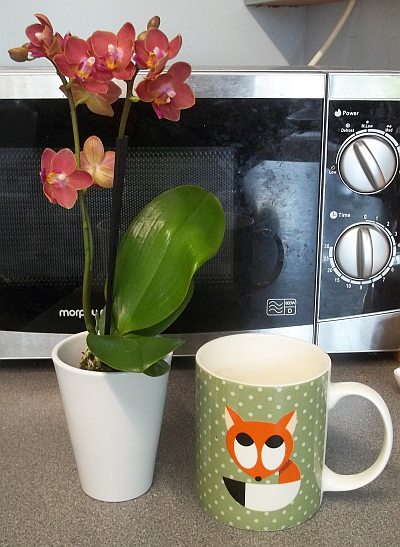 Not sure yet what to call it for short. Already have TO. Any suggestions, anyone?

The dendrobium finished flowering so I repotted it - and found it had been planted in bog-standard indoor potting compost instead of the proper bark and sphagnum moss. No wonder it was unhappy! So pruned and repotted it's much happier, and may have already produced a tiny new flower shoot...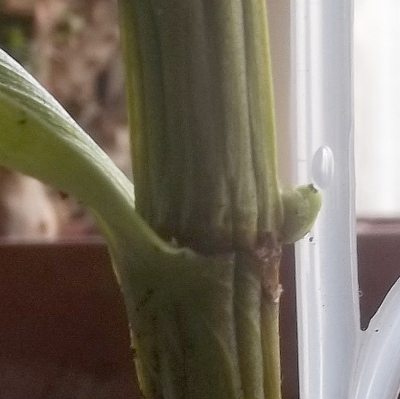 Will keep blog updated!

The cambria also has a new flower spike...
I checked back and RO started flowering Sept 2020 - and is still flowering now, albeit on a different flower spike. Over a year of flowers! I do love my orchids.

My craggy old succulent is flowering - sorta...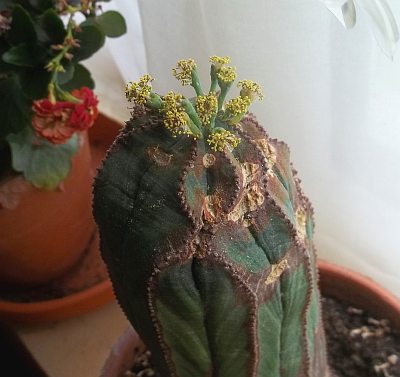 The seaholly has been splendid and absolutely full of bees for over a month...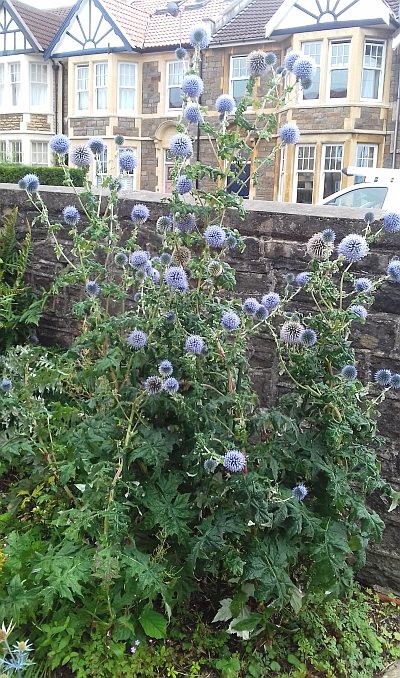 Going to keep an eye out for others next time I visit a garden centre (which reminds me, must message Kim!)

We had another dragonfly in the garden the other day. They do seem to like Roeg's Pool.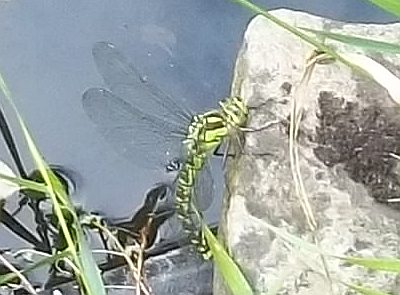 Then it went and hung in the medlar...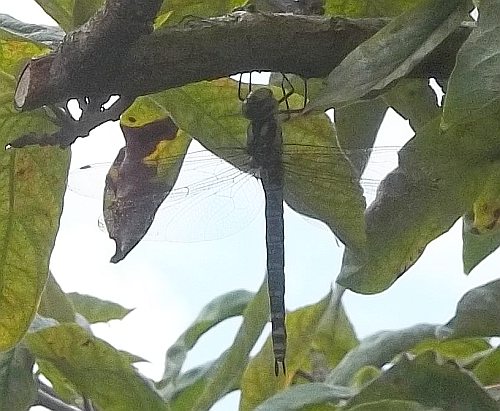 We've had the hedgehogs canoodling again, and Whitepaw vists regularly - as, unfortunately, does the squirrel from the park, stealing Ken's hazelnuts... I do love my garden.

Kai and I went to the moon (in Bristol Cathedral...)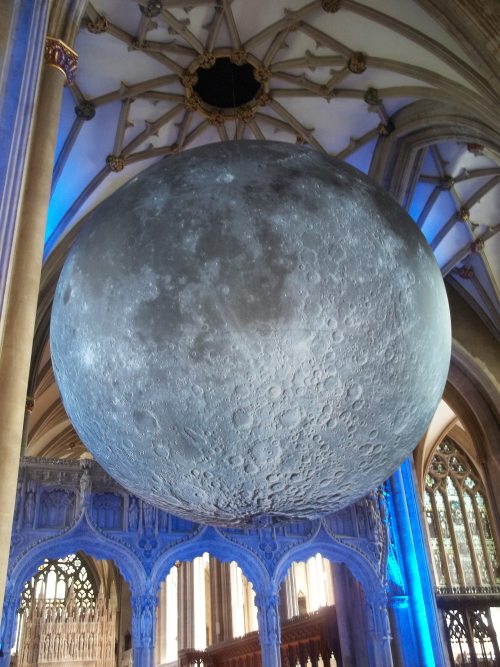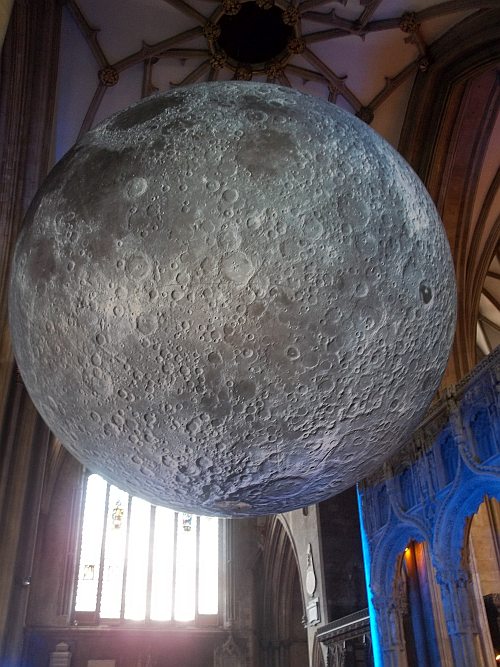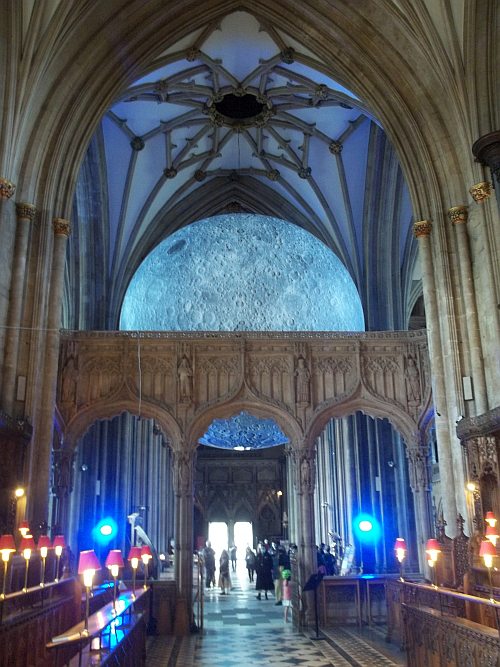 Nice, but not as much fun as Mars.

Media...


Been watching too much Boosh... Kai's crimp:

Take out the burgers, and put them in the kitchen
In the house, in the kitchen,
In the house, by the seeds
Separate them out so they don't stick together,
Separate them out so we can all eat them together,
Neigh!
(I took burgers out the freezer for the next day's lunch, and after saying something he laughed, but it sounded like a horse neighing!)

Great to watch it again. It never ages!

Soylent Green... not at all sure I've ever watched it before, as I didn't remember most of it, and ye gods what a film! Depressingly prescient.

Cargo - what a fascinating little film! Also really good.

I woke up last Sunday with "A person is smart. People are dumb." in my head - so we watched the three MiB films back to back. Have to say the third film is by far the best - although you do need to watch at least the first for it to make sense. Pity about the second film, but there you go...

Books

Finished the Cixin Liu trilogy. It's... I mean... wow... how do I even? Absolutely staggering. HUGE story. Gloriously poignant, delicate ending. Love it. But it's a hell of a commitment. Death's End alone is over 700 pages. Will need to re-read it - in about ten years time when I've forgotten some of it!

Afterwards I thought I'd dive into Asimov's Foundation trilogy, been donkey's years since I read it...

Well, I did try to bear in mind it was written before I was born, really I did, but even so it's... irritating. His attitude towards women was problematic at the time, and even worse now, while the complete lack of advancement of the human species over millennia grates horribly. And why the hell does everyone still smoke?!

Halfway through Foundation and Empire: I'll finish the trilogy and move onto 2001 et al. More later.

While I was at Tesco I stopped to chat to a lad who was outside promoting donations to the Battersea Dog Home. I didn't know that they sponsor other animal rescue charities around the world, but was delighted to hear it. Anyway, I went ahead and set up a monthly donation to sponsor a cat cabin, in memory of Tyjer.

I think that's about it, mostly. Of course I'll have missed some stuff, I always do, but that's all the most memorable things. Will update... well, whenever I can!

Oh! Just remembered... I have a new phone. Samsung Galaxy Note 9, courtesy of a friend of Ken's who couldn't use it and gave it to him (and since he only uses his phone for calling or texting he gave it to me - I use mine for an awful lot more than that these days!) It's fabulous, although getting my old SIM into it was a whole lot of not-fun. Kai now has my old J3 with his SIM in it and is fairly happy (mostly that he didn't have to pay for a new one, I suspect...) Such a treat!
Labels: books, Cixin Liu, domesticity, films, garden, medical matters, wildlife