It's been manic...

So, Derpy wouldn't start, but three hours recharging the battery did the trick and I took her down to Sainsbury's to get petrol: brake discs had a light covering of rust (Kai says) but using her again seems to have sorted that out. Anyway, she's now taxed and booked in for service and MOT 10th Aug.

Drove out to Whitchurch garden centre for thyme and oregano, potting compost, bamboo and steel cable (2.5mm) for supporting the wisteria - we want to train it (finally! been meaning to get it done for years...) along the front of the house at two levels, just below the bedroom windows and just above the downstairs ones. It will look gorgeous and smell wonderful. Ian, the guy who sorted out our redundant cables at the side of the house end of last year, is coming round next week to have a look and see if he thinks he can do the work for us. Fingers crossed!

Kai's first Sunday driving lesson in six months was... interesting. And a little hair-raising, but that was partly my fault for opting for right turns after such a long break. We went to the Temple Meads Showcase Cinema's car park for a quick midweek lesson last Wed, and he tried reversing. Not too bad, but there were a number of other people there - a girl taking an instructed lesson (both wearing masks, instructor had gloves on too) and driving slowly and carefully, a guy moving slightly faster, a nutcase going far too fast (there are speedbumps there) and a red van man, also driving a little erratically and speedily. So not the best place, but Kai managed OK. Aiming to get back to the industrial estate this Sunday.

I've had my appointment for the ultrasound for my foot!! Sat 8th Aug! Really quick. I'm pleased, although getting out to Hengrove on a Sat is going to be a pain.

Kai and I have started tackling the garden... not done too badly, although there's an awful lot more to do.

Media: we're about half way through Legends of Tomorrow season 3. It's completely bonkers but a lot of fun. Except for John Constantine, who is a pain in the arse. I was looking forward to his guest starring too. Alas, he's going to be a regular in season 4...

&copy Kai Taylor July 2020
Kai's photo of Saturn, taken through the telescope using my little point and click camera. Going to price up adapters - so he can use his own camera and get better definition - for Yule present.

There's more, but it's too hot (28° today, washing dried in 45 mins) and I'm tired after starting on the bramble pruning yesterday afternoon. More later. Stay safe, everyone!
Labels: busyness, Derpy, gardening
Just back in from an hour sky gazing with the telescope. Jupiter is magnificent, two dark cloud bands and four moons visible, Saturn looks like an eye (the rings are VERY clear tonight, and tilted towards earth) and two moons are visible - and we can see Comet Neowise (photos at the bottom of that page), which is what we went out for! Kai's first comet: he's dead chuffed! (My third, but all comets are special: this is the first through a proper scope.) It's faint, but you can see the tail with both bins and scope. Magical...
Later edit. Again.

Dr thinks the problem with my foot is morton's neuroma. Bussed - masked the whole time of course - over to South Bristol Community Hospital for an x-ray last Mon, just to make sure it's nothing skeletal - it isn't, all that showed up was the healed metatarsal I broke dancing barefoot at a disco at Uni - so now have to wait for another ultrasound scan, which could take months as they're backed up with everything else that's happening. In the meantime picked up a pack of supports (expensive given I only need the one, but they do work and I can wear them with sandals, so that's a big plus). Good news is I can, just, get on my driving shoes, so can restart Kai's driving lessons hopefully this weekend. He's now very keen to start driving properly, so will make it a weekly thing (if not more often if I can find somewhere safe for him to practise...)

Forgot to say we also watched Kung Fu Panda 1, 2 and 3, all of them amazing, inclusive, and with wonderful lessons to (unconsciously) teach the watcher. Very glad I bought them!

And I treated Tyjer to one of these fountains after reading that cats are reluctant to drink out of bowls as in the wild it means the water is stagnant... or summin... Anyway, although we haven't seen him use it, from the number of times I've had to top it up, and the contents of his litter tray, it looks like he's enjoying it!


Oh dear, it's getting longer and longer between posts...

Sorry about that. I guess I'm still trying to recover.

Anyway... It's all much the same as it was before - Ken's still working from home, and may well be into next year if the warning of a second winter spike of Covid-19 comes true, Kai's working on projects and helping me weed, when my back permits it. Front's not too bad, but the back garden... I shall be seeing about getting a couple of guys from the Neighbourhood Group to come help in a month or so, it's beyond us now. If we can get it down to a copable level - and block the foxes from coming back - Kai and I between us should be able to keep it under control, certainly over the winter.

We've been watching a lot of stuff...

The Jungle Book - the 1967 film, a lot of fun, and the 2016 Jungle Book, also a lot of fun. It's difficult to compare the two as they're quite different, but both are enjoyable.

Moon 44, which is... bearable, I suppose. Didn't help that the sound cut out at minute 30 and didn't resume until minute 32, which meant we missed a vitally important bit of conversation, but ah well...

Carousel, which, quite frankly, we all found instantly forgettable - with the obvious exception of "You'll never Walk Alone" (didn't know it came from this!). Pity, but there we go. There weren't even any particularly likeable characters in it.

Revolt, which despite feeling like a pilot to a series, was actually not at all bad.

Possession... interesting. OK. Quite a good plot. OK watch.

High Life, which is absolutely extraordinary. Not an easy watch, but a damn fine film.

Ken and I have been working our way through Legends of Tomorrow; we're about to finish season 1. Kai has opted out, as he remembers most of the first two seasons, which is all we had until I bought season 3 and 4. He'll watch the end of season 2 with us before we start season 3. By the time we've finished (and I still need to pick up season 5) it'll be time to start Deep Space 9 (now have all seven seasons. Should keep us going 'til Yule...)

You remember last August we had Anglian replace the soffits, fascia and guttering (to stop the black mould spreading into the house)? They did a fantastic job. Even through last winter's storms it stood fast, no leaks, not even drips. Well, since then BND has had workmen on at least two occasions working up ladders at the back of the house, and now, suddenly, the space between his gutter and ours is leaking. And he's accusing us/Anglian. It's obvious his cowboys have caused the damage. He could have had it fixed - I clearly heard the last workman say he could seal it with some mastic, but noooo, the toxic old bugger wants to blame us. As it happens, it's less than a year since the work was done, so Anglian will probably repair it for us, but I have made a third complaint to the police anyway, as I don't see why he should get away with his appalling behaviour (he's also taken to standing up on the slope at the top of his garden glaring at Kai and I while we're working, I assume as an attempt at intimidation. I just ignore him, but it disturbs Kai). We have a PC Ayers calling at some point. In the meantime I've moved the voice recorder app on my phone to make it easier to record him - with due warning, of course - if he starts anything. I think it's about time to find out the costs involved with taking legal action against him. We've had six years of his crap and I've had enough.

On a lighter level...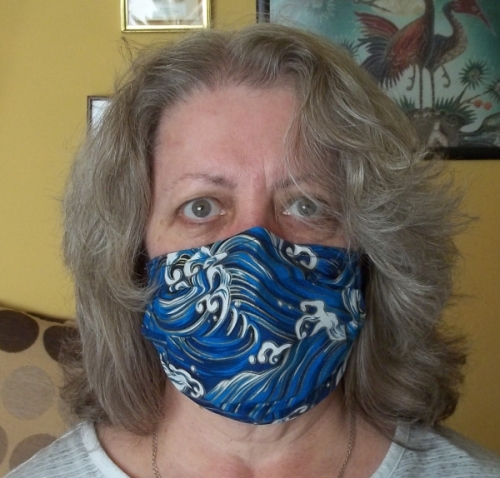 2020 fission... uh, vision... uh, fashion...
Mask by Kirsteen Wythe on Etsy. Hair hasn't been cut since last Yule - will see if I can get an appointment before 2021!

Hopefully there'll be an update sooner next time...
Labels: BND, films, medical matters, Tyjer