My IMDb ep summaries

(completed)
Arthur of the Britons
Sky
Star Maidens
The Starlost
Space Rangers
The Sentinel (part: seasons 2 and 3)
Swamp Thing (part: season 3)
Gravedale High
Transformers: Armada
Transformers: Energon
Transformers: Cybertron (part)
Misfits of Science (four eps)
Zoo Gang
Zodiac
Jupiter Moon
Transformers: Beast Wars (part: seasons 2 and 3)
Transformers: Beast Machines (part)
Vampire Princess Miyu
Starhyke
Nathan Barley
No Heroics
Undermind (3 eps)
Will Shakespeare (Tim Curry version)
Nightwalker
12 Kingdoms
Trigun (ep 8)
Rayearth
Hyperdrive (season 2 ep 3)
The Café

For later:

Missing Earthian ep
Missing Haibane Renme eps)
(And possibly Marine Boy...)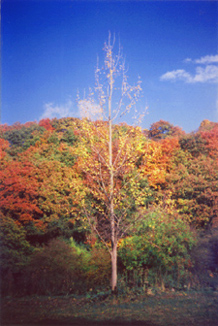 "Autumnal - nothing to do with leaves. It is to do with a certain brownness at the edges of the day... Brown is creeping up on us, take my word for it... Russets and tangerine shades of old gold flushing the very outside edge of the senses... deep shining ochres, burnt umber and parchments of baked earth - reflecting on itself and through itself, filtering the light. At such times, perhaps, coincidentally, the leaves might fall, somewhere..."

(Rosencrantz and Guildenstern are Dead Act 2: Tom Stoppard)

Autumn...

I love this time of year. I love the colours, the sharp slant of sunlight on the trees, mosaics of acid-yellow and harts- blood, velvet and darkness and a haze of mist-grey over the hills. I love its immanence, its mellowness, the tang of frost just around the corner of the year...

Watching the little birds in the goat-willow in my garden, I realised something more.

I love this land with a fierce, possessive love, deep-rooted in two thousand years of history. From the frosted beaches and cloud-brushing peaks of the north to the wind-haunted meanderings of the rivers of the east, from the sensuous rolling patchworked hills of the south to the demanding dark moors of the west, this land seeps into bone and blood and synapse, mother of motley nobility, culture, individual freedoms. It can be known. It can be understood. It can be felt deep inside.

I love its effortless eccentricities, its vigour and vibrancy, its flawed perfections, its silent strength and tenacious resilience, its hard-won tolerances and intense and variable beauty, the profound energy in its sacred mythical landscape.

Home and more-than-home, the forces that shape and protect and bind, in me, as I am in the land. Love returning love in the stillness for those who'll only take the time to listen...

(Joules, Autumn 2004)


All photographs taken by Joules unless otherwise specified. All photographs © Joules A Taylor or other specified individual.


In Memoriam

17.03.09 - Argent

25.07.08 - Raptor

18.12.07 - Quyn

02.12.06 - Ryme


Currently enjoying:
Muse
Transformers - IDW, Prime, Animated, Rescue Bots.

Currently reading:
Various Transformers books and graphic novels.



Currently working on:
Haadri

Currently chuffed with:
My garden

Currently miffed at:
Nestlé, Nonpres Tinyhands Fart, Toadface Farage

Currently maintaining:
BCHS
BCW


Blog Pics
I've gathered some of my pages of photos together: the page of links is here. I'll be adding more as time goes by!




Evil Squid

A Little Glossary of Taylorspeke
(in no particular order)

plit popints - n. Typo for 'plot points' typed on a keyboard with more than half the characters worn off...

[PING] (alt [ping]) - n. A brainwave. The text equivalent of a lightbulb going on blindingly over someone's head. Usually mine. And usually at the most inconvenient of times. [sigh]

TPTB - The Powers That Be.

wulmet - n. A person of little or no talent who somehow inveigles himself into a position where he is in power over other, far more talented people and uses his position to downplay them in order to try to make himself feel superior.

biteable - referring to an anatomical part vb, tasty.

Flatterfed - vb. 27.02.08: my typo for flattered, but since it's so cutely apt I thought it would fit nicely here. Lutra defined it as "the lovely warm feeling of satisfaction resulting from enthusiastic reviews..." (which I've been getting for my MB fics).

Composted - vb, 'compos mentis', mentally capable of working. Contrast with uncomposted or non- composted, not 'compos mentis', not capable of working, hungover...

Cumbles - n, cucumbers.

Kewp - how Ken says 'thank you'. We rather like Lutra's 'nanx', too...

Musekick - noun, music, without which I cannot work.

'feinne - noun, caffeine, essential for correct mental functioning, especially first thing in the morning. I prefer mine in the form of SodaStream Diet Coke. And on that subject...

Skoosh - verb, noun. To skoosh - to add CO2 to a sodastream bottle filled with water to make it fizzy, prior to adding Diet Coke syrup (or just drinking as sparkling water). A skoosh - a bottle of water that has been skooshed. Skooshy - something that has been skooshed, water, or that whipped cream that comes in tins you have to shake then upend and press the nozzle...

Shoogle - verb. To shake gently, for example, of roast potatoes in a roasting tin to ensure they're covered with oil. I have vague memories of this being a real Scottish colloquialism...

Stegasaurus - n, spider of the genus tegenaria. Why? No idea. I just find it easier, that's all...
Edit 08.09.07: Lutra thinks that Brian is a good name for a mini-stegasaurus. From now on, any 'Brian's in the posts may be assumed to be a tegenaria. Except where otherwise specified.

Viterals - noun, vitamins + minerals. Also a pun on victuals.

Splish - verb. A combination of slosh and splash.

Parrots - noun, paracetemol (from the old joke "Why are there no aspirin tablets in the jungle? Because the parrots eat 'em all...")

Maggles - noun, magpies. As opposed to non-magical people.

Flamewings - noun. Swifts. So called because the first time we became aware of them was an early summer evening when they were flying high, the light from the setting sun seemingly turning their wings to flames. Lovely little birds. We always know summer's arrived when we hear their high-pitched squeeing.

Murfs - noun, moths.

Peasant cut - noun, roughly cut up into big chunks, e.g. vegetables chopped in a hurry for a hearty stew or soup. By extension, anything prepared in a hurry - haircut, material, even a first draft of a story...

Giraffe - noun, a carafe (of wine, coffee or water, for example).

Shrumps - noun, mushrooms.

Splings - noun, Kai's spelling homework: by extension, any spelling.

Tyops - noun, typos. var toyps, typso, psyto, psoyt, etc. Usual result of a dose of the fingerials (see next entry).

Fingerials - (pr. fin GEEE ree yalls) noun, fingers that will not type what you want them to.

Haddock - noun, time, of which I never have enough. (Origin of this term here.)

Sleep - noun? vb? a.k.a. sheeeeeeeeep.... I used to know what this word meant...




The Updates Blog

The place to stay notified of WaveWrights' Fiction updates: Zone, Darkside, DarkRealm, Matrix, Vault, Safehouse 13...



---


Butch, my computer gremlin. Click the pic for larger version, and read his adventures here...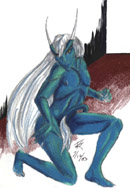 A gift for me! Butch by the very talented Sylverthorne. Click pic for larger image.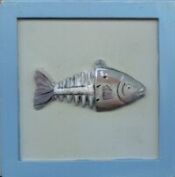 This is MY haddock. It was caught exclusively for me by Talon. No, you can't have any. I need all the haddock I can get!!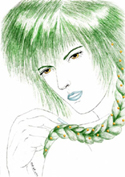 .


A'lestrel - a gift for me from Valkyrie...






Another gorgeous Valkyrie gift for me - Benten the Albino Alsatian! Click thumbnail for larger image.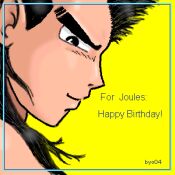 Oekai by Bakayaro Onna - Radittsu at his sexiest...





The Zone Plant from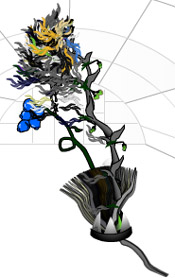 OrganicHTML (which alas no longer seems to exist...)