horribilis hebdomada...

No sooner had I started feeling better (Wed) than Kai got an ear infection. It was so bad that on Fri he arranged a phone consult with the surgery: I took photos of his ear, and the dr prescribed antibios. Ken went over to Tesco pharmacy to pick them up, but they were out, so they walked to the Langton Rd Boots...

It was flucloxacillin. The one that makes me black out and fall. Half an hour after taking the first one Kai felt so ill and was in so much pain we called 111: half an hour later the ambulance arrived, checked him over (his temp was climbing by then) and whipped him in to A&E (I grabbed the essentials and went with him). That was about 8pm.

We finally got a taxi home at 5.30 Sat morning, with Kai carrying three different oral antibios and one in eardrop form. It's a very nasty infection, and he's on the list for ENT appts to check a bit further, but in the meantime the meds are working really well. He's still deaf in his right ear (and he still hates the eardrops, they make the pain worse for a bit) but he's not hunched over in pain any more, and was able to come with me yesterday for a small walk with Ella. And flucloxacillin is now on his records as a no-no.

It never ends...

Media...

We watched Shang-Chi and the Legend of the Ten Rings, which is quite fun - a bit of a surprise but intriguing. Then while the antibios started working, Kai wanted to rewatch the whole of the Lord of the Rings. Ken and I caught parts of it, when we weren't otherwise busy, and thoroughly enjoyed it.

Today we have the funeral on TV, like a considerable portion of the population. I'm not a monarchist (on the quiet I find the concept of class/caste structures obscene: they all go back to whoever was the nastiest, most brutal and most ruthless taking power and trampling on anyone they considered lesser. Actually, I guess the same can be said of many very rich and powerful people today... If anything, I'd support a meritocracy) but I did respect our Lizzie. She wasn't afraid to work - in the ATS during the second world war to start with - and she's always struck me as unusually down to earth, pragmatic, and with a slightly wicked sense of humour. It feels quite strange being alive at the end of this era.

As for Prince (sorry, King) Charles (and that's going to take some getting used to!) - well, we'll see. He's a strong environmentalist, which earns him a lot of points from me. Only time will tell...
Labels: end of an era, hospital
... ow... ow... ow... ow... ow...

Back, all went smoothly, should feel more what passes for normal in 24 hours, and assuming all's gone according to plan, that's it done!

Many thanks for all the good vibes, good wishes and crossed fingers - they all worked!

Later...
Labels: hospital
Woke up to the (currently) loveliest sound in the world - falling rain...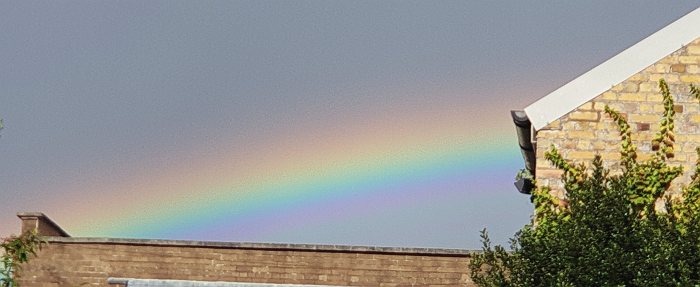 The garden has survived the drought reasonably well so far, except for my blueberries (my fault, didn't water them enough, but they're recovering) and the beautiful bush right outside the patio doors. It's an evergreen, but the lower half's leaves have gone brown and lots of them have dropped. It may recover, but if not I'll underplant it with something tougher. Will search next time I'm at a garden centre.

On the subject of rain... After Tom and co. removed the old system from the loft, we were able to get rid of everything except the big water tank. I don't particularly want to pay BCC £25 to take it away, so it's just been sitting outside the cat flap. Then inspiration struck. Kai has fashioned the three pallets we had left from when the pavers were delivered into a stand, I've cleaned out the tank (more or less), K&K have sealed the hole for now - we'll get a tap when we can find one that fits, it's an ancient system not using metric - and Kai and I changed the guttering on the greenhouse so one side now feeds into it. It's already full, so I have an additional source of water for garden and greenhouse.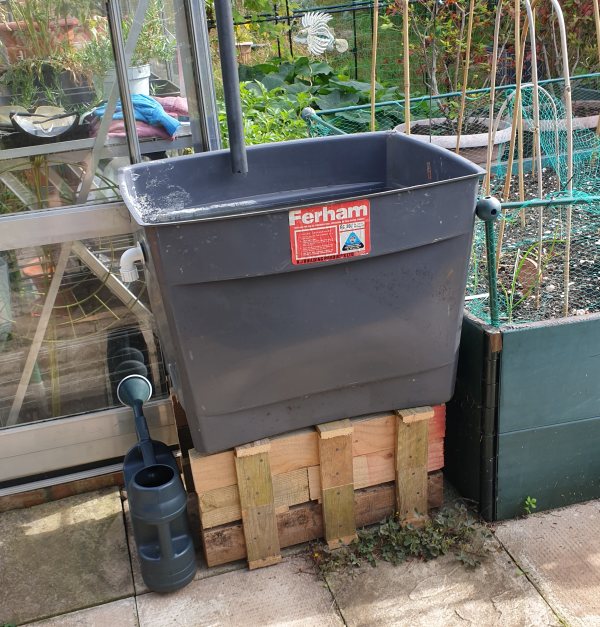 It holds 21 gallons so will be very useful in future! Planning to grow peppers in the greenhouse again next year, since they did so well this year.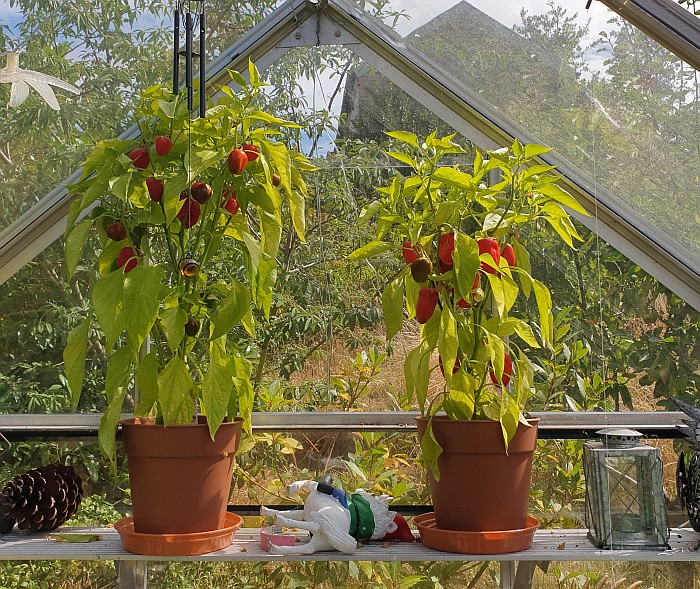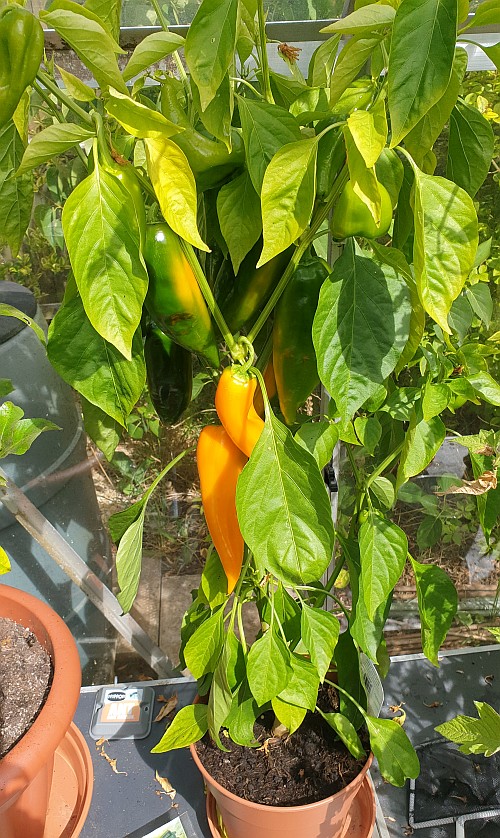 Still not having much success with tomatoes though...

The hard plastic 'mat' I bought last year to go under my office chair to protect the new carpet has started cracking, so we're going to cut it to fit and use it as a tank cover (I have a thick warm rug under my chair now!)

Remember that huge plant that was growing around the corner and up the hill? Finally discovered it's an echium pininana (what a cute name!), and T&M sell seeds! (Alas, they are out of stock atm, so have left an alert on their system to let me know when they're back in stock. At just £3.99 a pack of 5 I'm happy to give it a go...)

Media...

Watched The Sandman on Netflix... Hm. It's very slow, but once we got into it we enjoyed it. Maybe admired it would be a better description. None of us have ever read the comics, so it was all completely new... it's intriguing, and the basic concept is hugely appealing (and I really loved Death!), but not the easiest of thing to get into to. But the cinematography and fx are glorious.

Kai and I (and sometimes Ken) have watched all of Prison Break now (well, last three eps of season 5 tonight). It's fun, compulsive viewing, although I think they're milking it now. Great fun though.

Picked up Drive Angry along with a couple of other things (incl Oldboy, see below) to make it up to free delivery from amazon. I like early Nick Cage films, and this was great! Leave your brain at the door and get out the popcorn sort of film.

So, Oldboy... It's really good, with a somewhat shocking ending, but certainly not for everyone. Kai opted not to watch it, but Ken and I appreciated it.

I finally got to watch A Street Cat named Bob, which I picked up after thoroughly enjoying the book. It's a terrific film, true, and moved me to tears, and there's not much does that these days!

There's been a whole lot more happening, of course. GoodTwin and Sue came to visit 1st Sept:, first time in nearly three years, so a lot to catch up with and a lot of fun and laughter. Great to see you both: can we do it again soon? Kai and I were planning to go down to Exeter (where I was born and spent the first 16 years of my life) to see what changes have happened as it's been years since I visited, and meet up with Wendy, but the first date was middle of the heatwave, and the second was during the storms, so we chatted on the phone instead and plan to get down next month, fingers crossed...

Ella's definitely now part of the family, and very vocal. Might be because I talk to her a lot of the time. She has some extraordinary noises too - she went out for last garden while the storms were on, raced up the garden, took a minute for her business, then raced back in very wet. I snuggled her in her towel - she absolutely adores being dried off with it, and will carry on getting tangled in it and nudging you to rub her head for as long as you're willing to oblige her - and at the end stretched (downward dog position) and made the most extraordinary noise. Kai discorded me to ask if it was her as it sounded like a mountain cat roaring!! I'm sure it was her 'Oh, I REALLY enjoyed that!' exclamation...

Last week we had one air spider in the corner of the lounge ceiling. This week we have two and a tiny clutch of eggs! There will be minute spiders scuttling around the lounge in the near future... Just hope they can trap the blasted fruit flies we're being bothered by at the moment.

Tomorrow I'm off to St Michael's Hospital to have my gall bladder removed. General anaesthetic (which I really hate), keyhole surgery, and should be home by the evening. Appt is at 7.15 in the am, so have booked a taxi for 6.15 (oh joy) and Ken will come with me as they say someone needs to be there until I'm settled. NOT looking forward to it, but at least it will get it done and the occasional bouts of pain should stop. Will report back later!

Labels: Ella, films, friends, garden, hospital, visits