Oh bloody hell, this is getting ridiculous. Please can someone send me some haddock? 189,669 tons would be useful...

So here we are in 2022... It's started off quite well. Busy as ever, but productive. Let's see...

Media first.

Superman 3 was fun. Extremely daft, but chuckleworthy. Superman VI (The Quest for Peace) however - oh dear...

Red Notice on Netflix. Ryan Reynolds, Dwayne Johnson and Gal Gadot together in a film? What could go wrong? Nothing, actually - it was great fun! Nothing too extraordinary, but a thorough romp. Highly enjoyable.

Wish I could say the same for 6 Underground. Ryan Reynolds again, and good as ever, but Michael bloody Bay was the director. Continuity? What's that? If you ever watch it (and I can't recommend anyone does), note the wingmirrors on that hideous green car in the first 10 mins of the film. They're there, then they're not. Then they're there again. Then gone again. There, gone. There, gone. And the film just goes downhill from there. A real pity, as the idea and plot were actually quite interesting, and in the hands of a competent director it could have been a good film.

I bought the complete Penny Dreadful a while back, and we finally got around to watching it. It's rather good - although the appearance of Shazad Latif as Dr Jekyll threw us to start with. We know him best from Toast of London (his catchphrase there, "Hello Stephen. This is Clem Fandago - can you hear me?" instantly repeats in the mind when he appears...) At the same time I was reading Infernal Devices - it's good, well-written (if a little verbose for my tastes) quirky and interesting. (Alas, I didn't enjoy it enough to want to read the rest of the series, but since it doesn't end on a cliff-hanger, that's fine.)

After that we rewatched Toast of London before moving on to Toast of Tinseltown on Netflix, which is something of a rehash of its progenitor though not as funny.
Don't Look Up (on Netflix) is amazing. Incredibly depressing while being very funny, and unfortunately all too plausible. Hugely satisfying ending. The whole thing reminded me of Ben Elton's Stark, which I then had to rebuy and reread. Terrific book, even more depressing ending. Thought I'd see if I can buy the mini-series but the cheapest I can find is £42 + £21 p&p, so sod that for a game of soldiers. Will see if I can pick it up somewhere else...

After that it was Dr Jekyll and Sister Hyde, which I remember from watching as a child. It's aged extremely well, and touches on a number of themes which are now current (transgenderism, for example) but would have been shocking at the time (1971). Well worth watching!

Next was Sweet Tooth, again on Netflix. Hm. It's... interesting, but I'm not entirely sure what the creators were aiming for. May have to watch the second season...

While we're on Netflix offerings, the live action Cowboy Bebop is terrific! The anime was always a family favourite, and this version does the story proud. Really hope it does go to a second season.

The House, on the other hand, is nightmare fuel, although the ending has a downbeat positive turn, I suppose.

OatStudios, however, was just tedious. Wouldn't watch any of these even if they were made into films/TV series'.

Another film I remember from when I was a child is X: The Man with the X-Ray Eyes . At the time it scared me, especially the ending. Rewatching it's not so scary, and has aged quite well. I think Kai enjoyed it!

Ken and I are currently rewatching Torchwood and thoroughly enjoying it.
Books... So I read - struggled through - Jetta and Daxx... The three page disclaimer, nearly every paragraph in a different font, should have warned me. But I persevered.

It's dire. It makes Twilight and 50 Shades look like Shakespeare. The porn careers randomly from clinical to crude, is nowt but a collection of clichés, but worst of all it's BORING. I'm not even going to give it away. Kai thinks he might like to read a bit, just to see what his mum finds so awful that she nearly threw the book at the wall more than once, but after that I'm tearing it up and throwing it in the compost bin. Let the tigerworms eat it. It may as well serve some purpose.

Next was A Street Cat Named Bob, the book of which I picked up at Tesco and the DVD of which I found cheap in a charity shop. The book is very much an eye-opener (let's just say it's convinced me to donate to street buskers and Big Issue sellers from now on). Will watch the dvd soon.

Now reading Neil Gaiman's The Ocean at the End of the Lane (WARNING - wiki has spoilers), which is... nightmarish in places. I mean, it's good, but I can't say I'm enjoying it.

Domestic stuff... After having the solar panels installed (and they're already producing electricity, even in this weather!) we find that Bristol Energy - our supplier - went bust and we were sold... sorry, transferred... to British Gas. Oh joy. [headdeskheaddeskheaddesk] Now, I fully appreciate that this means that BG has 175,000 extra accounts just from Bristol Energy, not to mention the hundreds of thousands of new accounts from other suppliers who've gone bust, but did it really have to be so hard to 1) actually speak to a human and 2) actually make sense of what I was told? It's going to be VERY interesting when we get our first bill... Luckily, being thorough (not obsessive, of course) I keep copies everything official. As it is, we ended Bristol Energy over £400 in credit. Will report back later.

And then Virgin Media put our account up by another £5 a month to a minimum £60 a month, not including telephone calls, and we'd finally had enough. Got a new aerial installed by a lovely local guy (who was able to programme our TV too! Of course, BND went out and harrassed him, but I'd already warned him so he just ignored the miserable old sod) and are now on Freeview (still getting channels we'll never watch but at least we aren't now paying for them). As of next Monday we'll be getting landline and broadband from BT. Yes, I know I swore I'd never have anything to do with them again when I stopped working for them nearly 40 years ago, but needs must. (We'd have rather gone with the Co-op but they are, apparently, hopelessly incompetent: will maybe check again when the BT 24 month contract ends. At least everyone I've spoken to has been friendly and helpful, which goes a long way!) It's Fast Fibre broadband, and 700 free minutes of talk time (at any time of day, not just weekends) per month on the landline, which suits us perfectly. And all for £35 a month. I think. A lot cheaper than Virgin, anyway.

Of course, Virgin tried to woo us back with the offer of matching BT's costs for the next 18 months, but honestly, I've had enough hassle. Now just crossing fingers tightly that everything gets transferred - including our current telephone no. - nice and smoothly. We'll still have Virgin for over a week after BT goes live, in case of any hiccoughs.

And now to the highlight of the month - our new furbaby Ella!

She's a Caribbean Potcake dog, 9 years old (so a little set in her ways, but we're adapting to each other very well), brought to the UK when her previous humans emigrated but then couldn't find any accommodation that would take pets, so they handed her into the RSPCA. She eventually found her way to BARC, and hence to us. The staff at BARC called her Princess Sassypants, and she can be a bit of a drama queen, but she's adorable. LOVES her butt scratches and belly rubs...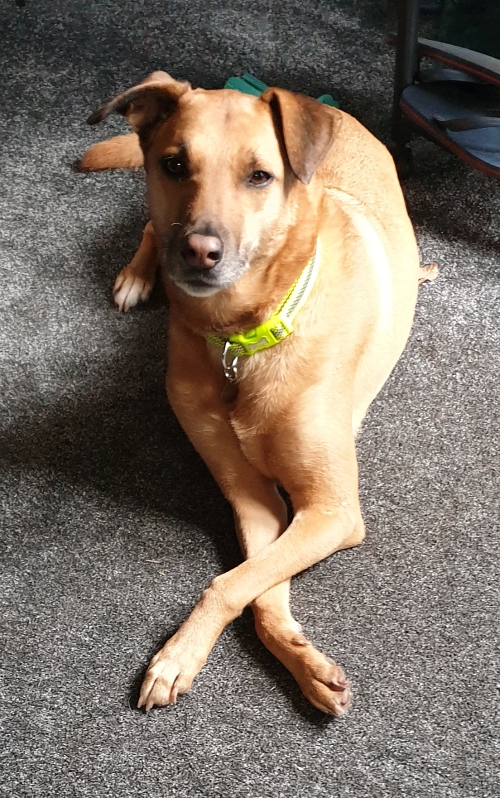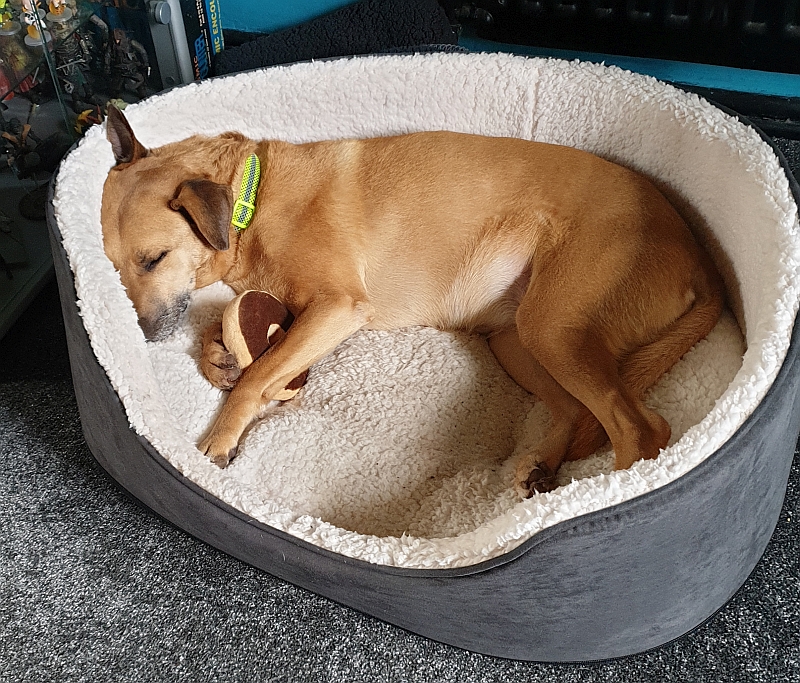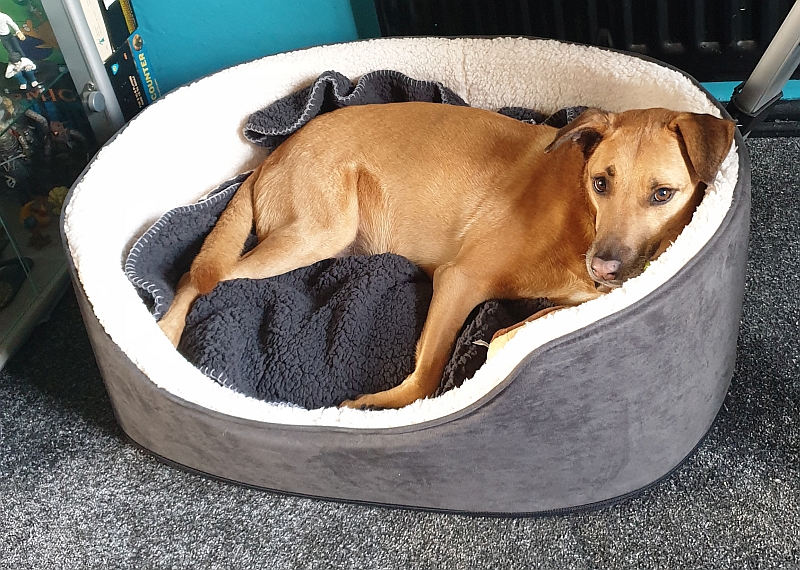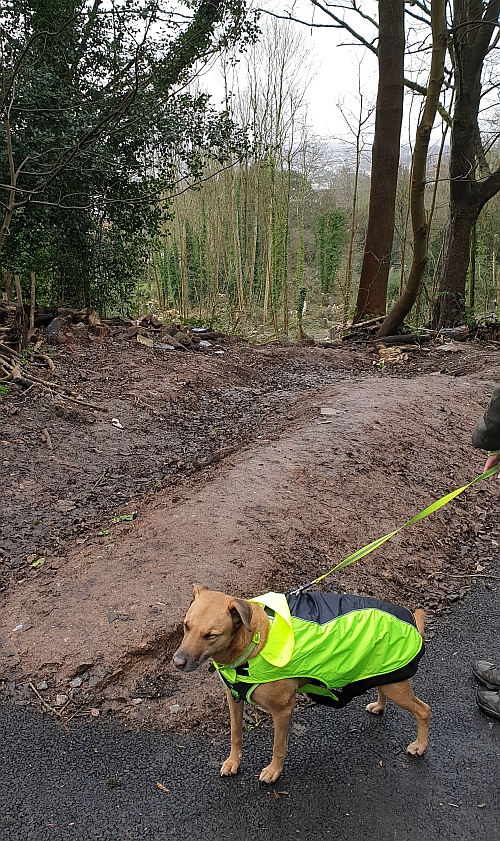 The last one was taken at the top of Arno's Vale Cemetery, a wonderful, dog-welcome (but only on leads) place of hundreds of windy exciting paths. Her jacket's a very sensible double layer, a detachable warm padded interior and a waterproof outer. She's not used to British weather yet.

K&K have constructed a reinforced chicken wire fence between the shed and the side wall (it'll be covered with ivy and honeysuckle in a few years), and Kai is half way through making us a new gate for the path between house and shed (BARC instruct adopters to make sure any obstacles are 5 foot or more to make sure the dogs can't jump over them). Then we need to fill in the fox holes and pile up the stray rocks in one place (grass has grown over them and hidden them, and they're trip hazards) to dogproof the whole garden, and then she can go out there by herself with no lead.

For any readers in other parts of the globe, we escaped Storms Dudley, Eunice and Franklin without damage (although the wind was terrifyingly loud and blusterous) - unfortunately other parts of the region weren't so lucky...

Rather looking forward to the summer...

We've made a few changes to daily life. Used to have the TV on all the time: I've now switched to booting up Radio Garden every morning and absolutely adoring discovering new stations to enjoy. Current favourites are Tokyo's Wave Anime station and the local Keynsham one, which has the most amazing Ambient Hour on Sundays from 22.00 - 23.00. Two weeks ago I managed to catch a track that simply blew me away, and went in search of it. It was Alive from Phil Lober's If album. Which of course I immediately bought...

Some of the most beautiful music I've ever heard - complex, alien, intriguing and inspiring. It's fabulous.

TV is now on only when we want to watch somehting.

OK - time to serve lunch. Will try to update sooner in future!
Labels: books, domesticity, films, Jetta and Daxx, pets, weather