My IMDb ep summaries

(completed)
Arthur of the Britons
Sky
Star Maidens
The Starlost
Space Rangers
The Sentinel (part: seasons 2 and 3)
Swamp Thing (part: season 3)
Gravedale High
Transformers: Armada
Transformers: Energon
Transformers: Cybertron (part)
Misfits of Science (four eps)
Zoo Gang
Zodiac
Jupiter Moon
Transformers: Beast Wars (part: seasons 2 and 3)
Transformers: Beast Machines (part)
Vampire Princess Miyu
Starhyke
Nathan Barley
No Heroics
Undermind (3 eps)
Will Shakespeare (Tim Curry version)
Nightwalker
12 Kingdoms
Trigun (ep 8)
Rayearth
Hyperdrive (season 2 ep 3)
The Café

For later:

Missing Earthian ep
Missing Haibane Renme eps)
(And possibly Marine Boy...)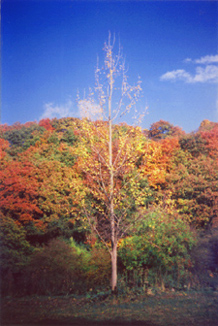 "Autumnal - nothing to do with leaves. It is to do with a certain brownness at the edges of the day... Brown is creeping up on us, take my word for it... Russets and tangerine shades of old gold flushing the very outside edge of the senses... deep shining ochres, burnt umber and parchments of baked earth - reflecting on itself and through itself, filtering the light. At such times, perhaps, coincidentally, the leaves might fall, somewhere..."

(Rosencrantz and Guildenstern are Dead Act 2: Tom Stoppard)

Autumn...

I love this time of year. I love the colours, the sharp slant of sunlight on the trees, mosaics of acid-yellow and harts- blood, velvet and darkness and a haze of mist-grey over the hills. I love its immanence, its mellowness, the tang of frost just around the corner of the year...

Watching the little birds in the goat-willow in my garden, I realised something more.

I love this land with a fierce, possessive love, deep-rooted in two thousand years of history. From the frosted beaches and cloud-brushing peaks of the north to the wind-haunted meanderings of the rivers of the east, from the sensuous rolling patchworked hills of the south to the demanding dark moors of the west, this land seeps into bone and blood and synapse, mother of motley nobility, culture, individual freedoms. It can be known. It can be understood. It can be felt deep inside.

I love its effortless eccentricities, its vigour and vibrancy, its flawed perfections, its silent strength and tenacious resilience, its hard-won tolerances and intense and variable beauty, the profound energy in its sacred mythical landscape.

Home and more-than-home, the forces that shape and protect and bind, in me, as I am in the land. Love returning love in the stillness for those who'll only take the time to listen...

(Joules, Autumn 2004)


All photographs taken by Joules unless otherwise specified. All photographs © Joules A Taylor or other specified individual.


In Memoriam

17.03.09 - Argent

25.07.08 - Raptor

18.12.07 - Quyn

02.12.06 - Ryme


Currently enjoying:
Muse
Transformers - IDW, Prime, Animated, Rescue Bots.

Currently reading:
Various Transformers books and graphic novels.



Currently working on:
Haadri

Currently chuffed with:
My garden

Currently miffed at:
Nestlé, Nonpres Tinyhands Fart, Toadface Farage

Currently maintaining:
BCHS
BCW


Blog Pics
I've gathered some of my pages of photos together: the page of links is here. I'll be adding more as time goes by!




Evil Squid

A Little Glossary of Taylorspeke
(in no particular order)

plit popints - n. Typo for 'plot points' typed on a keyboard with more than half the characters worn off...

[PING] (alt [ping]) - n. A brainwave. The text equivalent of a lightbulb going on blindingly over someone's head. Usually mine. And usually at the most inconvenient of times. [sigh]

TPTB - The Powers That Be.

wulmet - n. A person of little or no talent who somehow inveigles himself into a position where he is in power over other, far more talented people and uses his position to downplay them in order to try to make himself feel superior.

biteable - referring to an anatomical part vb, tasty.

Flatterfed - vb. 27.02.08: my typo for flattered, but since it's so cutely apt I thought it would fit nicely here. Lutra defined it as "the lovely warm feeling of satisfaction resulting from enthusiastic reviews..." (which I've been getting for my MB fics).

Composted - vb, 'compos mentis', mentally capable of working. Contrast with uncomposted or non- composted, not 'compos mentis', not capable of working, hungover...

Cumbles - n, cucumbers.

Kewp - how Ken says 'thank you'. We rather like Lutra's 'nanx', too...

Musekick - noun, music, without which I cannot work.

'feinne - noun, caffeine, essential for correct mental functioning, especially first thing in the morning. I prefer mine in the form of SodaStream Diet Coke. And on that subject...

Skoosh - verb, noun. To skoosh - to add CO2 to a sodastream bottle filled with water to make it fizzy, prior to adding Diet Coke syrup (or just drinking as sparkling water). A skoosh - a bottle of water that has been skooshed. Skooshy - something that has been skooshed, water, or that whipped cream that comes in tins you have to shake then upend and press the nozzle...

Shoogle - verb. To shake gently, for example, of roast potatoes in a roasting tin to ensure they're covered with oil. I have vague memories of this being a real Scottish colloquialism...

Stegasaurus - n, spider of the genus tegenaria. Why? No idea. I just find it easier, that's all...
Edit 08.09.07: Lutra thinks that Brian is a good name for a mini-stegasaurus. From now on, any 'Brian's in the posts may be assumed to be a tegenaria. Except where otherwise specified.

Viterals - noun, vitamins + minerals. Also a pun on victuals.

Splish - verb. A combination of slosh and splash.

Parrots - noun, paracetemol (from the old joke "Why are there no aspirin tablets in the jungle? Because the parrots eat 'em all...")

Maggles - noun, magpies. As opposed to non-magical people.

Flamewings - noun. Swifts. So called because the first time we became aware of them was an early summer evening when they were flying high, the light from the setting sun seemingly turning their wings to flames. Lovely little birds. We always know summer's arrived when we hear their high-pitched squeeing.

Murfs - noun, moths.

Peasant cut - noun, roughly cut up into big chunks, e.g. vegetables chopped in a hurry for a hearty stew or soup. By extension, anything prepared in a hurry - haircut, material, even a first draft of a story...

Giraffe - noun, a carafe (of wine, coffee or water, for example).

Shrumps - noun, mushrooms.

Splings - noun, Kai's spelling homework: by extension, any spelling.

Tyops - noun, typos. var toyps, typso, psyto, psoyt, etc. Usual result of a dose of the fingerials (see next entry).

Fingerials - (pr. fin GEEE ree yalls) noun, fingers that will not type what you want them to.

Haddock - noun, time, of which I never have enough. (Origin of this term here.)

Sleep - noun? vb? a.k.a. sheeeeeeeeep.... I used to know what this word meant...




The Updates Blog

The place to stay notified of WaveWrights' Fiction updates: Zone, Darkside, DarkRealm, Matrix, Vault, Safehouse 13...



---


Butch, my computer gremlin. Click the pic for larger version, and read his adventures here...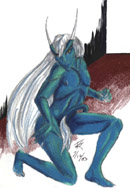 A gift for me! Butch by the very talented Sylverthorne. Click pic for larger image.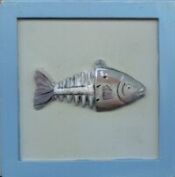 This is MY haddock. It was caught exclusively for me by Talon. No, you can't have any. I need all the haddock I can get!!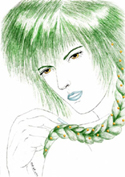 .


A'lestrel - a gift for me from Valkyrie...






Another gorgeous Valkyrie gift for me - Benten the Albino Alsatian! Click thumbnail for larger image.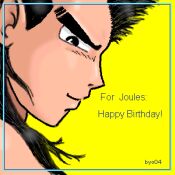 Oekai by Bakayaro Onna - Radittsu at his sexiest...





The Zone Plant from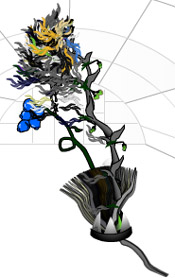 OrganicHTML (which alas no longer seems to exist...)

[::..My Regular Reads..::]
:: Astronomical Pic of the Day [>]
:: What is Space... [>]
:: Dark Roasted Blend [>]
:: BLDG [>]
:: Watchismo Times [>]
[::..Fun Places..::]
::HubbleSite
Stunning...
::PALEOMAP Project
Absolutely fascinating.
:: Skymap
Check out the night sky where you are!
[::..Useful Sites..::]
:: GreenNet
First stop for environmental matters
:: The Forest of Avon
Our local community forest and places to visit
:: The Guardian
Online Guardian Newspaper.
:: Symbols
Exactly what it says
:: World Timeserver
For checking the current time around this world
:: Universal Currency Converter
Actually it's just a terran-global currency converter, not universal, but it's still useful...
So what is it with the haddock? Am I some kind of fish freak?

I'll leave that to others to decide.

The tale (or tail if you prefer) harks back to October 2000, when my GoodTwin and I, ably assisted by Sue, ran the first UK Professionals convention...
It's common knowledge that I never have enough time, and I was determined not to bewail the fact that weekend: hence I promised not to use the 'T' word...
Of course, that didn't really work (if nothing else I had to let the trainees know what times things were supposed to be happening!) so we decided a substitute word would be employed instead. There were several suggestions. Banana came very close to being chosen. However, I eventually decided that 'haddock' fitted the bill nicely. Ever since, haddock=time. Hence the title of my forthcoming autobiography,
My Half-Life in the Haddock Space Continuum....


Normally I wouldn't, but these were just irresistible...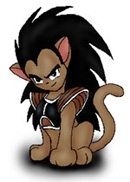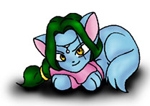 These Too-Kawaii Kitties
were adopted from
Ghost's Anime Page (which appears to have disappeared, alas...)


[::..Anime/Manga..::]
Useful sites:

BBTS -
Fabulous anime figures

Anime Lyrics
A huge selection... evil popups

Anime still needed to complete series' I'm collecting... Many thanks to everyone who has helped me acquire the collection!

Ai no Kusabi


Owned:
DVD
Dj: June Special
CD: Ambivalence


Cyber City Oedo 808


Owned:
DVD
All 3 eps on Video, dubbed
Dj: Cyberage 1-3
Illustrated Book 2 (Benten's) in Japanese


From Eroica with Love


Owned:
Manga Vols 1, 9, 11


Mirage of Blaze


Owned:
DVD Vol 1 (eps 1-4)


R.G. Veda


Owned:
English Manga: Vol 1
Japanese Manga: Vol 1-7 complete
Tarot Pack
R.G.Veda video


Twelve Kingdoms


Owned:
Anime Vol 1-12: complete


Under the Glass Moon


Owned:
Manga Vol 1, 2
Vol 3 needed


Vampire Hunter D - Bloodlust


Owned:
DVD

Vampire Hunter D Book 1




New Vampire Miyu


Owned:
(Studio Ironcat) Manga Vols 1 -5 (complete)



Yami no Matsuei


Owned:
Viz Manga: English translation, Vols 1 - 11 (complete: I believe vol 12 is only available online)
Japanese 3-DVD set
Central Park Media: Descendants of Darkness Vol. 1, English/Japanese subbed.
Sketchbook



[::..Joules SP fied..::]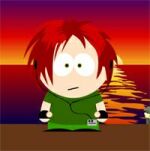 ... this is Terra? How the hell'd I end up here...?

(Thanks, Lutra, for the quote!)


[::..archive..::]
07/01/2002 - 07/31/2002
08/01/2002 - 08/31/2002
09/01/2002 - 09/30/2002
10/01/2002 - 10/31/2002
11/01/2002 - 11/30/2002
12/01/2002 - 12/31/2002
01/01/2003 - 01/31/2003
02/01/2003 - 02/28/2003
03/01/2003 - 03/31/2003
04/01/2003 - 04/30/2003
05/01/2003 - 05/31/2003
06/01/2003 - 06/30/2003
07/01/2003 - 07/31/2003
08/01/2003 - 08/31/2003
09/01/2003 - 09/30/2003
10/01/2003 - 10/31/2003
11/01/2003 - 11/30/2003
12/01/2003 - 12/31/2003
01/01/2004 - 01/31/2004
02/01/2004 - 02/29/2004
03/01/2004 - 03/31/2004
04/01/2004 - 04/30/2004
05/01/2004 - 05/31/2004
06/01/2004 - 06/30/2004
07/01/2004 - 07/31/2004
08/01/2004 - 08/31/2004
09/01/2004 - 09/30/2004
10/01/2004 - 10/31/2004
11/01/2004 - 11/30/2004
12/01/2004 - 12/31/2004
01/01/2005 - 01/31/2005
02/01/2005 - 02/28/2005
03/01/2005 - 03/31/2005
04/01/2005 - 04/30/2005
05/01/2005 - 05/31/2005
06/01/2005 - 06/30/2005
07/01/2005 - 07/31/2005
08/01/2005 - 08/31/2005
09/01/2005 - 09/30/2005
10/01/2005 - 10/31/2005
11/01/2005 - 11/30/2005
12/01/2005 - 12/31/2005
01/01/2006 - 01/31/2006
02/01/2006 - 02/28/2006
03/01/2006 - 03/31/2006
04/01/2006 - 04/30/2006
05/01/2006 - 05/31/2006
06/01/2006 - 06/30/2006
07/01/2006 - 07/31/2006
08/01/2006 - 08/31/2006
09/01/2006 - 09/30/2006
10/01/2006 - 10/31/2006
11/01/2006 - 11/30/2006
12/01/2006 - 12/31/2006
01/01/2007 - 01/31/2007
02/01/2007 - 02/28/2007
03/01/2007 - 03/31/2007
04/01/2007 - 04/30/2007
05/01/2007 - 05/31/2007
06/01/2007 - 06/30/2007
07/01/2007 - 07/31/2007
08/01/2007 - 08/31/2007
09/01/2007 - 09/30/2007
10/01/2007 - 10/31/2007
11/01/2007 - 11/30/2007
12/01/2007 - 12/31/2007
01/01/2008 - 31/01/2008
01/02/2008 - 29/02/2008
03/01/2008 - 31/03/2008
01/04/2008 - 04/30/2008
01/05/2008 - 31/05/2008
01/06/2008 - 30/06/2008
01/07/2008 - 31/07/2008
01/08/2008 - 31/08/2008
01/09/2008 - 30/09/2008
01/10/2008 - 31/10/2008
01/11/2008 - 31/11/2008
01/12/2008 - 31/12/2008
01/12/2008 - 31/12/2008
01/01/2009 - 31/01/2009
01/02/2009 - 28/02/2009
01/03/2009 - 31/03/2009
01/04/2009 - 30/04/2009
01/05/2009 - 31/05/2009
01/06/2009 - 30/06/2009
01/07/2009 - 31/07/2009
01/08/2009 - 31/08/2009
01/09/2009 - 30/09/2009
01/10/2009 - 31/10/2009
01/11/2009 - 30/11/2009
01/12/2009 - 31/12/2009
01/01/2010 - 31/01/2010
01/02/2010 - 28/02/2010
01/03/2010 - 31/03/2010
01/04/2010 - 30/04/2010
01/05/2010 - 31/05/2010
01/06/2010 - 30/06/2010
01/07/2010 - 31/07/2010
01/08/2010 - 31/08/2010
01/09/2010 - 30/09/2010
01/10/2010 - 31/10/2010
01/11/2010 - 31/11/2010
01/12/2010 - 31/12/2010
01/01/2011 - 31/01/2011
01/02/2011 - 28/02/2011
01/03/2011 - 31/03/2011
01/04/2011 - 30/04/2011
01/05/2011 - 31/05/2011
01/06/2011 - 30/06/2011
01/07/2011 - 31/07/2011
01/08/2011 - 31/08/2011
01/09/2011 - 30/09/2011
01/10/2011 - 31/10/2011
01/11/2011 - 30/11/2011
01/12/2011 - 31/12/2011
01/01/2012 - 31/01/2012
01/02/2012 - 28/02/2012
01/03/2012 - 31/03/2012
01/04/2012 - 30/04/2012
01/05/2012 - 31/05/2012
01/06/2012 - 30/06/2012
01/07/2012 - 31/07/2012
01/08/2012 - 31/08/2012
01/09/2012 - 30/09/2012
01/10/2012 - 31/10/2012
01/11/2012 - 30/11/2012
01/12/2012 - 31/12/2012
01/01/2013 - 31/01/2013
01/02/2013 - 28/02/2013
01/03/2013 - 31/03/2013
01/04/2013 - 30/04/2013
01/05/2013 - 31/05/2013
01/06/2013 - 31/06/2013
01/07/2013 - 31/07/2013
01/08/2013 - 31/08/2013
01/09/2013 - 30/09/2013
01/10/2013 - 31/10/2013
01/11/2013 - 30/11/2013
01/12/2013 - 31/12/2013
01/01/2014 - 31/01/2014
01/02/2014 - 28/02/2014
01/03/2014 - 31/03/2014
01/04/2014 - 30/04/2014
01/05/2014 - 31/05/2014
01/06/2014 - 31/06/2014
01/07/2014 - 31/07/2014
01/08/2014 - 31/08/2014
01/09/2014 - 31/09/2014
01/10/2014 - 31/10/2014
01/11/2014 - 30/11/2014
01/12/2014 - 31/12/2014
01/01/2015 - 31/01/2015
01/02/2015 - 28/02/2015
01/03/2015 - 31/03/2015
01/04/2015 - 30/04/2015
01/05/2015 - 31/05/2015
01/06/2015 - 30/06/2015
01/07/2015 - 31/07/2015
01/08/2015 - 31/08/2015
01/09/2015 - 30/09/2015
01/10/2015 - 31/10/2015
01/11/2015 - 31/11/2015
01/12/2015 - 31/12/2015
01/01/2016 - 31/01/2016
01/022016 - 28/02/2016
01/03/2016 - 31/03/2016
01/04/2016 - 31/04/2016
01/05/2016 - 31/05/2016
01/06/2016 - 30/06/2016
01/07/2016 - 31/07/2016
01/08/2016 - 31/08/2016
01/09/2016 - 31/09/2016
01/10/2016 - 31/10/2016
01/11/2016 - 31/11/2016
01/12/2016 - 31/12/2016
01/01/2017 - 31/01/2017
01/02/2017 - 28/02/2017
01/03/2017 - 31/03/2017
01/04/2017 - 30/04/2017
01/05/2017 - 31/05/2017
01/06/2017 - 30/06/2017
01/07/2017 - 31/07/2017
01/08/2017 - 31/08/2017
01/09/2017 - 30/09/2017
01/10/2017 - 31/10/2017
01/11/2017 - 30/11/2017
01/12/2017 - 31/12/2017
01/01/2018 - 31/01/2018
01/02/2018 - 28/02/2018
01/03/2018 - 31/03/2018
01/04/2018 - 30/04/2018
01/05/2018 - 31/05/2018
01/06/2018 - 30/06/2018
01/07/2018 - 31/07/2018
01/08/2018 - 31/08/2018
01/09/2018 - 30/09/2018
01/10/2018 - 31/10/2018
01/11/2018 - 30/11/2018
01/12/2018 - 31/12/2018
01/01/2019 - 31/01/2019
01/02/2019 - 28/02/2019
01/03/2019 - 31/03/2019
01/04/2019 - 30/04/2019
01/05/2019 - 31/05/2019
01/06/2019 - 30/06/2019
01/07/2019 - 31/07/2019
01/08/2019 - 31/08/2019
01/09/2019 - 30/09/2019
01/10/2019 - 31/10/2019
01/11/2019 - 30/11/2019
01/12/2019 - 31/12/2019
01/01/2020 - 31/01/2020
01/02/2020 - 29/02/2020
01/03/2020 - 31/03/2020
01/04/2020 - 31/04/2020
01/05/2020 - 31/05/2020
01/06/2020 - 31/06/2020
01/07/2020 - 31/07/2020
01/08/2020 - 31/08/2020
01/09/2020 - 30/09/2020
01/10/2020 - 31/10/2020
01/11/2020 - 30/11/2020
01/12/2020 - 31/12/2020
01/01/2021 - 31/01/2021
01/02/2021 - 28/02/2021
01/03/2021 - 31/03/2021
01/04/2021 - 30/04/2021
01/05/2021 - 31/05/2021
01/06/2021 - 30/06/2021
01/07/2021 - 31/07/2021
01/08/2021 - 31/08/2021
01/09/2021 - 30/09/2021
01/10/2021 - 31/10/2021
01/11/2021 - 30/11/2021
01/12/2021 - 31/12/2021
01/01/2022 - 31/01/2022
01/02/2022 - 28/02/2022
01/03/2022 - 31/03/2022
01/04/2022 - 30/04/2022
01/05/2022 - 30/05/2022
01/06/2022 - 31/06/2022
01/07/2022 - 31/07/2022
01/08/2022 - 31/08/2022
01/09/2022 - 30/09/2022
01/10/2022 - 31/10/2022
01/11/2021 - 31/11/2021
01/12/2022 - 31/12/2022
01/01/2023 - 31/01/2023
01/02/2023 - 28/02/2023
01/03/2023 - 31/03/2023
01/04/2023 - 30/04/2023
01/08/2023 - 31/08/2023
01/11/2023 - 31/11/2023
Tuesday, December 31, 2019
So the bug turned into a very nasty cold, which I am now right in the middle of. Great way to start a new year...

Forgot to mention the Babbacombe trip. I'm wondering if the weather wants me to a) not go down to the sea or b) not want me to return if I do go. The beast from the East narrowly missed marooning me in Cornwall in 2018, when Kai and I visited Babbacombe in September this year our train was cancelled due to 'severe weather', and on this trip I caught the tail end of Storm Atiyah (freezing lashing rain and winds that destroyed two umbrellas). I ended up taking the taxi to Newton Abbot on the way back to be sure of getting a train back to Bristol...

But it went OK. There was a couple of hours break in the rain on Thurs morning, when I was able to get into Torquay to find the shopping arcade I'd seen from the bus (it was a lot less interesting than I'd hoped). The town itself was quiet and grim - surprising for a Tory-voting place - with very little xmas cheer. However, I did find a kitchen shop (right on the quay) which had two excellent small and very sharp knives (I need them for boning chicken thighs). So the trip was worth it for that. The old and really fantastic kitchen shop in Briz has now become a Go Cook shop, only selling hugely expensive saucepans and cutlery. I miss the wonderful old place already - it was the perfect shop to find otherwise almost impossible to find kitchen ware...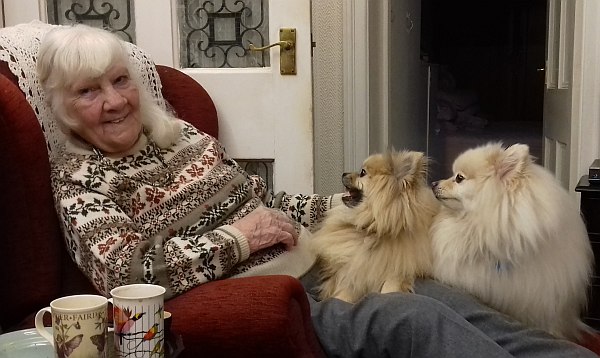 Mum-in-law with two adoring yapmeisters (she said it was OK to post it here.) I sorted out her orchids as best I could: hopefully the spray's got rid of the mealeybugs.


Got back safely and Tyjer was pleased to see me (immediately started trying to overwrite the dog smell with his own, bless 'im)

Also forgot to say we borrowed Department S from GoodTwin. I had it on my amazon wish list and she suggested we watch a bit first to make sure I really wanted to own it. I'm glad she did as it's... hm. Ever found yourself watching a less-than-enthralling film and dozing off for a few seconds every now and then, and when you wake up again the dialogue and action has moved on and it doesn't make any sense? It's a bit like that - but without the dozing off bit. Kai's intrigued by the clothes, cars and acting, Ken's bemused, and I'm watching it wondering how much worse it can get. Needless to say it's no longer on my wish list!

So, it's the end of a decade, and nearly the new year. Kai is taking a break from uni (and I'm now arguing uni fees with Student Finance), and Fixit now have a CCJ against them, and I'm exploring what options are available next. Australia's on fire, the US is controlled by a malignant, lying excuse for a human being and - possibly even worse - that walking pile of excrement McConnell, and we have as our PM a thing that makes a pustulent boil on the arse seem attractive. The planet is going to hell, and those who could do something about it are too busy counting their wealth and patting themselves on the back to care. For the first time in a very long time I can find absolutely nothing to look forward to.
Labels: Fixit Landscaping and Driveway Contractors, New Year, visits
Saturday, December 28, 2019
Festive Greetings to All...
... 'cause the season isn't over until Jan 3rd.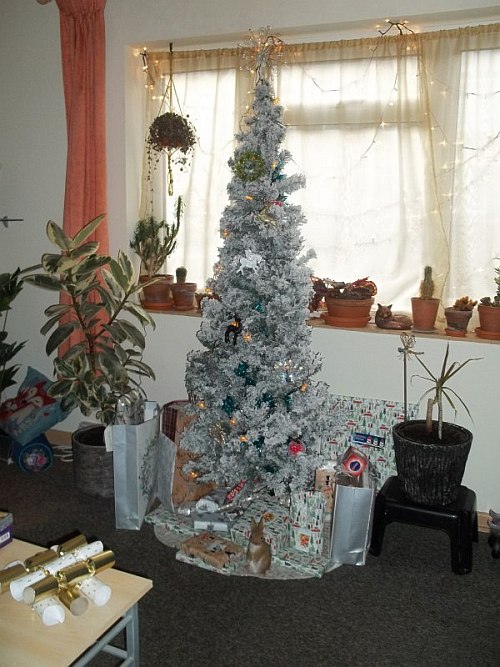 It's been mostly fun so far. Mostly as in, none of us were ill for the 25th, but on 26th I somehow managed to go down with a most unpleasant bug which has left me coughing and my throat raw. But that's all. I suppose it's some sort of cold bug, prevented from getting any worse by the 'flu jab I had a couple months back. Eh, whatever, it could be a lot worse. We've had to postpone our Tudor Day though, as I'm not up to a lot of cooking right now. We'll reorg for a week or so into the New Year.

Our (30th) wedding anniversary was lovely: beautifully relaxed and the meal at the Black Castle was very tasty and very filling. Afterwards we watched The Odd Life of Timothy Green, a quite delightful film, sweet without being mushy. Nice film for a rainy afternoon.
Yuletide's been mostly relaxing. We've watched a lot of films, the ones I'd been saving up. 24th Ken and I started watching the BBC production of A Christmas Carol - an interesting take on the story. It was grim but good. Our presents were terrific - Grave of the Fireflies and In This Corner of the World, along with a beautiful glass coaster, from Sue, and Utopia seasons 1 and 2 - along with biscuits and chocolates, ale for Ken and a limited edition fox print for Kai - from Goodtwin. I had three new Starscreams and a Skyfire, and a gorgeous genuine Bristol blue glass paperweight from Kai -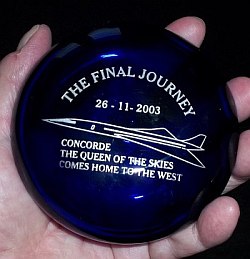 He bought it from a charity shop - but when I turned it over, it's a limited edition - 463 of 1,000! Dead chuffed.

We watched Moana - which I really must buy, it's wonderful - after xmas dinner (steak, roast spuds, Brussel's sprouts with chestnuts and honey-glazed peas and carrots, diddy pigs in a blanket and delicious pork, stuffing and cranberry star shapes, with xmas pud (Ken), salted caramel pud (me) and thick brandy cream, and double choc pud with ice-cream for Kai. An altogether lovely day.


Boxing day we finally watched The Greatest Showman, which is fun, and Ken and I caught Worzel Gummidge, which, while a bit heavy-handed on the eco front, is still charming.

Yesterday it was me spending most of the day coughing, and we watched Race to Witch Mountain, which I have seen bits of for the last umpteen Yules but never watched completely. Thoroughly enjoyed it!

And that's about it. It's been a strange year - got a lot done, to the house certainly, maybe not so much personally. Aiming to get started on the next project in the new year.

In the meantime, I hope everyone has had a good and peaceful Yuletide.
Labels: anniversaries, films, presents, Yule
Monday, December 16, 2019
I'm heading down to St Marychurch on Wed to see Mum T, repot - and try to get rid of the mealybugs on - her orchids, and take a bus to Torquay and Babbacombe to actually have a look around the shops, which after umpteen years of visits I still haven't managed. I'll be back on Fri pm, in plenty of time for the chaos that is xmas (not so much here as I'm very organised). So, a quick update before I head off.

It's been a flurry of shopping (all gifts now bought and cards posted), tidying, and a good look through my old 700 Years of English Cooking recipe book, as we've invited Dawn over for Tudor day on the 28th (last year was Japanese, year before was Indian, so we thought we'd go native this year.) I bought Doctor Faustus (Globe Production with the wonderful Arthur Darvill as Mephistopheles) a year or so ago but we haven't managed to watch it yet, so that will be the main feature. Later is either Warlock, or some Blackadder II (Ken and I picked up the complete Blackadder in Wells, of which more in a moment), depending on what we fancy at the time. I'm planning on making braised chicken thighs, and gingerbread, for lunch, and a pork casserole, with split green peas, and lemon and orange basted cauliflower, as veg, an apple and orange pie for dessert, and marchpane (mine will NOT be highly decorated! My recipe uses rosewater icing...) Going to try the recipes on K&K before the actual day, and there will be photos! (And the recipes if I can find the time to type them up/anyone is interested...)

GoodTwin and Sue came to visit last Thursday, and a rollicking good time was had by all! As usual my stomach ached from laughing, and it's never long enough!

So, Wells...

I was at a bit of a loss as to what to make for lunch for Tudor day - we wanted something relatively easy that doesn't involve too much work, as the main recipes do. Ken suggested pies - and of course the Sat market at Wells has one of the best pie stalls we've ever found, chunky traditional ones with venison, duck, pork, or beef which while not strictly historically accurate, would be close enough. So off we went to Wells on Saturday...

We were later than planned leaving, and by the time we got there all the pies were gone (hence the chicken thigh recipe, which I found online, though if I can find similar pies somewhere else I'll happily buy them, as the thought of boning 8 chicken thighs is not appealing...) BUT! There was a jewellery stall there, Eyres Jewellery, and a ring caught my eye. I've said here that a good few years ago I developed an allergy to the platinum of my original wedding ring: bought a couple of cheapie silver (I thought at the time) and opal rings as a temp fix. Heh. Remind me to never buy cheap Chinese jewellery again. The edges have gone ragged, not quite enough to cut, but most uncomfortable, and it's not like I wore it all the time, only when going out. It's obviously not silver as it's gone a dull shade of greyish-brown. Anyway, I've been looking for something else suitable for a little while - and I found this on the stall. (The review there is mine.) It's absolutely beautiful, and so comfortable, and I just love the description on the site. I do take it off for washing up or using chemicals, as the colours are enamel rather than stones, but that's OK, I did that with my original ring too, so it's an easy habit to get back into. Delighted with it!

We took a wander into the charity shops, where I found a fantastic jacket at a ridiculously low price, along with a knitted cap that almost matches my new gloves (don't know if it's a side effect of getting older or just me, but I'm feeling the cold now a lot more than I used to, so having to dress accordingly. Bloody annoying but no use ignoring it!) So overall it was a great success, and a really enjoyable day out for the two of us! Ken suggested doing it more often next year, which I would very much like to do. We haven't managed to much over the last few years, with Kai being ill, but he's a lot better now, so we'll see how we go.

We were going to get the Bristol bus back - but the Bath bus arrived first, and Ken suggested getting it (buses from Bath to Bristol/Bristol to Bath are very frequent) as it goes all around the villages and is a really nice ride. It was getting dark, too, so we saw all the lights. Not as many as there might have been, perhaps: Ken thinks that the disaster that was the election (not going to talk about that as it won't do my blood pressure any good) meant that a lot of people felt they had very little to celebrate this year and were too depressed to put up decorations. But those that did went completely to town (maybe to make up for it?) and the houses and gardens looked amazing.

It was a lovely, lovely day.

Kai and I took Derpy for a quick spin around the block this morning, to check she was still running OK as it's been two months since we drove her last. Everything's fine, so I parked up (a little more tidily than last time) and we put her little xmas tree and tinsel in the front. Not as decorated as at Hallowe'en, but enough for her to join in the season.

Media... I found The Brand new Testament pretty much by accident, and was intrigued enough to buy a copy. And WOW! It's gloriously heretical while staying absolutely true to the old testament god, deliciously subversive and very very funny. Loved it, absolutely loved it. I'd recommend it for everyone but it's likely to give even moderate Jews and xtians apoplexy, so perhaps not. Pity...

Picked up American Gods season 2, and started watching it, but then had to go back and rewatch season 1 as it has been such a long time between them. Season 1 is great, but season 2? I can't say too much as Sue hasn't watched it yet, but (as I told her) I kept dozing off, and finding I hadn't missed anything much when I woke up again...

That's about it for now. Will report back when I get back from Devon. There may be photos...
Labels: busyness, Derpy, Devon, films, friends, jewellery, visits, Yule