Thank you, everyone, for your sympathy and kind words and thoughts. It's no consolation, of course, but we take a little comfort in knowing we gave him a pretty good life, with his own garden, soft beds (and sofas) to sleep on, good food and cat milk and tinned salmon and tuna for his meds, and lots and lots of love and pettin's.

It'll be an interesting party at the Bridge. Young Jason will want to play with Tyjer, Mink will bounce all over him, Tharg - the most laid-back, huge silver tabby I've ever met - will roll over on his back and smile at him, Ryme will try to mother him, Raptor will run rings around him, Roeg will be curious and try to make friends, Quyn will sit at a slight distance, tongue lolling, tail wagging, happy to have someone else to protect, and Argent - Argent will either challenge him to a duel or sit and debate the strangeness of humans with him for hours...

A lot more has happened in the last month or so, most of it good: will try to update early next week.
(Crossposted to my Fb account)


Furbaby Argent passed early in 2009, and since as far as I'm concerned a house is just a pile of bricks without a furbaby to make it a home, we visited the local Cat and Dog Home that March, where we saw Tyjer for the first time...


A big orange tabby, we couldn't see his face as he was hiding it under a blanket. He wasn't overly friendly to start with, but seemed to enjoy being scratched behind the ears. He'd spent the first three years of his life in a second floor flat, with no access to the outside at all, with a single mum and her child. Apparently, when she was pregnant with her second, the first child was NOT happy and took it out on Tiger (as he was called then) - when we saw him his fur was covered with purple felt tip pen ink - but the mum was sensible and gave him up to be re-adopted (so kudos to her for that).

We had a visit from a staff member to check that we were suitable parents - on a quiet residential road with a 100' long back garden we ticked the location box at least. Her last question tickled us: she sat and regarded us sombrely, and asked, "And where will the cat sleep?" Kai and I looked at each other, then at her and said, "Um, anywhere he wants!"

We brought him home a week later.

We changed his name to make it more unusual, but not so far from the original that he'd have to get used to something completely new (Ken suggested Tiberius: never having been a great fan of William Shatner I nixed that. Besides, imagine going out to call a cat in for the night and having to shout "Tiberius! Bedtime!") He was very bright, somewhat wary (right up to the end he didn't like strangers, and took a while to get used to friends), protective and territorial (he absolutely would NOT allow other cats into his garden!) In later years he mellowed, and over the last year, while Ken's been working from home, has joined us for lunch, lying on his back between Kai and Ken on the sofa for pettin's, purring and kneading the air as Kai rubbed and scratched his belly. He got into the habit of joining me in this room - to guard me from anything out in the garden, I think, as he sat at the closed patio doors hissing at anything, like our resident foxes, that approached - and mewing at me to encourage me to go to bed when he'd decided I'd been writing long enough.

His hips started playing up a couple of years ago, and I've been giving him Metacam analgesic (three consecutive doses every four to five weeks, as overuse can cause kidney failure) and back in March this year I found we'd run out. I had to take him for a check up before they'd prescribe any more, so off we went. The vet (at Pets At Home) said he had a slight heart murmur and at least one rotting tooth, and given his age - 15 - it would be best to have them extracted to avoid any infections. So we booked him in for last Friday.

It went well, although he ended up having seven teeth removed, and on Saturday he was eating, and purring, and seemed fine. Then overnight Saturday to Sunday his breathing changed, and he was listless and not eating. We took him back on Sunday afternoon (had a check up booked in any case) and the vet (a different one) checked him over and took an X-ray. Tyjer's lungs were congested - either pneumonia or pulmonary oedema - so much that his heart couldn't be clearly seen, and his temperature was too high. He was given medication and antibiotics, we were given diuretic tablets for him (to be given every six hours) and booked a further appointment for Monday.

Even with the meds he got worse over Sunday night, and by Monday morning was just a shadow of himself. When we took him back to the vet his temperature was even higher and his breathing audibly raspy. I decided further intervention would only cause him more distress, and the vet agreed with me. I was able to go into the room and pet and talk to him while he was put to sleep, and it was quiet and calm and he drifted peacefully away.

We brought him home, and interred him in the garden he loved so much, on the shady side of Roeg's Pool, curled up in a box as though asleep with catnip leaves scattered over him. Later on I'll plant some ferns there.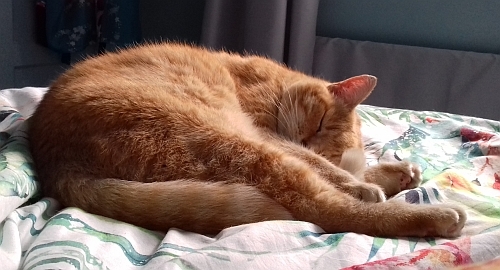 Tyjer, 2006 - 19.4.21, united with Jason, Mink, Tharg, Roeg, Raptor, Ryme, Quyn and Argent. We'll see you at the Rainbow Bridge when the time comes.

I miss him.