Warning. We've had a harvestman (we call them airspiders) sitting at the top of the wall in the lounge - completely unmoving - for a week or two. Kai took a closer look yesterday and we found out why - it's holding an eggsac in its pedipalps! At some point we're going to have a horde of teeny harvestmen rampaging through the house. Kai took a photo - you can actually see the eggs! - and I've posted it at the bottom of this update. Please note - harvestmen are not spiders!

And in other news...

So of course, after having to buy a new fridge, we find on Thursday we had a leaking pipe over the kitchen window...

Luckily, Tom, our plumber, is still working, although wearing a mask and keeping his distance from customers, and came to see what he could do Friday am. Bless him! The leak upstairs - where the cold water pipe goes into the cistern - had soaked the floorboards without us realising, so the lino is raised in the corner to allow them to dry out and Tom replaced the leaking section of pipe. Downstairs, he had to remove the panel that runs from wall to wall along the back wall and replace the pipes there, which will mean a trip to B&Q when it's safe to buy a replacement wooden one. Still, winter's behind us, so it won't be too cold, and it'll match the replacement vertical panel we had to fit when he replaced the vertical pipes last year...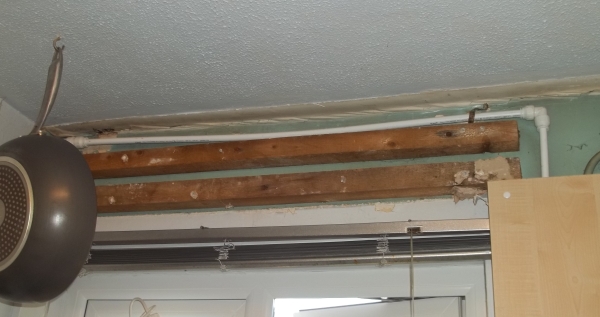 The garden is doing its usual spring thing...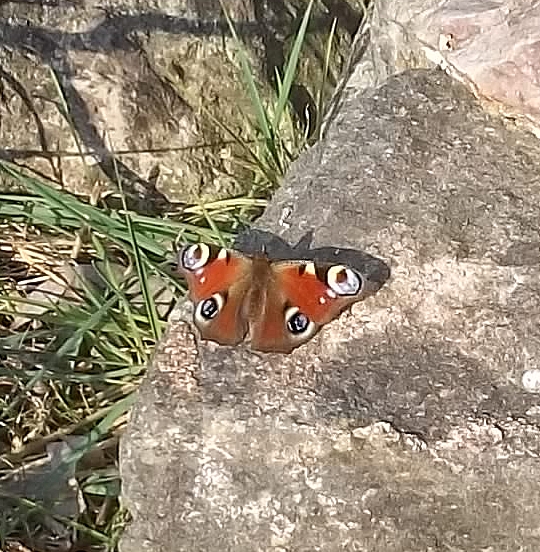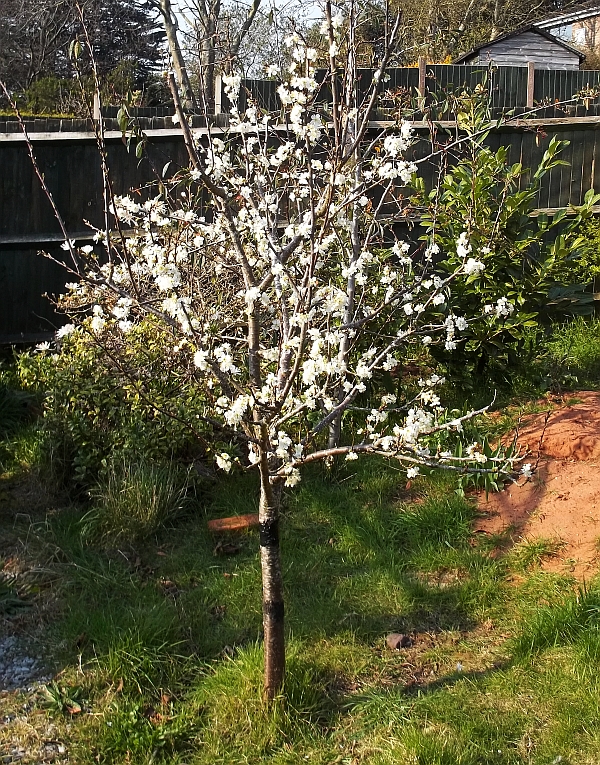 Plum tree. Fingers crossed for a good harvest. I love plums!
Tried the new BP meds for two weeks, but the side effects didn't stop, so I contacted the surgery who advised me to stop taking them. Feeling better now.

I miss swimming. Kim and I had worked up to 24 lengths. And will have to postpone Bath Spa treatment til... no idea when...

Forgot to mention - Ken gave me Deadpool's Secret Secret Wars for Yule. It's brilliant! Very funny and very clever - with an oddly poignant ending. He gave me a gorgeous hand painted Japanese postcard for my birthday, and I've finally put it in its frame and hung it up in the bedroom: -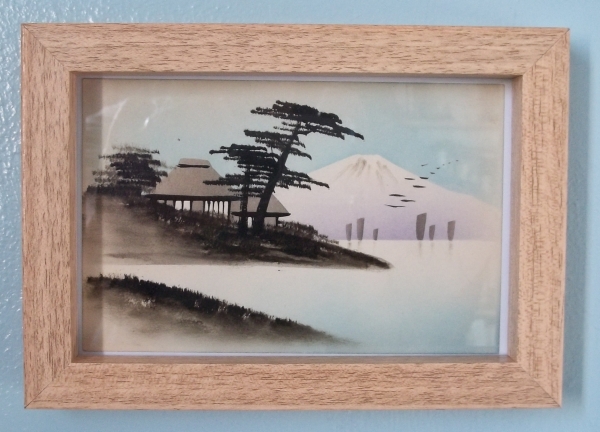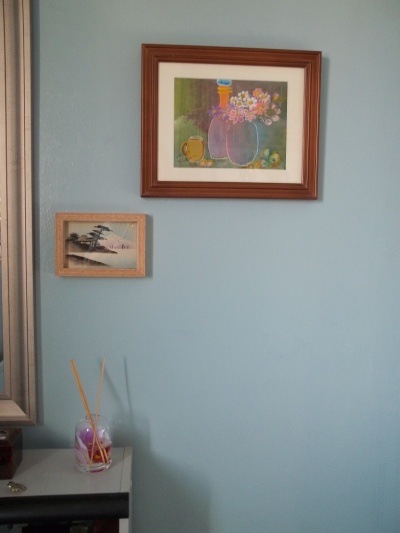 The other pic - fireflies over a lake - is at last on the wall in this room:-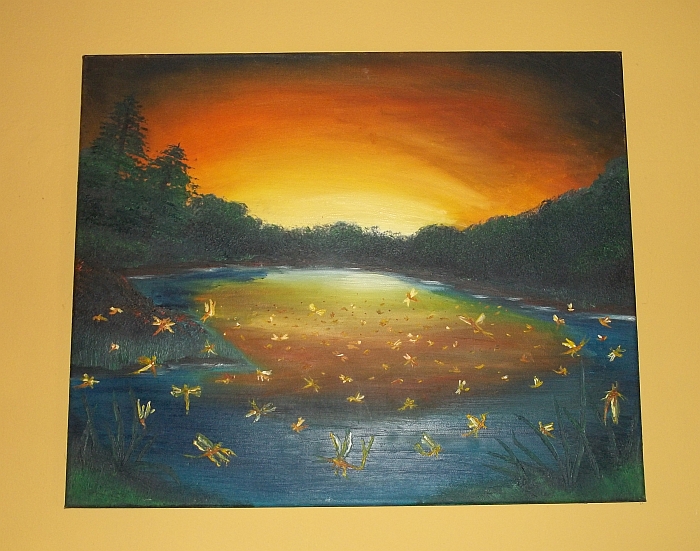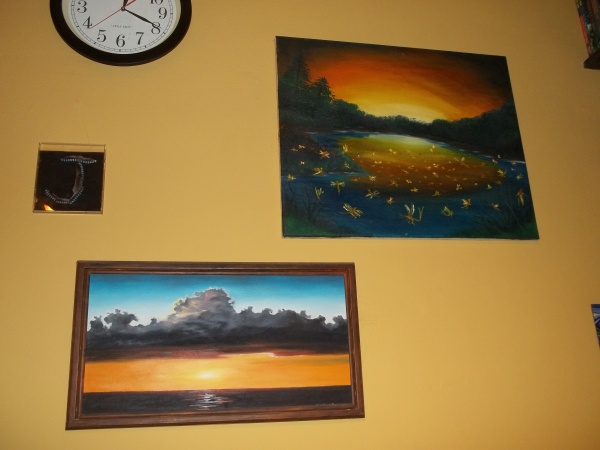 (Yes, my clock is backwards. The words are 'seilf emit'.)

Media... I watched Noughts and Crosses. Found it very interesting, but anticlimactic. Ken and I are working our way through Jason King, with Kai joining us for the odd ep. It's absolutely bonkers but an awful lot of fun. We rewatched Now You See Me in order to remind ourselves of the story before watching Now You See Me 2. It's fun, but not quite as good as the first film.

This was amusing... How generous! Promise I won't spend it all at once!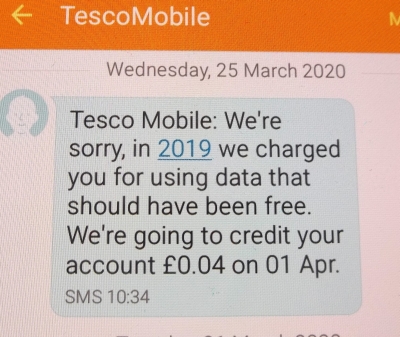 I missed it last week (I was in the shower) but this week Kai clapped from his window and I went out to the front porch to add my hands. Looks like it's going to be a weekly thing so shall make sure to keep 8 pm Thursday free for a while.

Things are trundling along here. And the air is so clean at the moment, all my coughing and snuffling has cleared up now there's so much less air pollution. If only we can keep it going once the lockdown is over...

Sign of the times... Just around the corner from us (well, half a mile away really...)

Stay safe and well, everyone.

And finally, the harvestman...