Medical stuff first.

Had my gall bladder removed 12.9.22: keyhole surgery, in at 7.30 am, home again 5 pm. Took a couple of weeks to fully recover and now I have to be a bit careful over what I eat - fatty foods are NOT a good option. Otherwise all is fine, and the irritating mild stomach aches I used to get have stopped.

Kai's ear infection cleared up, and the ENT exam proved fine. He's going for xrays etc due to joint problems that may possibly have been caused by the total body irradiation he underwent prior to the bone marrow transplant. And last week he went for a thorough MRI to see if there's any serious reason for his high blood pressure. Took and hour and a half: will report back when we get the results.

I had an orthotic appointment re. my plantar fasciitis. The consultant said the BRI could make custom shoes for me, but it would require multiple appointments and cost the NHS around £400, so I opted for a couple of pairs of the shoes on Wider Fit Shoes. For the first time in my life I have shoes that don't hurt - and they were in the sale too, so I saved £60.

And bought myself some new clothes with xmas cash from mum Taylor (specifically Yesno jumpers, which are gorgeous.)

Kai, Dawn and I went to see Seemonster one sunny afternoon. It was fabulous. My photographs are here. There are 43 of them...

I popped into town to see The World Reimagined on College Green - photos of them are here.

Media

Upstart Crow (1st and 2nd series) - a lot of fun!

2002 - a gloriously daft Cantonese(?) version of Randall and Hopkirk (deceased) taken to the next level. Or possibly three levels above that...

Oranges and Sunshine. Depressing but somewhat satisfying ending.

Hawkeye, courtesy of Sue. Highly enjoyable!

Kai and I rewatched Beauty and the Beast. It's still as amazing as it was, and I found I'd managed to miss a load of eps from the final season.
We finally got to watch the last two seasons of Legends of Tomorrow, It was fantastic - except for the dreadful cliffhanging ending. Absolutely infuriating, and there won't be any more. Very annoyed about that.

The Last Valley. Intriguing, but my copy went silent for the last few words, which was damned annoying.

Matrix Resurrections. OK. Not brilliant, but interesting.

Thor: Love and Thunder. A real giggle.

The Expanse. Finally managed to buy a copy of the last season - very very enjoyable and a satisfying ending.

Wish I could say the same about Doctor Strange in the Multiverse of Madness. NOT a good film at all.

As opposed to Eternals, which is great fun! Looking forward to the (hopefully) forthcoming series.

Kai and I rewatched Cloud Atlas - terrific film and a great adaptation of the book.

Caught Enola Holmes 2 on Netflix. Fun, but not overly memorable.

Black Moon. Urgh. Dreadful film. Pretentious crap. NOT recommended.

Then there was Aniara... Absolutely extraordinary film, unlike anything we've ever seen. Can't say much about it as it would be far too easy to add spoilers, but it's an amazing film with an ending we found curiously hopeful...

Cold Comfort Farm. Another real giggle.

Nope. Wasn't at all sure at the start but it slowly reels you in. Great film, with - finally!! - truly alien aliens.

Ken and I have been rewatching Death in Paradise, seasons 1 - 6, then 10 - 11. Highly enjoyable stuff.

Then Ken and I watched RRR on Netflicks (all 3 hrs 7 mins of it)... wow. I wasn't sure in the first few minutes, but we stuck with it, and I am SO glad we did. It's the most violent feel-good movie I've ever seen, Bollywood or not. Brilliant! And who needs Marvel superheroes when you can have Rama and Bheem on your side? Will def buy the DVD when it becomes available!

Moonfall. Hm. Well, it's not great, but the cinematography is gorgeous and the basic idea fascinating...

Bought Ghostbusters Afterlife... It was quite fun, although we did watch the preceding GB films first. Fun waste of time!

At the same time I picked up Jurassic World: Dominion, so of course we had to watched the preceding two films first. Another fun time!

Then there was Rashomon, an intriguing little film that Kai in particular enjoyed.

Interesting weather at the beginning of December...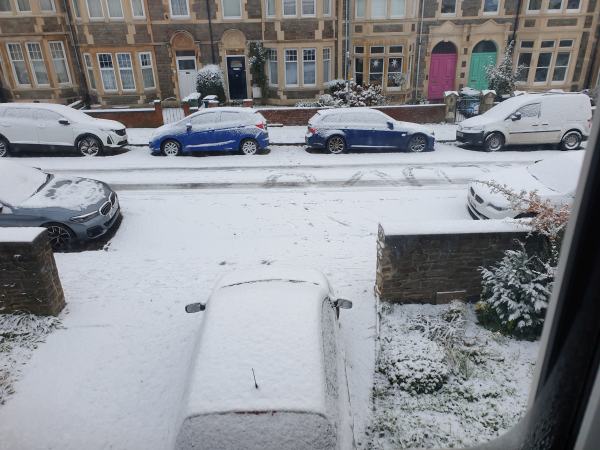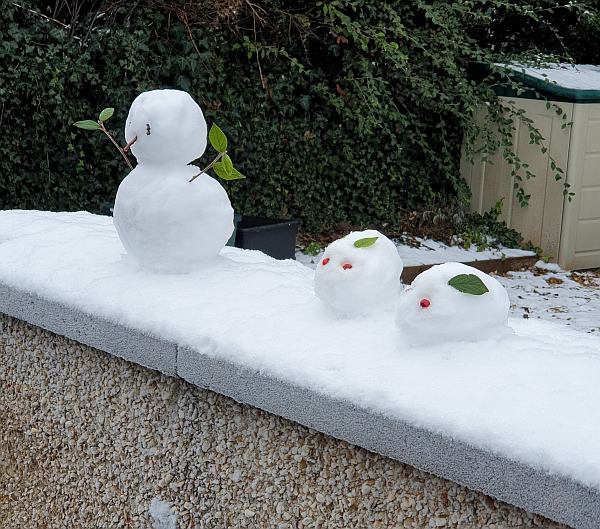 25th was peaceful and the dinner went well (roast duck with all the trimmings), and all the presents were very much appreciated! We started rewatching the Die Hard series. Real brain candy stuff, but fun. Watching 4 and 5 after dinner.

Overall it's been a hectic year with a lot of fun things happening. Ella is now properly part of the family and quite a character, while my garden has done splendidly: my raised bed is perfect for carrots, beetroot and onions, and the potato bags were successful too, so hopefully we'll be able to grow most of our own root veg for most of next year.

And something to look forward to - next June there'll be a Unicorn Trail around the city -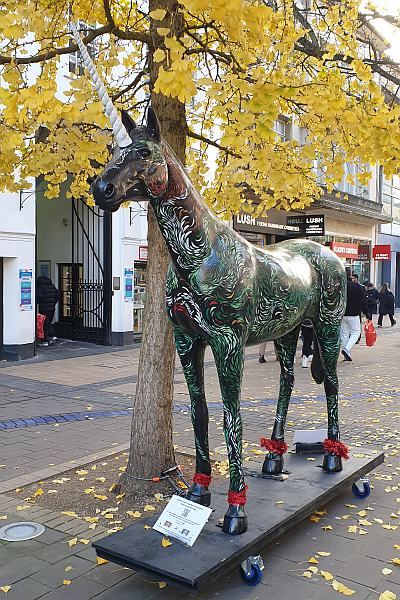 Guardian of the Forest
Rather looking forward to that!

OK, off to make salmon in mirin and sesame for dinner, the we'll settle down for the night and see the New Year in with the traditional Buck's Fizz and London Fireworks. Wishing you all the best, and fingers crossed for more time to update more regularly in 2023.
Labels: films, garden, medical matters, Yule