Finally, an update!

Why am I busier now than before the lockdown? Where does the time go? (Rhetorical questions, by the way, no need to reply!)

So what have we been up to? A lot of film and series watching - see below. A lot of gardening: I found a site that sells heritage tomato seeds - Tomato Eden in Poland - and ordered some packets of the most interesting looking ones! All but one have sprouted in the greenhouse (will replace the odd one as have seeds left) and will get photos when they start fruiting. Also have climbing courgettes and mini munch cucumbers on the go in the greenhouse, runner beans, sugar snap peas, two lots of dwarf beans and our asparagus in the raised beds. Pear and apple trees are full of fruit buds (will have to pull off a whole lot to ensure the rest develop properly, a nuisance but essential), the blueberry and raspberry bushes are doing well, and I've bought some potato growbags to try. The potatoes are coming along well in one - going to try planting some heritage carrots in the other.

The front garden is looking pretty good too. My irises go from strength to strength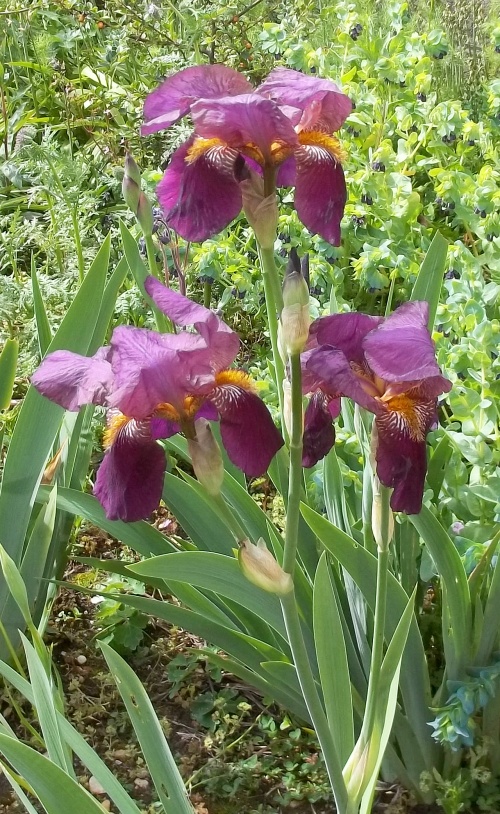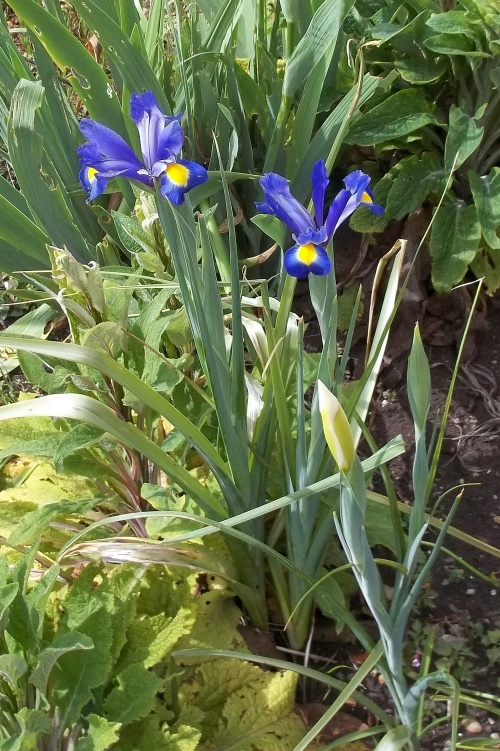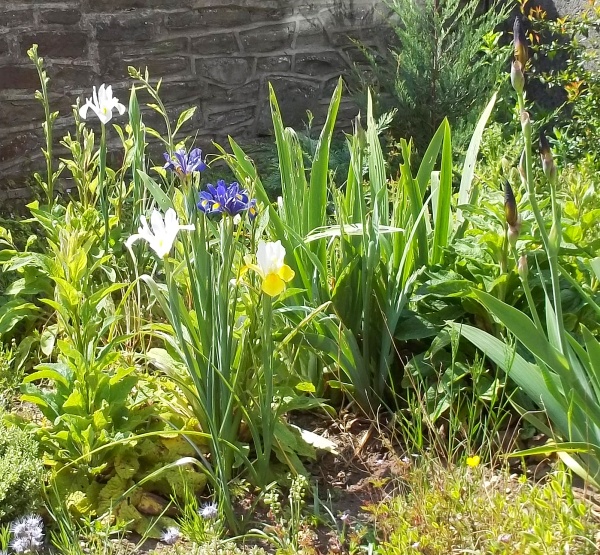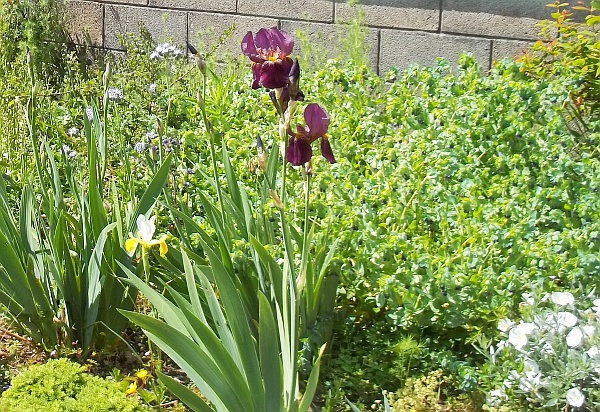 The bench is now down on the patio, much to Tyjer's approval...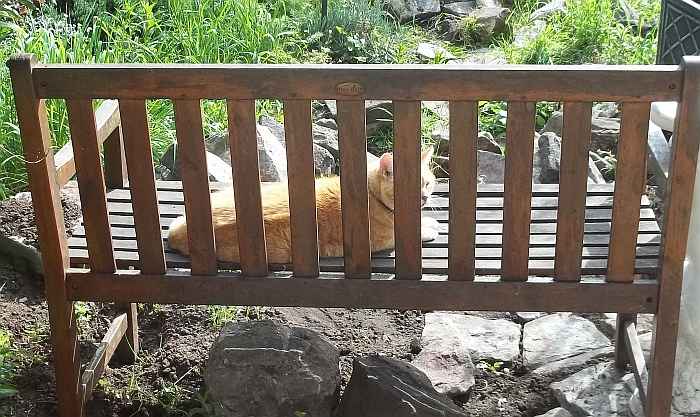 My indoor plants are doing their usual slightly odd thing too.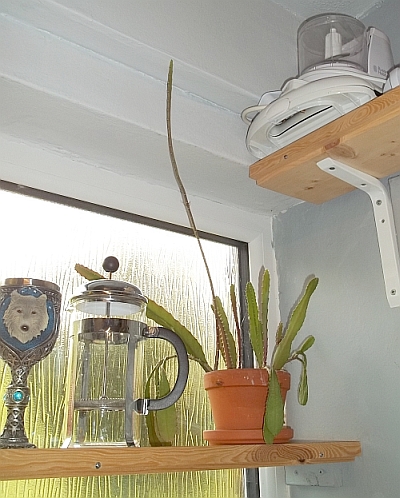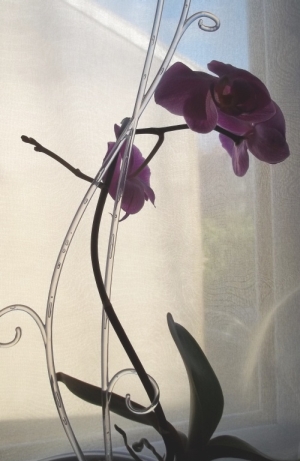 On the health front, Kai is now registered as 'extremely vulnerable' on the government's list, and we're all shielding. So, not much different than before then. Main thing is it gives Ken ammunition to continue working at home if the BCC want their homeworkers to return to the office. Which is probably not going to happen until the danger is completely over - roll on the vaccines - but it's another source of stress relieved. His BP is a little high at the moment, but not enough to worry about. Must remember to check mine later.
So - watching... The Prestige, which I didn't remember, despite seeing it ages ago. Very good, thoroughly chilling. Devs, which started off so well and then - for me, at any rate, Kai enjoyed it, and made a suggestion about the title before we were even half way through the first ep, though in hindsight it should have been obvious - went downhill fast. I think the problem for me was that there was NOTHING in it at all new. Seen and/or read it all before. The concept of the multiverse is used in Michael Moorcock's books, all of which I'd read before I got to college as a teen. I ended up playing 'spot the movie this is borrowed from', and kept dozing off in ep 6 (or was it 7?) which was soooo sloooowwwww. So, glad I suffered through it, won't be watching it again.

Which is the complete opposite of Inside No. 9 (how strange! I copied that link from the IMDb twice and neither time did it link properly. Though that, to be honest, is really quite apposite for the series! Try this one instead? Ah, no, that doesn't work either. Just type in the title into IMDb if you're interested), which is just superb. Some eps are better than others, of course, and the 5th season was decidedly grim, but they are never less than thought-provoking, and season 4 is wonderful!

In a fit of nostalgia I ordered The Assassination Bureau, which we all thoroughly enjoyed, although it reminded me quite strongly of The Tourist. Heh. Maybe I'm getting so old I've seen it all before!

Kai and I are working our way through Silent Witness, which is variable but in general superior TV. As a family we're now working through the Peter Capaldi Doctor Who season 9, which we bought because it contains what I consider the best and most chilling DW ep ever, Heaven Sent. Well deserving of its 9.6 rating. (I just adore Capaldi's Doctor.)

Last time we went out for a walk someone had put a bag of DVDs on their wall for passers-by to take if they wanted (a fairly new innovation that a lot of people, including me, have found very useful). I took Vampires Suck, purely to see what it was like (I absolutely loathed the Twilight series, which I had to read/see (the first film) when I was writing Vampires). Opened the case when we got home to find it empty, so ended up buying it second hand online (the postage cost more than the disc!) I knew it's rated very poorly and people hate it - but actually, I found it OK. Very funny in a couple of places, and the acting was pretty good! Not going to recommend it, but if you know the Twilight series, it pokes fun remorselessly.

On the strength of that, I've also picked up Meet the Spartans, despite its 2.8 rating. Yes, OK, that the synopsis mentions Autobots also helped... Aiming to watch that soon. Not expecting much, but might be surprised. Fingers crossed.

That's about it for now. We recently invested in a 4 terrabyte external hard drive to archive EVERYTHING on all our computers and put in the strongbox with the wills etc, and Ken and I picked up a little 2 terrabyte external drives for additional backup. We're now in the incredibly long, laborious process of scanning/photographing all our very early work (my notebooks etc are in a pile beside my desk which is almost as high as the desk itself. Wat fun...), all the stuff on our pc hard drives, everything on teh old external, Nigel, and I'm aiming to transfer all the old photos currently on spindles of discs inside the strongbox. Probably going to take the three of us the rest of the year...

Stay safe, everyone!