Kai's birthday today last Monday - he's 25. Where did the time go? I think he enjoyed it - he loved his "crime scene" hanger, GoodTwin! - and he asked for a simple butter chicken curry for dinner, so that was easy.

So where were we?

GoodTwin and Sue's visit was great fun. I opened my birthday presents early - now have Jason King to enjoy! Also some of the most divine chocolates I've ever tasted...

The maple-and-miso aubergine recipe worked well (the paste itself is delicious and would go easily with chicken or pork too, so that was a very useful discovery) although next time I'll skip the cucumber salad.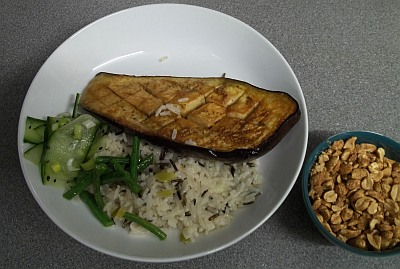 On my actual birthday I took myself over to Keynsham for a spell of shopping, which was quite successful - and it was a gloriously sunny day too, for once. All nicely relaxing.

On the Thursday Kai helped me put Optimus Starscream together - ye gods it's a big figure!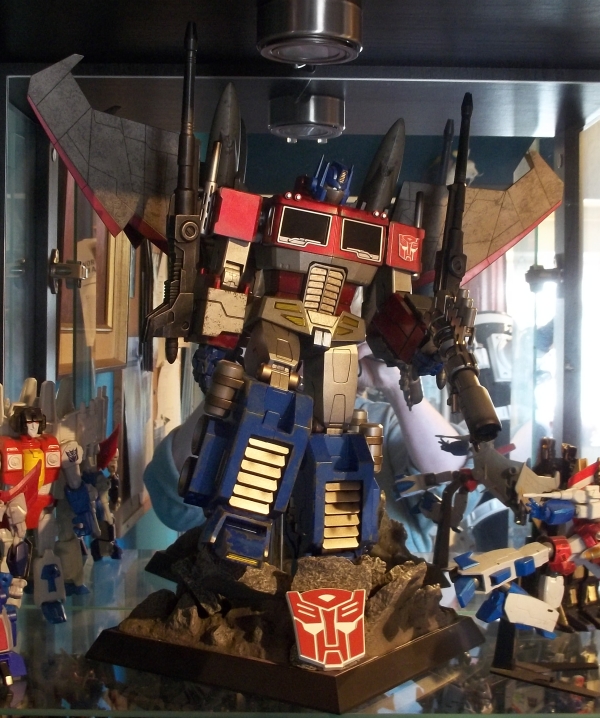 Then assembled Furai Starscream for me... Not joking, the pieces were too small for my fingers. And there were hundreds of them...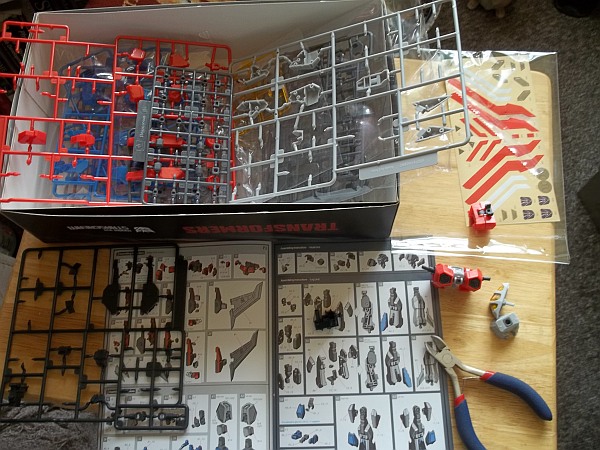 I did manage to put in his eyes (a minute red plastic C shape that fits behind his faceplate and that I dropped and nearly lost three times) but Kai did the rest. Including the tiny tiny piece of silver foil that fitted behind his eyes so they reflect light. (My main job was finding each piece and snipping them from the plastic thingies they were in as he called for them.) But the end result...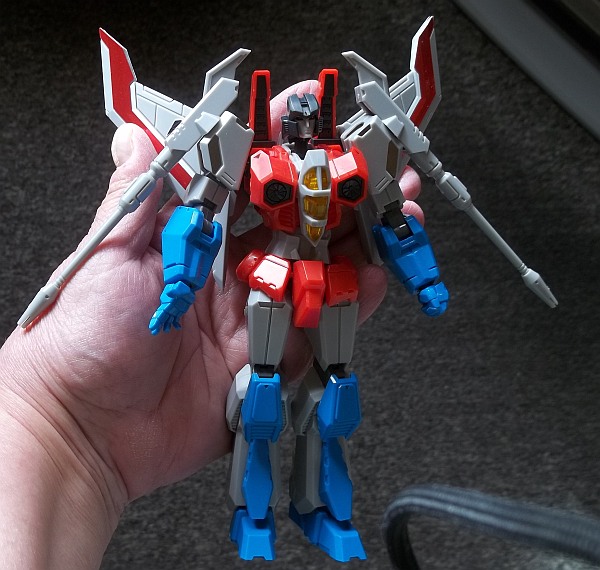 ... is rather gorgeous. See those tiny tiny black triangles on his chest and knees? Tiny stickers! I could barely see them, let alone handle them! Kai had to use cocktail sticks to manipulate them, and even they were a bit big! This is a figure for a dedicated modeller, I think.

(Rather amusingly, the inside of his knees make the pilots' seats!)

This is the new display case, by the way. Still not entirely sure I have enough space for them all!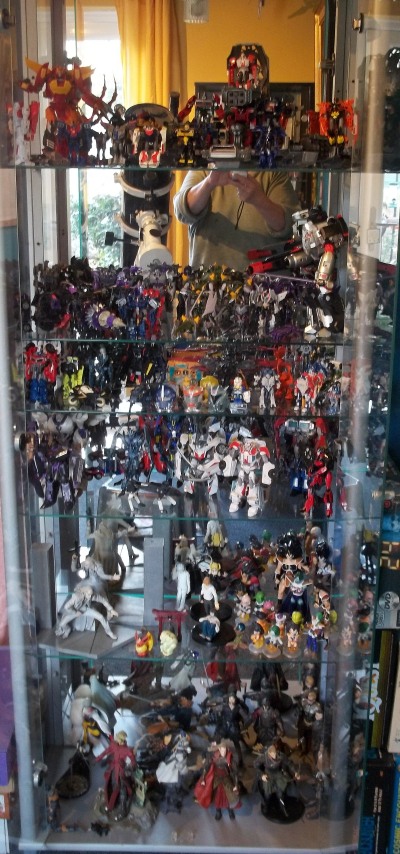 Kim and I went out to Almondsbury last Wed. Picked up a stake and wrap for the pittasporus, which has suffered badly with the storms and was leaning over at an obvious angle. Between myself and K&K, we got the stake in (3.5 foot underground and at a slight opposing angle) and the tree is now looking a lot more stable. I can always get a second, longer stake if we have any further storms.

Also picked up three beautifully bright and contrasting heucheras and a lovely copper coloured pot for them, for mum-in-law's birthday: the tiny bit of patio to the side of her front door gets no sun at all, and heucheras will thrive there. However, now that we have COVID-19 in Bristol (and given that Ken has to get a crowded - standing room only usually - bus to and from work every day) we're delaying our proposed trip down to Babbacombe. We'd never forgive ourselves if we took the blasted thing down there. She is 94, after all, and even tough as old boots as she is, there's still a significant risk.

K&K went out to Stockwood open space on the Saturday - and spotted a small stag!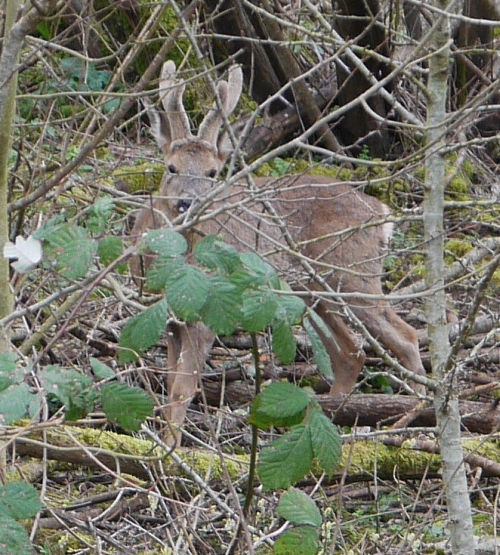 I do like synchronicity. Wednesday I was meeting Ken for lunch, so decided to get into town a bit earlier than necessary to pick up some back-up chocolates for mum-in-law for her birthday from Hotel Chocolat in Cabot Circus - we'll take down the plants when it's safe - and as I was heading over to Broadmead I met a man with a hawk.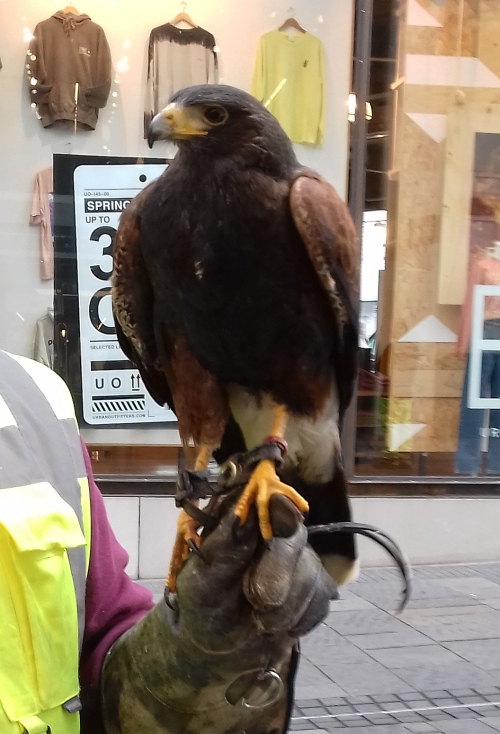 Yes, a hawk. A Harris hawk, to be exact. The handler wore a hi-vis vest and carried official badges and stuff, and said he was taking it up to the roof (I assume to frighten off pigeons/seagulls, as they do occasionally in Bristol) Couple of minutes earlier or later I'd have missed them...

It was a good day, all told. Lunch was nice - I tried the soup, courgette and pepper, for a change as they didn't have my favourite ham and Emmenthal paninis - and my favourite Oriental supermarket (Wah Yan Hong) had everything I needed except the cooking sake. I came home via Sains too, and picked up the three packs of chicken thighs they didn't bring with the delivery.

Media... we finished watching Department S, which actually picked up considerably in the second season, once they stopped taking themselves so seriously. In the end it was really rather enjoyable!

We finished watching Falling Skies last night. Very satisfying ending! On the whole an interesting and thought-provoking series.

On the film side... Finally watched The Revenant. Hm. Slow, very very bloody, not exactly enjoyable, but from my recent reading (and yes, Indigenous People's History was as depressing as expected and left me loathing the human species - again...) pretty accurate in its depiction of life at the time. Then we moved on to The Three Musketeers as a bit of light relief! I now have two versions of the story, this and the Keifer Sutherland 2011 film, so ordered (and now received) the first version I saw, 1973, with Oliver Reed and Michael York, which is in two parts - The Three Musketeers, and The Four Musketeers: Milady's Revenge. Also seen - Alita: Battle Angel, which is fantastic. I really really hope there's a sequel.

Next on the list to watch is the aforementioned Jason King, and Lucky Man season 3. Kai and I have been watching the first two and Ken will join us to watch the last ep of the second season, then we'll all watch the third.

And so to today, that I've had to spend in the house awaiting dr's phone call. Was supposed to be over lunchtime, ended up at 5.30. Bloody nuisance as I could have gone to Wells with Kai and had a bit of sunshine and fresh air... Anyway, BP is too high so she's now prescribing a third BP med, bugger it. This one opens up the veins. The other two protect kidneys and liver, I found out today.

Had a first attempt at making vegan soft cheese. It worked quite well - certainly was nice in my smoked salmon and soft cheese bagel today.

This is the current state of the fence section BND falsely accused us of breaking. It's been like this for several weeks now, getting worse as the winds keep up. Looks like he's not going to ask his minion of the month to pull it back over his side. We shouldn't touch it (he said in writing it's his fence and he'd take legal action if we did, the stupid old fart. Talk about cutting one's own throat!) but I may have to if it gets any worse. At the moment it's perilously close to damaging my very expensive robinia.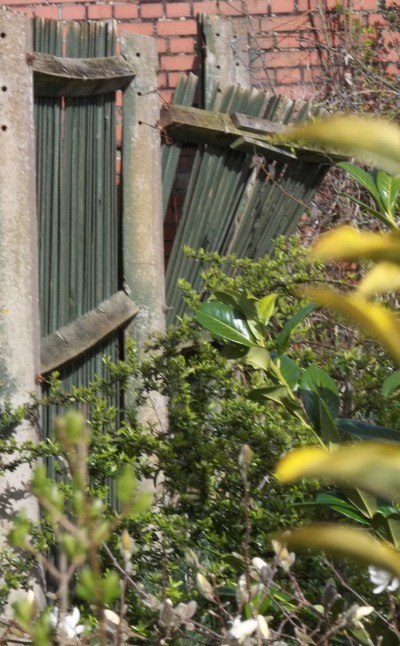 And finally, this made me chuckle. According to the 'Can we guess your age' Fb quiz - I am 11 years old. Heh. They're only 50 years out!
Labels: ... wow..., Almondsbury Garden Centre, birthdays, films, friends, Transformers, visits