Right, where were we...?

It's been busy, productive, and quite interesting. Sunday after my last post we all did some gardening out the front: hoed, the choisia and ceanothuses are now planted, my pot of Sultan's Palace irises too (not the main huge pot on the patio, the ones in a smaller pot out the front that didn't do at all well last year), and a handful of other plants sorted out. It's beginning to take shape...

On Monday, after drilling at all hours of the day and evening on and off for over two weeks, the noise from next door became unbearable - a horrible, high-pitched grinding sound. So I created a LOUD playlist - including a truly awesome mashup of Imagine Dragons Radioactive and Fall Out Boy's My Songs Know What You Did in the Dark, downloaded from here -

Then from 11 am until 4.30 pm played it at 50% of max through my speakers (with half an hour off for lunch). Made everything vibrate and was so loud I had to put in proper earplugs to avoid being deafened while I got some work done.

It's been nice and quiet ever since. One day I'll try cranking up the volume to max and see what breaks first...

On Tuesday, as I was taking the cloches off the tomato plants coming along very nicely in the greenhouse, my phone went - it was the dentist saying they'd had a cancellation and did I want the tooth extracted today? Did I hell! 11.40 appt: left the taking in of the deliveries to Kai, cancelled swimming, and headed off for the Broadwalk bus at 10.20. (Time to do a little shopping before the deed, very useful).

Of course, it didn't go smoothly. I needed an extra anaesthetic injection to completely numb the area, then the twisted root broke off as he was pulling the main part out, and he had to dig around for it for an extra few minutes. But it is now done, feels a bit odd but is pretty much completely healed already and the relief of not having that awful constant pain is great.

(I've posted photos of the tooth here but I don't advise anyone to go look. It's not at ALL a pretty sight.)

On the 'watching' side, we saw Bangkok Dangerous, which was quite good, with Nic Cage's acting unusually understated and effective. And we're currently on lost Season 3... It's a struggle. I am NOT enjoying it. The first season was fine, then it started going downhill. It's... as though someone got a bunch of disparate individuals together, said "We're aiming to make a sci-fi/fantasy/thriller/mystery sort of thing - any ideas?, then took everything everyone threw at them, bunged them all together and tried to make them fit. Which they don't. And I want to slap half the characters for being so effing stupid!!

I will watch to the bitter end (all 6 seasons) in the probably vain hope it picks up...

Quite a lot done in the garden over the last few days, too. K&K are making a 'cobbled' path up the slope from patio to railway track to make it easier for me to manage the washing. The tea tree shrub is also now planted. And the Juneberry is looking gorgeous.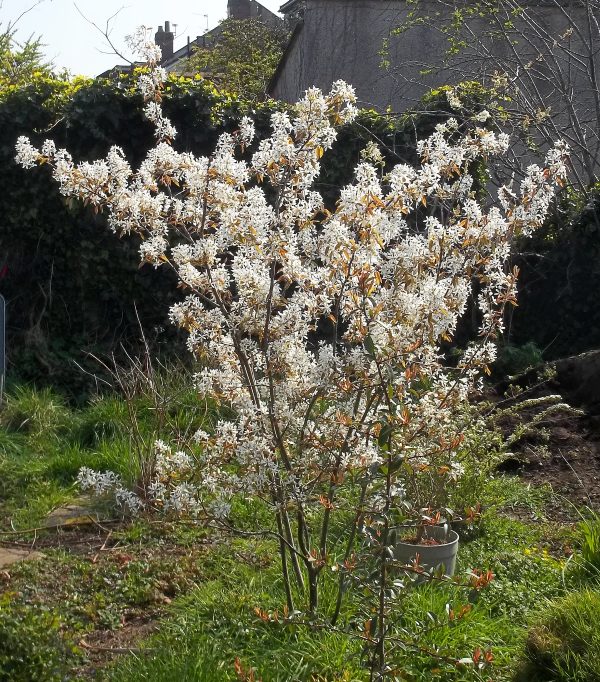 Off to suffer through a bit more Lost. Later...