Two weeks!? My haddock are flailing...

OK, let's try to kick the memory into gear.

It's been busy, of course. This room's painting is almost done (the last of it is the wall to the side and behind my desk and the ceiling above: I have to haul the desk out and take everything off the shelves in order to finish, and that's a fairly major job, so I need Ken or Kai to help), and the new display case assembled and in place with all my Transformer figures now properly on display. Going to start making the curtains this afternoon. K&K should be able to get the new curtain pole up next weekend (and hopefully all the pics that need to go back on the other wall): once this room is finished I can start on the lounge.

But it's taking much longer than it should. The vertigo has eased off to a copable level, but now my right hip and leg are playing up too: feels like stabbing knives every time I move. Using my cane all the time now to walk. And I can't shop by myself any more - in fact, after it taking two hours yesterday to get to Tesco and back with Kai, I think I'll just give up until after the steroid injection. Which, I found out when I rang the BRI, will be "before or on Dec 11th". Two more bloody months! Stressed that my ability to act as carer for Kai is now severely hampered, and have gone onto the 'cancellations' list. Fingers crossed.) I have an appt to see a dr later this week (will have to get a taxi as there's no way I can get myself up the hill and the appt is before the local bus starts running) to see if I can get another injection in the other hip. Oh, and the X-ray shows that the bone structure of my lower spine is damaged, uneven and deteriorating, and 'might cause pain'. [Inset eyeroll, grimace and 'no, duh!' here] I want a new body!

On a more fun note... Kai was scouring the truly excellent charity shops at Westbury-on-Trym and found this hideously adorable dragon...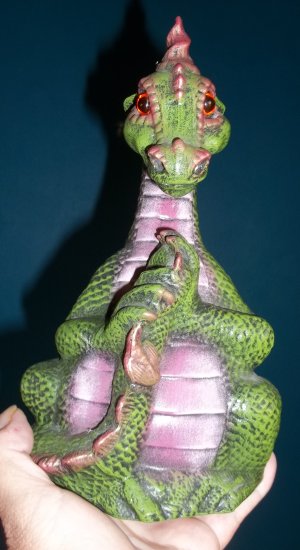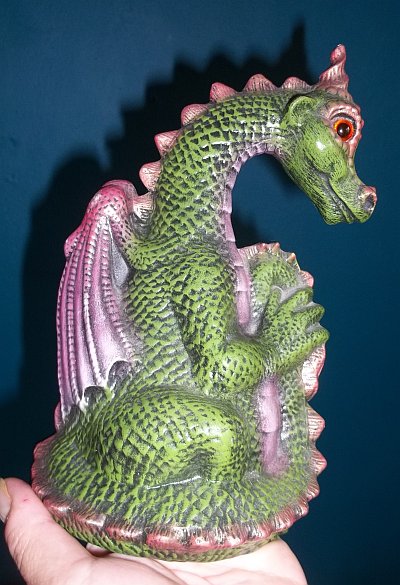 It's an incense cone burner: air is pulled in through a hole in the tail and incense smoke puffed out through the nostrils! Haven't tried it yet as we need to get a safe holder for the (lavender) cones that came with it, and that means a trip to St Nick's Market in town, which is a bit beyond me at the moment. But definitely before Yule.

Last time we were in Weston-super-Mare Kai and I bought a cheap 'fidget spinner' each to see what all the fuss is about. They're quite fun -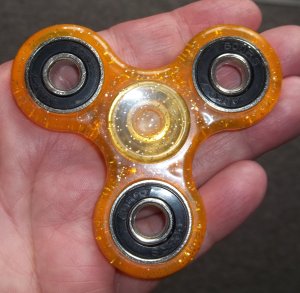 They glitter and form pretty patterns when spun in front of a light source, make a faint warbling whisper when in use, and are mini-gyroscopes - you can feel the force if you twist it while it's spinning.

And then I found a solid metal one at Proper Job... It's beautiful. It's satisfyingly heavy, and the iridescence looks like scarab wings. The warbling is tuneful, and if you let it spin against your hair it sounds like bird wings fluttering (yes, I've been experimenting with it!)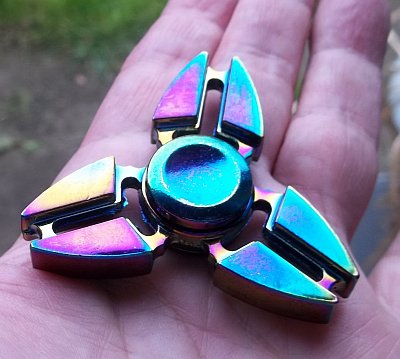 In a pinch it could even be used as a weapon: not exactly sharp but hard and heavy enough to cause an unpleasant minor injury. Like pretty knuckledusters... Anyway, I'm hooked. It's going everywhere with me.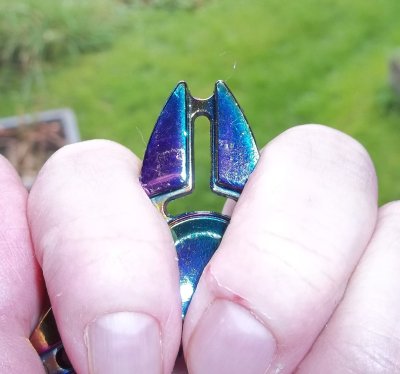 We've been watching an awful lot of films: it's a good way for me to rest. As well as the spinner I found Bride and Prejudice cheap at Proper Job: Ken and I saw it ages ago, and thoroughly enjoyed it (as did Kai!). Turned out we didn't have and hadn't seen Transporter 3, which was fun! Alien: Covenant was in the shops last week: picked it up at full price and wish I'd waited til it was reduced. Kai likes it, I found it dreadful. No way does it deserve its 6.5 rating. I wouldn't have hired that crew to empty my dustbin...

While at Tesco yesterday we picked up John Wick 2 and Wonder Woman (I assume the incredibly speedy release to DVD of new films is because of things like Netflix? I'm not complaining!) Watched the latter last night - it wasn't what I was expecting, but in a good way. Most enjoyable! Nice varied cast too. Great acting. Will save Keanu 'til the weekend...

So, still to watch... Notting Hill and The Shawshank Redemption, neither of which we've seen and which Ken found cheap. I also picked up Hirokin for 99p at St Pete's Hospice. We've seen it before, and it's not very good, but I kind of like Wes Bentley and sometimes it's nice to watch a bad film. Makes you enjoy the good ones more!

And Kai and I are watching Moonlight and thoroughly enjoying it. It has a similar ambience to The Dresden Files, which remains one of my favourite supernatural series of all time. They were made at the same time, might have something to do with it...

So, where in all of this is any writing happening, you might ask At the moment it isn't. I find this much pain a little distracting. Fingers crossed for post-injection period and memo to myself to actually book for the procedure in advance next year.

In other news - we have a new microwave and a new vacuum cleaner (the old ones were very old and failing). Both from Argos, who deliver and accept payment through PayPal. Happy about that!

Tyjer being eccentric again...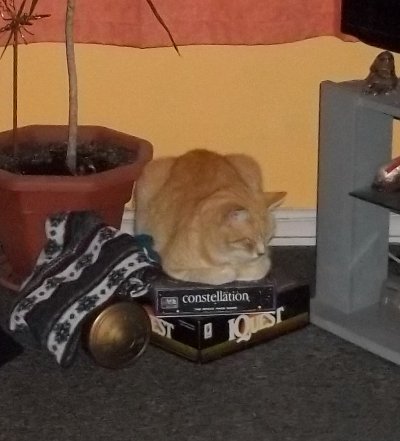 Kai will be home for lunch shortly, then sewing. There will be photos when I'm finished!
Labels: busyness, decorating, films, medical matters