Yes, I am still here.

Sooooo... Not much point saying it's been busy, you already know it always is. Though it has been slightly compounded by the 'nothing's ever easy 'round 'ere' state that always applies to our house and family.

So, mum-in-law. Our LPA's have been accepted, and there's a new Co-op bank account in Ken and her names so we can handle her finances for her. Except that they haven't instituted the standing order we tried to set up a couple of months ago to handle her care, which is now overdrawn. Cue a stern phone call from Ken tomorrow. Also, after setting up the carers for her, she's decided she doesn't like them and doesn't want them in the flat any more, so she's back with no-one to help her with anything. [headdesk] Ken suggested she move in with us while we a) build an extension or b) find a suitable care home which accepts dogs (there aren't any), which would be a complete disaster - it would mean Kai sleeping on the sofa for however long, and what do we do with her Pomeranians? I can't see Ella accepting them into the family. And they don't have a garden in Babbacombe: they do their business on newspapers in mum's conservatory (read: my room in Briz, as that's the closest to a conservatory that we have). After having all the new carpets laid a couple of years ago. And we'd need to have a walk-in shower built, as she can't use the bath. (Fair enough, I want one anyway, but preferably when we can afford it!)

No. Sorry, I love her dearly, but I am not prepared to have everything turned upside down like that. I have more than enough to do without the extra work, if nowt else...

So Ken is communicating with his opposite number at Torbay Council and their local Age UK, and seeing if a different care package is possible.

On the health front, I'm having horrendous problems with my teeth. Have just come off a course of antibios for an infection in my jaw, and think I'll need a root canal or extraction for the back teeth that're causing all the problems. Will see my dentist as soon as I can, but might not be til Nov. [another headdesk]

But we have finally put up the new Venetian blind in the kitchen, Ella's doing excellently, and the garden's been great this year.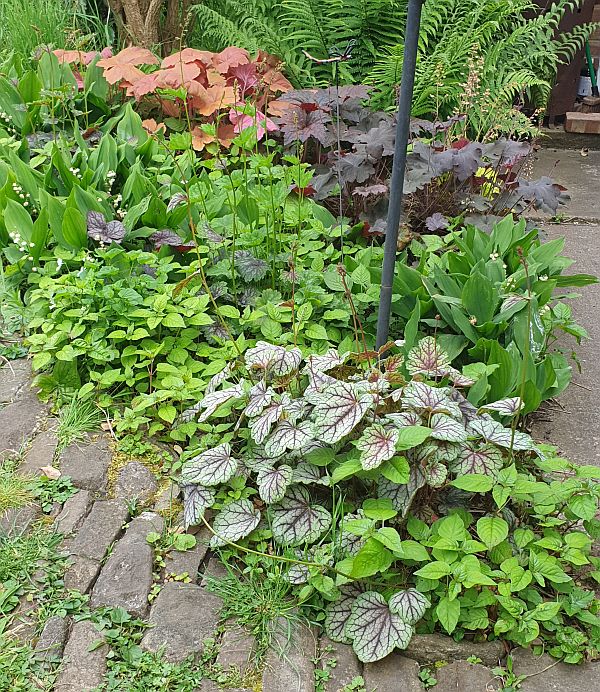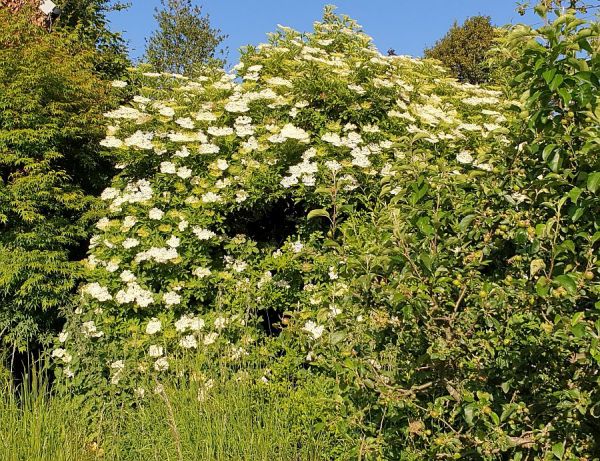 Yes, that's our first marrow. The second one was even bigger...
And to our joy we've had damsel flies at Roeg's Pool!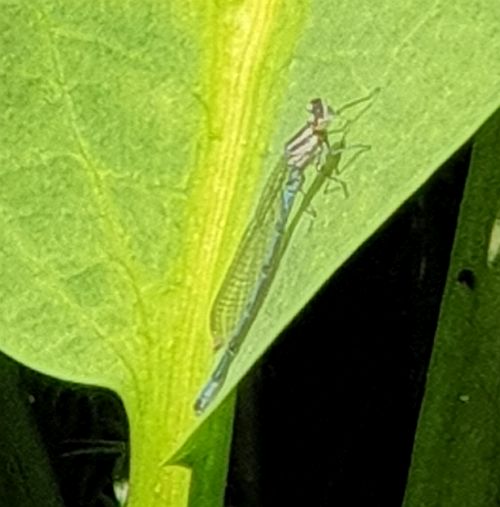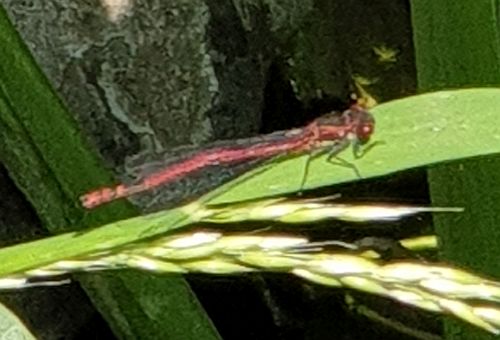 Not quite so much fun when a dragonfly flew into the lounge, however.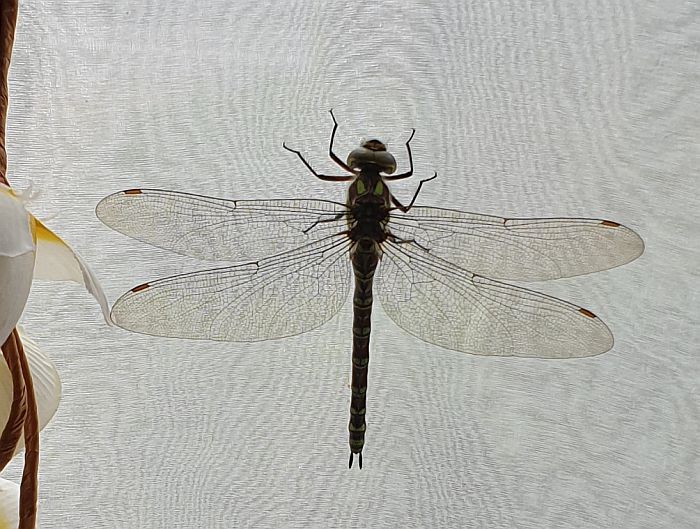 Kai rescued it and let it go again.

And the wisteria has been fabulous this year - everyone's been stopping to admire it!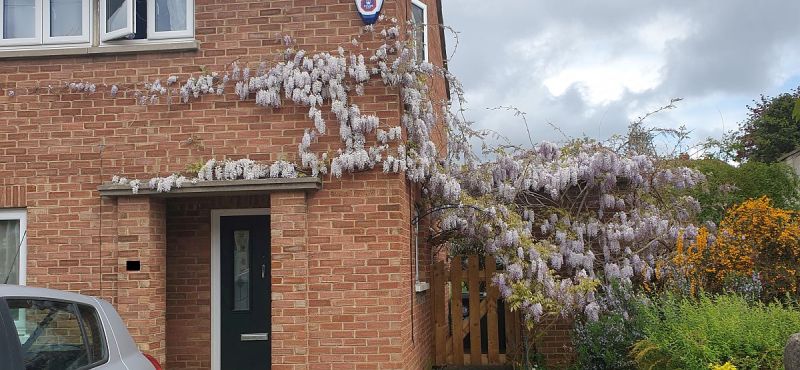 As always, I settled down to watch the RHS Chelsey Flower Show 2023 - and from the first garden onwards my jaw started dropping. It looked like ours! And it seems we were about 30 years ahead of the curve, as the emphasis these days (and for the foreseeable until humans start looking after the planet) is on REWILDING. Recycle, sustainability and rewilding are the keywords. (And I had a quiet chuckle to myself at the thought of BND's complaining about our 'shithole of a garden' when actually we are right up there doing exactly what's needed.) We are thoroughly justified (and ancient) - which reminded me we hadn't watched Misfits of Science in ages (the link being riding an ice cream van. No. I have no idea how my mind works.) So we did rewatch, and really enjoyed it! Great fun.

(Not sure if I mentioned the insane amount of noise we've been subjected to from next door over the last few months - drilling and grinding so loud we can't hear ourselves speak - literally. I finally went out to take a photo of the cowboy's van parked out there - at which BND came out and mouthed off about all the 'unpleasantness' being my fault, then scuttled off indoors before I could reply, the coward. HOWEVER... the next Sunday the noise started up as bad as ever, which is illegal in Briz on a Sunday. So I recorded it and reported him to Bristol.gov. Next thing I knew he'd been threatened with an ASBO!! Haven't heard a peep out of him since. Though I know he's MOST unhappy atm as the vixen has brought her cubs into both our gardens - and dug a hole behind his shed big enough for the cubs to lie in it with only their ears showing... So much for his grass.)

So we're leaving the top as a grassy meadow, digging up the grass and levelling the bit between the greenhouse and the meadow, and planting wildflowers there as soon as we can get to it. Also, took the decision to cut down the greengage, the green apple and the old palm, and replace with two spindle trees and a prunus offshoot.

Note Aug 15th - Green apple and greengage now gone. New trees to be planted in the autumn.

We haven't managed to do the Unicorn Trail, but I have taken a few pix of the ones we've seen in our travels.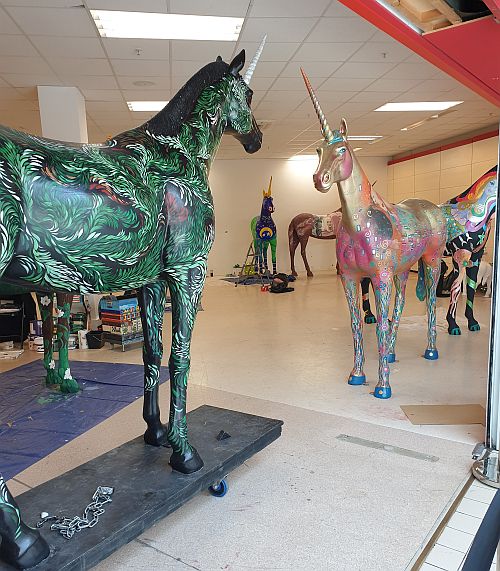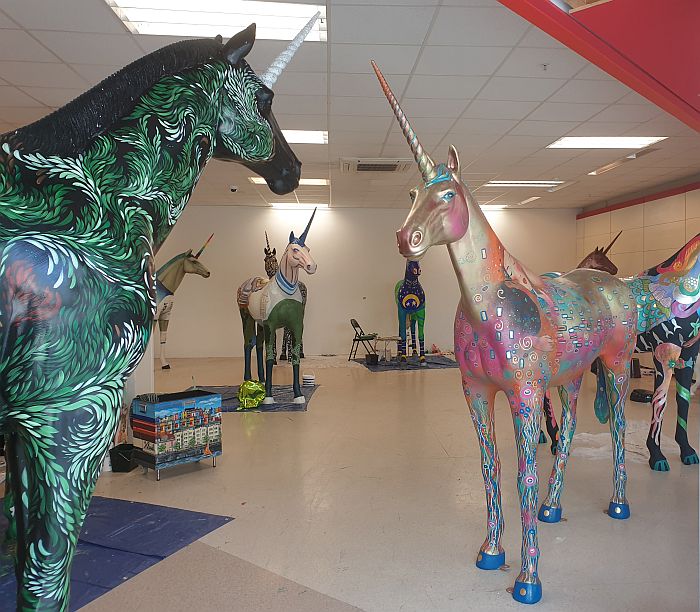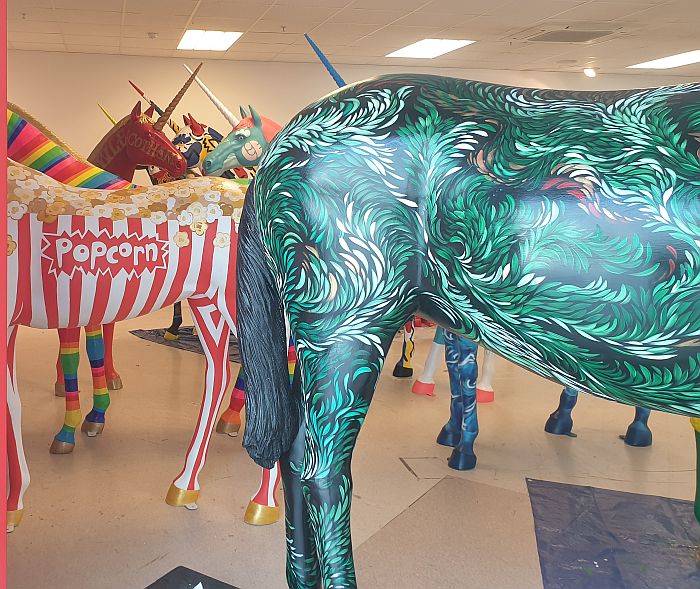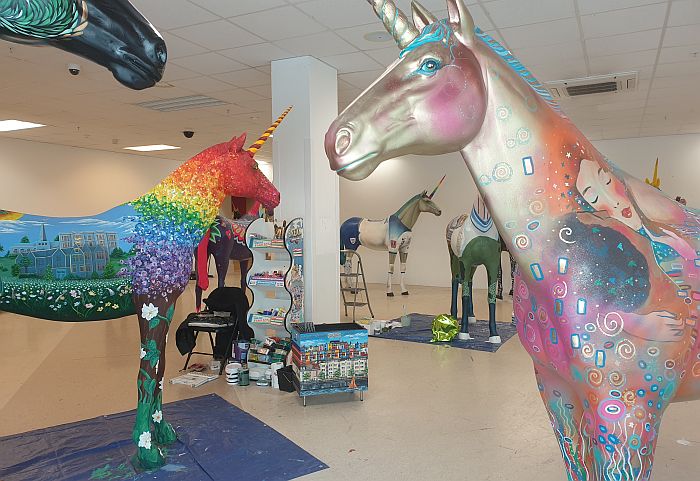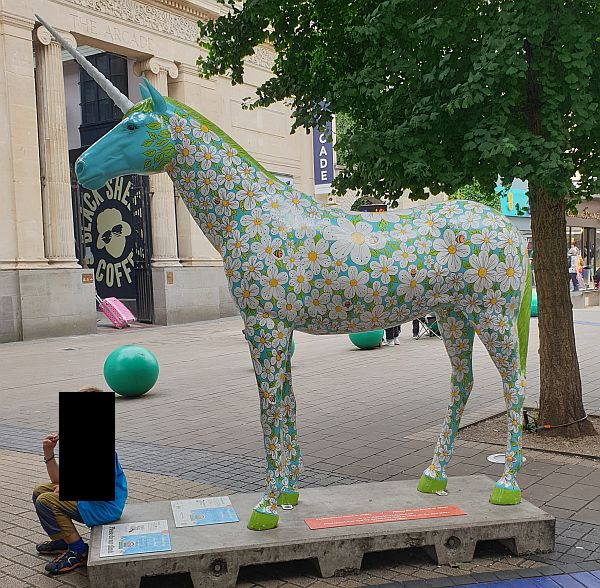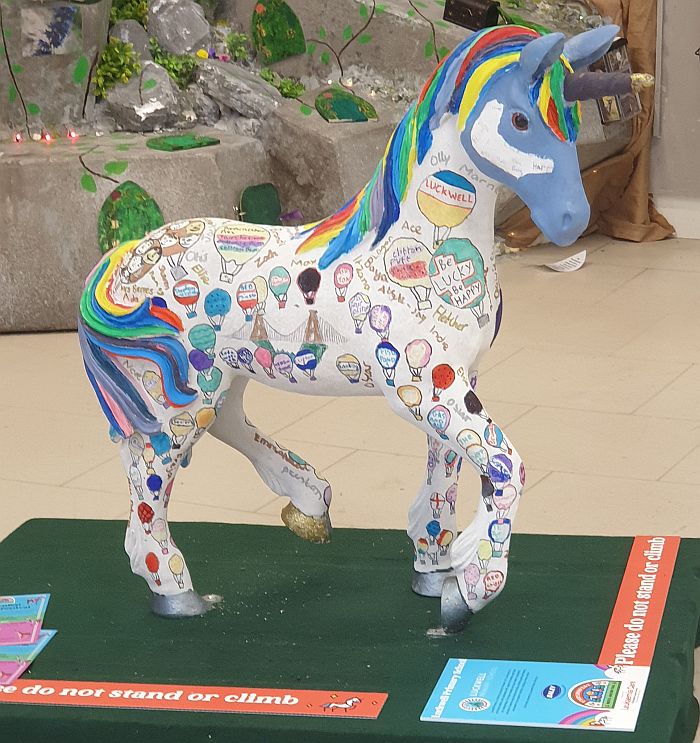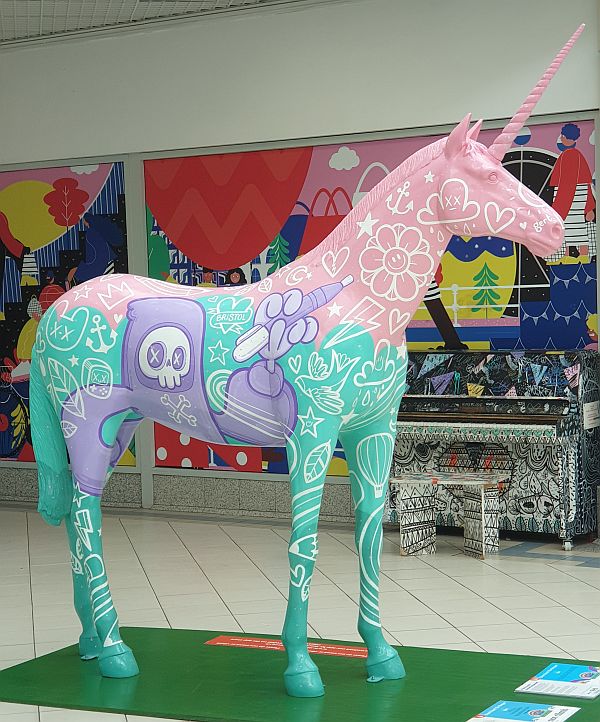 Kai and I took a trip to Sand Bay (round the shore from Weston-super-Mare). Bleak but lovely spot - planning to go back again when we can make time, and walk along the beach.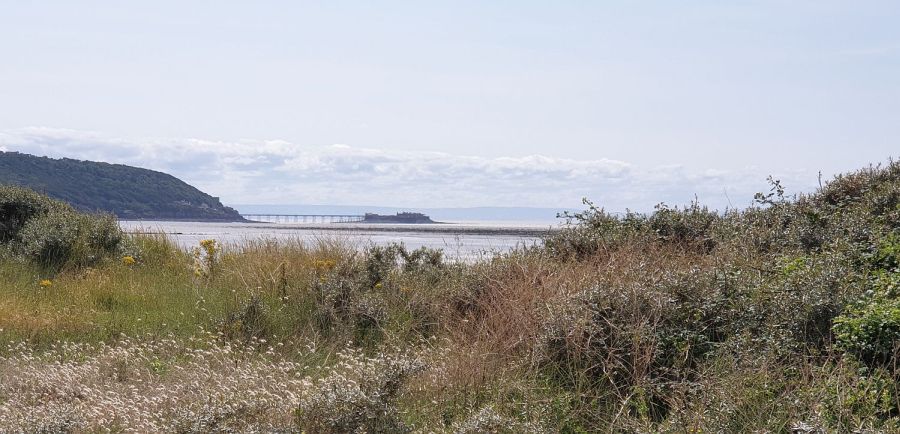 That's Birnbeck Pier in the distance.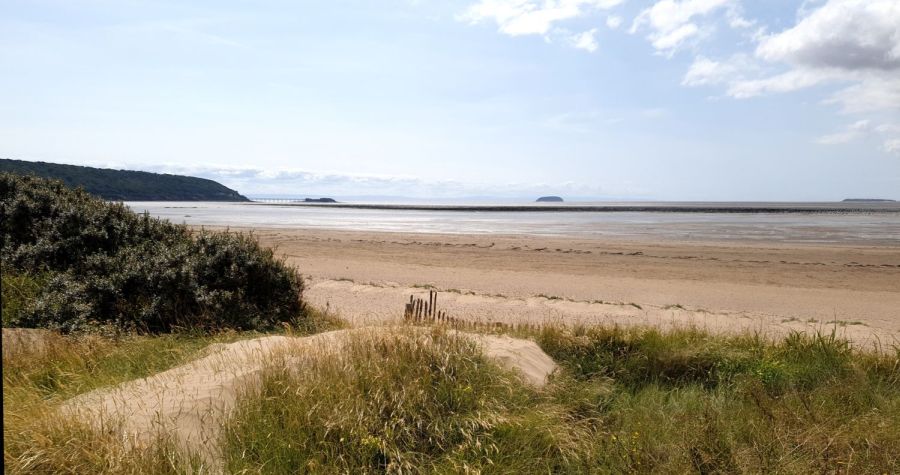 I went down to Exeter 4th Aug (Dawn and Kai were supposed to come too, but Dawn got a mild dose of covid and Kai had an upset stomach. Hopefully next time) to meet up with Wendy, my oldest friend. (We met at Exeter College in 1974 and have been friends ever since. Is that some sort of record!?)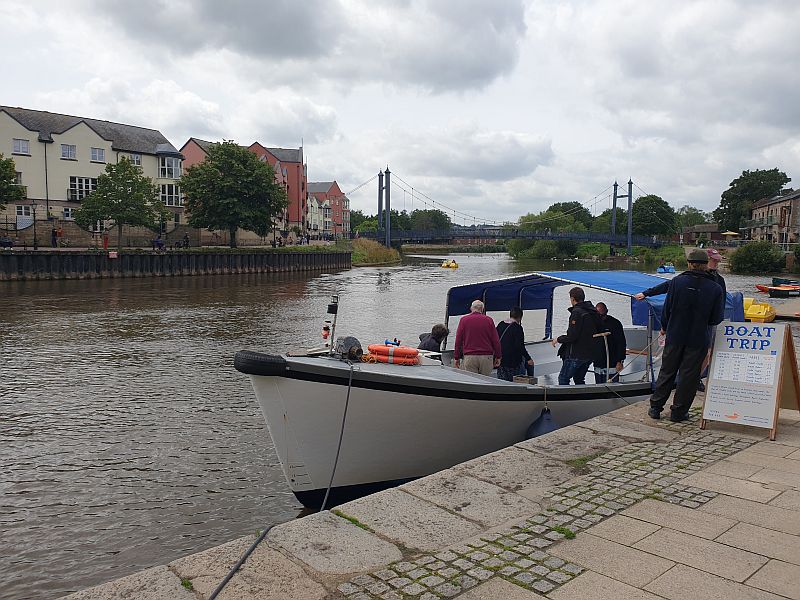 Caught the Exeter Ferry to Double Locks pub for a fantastic lunch, then back into town to have a look around. It's been years since I was there - I was born there - and an awful lot has changed. However, there is a Molton Brown shop in Princesshay! I was able to sniff a few more of their perfumes and ended up buying a little spray of Oudh parfum, discovered that my absolute favourite Russian Leather has been renamed Dark Leather (I assume because of Ukraine), and was gifted a sample spray of Neon Amber, which I love. It's our amber/opal/iron wedding anniversary this year, so Ken said to treat myself to a spray. Now planning a return trip: Kai wants to check out the Antique Market at the Quay (lots and lots of lovely old clocks...)

OK, media...

Finished watching Agents of SHIELD from start to finish. The last season is wonderful, as if the writers thought, "eh soddit, let's have fun now we're finishing!" A completely bonkers joy from start to finish.

Then it was on to Agent Carter, another firm favourite. A positive crime it never went beyond two season.

Koi... Mil Gaya was a surprise. A Bollywood version of ET, but a really good film! Most enjoyable.

Kai and I watched all of Designated Survivor. Enjoyable, but it deteriorated after season two.

I found a number of 'recommended classic' films going cheap so bought up a selection - Looper, Lilo and Stitch, 12 Years a Slave (one of the nastiest films I've ever seen, but damn good all the same. Just made me dislike humanity (hah!) even more), and Green Wing. Oh ye gods, that's gross. Horrible horrible series, not the least bit funny and with no likeable characters at all. I could only watch the first two eps, so maybe it got better, but I really don't care. I have far better things to waste my time on...

Finally found Soldier's Girl (bought because I really like Lee Pace's acting) and it is rather good. Not for everyone, but a really interesting take on the subject.

Finally watched Firefly and followed it with Serenity. OK, quite fun, but a bit too much cowboy and not enough sci-fi for my tastes.

Kai had never seen Escape from New York, and I fancied watching it again, so picked it up along with (the FAR inferior) Escape from LA. Fun, if a bit dated now.

Then we had a bit of an anime splurge: The Cat Returns - fun! - Plastic Little - um... well, a bit of everything crammed into 48 mins, OK I guess but not exactly gripping - then followed it up with Paprika, which is fabulous! Awesome soundtrack - I bought it right away (amazon mp3). The Yt video of the parade gives you some idea - Paprika Parade.

Wings of Desire has been sitting on the bookcase waiting to be watched for years, so last night Ken and I did. It's amazing, a truly wonderful piece of work. Tonight we followed it up with City of Angels, which could be seen either as an American remake or (which we prefer) the 'continuation' promised at the end of the German film. Important to watch the German one first, however.

Ken and I watched the first season of Continuum - and it's really quite good. Now looking for the other three seasons...

Oh, and I'm plodding through the Jason Bourne books, as we have all five of the films... Yers. Well. The film are really vastly different to the books, and I'm sorry, but car chases, foot chases, and gun battles do tend to work better on film than on paper. Nuff said.

Nearly there! Decided it would save webspace if I just link to Yt vids of my cremation playlist, so here you go. Just in case anyone's interested!

The Void - Muse
Alive - Phil Lober
Bliss - Muse (lyrics here.)
Windmills of Your Mind - Noel Harrison
Another Day - Dream Theater
Fly Above - Mahmut Orhan & Sena Sener
Live is Life - Opus
Northern Cross - May'n
Live to Rise - Soundgarden
The Galaxy Song - Monty Python
For The Women Who Write - Judy Small
Leave it All Behind - Cult To Follow
What I've Done - Linkin Park

The Tai Chi is still working splendidly. I now know the sequence well enough I can exercise to music instead of using the DVD - this music, which is simply beautiful.

This has taken me all day to type up, so will post now with no promises of when I can post again! I have had a quick look to see if there's anything I can add to the blog to let visitors sign up for alerts, but I'm using the practically defunct heritage classic format, and I can't find anything. If I do I'll add it next time!

Stay safe all! Later...
Labels: books, films, mum Taylor, nothing's ever easy 'round here..., unicorns