Right, where did we get to?

The books are now all finished, proof read, and the last little bit of text written for Crystals. Now we just wait for publication!

So this encouraged me to check back, and I found that since Chelsey signed us up in 1999, we've had 32 different non-fic books published globally, in seven different languages: four of these have gone to second editions, and one of them - the first book we ever wrote, 20 years ago - is coming out in a third, hard-backed edition from Collins and Brown next Feb. This isn't counting Ken's archaeological reports, or the (4 I think?) chapters I ghost-wrote for the Afterlife Bible.

I think, at this point, we can legitimately call ourselves successful authors.

Coincidentally, for any readers into numerology, it's also our 32nd wedding anniversary this year. "In numerology, number 32 is a combination of the vibrational energies of the numbers 3 and 2. Number 3 signifies creativity, happiness, joy, and self-realization. It resonates with optimism, positivity, and the power to create things from your talents and gifts... Number 2 carries the qualities of balance and harmony, selflessness and service to others, diplomacy, mediation and co-operation, faith and trust and relates to your soul mission and life purpose. These energies and attributes combine to bring us the number 32 which represents society, communication, partnerships, duality and balance." [Pinched from Google, so make of that what you will...]

Orchids...

GO being strange but beautiful...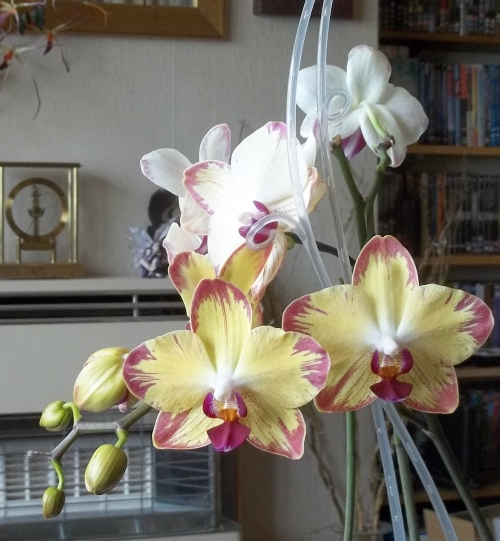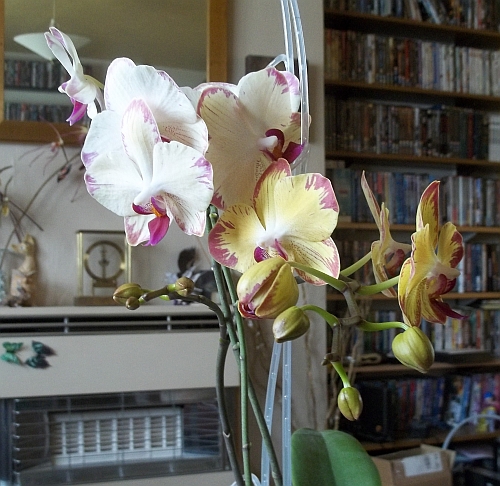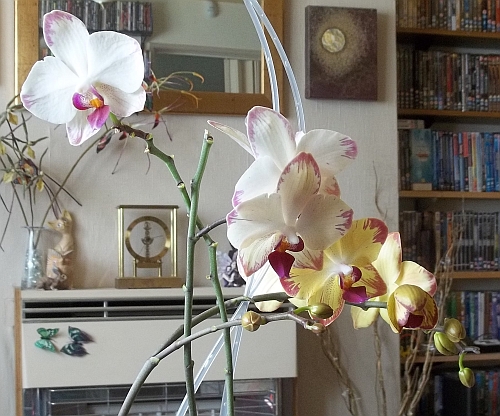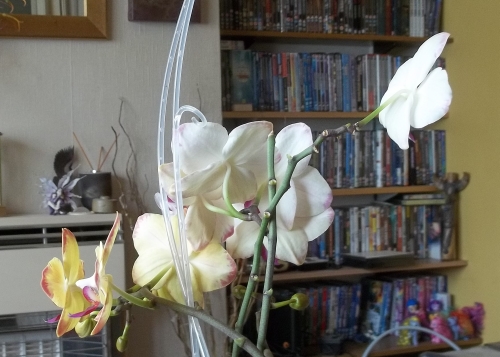 After a few years of not doing very much, this year my sea hollies have explodonated!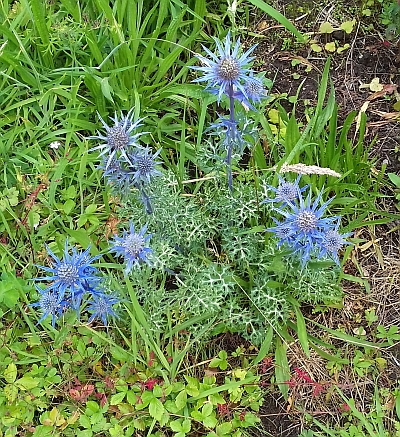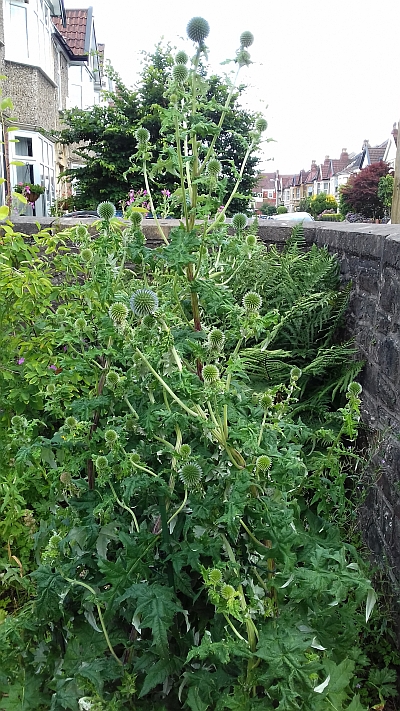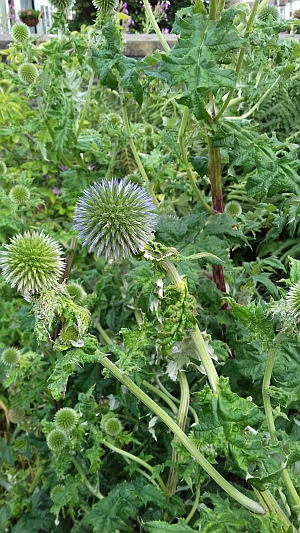 I found another unhappy orchid over at Tesco a couple of weeks back. I'd seen it for a month every time I went over, and thought it was interesting, but that trip it was looking distinctly the worse for wear, and the tag said it was a day past its 'display until', so I took it to the checkout and asked if I could have any money off, as it was definitely past its best. "We can only allow 10% off." She said apologetically.

"Oh, that's fine. It's past its 'display by' in any case."

"Oh!" she said. "In that case, you can have it for half price!"

So, £4 instead of £8. It's a dendrobium - but I don't know which dendrobium (there are several families), so I'll have to learn how to tend to it. But it's scented - smells of wisteria! - so I will try to ensure I look after it properly.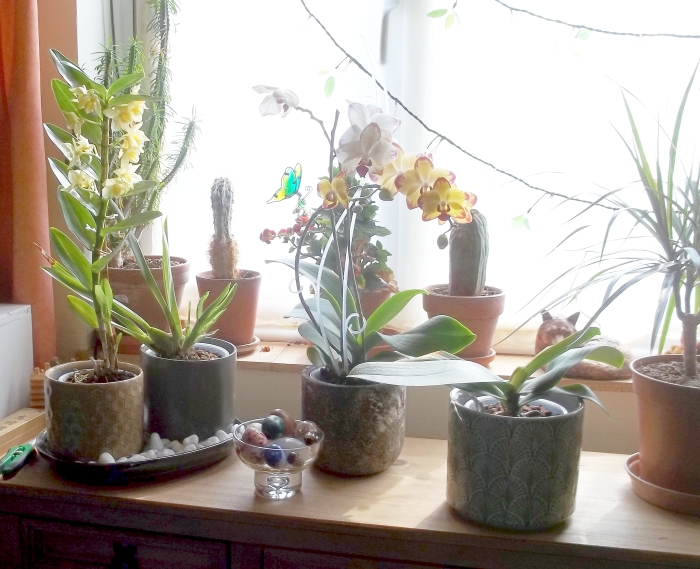 The pretty jardinières came from Almondsbury and the Riverside garden centres - Kim and I went there week before last. Had a great time and spent too much as usual...

On the way to Mars...

Last Fri had to get into Bristol for a mammogram, oh joy, but a couple of days before hand we found that the Wills Building was hosting Luke Jerram's 'Mars' exhibition, so I booked tickets (free) and Kai and I went over after my appointment...

It was glorious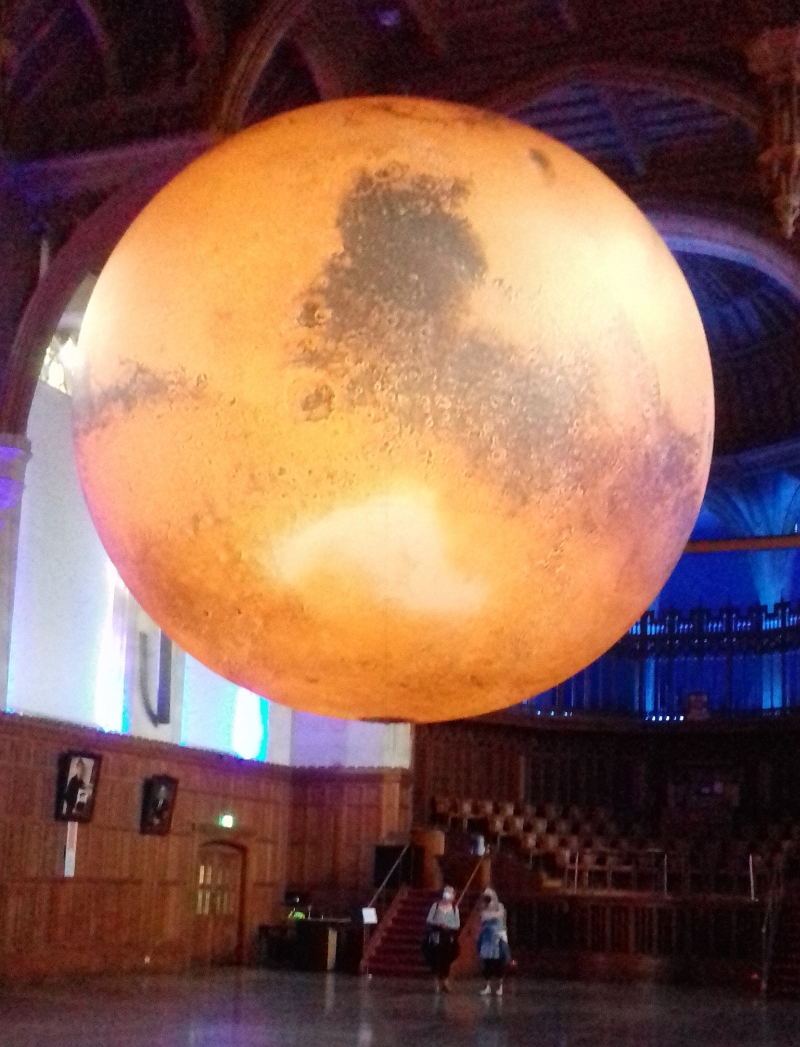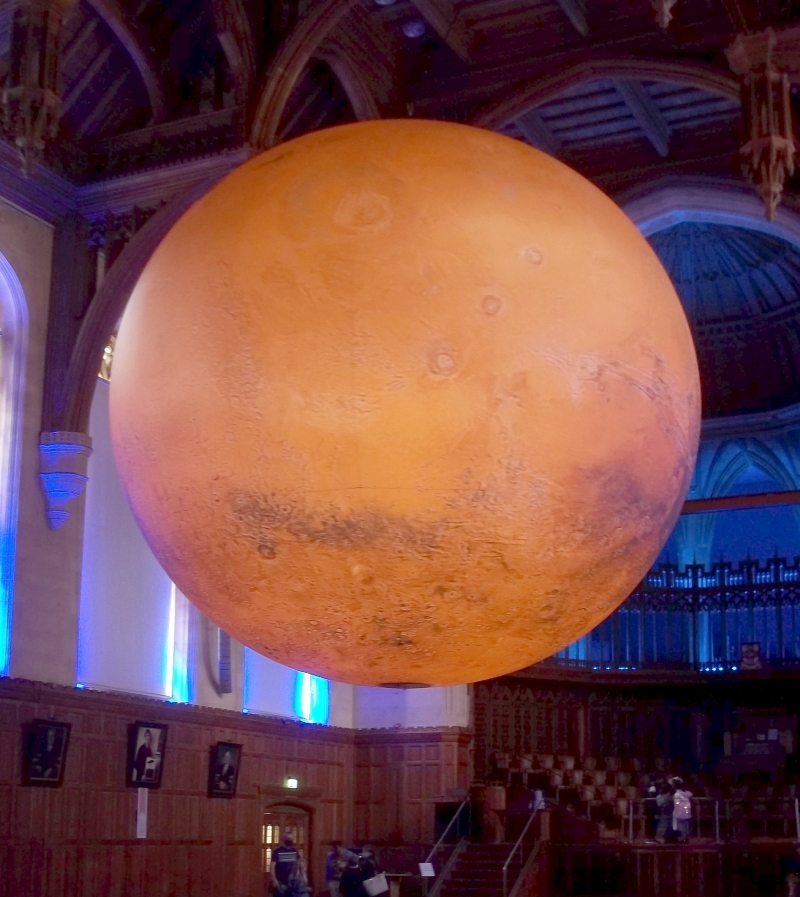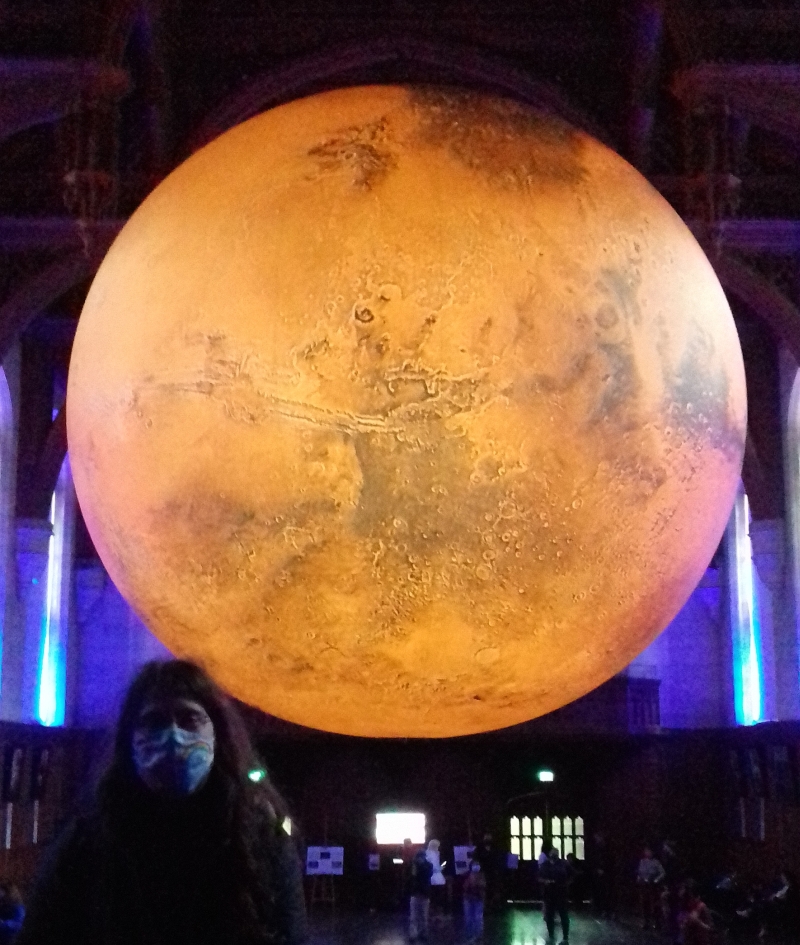 Hoping Kai will post the video he took (with my camera, so not perfect) on Youtube later - will embed it here if he does. (Lovely soundtrack too, plan to email the artist and ask if it's available to buy.)

So now I'm treating myself to this (yes, it's 20 times exaggerated, but I really like it!)
And in other news...

Looks like Whitepaw has become our resident fox, they're in the garden most of the time now.

We have hedgehogs again. I heard weird 'chuff, chuff' noises in the front garden last month, at about 2 a.m., and when I looked out there were two canoodling 'hogs on the front path. A week later I heard them rustling around hunting out the front too, so fingers crossed for babies later...

I've now read The Lathe of Heaven - very good but nightmare fuel - and re-read Flowers for Algernon, which I first read when I was about 14 and which, then, made me cry. At that time I wasn't mature enough to understand many of the book's themes: now I find it fascinating, but very, very sad. It's an amazing, and somewhat eye-opening, story.

Finished The Three Body Problem. It took a little getting into, but after about three chapters I was completely hooked and loved it. It's not the easiest of reads, but it has the wonderful ability to leave you not entirely sure who is good and who the opposite, as concepts change over time. Have loaned it to Kai and am now on The Dark Forest - also very good but a different translator who isn't quite as good as the first one.

Then I have Out of This World: the Story of Muse (thanks Wendy!), Infernal Devices (also thanks Wendy! Will let you know.) and the Space Odyssey tetralogy to read. And when we were talking on the phone, Wendy mentioned the author of Infernal Devices, which I misheard as Jetta, so searched for that name. And found this... Which sounds an absolute hoot, so of course I bought it and will read in due course.

Media...

Watched The Watch. Hm. Haven't read the books on which it's based (the Discworld novels) so came to it with no expectations... Well, the characters are great, the cinematography beautiful, and the story a disjointed mess. Can't recommend it, really, and very much doubt we'd watch a second series if it ever materialises.

Tried to watch Alphaville, only to find we have one of the rare copies without subtitles: my French dates back to A level and Ken never took it, so that didn't work. Watched Under the Skin instead... it's an... interesting film... I've bought the book to see if that makes the story any clearer (not that it's difficult to understand, just a bit... odd...)

So then we bought Raya and the Last Dragon. Absolutely beautiful, but alas very predictable. A joy to watch though!

Then it was back to Bollywood with Tere Naam, which can best be described as a sort of OTT Indian version of Romeo and Juliet. Quite compelling after the first half an hour, and very nicely made.

On the medical front... K&K have SpecSavers appts on Wed p.m., and mine is on Thurs p.m. Ken hasn't been a for a while and we're pretty sure he'll need a completely new prescription.

I had a phone call last Thurs from the heptobiliary dept at the BRI. I thought it was just for follow up, but no, they want a full body MRI to check there are no more gall stones in bile ducts (if there are, they'll do an endoscopy to clear them) before the gall bladder removal op (which requires a general anaesthetic, oh joy). OK, I thought, so that'll be later in the year...

Heh. Got a letter this morning: the MRI appt is 7.40 (a.m.) this Fri. Such fun for claustrophobics...

Finally: haven't heard anything from VOCAS yet - will ring to check next week if nothing happens this week - but I did find the Police Codes of Ethics, and Conduct, online, so emailed the College of Policing to find out if they still applied to ex-police. They don't, BUT if an ex-policeman is behaving in a way that would have him brought up on charges of gross misconduct if he was still with the force, he can be charged as a civil matter, and put on the police Barred List. Oh, he'd hate that. Will ask about it when VOCAS get back to me.

Except to note that my plums and tayberries are keeping us well supplied with fruit, and my dwarf beans and mange tout with veg, that's about it for the moment, I think. Will try to update a little earlier next time.

Later!
Labels: BND, books, busyness, films, garden, garden centres, Mars, medical matters, orchids, wildlife