So, update.

The noise...

Kai and I went outside a couple of times to check it wasn't coming from anywhere else, and I gestured angrily towards BND's house - which I guess he saw on his security camera, because after that the TV (or more likely speaker? I don't know or care how he's arranged his living room as long as it doesn't bother me) volume dropped right back down to normal. Well, the TV is still a little loud, but not enough to cause stress, so we're ignoring it. I suspect it's because Suzanne's hearing isn't so good, I vaguely remember him barking something like that back when we were still letting him speak at us...

Now we have a new problem. Back in 2010 the PDSA at the back of us had a security light installed. It wasn't blinding, but it shone directly into the garden, so I contacted them and asked if they could do something about it. At the time they changed the angle a little, and while it was far from perfect, it did alleviate the glare by enough to allow us to skywatch without too much hassle. Well, on the 24th November they had a new one installed - higher up the wall and absolutely blindingly glaring into the back of the house and all of the garden. It casts shadows through the bathroom and landing windows, floods the garden with an appallingly brilliant white light, and leaves us feeling like we're living under a prison floodlight.

I rang them omn the 25th, explained the problem, and asked if they could do something about it. At some point the engineers turned it - very slightly, nowhere near enough to make any material difference. So I wrote to the manager, dropped it off this Mon, and on Tues had an apologetic email saying they'd referred it to the engineers for them to deal directly with us. Yeah, sure. I'll believe that when I see it.

Well, if they haven't got back to us by next Mon, I'll get their contact details from the PDSA - and probably contact their HQ as well, as this is just ridiculous. We have no privacy and no chance of skywatching (tried to watch for Geminids on the 13th, couldn't see a bloody thing), our wildlife have no security, our quality of life has gone down and my stress levels way up. After all we've done for them, too!!

Very unhappy. Will let you know what happens.

Media... we had a splurge on films. I found The Loft cheap on amazon (bought it for Wentworth Miller, one of my favourite characters in Legends of Tomorrow - we already have Equilibrium, which stars my other favourite LoT actor Dominic Purcell). It was... interesting. Very unpleasant characters but the story was intriguing.

Revolver is fun but has a strange ending. I think it could be taken in several different ways - a method of harmonising character traits, perhaps, or psychological control over 'enemies'... An interesting, open-ended watch. Thanks Wendy - we rather enjoyed it!

Also have to thank Wendy for sending me Her. Kai wanted to see this as well, and... wow. It's one of the most complex, emotionally brutal and oddly uplifting films I've ever seen. We absolutely loved it, and for me it's now a yardstick by which to measure future films. Superb. Not an easy watch, but an I-can-run-out-of-superlatives-SO-easily triumph of cinema.

(Made the mistake of seeing what else the director had done... Jackass?? WHY!!???...)

Kai took out a subscription to Netflix (it has stuff he really wanted to see) so we all settled down to watch Over the Moon, which is beautiful (I caught the main song on tumblr and was intrigued...) Adorable, whimsical, gorgeously animated - yes, we thoroughly enjoyed it.
What I didn't enjoy was going down with a week's dose of gastroenteritis a couple of weeks ago. No fun whatsoever. Would very much like to NOT get that again, plskthnx.

We're currently working our way through Jonathan Creek (got to the end of Season 3 of Deep Space 9 and decided to take a break until after Yule, as we have quite a pile of new films to watch over the season). Such fun!

Then this happened - I cried.
There's more, of course, but nothing too important. We're pretty much ready for the celebrations, and Ken has our anniversary and the next day off, so a short week next week. Our tree and lights went up last week of November - house is very pretty - and all cards have been sent off. Now just planning to take it easy. We're lucky, we don't have visitors over Yule anyway and don't usually go out much, so the tiers/lockdown don't really affect us much.

I did treat myself to something though - My Little Prime (or Optimus Pony, if you prefer...)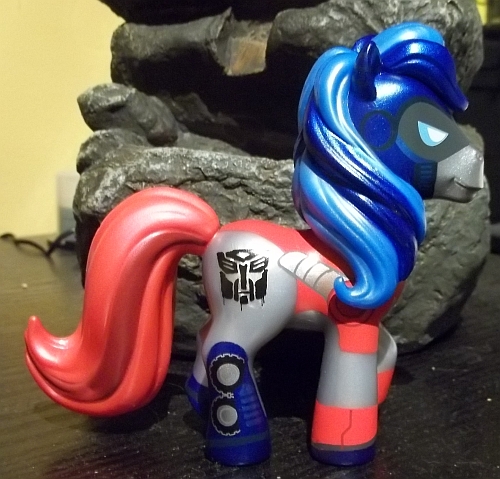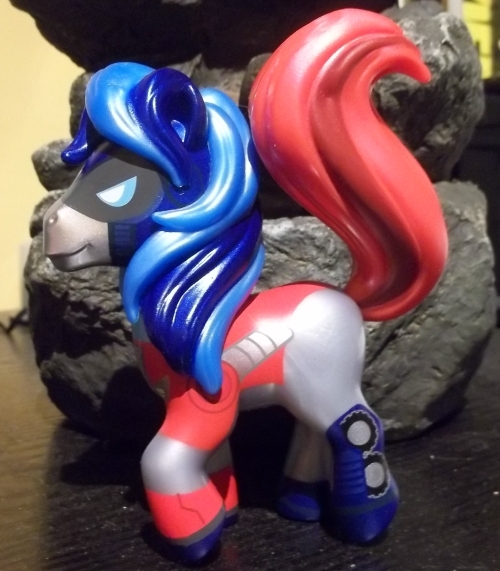 The tail moves through 360&deg.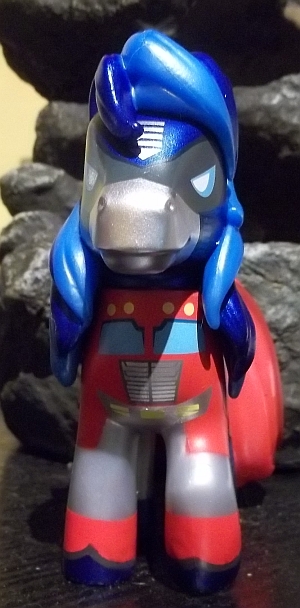 Big Bad Toy Store, of course. So cute!

All for now. Please stay safe and well, everyone, and we hope you have a relatively stress free Yuletide.
Labels: BND, films, medical matters, MLP, Transformers