Oh, abso-fragging-lutely typical.

Everything was going well, I had three weeks' worth of food in the freezer and pantry, came down to make brunch on Sunday to find the bloody fridge had packed up. It's not even five years old yet!

[growl] So ten minutes online with Curry's and I'd ordered a new one - Bosch, my favourite make - and paid the extra to have it delivered on Monday. We managed to make the old one limp along by leaving the superfast frost setting on, which, with not opening the freezer compartment, kept everything just cold enough I didn't have to ditch any food. New one arrived about 2.15 p.m. and by 7 I'd transferred everything over. We now have a large fridge freezer sitting in the garden with no way to get rid of it until the crisis is over and recycling centres and BCC collections are up and running again.

But the new fridge is great! Quite a bit bigger than the old one and so quiet. I keep thinking it's not working - the old one was forever creaking and groaning, this one just purrs. Delivery guys - who wouldn't carry it into the house, so Kai and I had to manouevre it in ourselves, and what fun that was - said it should be good for at least 15 years (pretty much what I'd expect from Bosch) so fingers crossed.

Apart from that, we've been fine. Now self-isolating, which is working out OK. I managed to grab a Sains delivery for tomorrow, which hopefully will set us up for the next couple of weeks, though we may have to switch to powdered milk for K&K's cereal. (Not keen on milk myself. Mild intolerance, I suspect. Never drink the stuff.) And I managed to get a phone consult for Tyjer - he's running out of Metacam for his hip joints - and Pets@Home are happy, on this occasion, to accept the prescription request over the phone. K&K will walk up there to collect it when Ken signs off work later.

We have, naturally, been watching a lot of films and series. We're onto the last two eps of the last season of Lucky Man, which we will hopefully finish tonight, and will probably watch Jason King next - before we start the major project that is Deep Space 9 complete.

Media... The Reluctant Fundamentalist which was disturbingly good. We finally sat down for Oklahoma!, which I bought years ago (primarily because of Hugh Jackman) and hadn't found the time to watch to date. Kai wasn't sure: I suggested he watch the first few minutes and then go up if he wasn't drawn in. Ended up staying for the whole film and we all thoroughly enjoyed it!

In the evening it was Mindhorn. I found this quite by accident when looking up something else on the IMDb, thought it sounded good - and I like Julian Barratt - so ordered it from amazon. And it's great! Very funny, and a fantastic cast. And the end credits song - You Can't Handcuff the Wind - is terrific, so I bought it. It's now on my phone playlist.

On Sat last Ken and I watched West Side Story, really because it's considered a classic, we knew a lot of the music, and had never watched it. Can't say I enjoyed it.

Wendy included two DVDs with my returned Good Omens (glad you enjoyed it!) - The Prestige, which I think we rented donkey's ago and really enjoyed, and The Tourist, which Ken and I watched yesterday and loved! Many thanks!

Have to finish putting all the magnets on the new fridge, hoover, then get dinner organised. Hoping to update soon with pix of the garden, as everything is coming into flower and looking beautiful. But before I go, this is the sign on Kai's door, from GoodTwin for his birthday! Very apt. I don't dare go in there...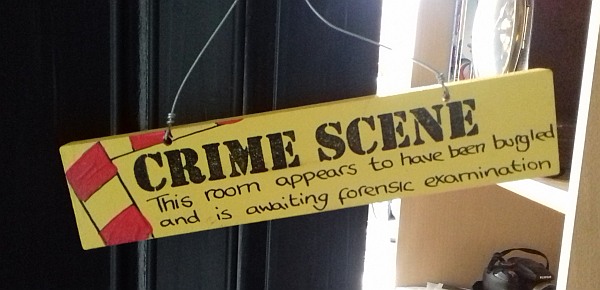 Labels: domestic disasters, films, nothing's ever easy 'round here..., Tyjer