Finally. The Poppy Tales is finished. I know, four days later than I originally planned but hey, that's not too bad considering I'd almost despaired of ever feeling like finishing it...

You can find it here - An Ending - and a Beginning...

I am very sorry it's taken so long - and that I've now ended it. I had planned to make it longer, but no longer have the time, energy, or desire to continue. I just hope everyone who's read it has enjoyed the journey. (I have!)
Ken says he's now going to read it from start to finish.

In other news... Kai and I have cleared the two raised veg beds and covered them with tough weed-suppressing material - good strong stuff pegged down hard with large metal U-shaped pins this time, to stop cats and foxes tearing through it. Instead, the foxes pulled up the edge of it... Still, they obviously thought it wasn't worth carrying on, as no real harm was done. If it happens again we can always put bricks or rocks down, but they usually give up after one go, so fingers crossed.

Additional flower spike on OO (original orchid) -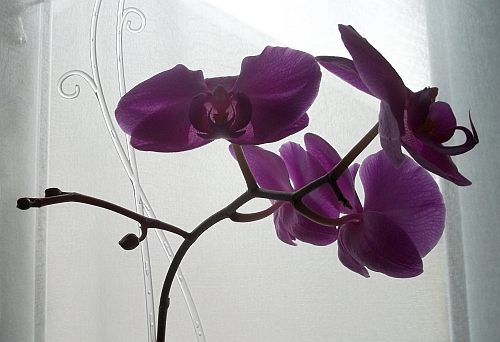 and on AO (alien face orchid) -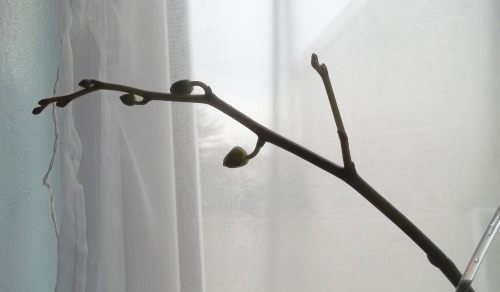 Recently watched... Broadchurch season two and three were great - maybe not quite as good as season one, but that's most likely because we had more of an idea what to expect by then. As a follow up we saw The Escape Artist which is very good, if very chilling. The Quiet Place does NOT deserve it's high rating: it's full of the most ridiculous plot holes you can imagine. At the end I saw Michael bloody Bay had a hand in it, so that's not really surprising...

Neat monsters though.

Venom is rollicking good fun - predictable, yes, but a great rainy Saturday movie. I'd bought The Shanghai Job because it stars Orlando Bloom, and while not a great actor he's always fun to watch - and it turned out to be a lot better than we were expecting. Beautiful cinematography too, always a bonus.

And that's about it for now. Have a pic of the cauliflower bake! (The red things are sweet organic cherry tomatoes...)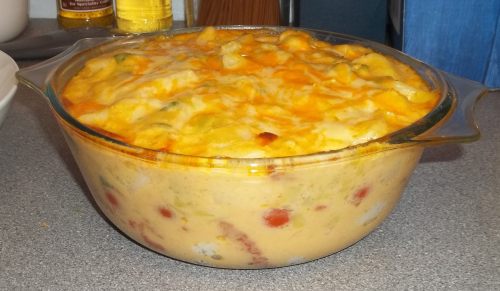 Labels: British drama, fanfic, films, garden, gardening, orchids, The Poppy Tales
Oh, this is getting silly. Can someone please donate me some spare time?

Let's try to catch up.

I had a rather nasty cold for part of the last month - had to miss swimming two weeks in a row. However, Wendy came up to visit, which was great fun and left me feeling much better. [GLOMPS] Wendy...

The best news of the past month has been the results of Kai's last BMT clinic: his ferritin is now down to 220.5, and he doesn't need any more venesections! Apparently the normal range is between 30 and 400, so he's firmly in the middle. Of course we're all delighted with that. He can also reduce his clinic appts from every six months to once a year.

My case against Fixit has now been served and they have a CCJ against them. I've been sent a whole load of stuff I have to read and respond to for the next step - will get that organised next Monday. Then decide if I'm going to post their photograph and details all over the cowboy builders and community groups Facebook pages I've joined...

Samhain fell during the half term holidays this year, so I decided to do a proper Trick or Treaters thing for the neighbourhood kids.

So... hung purple spider and eyeball light chains and a dancing ghost in the lounge window (I tried taking photos but they didn't come out very well: maybe next year...) - and decorated Derpy..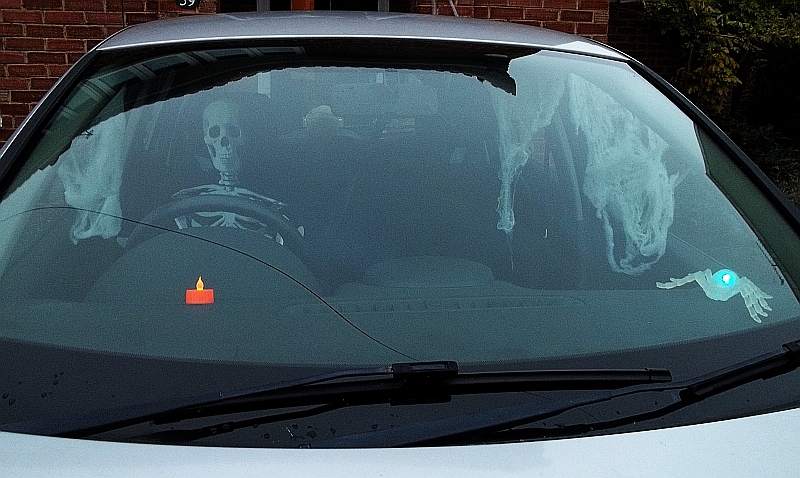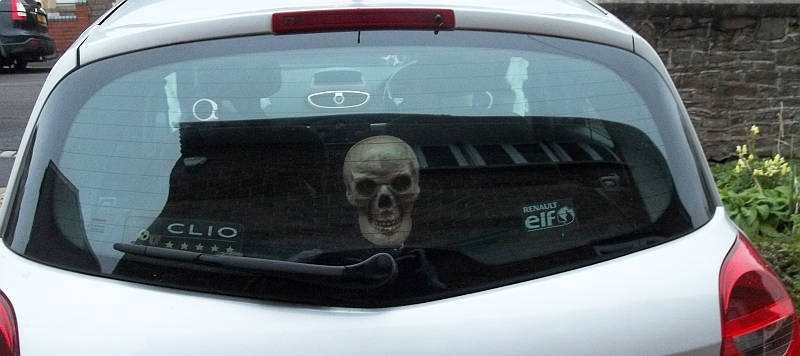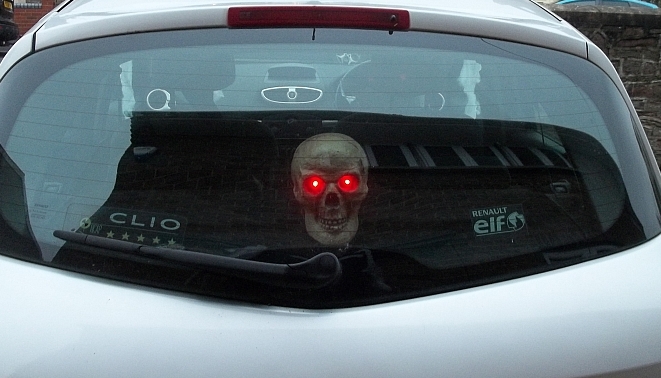 The skeleton (Wilson) is just a cardboard one from Tesco, but it looked great in the dimmer evening and with the streetlight opposite lighting him up! The kids loved him, their adult carers were in hysterics (I got asked if he had his licence: I pointed out that's what the L plates are for!) And the screams when they spotted the skull in the back must have annoyed BND no end! We must have had at least 75 kids visit (I had bought 13 bags of mini-bars and sweets and very nearly ran out!), and all in all it was a great success.
Going to do the same next year, but will try to get another skeleton to sit in the passenger seat as Wilson's partner. Have already picked up a giant spider with 10 ft long legs to hang up in the porch...

Generally speaking we're all carnivores here, but Ken asked to start having egg mayonnaise, and cheese - preferably vegan cheese if possible - in his lunch time sammijs. This, along with Saturday Morning Kitchen now focussing on vegetarian meals part of the time, and the recent push for reducing plastic, started me exploring options. After all, we've eaten organically wherever possible for nearly 40 years, and we recycle everything we can - even more now our local Tesco is collecting additional stuff: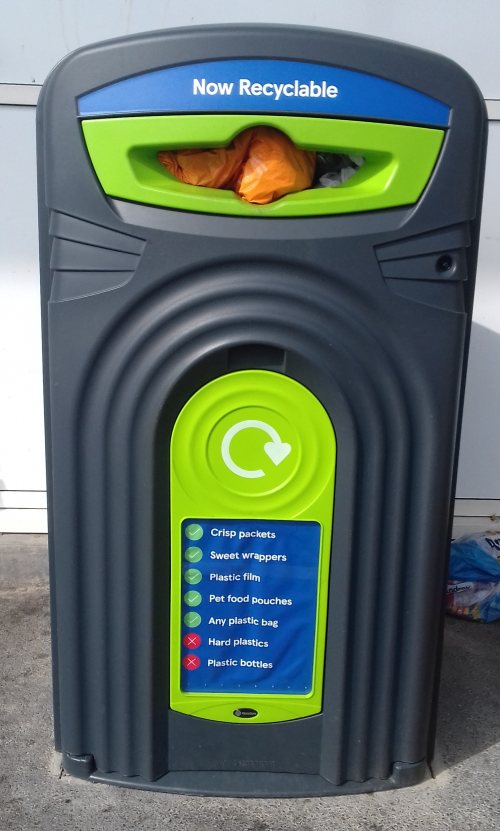 It's always full with bags piled up around and behind it. I take ours over once or twice a week.

Found a vegetarian cookbook in Babbacombe while we were there, and the Teco magazine had a recipe for Carl's All Change Casserole, which looked eminently doable. Tweaked a little - Sains sweet potato and butternut squash pack adds more flavour (and saves chopping the veg, because I'm lazy) - and using Cauldron Foods absolutely delicious Lincolnshire vegan sossijs, it's become a family favourite and I make it once a week. Wonderfully tasty and filling for winter dinners. The book had a nice recipe for a baked cauliflower and potato dish - layered cooked cauliflower, cherry tomatoes and cooked cubed potatoes with a rich cheese sauce (half and half organic Leicester and Cheddar is tastiest) baked in the oven for 30 mins or so: I've found it's even better with a layer of Vivera bacon bits under the tomatoes. Vivera's pulled pork, by the way, is tastier than the real thing, as are their chicken goujons, and their mince, though not as good as meat for cottage pie, works very well in chilli sans carne. Yes, OK, it's substituting rather than a radical dietary change, but it's a most excellent start.

Trying the book's vegetable hotpot tomorrow. Saturdays tend to be my cooking experiment days...

My orchids are doing splendidly. Original now has another little flower spike coming off the larger spike, -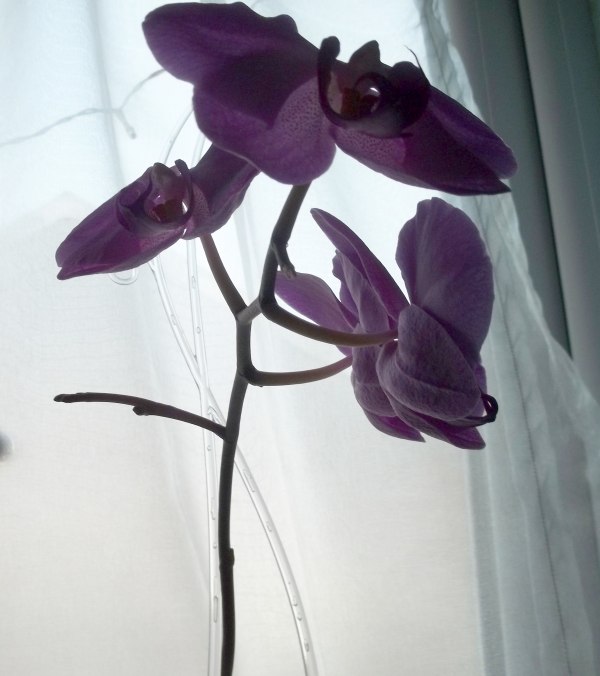 and the alien-face orchid is fine (and may have it's own secondary spike coming off the main one - not quite big enough to be sure yet)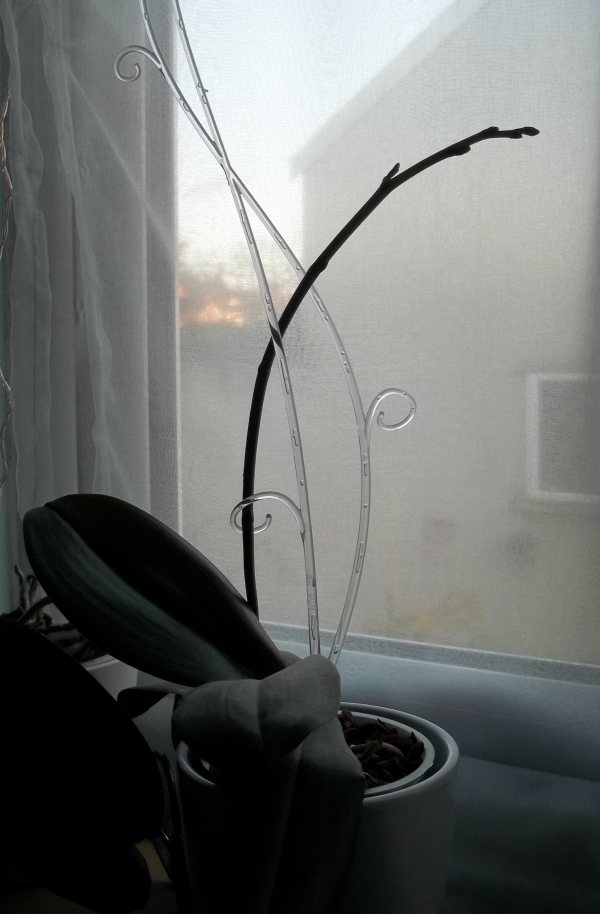 Rescued orchid very healthy but not producing flowers yet. Will give it time...

The saga of the SSLs...

Eventually decided to cut through the crap and just move everything to Fasthost - including joulestaylor.com, which is now jatarchive in wavewrights, so until I find a way around the original URL links for all the old photographs, they won't be showing on the blog pages. You may notice that the broken padlock symbol has vanished from the bar at the top of the screen. I've manually changed the link for all the entries on this page, but trying to see if there's a quicker and less labour intensive way of doing it for the rest of the 6K posts on this blog...

Not sure if I've mentioned it before, but the (xtian) Brislington Oasis Academy - opened 2015 - has persistently and continually given out [name]@brislington.org as their email address, and of course all emails to this address (which is the Brislington Virtual Museum and has been mine since 2001) come to me. I've been complaining about this to them for the last nearly five years, to absolutely no avail: my inbox is still being spammed by emails for staff and students at the Academy. So I emailed the Academy last week, saying if I got one more erroneous email I would complain to the DoE. Which I did (about 6 staff members applying for learning application courses, which I promptly unsubscribed) so I made out an online complaint at the gov.uk portal.

Yesterday I got a reply from DoE - addressed to a complete stranger, with their complaint, but sent to my email address. Ironic or what? I forwarded the email on to the correct person and sent a complaint to DoE. Last night I got a reply from DoE, addressed to me with the correct details. And then this morning I got three more emails from DoE, with my details and my email address but addressed to another complete stranger... When I say nothing's ever easy 'round 'ere I'm not joking.

The upshot was I haven't followed all the steps outlined in DoE's complaint procedure guide so they've closed the case and won't take it any further - so I've started from scratch, and sent a detailed complaint to the Academy Principal, advising him that if I haven't had a reply by next Thurs I will take the complaint to the Governors - and if they can't help I will get back to DoE. Not only does this show the incompetence of the Academy staff and admin, and amount to cyber harassment (I'd had hundreds of these bloody emails with everything from highly confidential info about students - no I didn't read it - to Pinterest applications), but they're also serious data breaches. Will let you all know what happens.

Bloody hell, I'm becoming the neighbourhood expert in legal hassles!

So - media...

We finally watched One Flew Over the Cuckoo's Nest. It's a good film, if a little dated now. I bought Men in Black: International, which is great fun. Perfect for a rainy Saturday afternoon! Daft and very funny.

And we bought Good Omens... Actually rang up Tesco to check they had it on the 21st Oct and then Kai went over to pick it up.

It's WONDERFUL. Wow. Just wow. Sticks beautifully to the book while bringing it subtly up to date. Loved it, all of us. Going to rewatch it soon to pick up all the bits we missed first time around (there are plenty as the whole thing is absolutely saturated with little details and Easter Eggs). Sheen and Tennant are simply perfect in the roles. I can't praise it enough. It's superb.

And being on a Tennant kick (pretty much permanently in my case) I picked up Broadchurch series 1 in a charity shop. For 49p. We watched it in thee evenings and I immediately ordered season 2 and 3 (started season 2 yesterday). Another fabulous drama, real breathless edge of seat stuff. Although it had a curious effect on us. We have Doctor Who (Tennant and Foster), Torchwood (Eve Myles - Gwen), Hot Fuzz (Olivia Colman), Legends of Tomorrow (Rik Hunter - Arthur Darvill, also Rory in Dr Who), Agent Carter/Iron Man/Avengers (James D'Arcy - Jarvis/Vision), Birds of a Feather (Pauline Quirke), The Cafe/Fleabag (Phoebe Waller-Bridge), and Casualty (Adjoa Andoh) all thrown in together - and that's just the ones I immediately recognised. It's like a who's who of great UK dramatic talent!

Very well worth watching - certainly series 1. Not far enough into series 2 yet to say if it's as good.

On a less amusing note, I don't know how many others watch Strictly Come Dancing, but I was annoyed the week before last when Mike Bushell won the dance off over Emma Weymouth. It was blindingly obvious she was the better dancer, but the judges ruled for Mike. That was bad enough - but the following evening Craig bloody Revel Horwood was on the One show. He sat on the sofa, smug, self-satisfied and arrogant, and dismissed the entire UK viewing public as stupid and ignorant. I was so angry I emailed the BBC to complain (heh, seems all I'm doing at the moment is making complaints!) and simply couldn't bear to watch the following week, as the sight of him just raises my BP. This Saturday it's the Blackpool episode. We may continue watching Broadchurch instead.

OK, apart from the usual busyness that's about it. I'm getting ready for Yule, and it's all coming together very nicely!

Hopefully I can post the next update before November...[headdesk] I mean Yule. Need sheeeeep.
Labels: British drama, Fixit Landscaping and Driveway Contractors, friends, medical matters, nothing's ever easy 'round here..., orchids, Samhain, Strictly Come Dancing, visits