Wow, an update!

[growl] I was woken at two minutes to nine this morning by the noise of a very rattly noisy truck reversing outside, then a prolonged clattering of something (scaffolding? It sounded like metal) being unloaded. Took half an hour.

Then everything went quiet again...

I swear, this summer has been like living on a building site. From the people across the road (in that house that had scaffolding around it for a year, and at one point what sounded like Niagara Falls somewhere inside it) who had sash-style double glazed windows installed - took two and a half WEEKS and the installers had an extraordinarily loud angle grinder set up under a tiny marquee in the tiny front garden - to the one on our side further up which now has a small tarmacked drive - said tarmac delivered by a full sized lorry which couldn't turn around in our narrow road so had to upend the stuff into noisy wheelbarrows to have it moved across the road - to the house-next-door-but-one to that one which had scaffolding built around it a week before they also had their sash-style double glazing installed (on my way back from Tesco yesterday I passed the young mother from the house between the two crossing the road with a baby in a stroller and an expression threatening murder to the next person who made any noise in her vicinity). Yes, we could mute it all almost completely by just closing our windows - but in this heat?? Sod that...

ANYway. Apart from that, it's been busy and productive.

The Sat after Tyjer's vet visit I drove Kai and I out to the Whitchurch Whitehall Garden Centre. Haven't been there in years so it was wonderful to have a good look around. Came back with a very pretty gaura Walburton's Gold Fountain and a festuca Intense Blue for the front garden, and an oak leaf garden spinner for the back. Had coffee (and cake for Kai) before driving back. Lovely relaxed trip, and I now feel I'm perfectly happy driving Derpy around (she handles hills really well!)

Sunday's driving lesson went really well too, with Kai driving two and a half times around the estate, nice and smoothly. He enjoyed it too! However, on the way back the exclamation mark symbol on the dash flashed and an alarm sounded - only for a few seconds - which was the handbrake mechanism alert, according to the Clio instruction book. I mentioned it when I took her down to Renatec for her MOT on the 13th Aug: they checked it, found a couple of faults, and refitted everything for me, so now it's all safe. (MOT was surprisingly cheap too, including the work done to the handbrake, only £102.) They couldn't do anything about the very tiny chip in the windscreen (driver's side, about a foot up from the edge): advised me to contact my insurer and ask about a resin fill. Which I did, and yesterday had Autoglass here to fix it for me (only a tenner through Aviva!) It may have been small, but was beginning to develop a hairline crack to one side, so it was important to get it done. (I think it may have been caused by driving over the very loosely gravelled 'additional parking' area at Whitehall, alas, as it was very recent. Will try not to do that again!)

Wendy visited on the 7th - wonderful day! Much hilarity and it was great to catch up on the news.

Oh - and I finally put in the legal claim against Fixit. They have 'til the 2nd of September to respond: after that I believe they get a CCJ. Was surprised but happy to find we could add interest to the amount - along with the cost of the claim they owe us £920. That would come in useful...

Kim and I had to swim on Fri morning for a couple of weeks, as her work (The Brandon Trust - she left the PO) had training on Tues pms. We were back to normal last week though - which was a relief, the pool is very busy on Friday with people whose swimming practices we didn't know (for anyone who doesn't have a regular swimming time, when you swim at the same time each week you get to know the people and how they swim, so you can adapt your own swimming accordingly.) For example, I swim sets of four lengths: one breaststroke, two sidecrawl (one each side) and one back crawl, which is my fastest stroke and I always leave a good length between me and the next person so I don't hit them. The Tues crowd know that now, and don't try to cut in front of me while I'm waiting for the gap to widen - not so on Friday.

My orchids are coming along splendidly...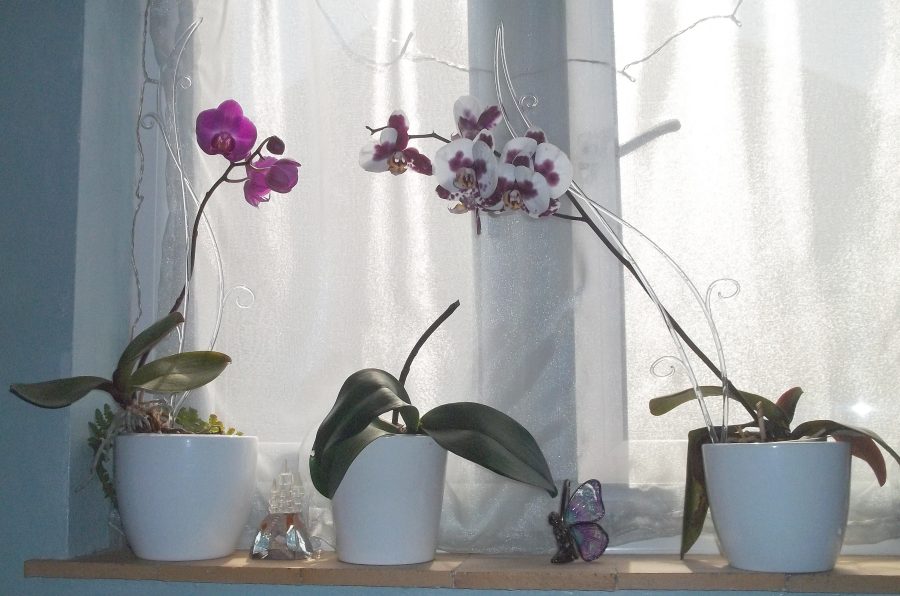 The rescued one (in the middle) is thriving and has a tiny spike starting low down on the stem. I think it's a flower spike: won't be able to tell until it's a little larger, but fingers crossed!

On the 21st we drove Tyjer up to the vet again for his second lot of injections, more of the flea treatment, and to pick up some more Metacam, which helped enormously this last few weeks. He was very good, made no fuss at all, so I gave him a tiny bowl of skooshy cream and a Metacam dose mixed in a little tinned salmon when we got back. VERY happy cat.

On Thursday GoodTwin and Sue came over to visit! As usual, much hilarity ensued, as did board games and quizzes. I had a fantastic day [GLOMPS to both]!

And that's about up to date. There's been the usual house-stuff and much picking, cooking, or blanching and freezing of runner and dwarf French beans, which have both been plentiful this year (great big bags of everything in the bottom of the freezer, will keep us going for months over winter).

Next week it's going to be our turn to be noisy: Anglian are replacing our soffits, faschia and guttering (supposed to have it done two weeks back but the weather's been so horrible they're all behind) on Wed, then on Thurs the horrible old asbestos soilpipe is being replaced. It's all going to be lovely and clean, hygenic and smart when finished.

Then it's a matter of getting the indoor projects done, bit by bit. No hurry there, though.

SO! Onto the media...

Kai wanted to see Salyut 7: found it on ebay I think and we all watched it. Apart from the occasionally hysterically bad subtitles (it was in Russian) it's actually a very good film. Made in 2017, but set in 1985, and made to look authentic. I was quite impressed!

Found and watched Ocean's Thirteen - good fun as usual - and then Ocean's Eight, which I at least enjoyed more. Waiting to see if it has a sequel.

Mortal Engines: very disappointing. Wonderful cg but the story... Irritatingly gappy.

Some Like It hot. We're catching some classics in amongst the rest. Great fun, and much enjoyed (although Curtis's manipulative behaviour left a bad taste, even though it all worked out OK in the end.)

Ken and I watched Walking Tall, which was fine. A typical Dwayne Johnson movie. Then last Thurs he and I finally watched the complete Schindler's List, which is harrowing and heartbreaking and I think everyone should see it. But that's just me... Last night we saw Shiner... It's an interesting film, vaguely Shakespearian in flavour. Not our usual fare, but I'm glad I watched it.

Then there was Π. Very odd indeed. Quite fascinating.

Last Sat Ken and I nipped over to Keynsham to check the charity shops again. I've recently had the IMDb recommend Drunken Master as a possible good choice: after reading about it I thought it sounded fun so started searching. It's not easily available online, and as it's a 1978 film it's not that easy to find anywhere. I did find the Revenge of the Drunken Master (nothing to do with the original film, on a double disc with TC2000 - both look dreadful but that's half the fun!) in one of the charity shops so picked it up anyway, only £1. THEN, in the last of the shops, I found Drunken Master! (We watched it on Monday night, it's an absolute hoot!)

(Bugger it. There's a Drunken Master 2 that I now have to look for!!)

That's about it for now. The third lot of washing is going through (It's VERY hot out there, the towels dried in an hour): I'm going for my prescribed lie-down, then in an hour or so I fancy a walk over to Dunelm. It's just far enough to count as a walk for exercise, and I always find something very useful there - often in the cookery line, but today I'm looking for a bronze hare statuette, as ours blew off the landing windowsill in the high winds and shattered. I miss him, he was very cute.

Later!
Labels: busyness, Derpy, films, friends, garden, household matters, swimming, Tyjer, visits