... 'cause it's been too hot and I've been too busy to update...

Wild(life) Summer 2 - the night after the hedgehogs, this murf -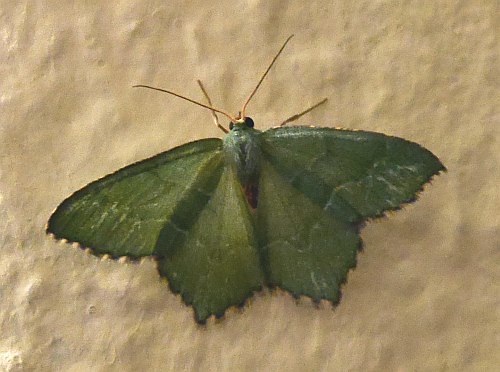 - flew into the bathroom then out onto the landing (Ken took the photo). It's a Common Emerald (take a look at the caterpillar!!) which, despite its name, I have never seen before.

Wild(life) Summer 3 - A couple of days after that I found a dead, just-hatched baby bird outside the greenhouse - an odd place for it, but the following day, as I was returning to the house after watering, I heard a frantic rustling and distressed cheeping coming from the medlar, and seconds later our sparrowhawk zoomed off about three feet from my nose, with a tiny bird in its beak. We may have a sparrow's nest in the medlar? I believe this is the second (or maybe third) batch of eggs this year, the weather, and the fact we feed them all the time, has made it a good year for our birds...

Wild Summer 4 - oh, the thunderstorms! The most immense rumbling roll of thunder right over the house woke me just as I was falling asleep around midnight on Monday, the sort that would have shaken the windows to bits if we hadn't had them replaced, and I spent the next half an hour or so transfixed, watching out the window the most extraordinary light show of constant, continuous sheet lightning over to the south of us, accompanied by non-stop thunder. I love thunderstorms, always have, but in sixty years I've never seen ANYTHING like that. Wonderful! Taranis having a disco!

Wild(life) Summer 5 - Looks like after digging exploratory holes all over the garden, the foxes have decided where to build their lair...

In other news...

Tyjer has been having a bit of trouble jumping up recently - we think he might have a touch of arthritis in his hips. So I registered him with the vet service at Pets@Home, and got him an appt for yesterday...

Was horrified to find, when I dug out his records, that he hasn't had his inoculations since 2012. Though in my defence we've been a bit fraught over the last few years. And if I was worried about his health I'd have had him looked at before... Anyway, I bought a cheap pillow from Tesco, customised it to fit the carrier, popped him in and drove him (and Kai) up to the vet yesterday.

Bless 'im, he was more curious about the room than worried about the treatment. Vet gave him the first course of his injections (second and last in four weeks), a worming tablet (didn't much like that), syringed and cleared his ears (Kai had said they seemed to be bothering him, he was rubbing and scratching and shaking his head more than normal - and they were rather gungy) and gave him a dose of a different (not over the counter) flea killer, as the Front Line Spot On (the strongest you can buy here) didn't seem to be working any more. Apparently fleas do develop immunity to such things, a bit like bugs and antibiotics... She weighed him - 5.4 kg - checked his heart and lungs - all absolutely fine - and gave me a bottle of Metacam pain killer and a syringe to ease the pain in his hips. I mixed it with a little tinned salmon the last two evenings and he wolfed it down no problem. She did say, though, that prolonged or over use can cause kidney problems, so I'll do four days then stop for a bit and see how we go. There's nothing permanent can be done, it's just age. (Heh, know a song about that...)

I forgot to buy orchid supports when we were at Cheddar, but I've had a go at turning my original orchid a little bit every day to see if I could make the flower spike grow more upright - it seems to have worked, I have a graceful curve now with buds slowly appearing...

I also have a third plant: hobbling back from Tesco on Monday I saw one of those sad dyed orchids in the bin from the shop up the road. You know the ones, they're dyed with blue for display purposes (there is no true blue orchid) and then discarded when the flowers die. I rescued it, cut off the empty blue flower spikes and let it soak in rain water and liquid compost feed for a couple of hours, and it's perked up nicely. These are often originally white, as white takes the blue dye better, so I'm hoping for a white orchid to join the other two. Photos as things happen!

The kitchen is a little tidier: K&K fitted the new panel to hide where the hot water pipe was mended...
Media...

While waiting for the next crop of blockbusters to be available to buy we've been picking up 'classics', and the other evening Ken and I watched Butch Cassidy and the Sundance Kid (or, Bruce Cassington and the Sunday Centre Kids, as my phone's auto-correct auto-corrected...) Apparently it got 4 Oscars, though gawds know why, I found it stupidly tedious and boring. But then, I'm not overly fond of Westerns. And maybe it's a generational thing...

Ken and I also watched The Shawshank Redemption, which is superb. Vicious in a lot of places, sometimes hard to watch, but what a film! (Snitch is also surprisingly good.)

We all watched Ocean's Eleven and Ocean's Twelve, both of them rollicking good fun, then found Ocean's Eight in AgeUK, but Kai wants to see Ocean's Thirteen, which we don't yet have, first.

Kai and I are now onto 24: Season 4, which I like much more than Season 3.

I'm sure there was something else... will edit later if I remember!
Labels: busyness, films, garden, orchids, Tyjer, wildlife