And Happy Birthday Wendy (and Peter for Monday).

Quick update bespangled with photos...

Ken enjoyed his birthday. He and Kai bussed to Trowbridge: enjoyed the jaunt. We ordered Chinese takeaway for dinner (Ken's choice!) which was very nice - even if the Shanghai Garden's computer system wouldn't let me register and I had to order over the phone instead (nothing's ever easy 'round 'ere...) Many thanks for his cards, folks!

The finale to Years and Years was just outstanding. I was thinking I'd not buy the boxed set as it was truly depressing (FAR too close to reality to be the least bit comfortable, especially Viv Rook as a UK Trumpesque figure was very nicely done. Viciously intelligent though, unlike the orange abomination. Then again, only a vegetative coma victim could be less intelligent than that loser...)

My next (and hopefully final) gastroscopy is Fri 28th June. Can't say I'm looking forward to it but fingers crossed the ulcers have completely gone and I can stop the omeprazole. Life is slowly growing less stressful (though no less busy) for me so that should help.

Kai constructed an arch frame for the wisteria sprouts we have coming up, out of an old branch we had in the garden. It works beautifully and the plant is happily growing up it.

I made the stupid mistake of weeding the front garden yesterday. All of it. Without a break. Hurt at the time and today I can barely bend over - can't move without everything hurting. But it looks SO much better! Even the side with too much grass is pretty good.

Must remember to do this sort of thing in little stages with a rest between them in future.

Meanwhile, indoors, I found some pretties for our room - hummingbirds at half price at Dunelm...

They fit beautifully in that corner, and the invisible fishing line holding them up is invisible under daylight.

My original orchid definitely has a flower spike!
More photos when it blooms.

Oh, and I got a letter today advising me my request to have 'disabled' lines on the road across our drive has been approved, so that should be done sometime within the next 8 weeks.

As usual lots more happened - it's been busy again - but most of it is either the usual stuff or I can't remember it... In the meantime...

I don't like garden gnomes - but this one was almost irresistible and Ken said to get it - so I did...
Labels: birthdays, British drama, busyness, garden, gardening, nothing's ever easy 'round here...
Forgot to post this...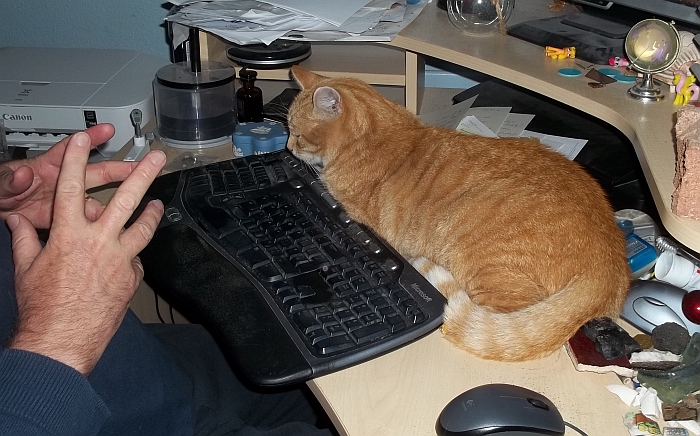 How to sleep on the desk without stopping your human from working...(Ken, of course, not me!)
He's a GOOD boi!
Labels: Tyjer
Whoa! Only a week!

Just a quick update this time. Forgot to say - Ken's paperback version of Celestial Geometry has a FIVE STAR review in the June 2019 Sky at Night magazine! (we're trying to get permission to post the scanned review on the site, but no reply just yet.) This is terrific!

Plumber arrived on Monday at 8am and replaced the pipe - there were two holes, one further up, so the front panel that was hiding the pipework is now awaiting something to replace it. Aiming to get a pine plank, but may have to get out to B&Q (Cribbs Causeway) to get one wide enough...

Decided to get the soffits and guttering replaced - mainly because the black mould growing on them outside the bathroom and our bedroom is making its way into the ceiling of those rooms and black mould is a DEFINITE no-no for Kai's compromised immune system (and not great for my mild respiratory problems either). Not particularly cheap, as we're pretty sure the soffits are asbestos: will need to have that checked first - and are probably going to be using Anglian for the job. Need the downpipe replaced first though, so my next job is to get hold of WeCare and Repair to check the status of that job.

We've now finished Designated Survivor season 2, and although it started off well it began to push the bounds of plausibility a few eps in. Didn't quite jump the shark, but came close, and ended in a major cliffhanger. We will get season 3 when it's available, but we're not in a hurry.

In the meantime, Kai and I have started watching 24. I have the complete collection (8 boxed sets of 24 eps each plus the London-based 12 hour season and the film) so even at 3 - 4 eps a day it'll take a while. Kai's quite enjoying it so far though, and it's fun to watch it again.

The WIP is coming along slowly but fairly satisfactorily. My research for it is coming along apace.

Monday night I was browsing ebay - there are a couple of Starscreams appeared that I don't have, but one of them is far too expensive so I've been keeping an eye out for a cheaper one that would break the bank with added import tax, p&p etc - and found one for sale in the UK, at £100 less than the Chinese and Australian (it's Starscream disguised as Optimus Prime from the completely bonkers G1 ep where Megatron came up with the less-than-brilliant idea of having his Decepticons disguise themselves as Autobots in order to sow discord in the ranks, and confuse the humans), so clicked add to watchlist. I expected a request that I login (I was browsing without logging in in case I didn't find anything) so when a little login box appeared on the screen I clicked it without checking first. And somehow ended up making another ebay account (with a random name, and using my alternate email addie). But no password!

No, I have no idea how I did it. But I had to 'change the password' in order to get a password to login and try to delete/close the new account. Aaaaand it wouldn't let me (apparently it had somehow linked to my original account, where I recently bought Stranger Things, as I was told that as a payment was going through I couldn't delete it for 30 days. [headdeskheaddesk]

So I rang them. Ever had to explain a surreal situation to someone who's English isn't the best? Oh boy. Wat fun!!

Anyway, did eventually manage to get him to close the erroneous account, although I had to make a new password for my original account - which I needed as Ken said to grab the cheaper Starscream OP while it was available. Photos when it arrives!

FINALLY getting my hair cut on Monday!

The little bud on my purple orchid (I should give them names) IS a flower spike, which I'm very happy about.

Had a go at making homemade doriyaki (scotch pancakes with sweet azuki bean paste, served with ice cream). It was pronounced a great success (Kai prefers them to the bought ones) so I shall be making them regularly for a dessert.

Finally - food porn for Lutra. Completely homegrown salad: watercress, mizuna, mini-munch cucumber, three different radishes and a garnish of indoor broccoli spouts, and Tesco's hoisin duck spring roll. Delicious!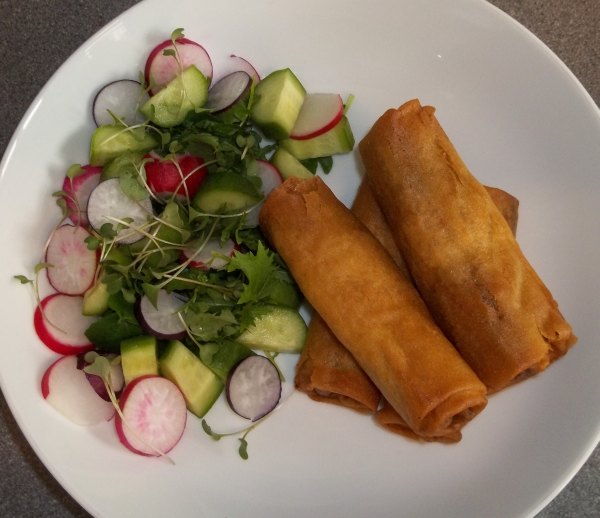 Labels: books, food porn for Lutra, household matters, nothing's ever easy 'round here...