Please accept the usual apologies!

It's been an interesting month. Friday is now dedicated to me writing (will continue with the WIP when I've posted this): TV off and music on. It would work rather better if things didn't keep happening on Fri...

Last week it was Virgin Media. I've recorded the BBC One Show ep from a month ago with an interview with Keifer Sutherland and Kai spent a couple of days trying to record it to disc for me, using the scart and usb sockets on the back of our new black box. To absolutely no avail, regardless of which connector/cables we tried (£40 worth so far). So we looked on the forums, only to find it wasn't just us - none of them worked. Because they haven't been enabled. Cue a call to Virgin Media... After half an hour talking to the guy who answered, I was transferred to tech support, who took my name, and Ken's name as he's the account holder (we were going to change it to my name but they were going to charge us 20 quid for the pleasure so sod that!) - and she put the phone down on me. 40 minutes wasted.

Rang again, got an apology, and discovered that the TV 500 black box had the scart and (probably) usb sockets enabled and would we like one sent to us? Only problem was they needed Ken's authorisation. Which was OK, we arranged a call back on the Sat at 6pm, although when we checked the details the TV 500 was older than our current one and had a number of complaints against it, so we decided to stick with the one we have. Worse comes to worst, I can record the interview using the film setting on Ken's camera - not ideal but at least I'd have it! 6pm Saturday came and went with no call. Then on Mon I got an email from Yodel saying they were delivering the new box on Tues...

[headdeskheaddeskheaddesk] So it was another phone call to Virgin Media, who were very apologetic, said to not accept the parcel or sign the receipt and it would go straight back to them. He also guaranteed that our service would remain unchanged (it's different settings at their end for the older box). After a second email from Yodel saying there was a delay and they couldn't deliver until Wed, I thought I'd ring them and explain it was sent in error and not to deliver. Found they 'do you want to speak to someone?' phone number on their site, rang it - and got a recorded message saying to ring their new number (the one I'd just rung) and then went into that horrible automated thing where a human voice asks for information. Which I gave, hoping I might then be transferred to a real person. But no. 'Goodbye' [click]. Tried again, same result, looked up how to raise a complaint, had to register with the Resolver service and make the complaint to them.

[Cue hair-tearing-out session]

HOWEVER... Resolver actually worked extremely well, and I got an emailed apology from Yodel and assurance that they would return the box to VM, first thing Tues.

And synchronicity strikes again, as when I was later checking up the process for taking someone to the small claims court, the Money Expert site recommended Resolver as an excellent service, so I may be able to use them for Fixit too.

Success - but it took hours to get there.

And then yesterday afternoon I suddenly realised I could hear dripping. After half an hour listening carefully outside and all around the kitchen, we finally found that the water pipe to the hot tap on the kitchen sink unit was leaking (the one that we had put in Dec 2017. I'm really glad I blog about these things as I then have a record to refer to!) So we have Tom the Plumber coming to see to it later this afternoon. I'm just keeping fingers crossed he can repair it without having to pull out the sink unit...

Onto more fun things.

My hearing is now back to normal ('OORAY!). Swimming continues with Kim every Tuesday (except last week when she was in Gibraltar). It's a lot of fun. We swim 20 lengths every week. Kai's ferritin level is continuing to drop and his last venesection was really quick and easy. He and I got the bus to Wells and Street last Sat to see if I could find the marble effect toothbrush and toothpaste holders like the ones I missed buying in the sale at Tesco - didn't find anything but had fun anyway!

Media... We're watching Years and Years. It's compulsive, frighteningly plausible, superbly acted, and staggeringly, terrifyingly good.

There's been a positive rush of films being released to DVD at the same time that we want - Bumblebee, Aquaman, Mortal Engines - but I'm waiting for them to drop in price. We still have a huge backlog of things to watch, and I've just ordered Stranger Things season 1 and 2 cheap from ebay, because Kai wants to see it.

Finally watched Child 44, which is... disturbing. Baywatch (picked up cheaply for Dwayne Johnson - I'm kind of collecting his films as and when I find them cheap. I love his comedies). It's actually a lot better than I was expecting - gross, but in an unusual way, reversing the usual perspective. A lot of fun with a very satisfying ending. Annihilation. Hm. Rather good, but not as enjoyable as I'd hoped.

Kai and I have started watching the second season of Designated Survivor. It's very very good - and I absolutely adore the little (and occasionally not so little) digs it keeps making about politics and media in the states. Last night Seth mentioned Pres Kirkman not being seen eating Dijon mustard - a snide reminder of the media's (especially Fox media's) appalling treatment of Pres Obama.

This had me in stitches! It's so true...
Garden (front).

The planting is coming on slowly but surely, and showing results already...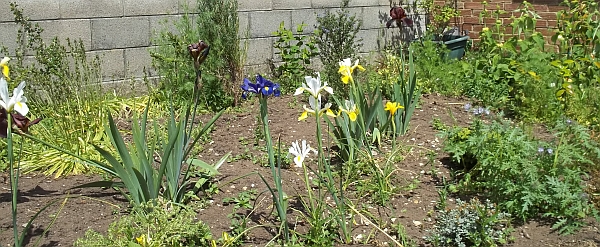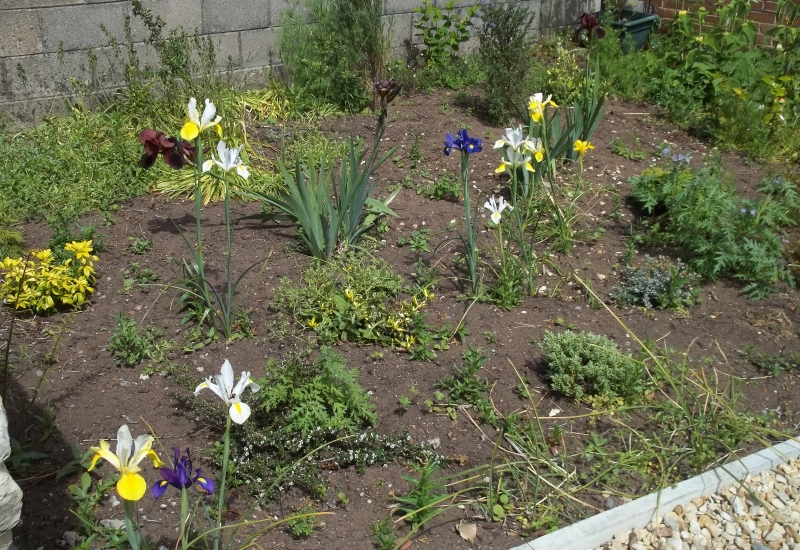 Sleepy bee...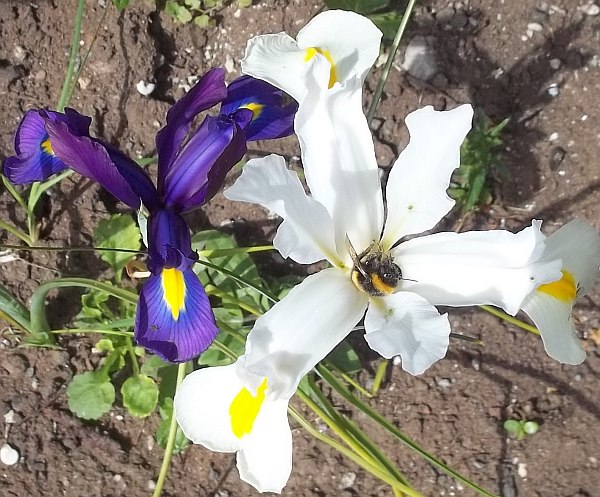 Can anyone tell me what this is? I didn't plant it. Not sure if it's invaded from somewhere else or is a 'weed'. It's rather pretty though, so will leave it in situ. Edit - apparently it's a Phacelia tanacetifolia, not native but very attractive to bees and insects. I don't remember planting it, so maybe it's an invader? Though I don't think I've seen it in other nearby gardens either... Will leave it and see what happens!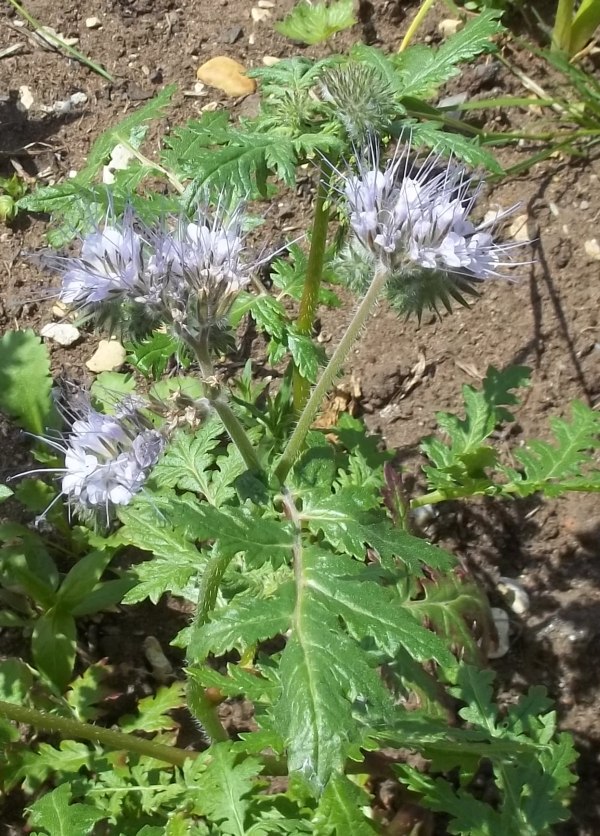 Garden - back...

Ken built a stone wall to keep the rocks that are going to make the path tidy and out of my way (the dead conifer has now been cut down)...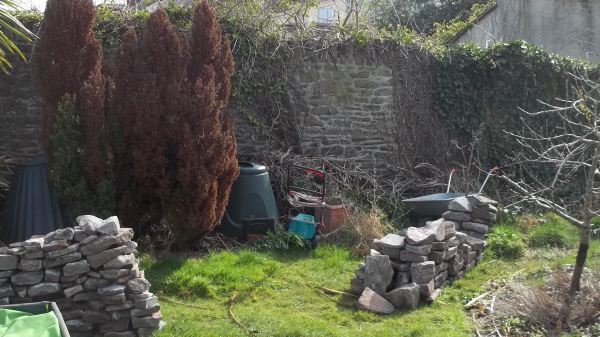 The cobbled path so far...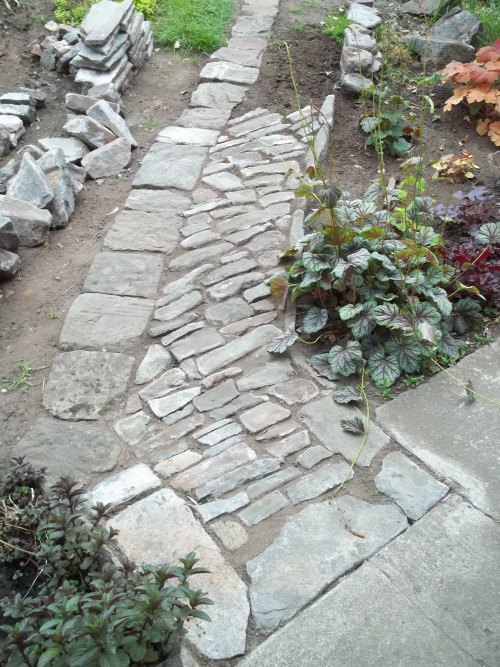 Through the greenhouse. I have tomatoes and cucumbers ripening already...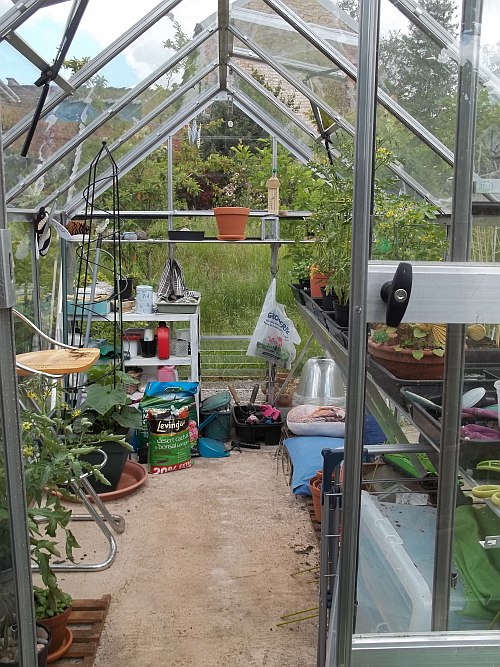 Sultan's Palace...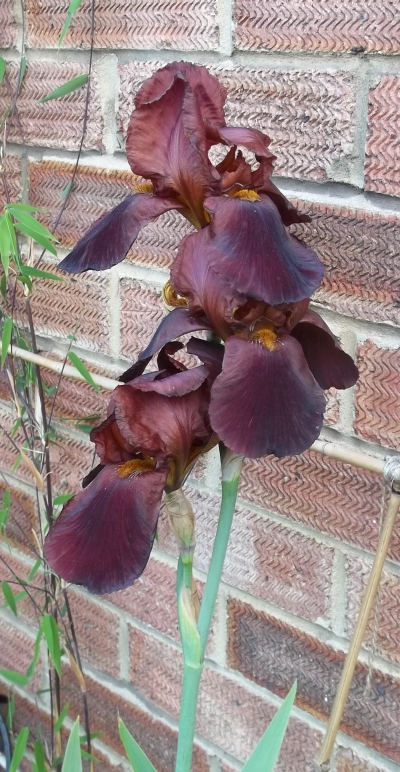 Indoors...

I treated myself to some pretty, cheap butterfly twig lights from Dunelm for the bedroom (tch', they've reduced them...)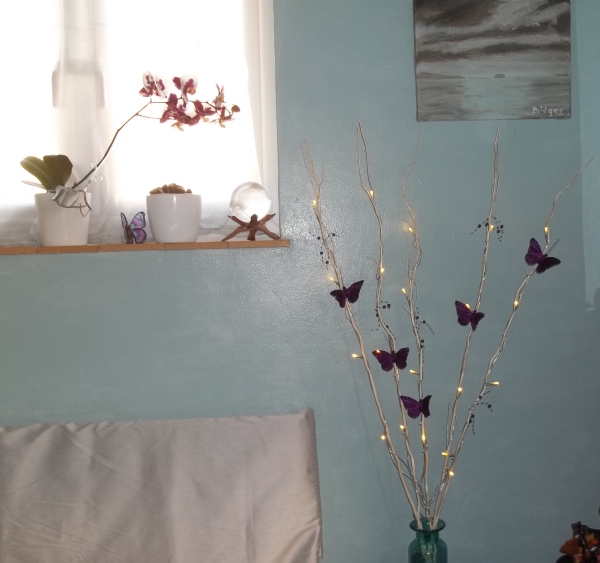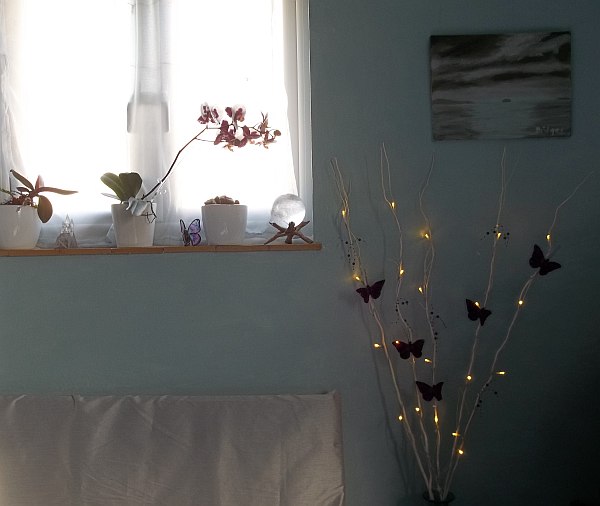 And my alien orchid is coming along splendidly!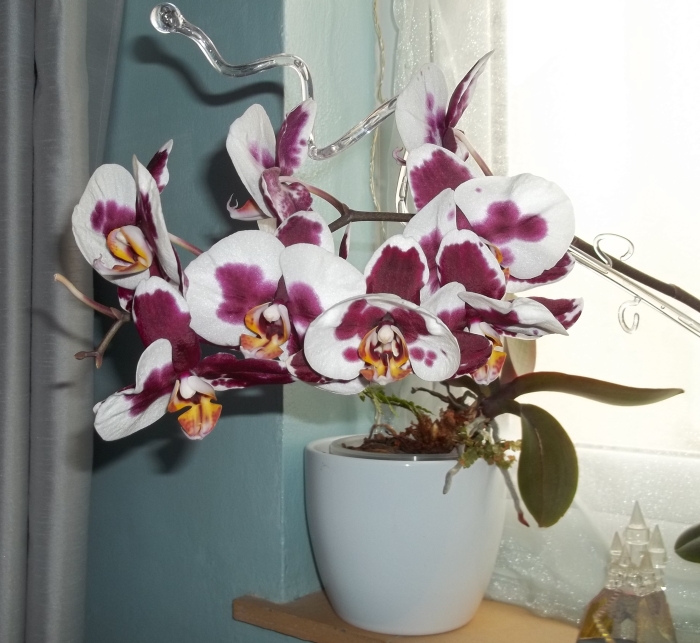 And to my joy my other, original orchid has a tiny flower spike just showing (I broke off the earlier one, by accident: hoping the orchid has forgiven me...)
Treated myself to a couple of little badges I found on amazon -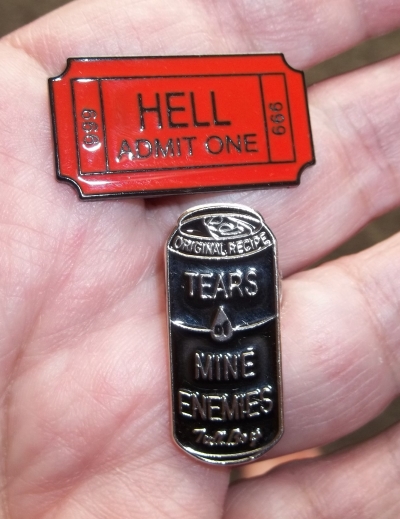 Quite apt, I thought!

Right, that's about everything I can remember. There's been weeding and hoeing and general household maintenance, but no further driving lessons: planned to correct that this Sun.

Lastly... Found on tumblr:
Good vegan alternative for those who don't want to throw milkshakes at fascists.
Bricks.
Catch you later!
Labels: domesticity, films, garden, medical matters, nothing's ever easy 'round here...
Bloody 'ell it's been manic...

Not entirely sure where to start. It's all (mostly) good, at least.

Let's see...

I can only remember the highlights. Eostre was quite fun: Friday was restful, K&K went out on the Sat and as the weather was really hot I put through three machine washes (bedding and towels and normal clothing stuff) and made buckwheat pancakes (for us to have them for Sunday brunches stuffed with smoked salmon, scrambled egg and home grown asparagus (so tasty!) Kai skips the eggs and asparagus as he doesn't like them) for the freezer.

... can't remember what we did on Sun and Mon - possibly relaxed and watched stuff? On that subject we have now finished Lost (oh oooray...). It just got worse and finished with some enormous plot holes.

Tues was swimming with Kim - wore earplug and managed just fine. On the Thurs we went out to garden centres, two new ones - Cleeve Garden Centre, which is a great place, picked up some heucheras on special, and Garden Park, also great but on a main road so a bit tricky to get out of - and ended up at Congresbury for a late lunch. A really fun day with lots accomplished.

Then on Fri it was the second gastroscopy... Well, the good news is that the oesophagitis is mostly cleared up, one of the ulcers has gone and the other two are MUCH smaller.

The bad news - someone should have told me I had to keep taking the omeprazole until they told me to stop. I ran out a week and a half ago.

AAAAARRRRRGGGGHHHH!!!
So I'm now back on the omeprazole (and will need to write a letter to my dr for more as they only prescribed me a month's worth), and I have yet another gastroscopy in another eight weeks or so...

[headdesk] I really can't complain, I know how overtaxed the NHS is. But it's a bloody nuisance - gastroscopies hurt.

I finally read The Wandering Earth... It's very good. As I got further into it I wondered if it counts as superior fanfic, as the plots of some of the stories were disturbingly familiar - but decided it didn't matter as the writing is wonderful. The first story in particular (it's been made into a film, which I shall try to get when/if it's available on DVD) is extraordinary, and raised goosebumps. Think I may get some more of this author's writing (although of course some of it is probably the translator's excellent skill.)

We've been watching Ghosts, which is rather good. The first ep I wasn't sure, but then in the second it picked up and had me chuckling. Will watch onwards...

Everything is going well in the garden and greenhouse. Everything is shooting up with the brighter, slightly warmer weather, and all looking good and healthy. The wisteria has been glorious this year, filling the house with its fragrance. It's past its best now but still smells wonderful.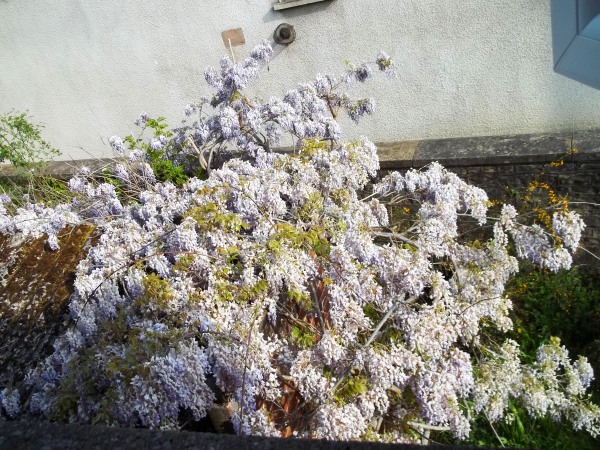 My little alien orchid is also doing rather well!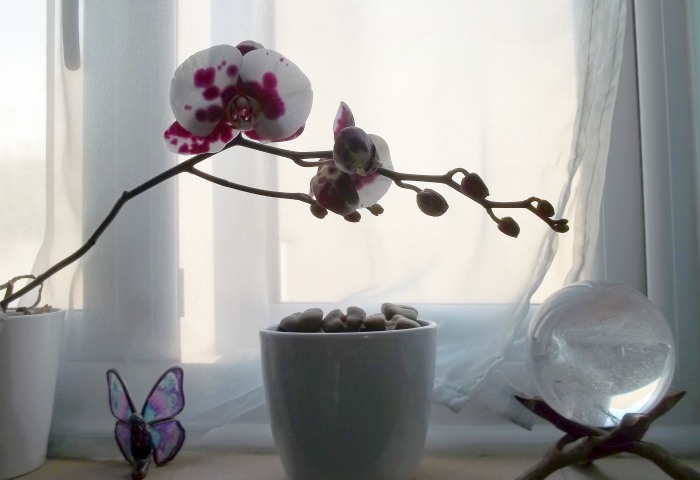 We've finally managed to make time for Citizen Kane, which is better than I remember (although I first and last saw it while at Uni). Kai thought it was great!

Last Sun - Kai's first driving lesson! It went splendidly. He's looking forward to more, and we should have had a lesson today, but some pillock parked partially over the drive (five foot over the drive, not just a few inches) making it tricky to get in and out. I took photos and measured and rang the police (101 non-emergency no.) and explained the situation (narrow road, cars parked opposite, disabled, clear space needed for possible ambulances etc) but pointed out it wasn't an emergency (though it is an offence to park over a legally-constructed dropped kerb). Got a call back from an officer that he'd call this afternoon, and knock on a few doors first to see if he could find out who it belonged to (I didn't know). Well, half an hour after that someone in a white tee-shirt came charging down the road, leapt into the car and drove away, so I rang the police back to cancel the case number in the hope he doesn't come back and park there again. In the meantime it's a little late to have a lesson now.

And THEN!! Oh joy....

I've been posting a brutally honest review on bark.com about Fixit, as they still haven't paid, and every time it's removed I post it again. Well, the nasty little bully boss rang me earlier, asking for Mrs Joules and wanting my initials as he needs them for the solicitor's letter he's having prepared to stop me broadcasting the truth (or, as he puts it, harassing his guys and slandering him). So I told him - JA - and to put everything in writing, and put the phone down. He rang back immediately, threatening to 'come around there with my solicitor and a newspaper man and have it printed that your Councillor husband' (Ken is business admin, not a Councillor) 'has been harassing and slandering me.' I told him I had full documentation proving everything I said is true - which it is, and we've printed out full copies of everything this afternoon to hold as evidence if required - told him to put everything in writing, and put the phone down again. (He rang three more times within five mins: I picked the phone up and slammed it down without answering.)

So we may be getting a solicitor's letter addressed to Mrs JA Joules (seriously, what decent businessman can't even get a customer's name right - especially as it appears above my review!?) in which case I shall send copies of everything to the solicitor. Which will be expensive for Fixit. They'd have done better to have just paid what they owe.

As for the review -
Apparently Fixit have no qualms about bullying and ripping off a disabled 60 yr old woman, but don't like anyone else to know about it and got my last review removed. (bark.com haven't even acknowledged my email, let alone answered it.)
So let's try again, with a little more detail this time.
They are absolutely abysmal. We hired them to construct our drive because 1) they had good reviews and 2) they promised the work would be done in 3 weeks...
Although their contract states no payment until the work is completed, we were bullied for a payment after the wall had been demolished, to 'pay for materials and pay for the excavation licence to be bought'. They didn't turn up for the next appt: when I rang to ask where they were I was told they were getting the excavation licence. A week later the tool they arrived with wasn't working, and they had to take an hour to go and rent another. Then, after the surface had been done, more money was demanded - again - 'to pay for the excavation licence'. Five times in total we were told the licence had been applied for - I checked with Highways each time and it had not. THIRTEEN WEEKS after we'd hired them, I sacked them.
A day later I was contacted and told that the builders they were using would dig up the pavement on one day, zone it off, then come back a week later to finish the job - compare this with the professionals I hired to drop the kerb properly, who had finished in 6 hours, enabling people to walk along the pavement the same day, and we were able to drive over it the following midday. Said professionals also commented that the blocks that should have been put along the front edge, to keep the gravel in place, hadn't been done (they're currently in the back garden), so now we have to regularly sweep the pavement free of the overspilling gravel. Fixit have also made the drive too high, so the bumper of the car scrapes when we drive in and out.
And now, despite guaranteeing in writing they would refund us and being given seven weeks to do so, we have still not seen any repayment. We aren't even asking for much, just the difference between what they quoted us to do it quickly, and other quotes we had to do the work at a slower pace. The case has now gone to Trading Standards but we now have the hassle of taking them to court to get the money promised.
So - overpriced, substandard work, and a boss who is unprofessional, unreliable and untrustworthy (to their credit, the younger guys work very hard and tidied up after themselves very well. Which does NOT make up for the awful job done). My recommendation - AVOID THEM LIKE THE PLAGUE.
Although strictly speaking it was only 4 days wait between the old pavement being dug out and the dropped kerb being put in, as I found when printing out his illiterate emails.

I haven't yet posted the (perfectly legal) photograph I took of them. Saving that for if I need to post on the Cowboy Builders facebook pages I've joined.

In more fun news, my hearing is almost back, at last. And I've finally started working on Lutra's and my Dystopia (WIP) novel. Well, I've gathered together lists of all the characters, places, organisations, and the basic world background. I think the time for it is now near perfect.

Labels: books, films, Fixit Landscaping and Driveway Contractors, garden centres, gardening, medical matters