[sigh] Sorry for the delay...

So, what's been happening? Unfortunately, right after the tooth was extracted, Ken brought a thoroughly nasty bug home from work and very kindly gave it to me. Two weeks on and it's still not shifted, although it does now seem to be going. But I woke up completely deaf in my right ear on Fri 5th: on the Sat night something went 'pop' deep inside and unpleasantness ensued. I went over to Tesco pharmacy on Mon, pharmacist said to get to the dr, got up to the surgery and explained what had happened. This was at 11.30: they could fit me in at 4.50... Well, I wasn't going to say no, so dropped into the dental surgery. Asked for a quick word with the dentist, got seen in half an hour: the infection under the tooth has cleared up, everything is absolutely fine, and the dentist says it's healing very well. So that's good. Still can't chew on that side much, but once the gum's healed it should be OK.

Then did some shopping, and picked up a 49p copy of Even Vampires Get The Blues in the Age UK charity shop to read in the surgery. (It's quite fun. I worked out the ending before I'd got a quarter of the way into the book, and started skimming over the sex scenes, which happen pretty much each chapter, as they got boring quickly, but it was something relatively harmless to read while waiting for my appt). So it turns out I have an inner ear infection. Ick. Another five day's worth of amoxicillin 500mg, one three times a day and no driving while taking them. (I wouldn't anyway, they make me feel glaikit.) Course finished Saturday but I'm still deaf: have made the soonest appt I can - 30th May - but if it doesn't clear up in the next few days will go back up to dr. and ask to be squeezed in again. I have no intention of risking my hearing.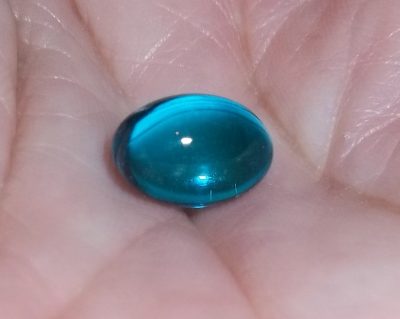 Did I mention my dr recommended I take vitamin D tablets, as my level was below where it should be - as are most Brits at this time of year. She told me they usually recommend Fultium-D 800 IU (20 mg vitamin D3). I asked at Tesco pharmacy a month ago and they sold me a packet. Two things to note right away: three days after starting taking them I suddenly found that awful dragging tiredness I've put up with the last few years had gone, and secondly - they are beautiful, like little gems. I tried to buy another pack when I was over on Mon, but was told I shouldn't have been sold them as they're prescription only. So I asked the dr if they could be added to my prescription list - only to be told that drs are now not allowed to prescribe them! Given they cost nearly £7 for 30 pills, I imagine the company is losing money now...

Bought Lloyds the Chemist's own brand instead, 25mg, £4.99 for 90.

In other medical news: in Jan Kai's ferritin was just over 1,000; in Feb it was down to 963; in March 800 and something (I did ask him to give me the numbers before he headed out for busrides this afternoon but he forgot, and there's no way I'm taking my life in my hands and entering his room!); and then in April 750. This is wonderful, and at his last BMT Clinic they changed his venesections from every four weeks to every six. Which means I now have to amend all the appts I made in advance! (Doing it in writing - it takes days to get through on the phone.) Will get that done tomorrow - planning to meet Ken in town for lunch.

Wendy came to visit for the day last Thurs: had a wonderful day, lots of catching up and laughs. She brought up a couple of DVDs for us, The Decoy Bride, and Murder on the Orient Express, which we watched on Sunday. I was very pleasantly surprised: it's the best version of the story I've ever seen, and to our delight they're making Death on the Nile too! One to look forward to.

Other recent watches: Sully - pretty good - and Annihilation, which is quite extraordinary. Probably need to watch it again to pick up all the things we missed...

Lost - we're now half way through season 5 and it's alternately sending me to sleep or raising my BP with sheer pissed-off-ness. I shall be very glad when we're done.

I finally listened to Down in a Hole, the Kiefer Sutherland CD I had for Yule. It's blues, which isn't my favourite sort of music, but I really enjoyed it. He has a lovely singing voice, which I hadn't expected. Here's the Youtube vid of my favourite song on the album, I'll Do Anything.

Work progresses in the garden. The greenhouse tomatoes are doing well, and the cucmubers are now out there prior to being planted in their final pot. My pear tree is gorgeous right now, full of blossom. Looking forward to pears in the autumn!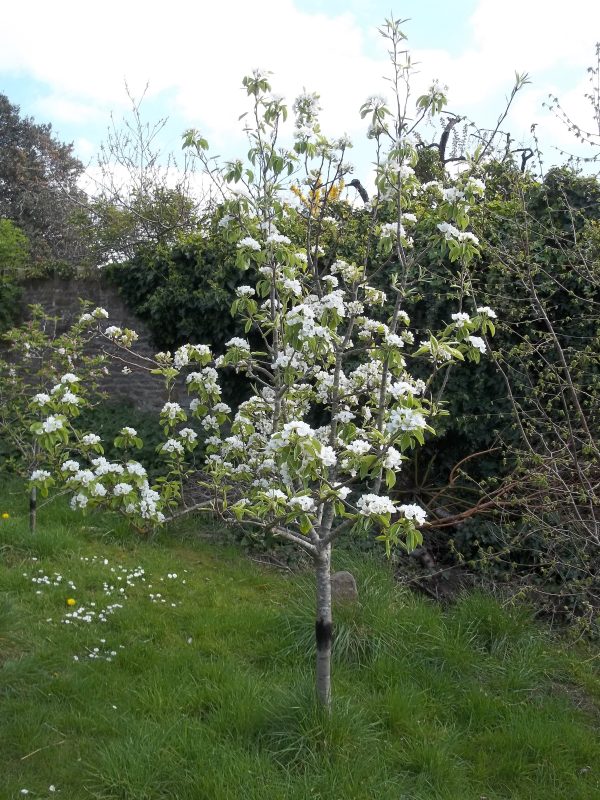 The asparagus I planted three years ago is finally beginning to show through, and should be big enough to eat this year. (The white thing is a plastic fork: helps keeps animals off the bed.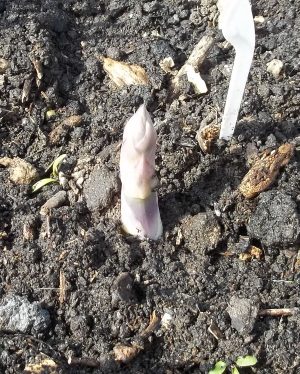 And this is the path that K&K are building from the patio up to the old meadow. Taking shape slowly but it's going to be great when it's finished.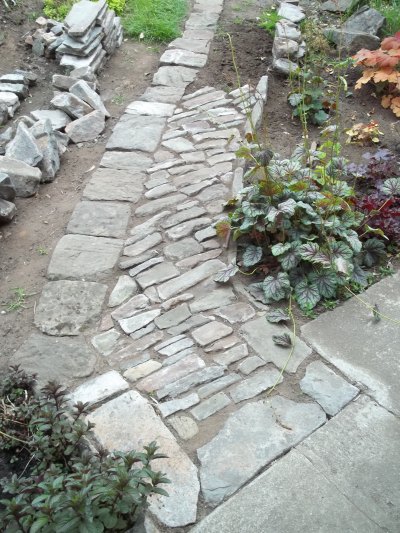 I think that's just about it for now. To end, take a look here: these are extraordinary!
Labels: films, friends, gardening, medical matters, musekicks
Right, where were we...?

It's been busy, productive, and quite interesting. Sunday after my last post we all did some gardening out the front: hoed, the choisia and ceanothuses are now planted, my pot of Sultan's Palace irises too (not the main huge pot on the patio, the ones in a smaller pot out the front that didn't do at all well last year), and a handful of other plants sorted out. It's beginning to take shape...

On Monday, after drilling at all hours of the day and evening on and off for over two weeks, the noise from next door became unbearable - a horrible, high-pitched grinding sound. So I created a LOUD playlist - including a truly awesome mashup of Imagine Dragons Radioactive and Fall Out Boy's My Songs Know What You Did in the Dark, downloaded from here -

Then from 11 am until 4.30 pm played it at 50% of max through my speakers (with half an hour off for lunch). Made everything vibrate and was so loud I had to put in proper earplugs to avoid being deafened while I got some work done.

It's been nice and quiet ever since. One day I'll try cranking up the volume to max and see what breaks first...

On Tuesday, as I was taking the cloches off the tomato plants coming along very nicely in the greenhouse, my phone went - it was the dentist saying they'd had a cancellation and did I want the tooth extracted today? Did I hell! 11.40 appt: left the taking in of the deliveries to Kai, cancelled swimming, and headed off for the Broadwalk bus at 10.20. (Time to do a little shopping before the deed, very useful).

Of course, it didn't go smoothly. I needed an extra anaesthetic injection to completely numb the area, then the twisted root broke off as he was pulling the main part out, and he had to dig around for it for an extra few minutes. But it is now done, feels a bit odd but is pretty much completely healed already and the relief of not having that awful constant pain is great.

(I've posted photos of the tooth here but I don't advise anyone to go look. It's not at ALL a pretty sight.)

On the 'watching' side, we saw Bangkok Dangerous, which was quite good, with Nic Cage's acting unusually understated and effective. And we're currently on lost Season 3... It's a struggle. I am NOT enjoying it. The first season was fine, then it started going downhill. It's... as though someone got a bunch of disparate individuals together, said "We're aiming to make a sci-fi/fantasy/thriller/mystery sort of thing - any ideas?, then took everything everyone threw at them, bunged them all together and tried to make them fit. Which they don't. And I want to slap half the characters for being so effing stupid!!

I will watch to the bitter end (all 6 seasons) in the probably vain hope it picks up...

Quite a lot done in the garden over the last few days, too. K&K are making a 'cobbled' path up the slope from patio to railway track to make it easier for me to manage the washing. The tea tree shrub is also now planted. And the Juneberry is looking gorgeous.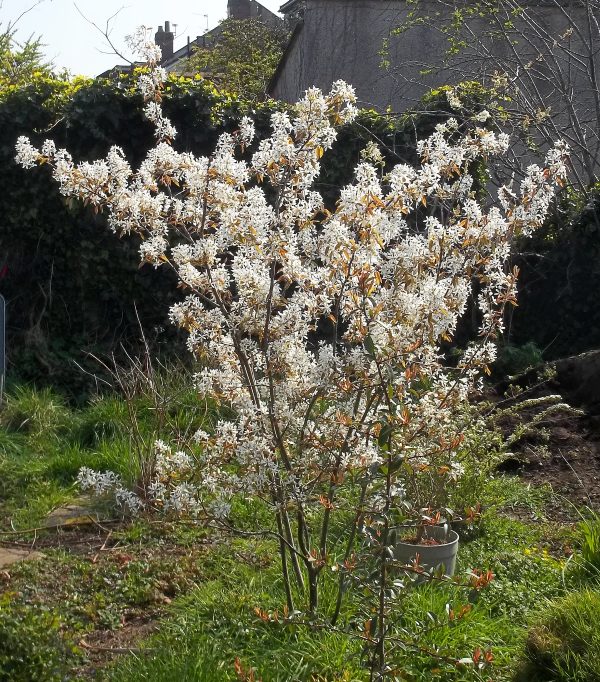 Off to suffer through a bit more Lost. Later...