... 'cause the season isn't over until Jan 3rd.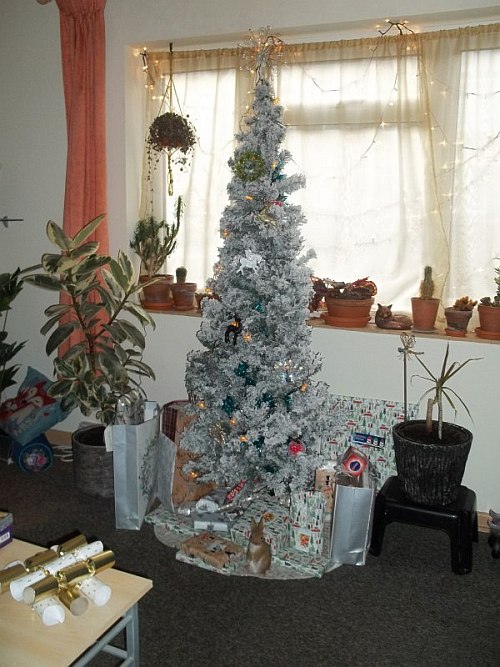 It's been mostly fun so far. Mostly as in, none of us were ill for the 25th, but on 26th I somehow managed to go down with a most unpleasant bug which has left me coughing and my throat raw. But that's all. I suppose it's some sort of cold bug, prevented from getting any worse by the 'flu jab I had a couple months back. Eh, whatever, it could be a lot worse. We've had to postpone our Tudor Day though, as I'm not up to a lot of cooking right now. We'll reorg for a week or so into the New Year.

Our (30th) wedding anniversary was lovely: beautifully relaxed and the meal at the Black Castle was very tasty and very filling. Afterwards we watched The Odd Life of Timothy Green, a quite delightful film, sweet without being mushy. Nice film for a rainy afternoon.
Yuletide's been mostly relaxing. We've watched a lot of films, the ones I'd been saving up. 24th Ken and I started watching the BBC production of A Christmas Carol - an interesting take on the story. It was grim but good. Our presents were terrific - Grave of the Fireflies and In This Corner of the World, along with a beautiful glass coaster, from Sue, and Utopia seasons 1 and 2 - along with biscuits and chocolates, ale for Ken and a limited edition fox print for Kai - from Goodtwin. I had three new Starscreams and a Skyfire, and a gorgeous genuine Bristol blue glass paperweight from Kai -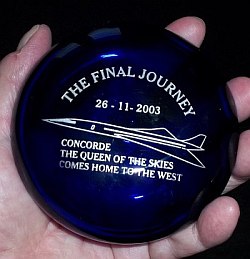 He bought it from a charity shop - but when I turned it over, it's a limited edition - 463 of 1,000! Dead chuffed.

We watched Moana - which I really must buy, it's wonderful - after xmas dinner (steak, roast spuds, Brussel's sprouts with chestnuts and honey-glazed peas and carrots, diddy pigs in a blanket and delicious pork, stuffing and cranberry star shapes, with xmas pud (Ken), salted caramel pud (me) and thick brandy cream, and double choc pud with ice-cream for Kai. An altogether lovely day.


Boxing day we finally watched The Greatest Showman, which is fun, and Ken and I caught Worzel Gummidge, which, while a bit heavy-handed on the eco front, is still charming.

Yesterday it was me spending most of the day coughing, and we watched Race to Witch Mountain, which I have seen bits of for the last umpteen Yules but never watched completely. Thoroughly enjoyed it!

And that's about it. It's been a strange year - got a lot done, to the house certainly, maybe not so much personally. Aiming to get started on the next project in the new year.

In the meantime, I hope everyone has had a good and peaceful Yuletide.
Labels: anniversaries, films, presents, Yule