Later edit: washing machine delivered and installed - Kai currently adjusting the feet so it's level. It's very nice, and A+++ rating. Chuffed we are!


New Year's resolution - try to update more than once a month...

Currently waiting for the new washing machine to be delivered. The old one started making the most horrendous noise and vibrations to shake the kitchen apart on the spin cycle, but then again, we've had it for a good ten years and it gets used at least twice a week, so it's done us proud. Bosch make. I do like German engineering. The replacement's a Bosch too. Hope the quality's the same as it used to be!

So, happenings since I last posted. I finally had to fire the cowboys from Fixit, twelve weeks after they started the job: now waiting for A & G Surfacing to get back to me with a date for the kerb to be dropped. Will update on action against Fixit as and when I can: first priority is to get Derpy safely on to the drive.

Kim and I went out to Congresbury Garden Centre. They were setting up their Yuletide decorations - including these...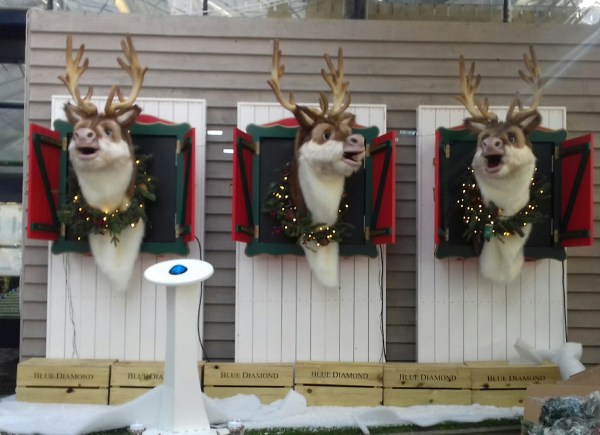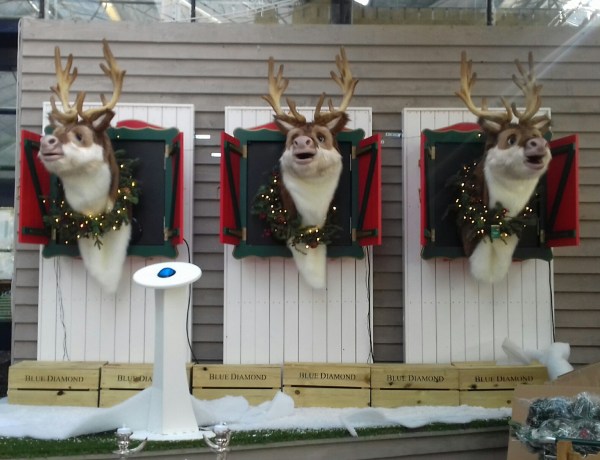 ... life-sized reindeer heads that sang carols a cappella. The heads moved from side to side and the mouths and eyes opened and closed as they sang. Impressive - and creepy.
GoodTwin and Sue visited before Yule to exchange gifts (many thanks!) and we had much fun with several new quizzes and catching up on all the news.

The 25th was pretty low-key, with presents, chocolates, films and food. Dawn came over on Boxing Day for a Japanese-themed day, with My Neighbour Tortoro and Space Battleship Yamato (the former went down well, the latter less so), and sushi and yakitori chicken for lunch, chicken with chestnuts for dinner (became an instant family favourite, but next time I'll skip the chestnuts). All very enjoyable. And the Oriental supermarket just down from City Hall (where Ken works) is really excellent. Even had instant dashi, and bonito flakes! Going to experiment with a few Japanese recipes in the coming year - getting fed up with making the usual all the time.

Minimal decorations this year, just the tree in the lounge -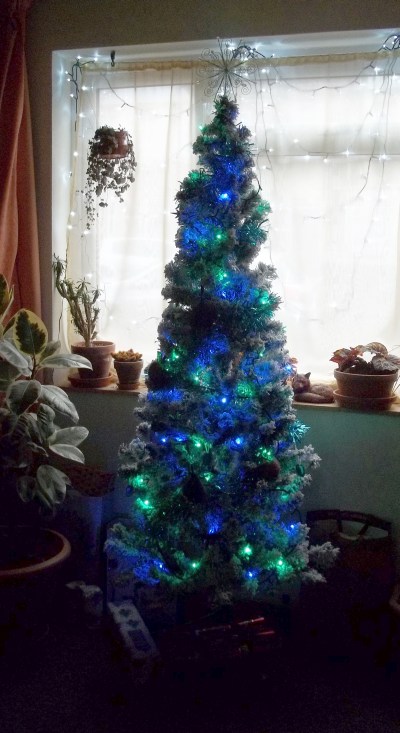 And the one on the shelf over the stairwell.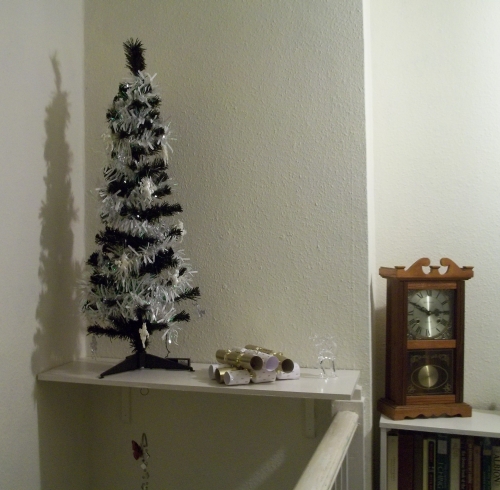 Kai and I finished watching MilleniuM... bit of an odd ending, vaguely dissatisfying. Glad we persevered though. Next up is The Night Manager (reduced price at Sains), which I watched by myself when it was first shown and enjoyed immensely. We've caught up with all the DVDs I found at Westbury back in October except for Yakuza Apocalypse: Kai really enjoyed Aqua Teen Hunger Force (I found it less fun than when I first saw it, unfortunately). Cried my way through A Dog's Purpose (beautiful, beautiful film). And remembered that I collected the complete Primeval (missed half of season three, all of season four, so didn't bother with season five on TV), so that's on the list to watch in the next few months.

Finished redecorating the hall/stairwell/landing. Last job is to strip the paint from the upstairs banister back to the wood, which Ken is doing. It all looks rather nice. Now just Ken's office and the kitchen to do.

No delivery yet. I was up at 6.45: delivery is free if you opt for any time between 7 am and 7 pm. Want to bet they arrive just before 7 this evening?
Labels: decorating, films, Fixit Landscaping and Driveway Contractors, friends, Yule