Taking a break while the first coat of paint dries...

Hectic as ever. Quick run down: -

Health: still coughing and spluttering, but not badly enough to stop me swimming (skipped two weeks because of the bug and really missed it). Kai had venection on the 18th, but his veins refused to co-operate (for the second time ever) so I had to make another appointment for the 25th, which went a little better.

Watching: on the third and last season of MillenniuM now. Still enjoying it, though it's got darker and darker. As usual watching Strictly Come Dancing, which as usual is fun.

Pets: Rosa successfully off to her new home on 12th of this month. She'll be going to a couple who have a good few other tarantulas and are pretty much experts in their care, so I feel happier now. Tyjer is still going strong, though beginning to show his age now, bless 'im - not so fast, and it's not so easy for him to jump up any more. Though he is growing more cuddly in his old age (fell asleep on my lap yesterday evening), which is rather nice.

Car: [sigh] I left her so long when I tried to start her on Monday the battery was completely dead (my own fault, I'd been advised to turn the engine over at least once a week. Blame my feeling lousy for two weeks). Luckily, we'd bought a new, automatic battery charger a few years back, to charge up the battery in Kai's train engine, so (with Kai doing a bit of research online as apparently Renault batteries don't lift out of the car like the old ones used to do, and there are rather more varieties than there used to was...) To my amazement and delight, it only took two and a half hours to charge the battery from completely dead with errors and alarms flashing all over the dashboard to starting with a growly purr and all the indicators back to normal. Beats the overnight charge the Petal took! I did a little gardening while she was recharging (as it had to be done in situ) so we're about ready for a nice small evergreen tree to be planted in the house-ward corner (BND has had work done on his cameras recently and there's now one that looks down on to our drive. Bloody Peeping Tom). As for the drive... Highways confirm the excavation licence was issues on the 22nd of this month. I emailed Fixit yesterday evening and am now waiting for them to get back to me to say when they're coming to finish the work. They're now seven weeks overdue...

House: the hall/stairwell/landing is a little more than half way done now. Planning to finish that lot, at least, by the time GoodTwin and Sue come to visit in a couple of weeks. I think the kitchen will have to wait until after Yule though.

Off to put a second coat on the woodwork. Fingers crossed for a good weekend, all!
Labels: car, Fixit Landscaping and Driveway Contractors, household matters, medical matters
Phew! (Later edit) OK, a couple photos to tide us over until I have the energy to post properly. Recovering from one of those cold/flu bugs that absolutely prostrate me, lost my voice for 48 hrs ('OORAY! I hear you cheer!) and with cotton wool for a brain wasn't able to do much. A lot better now but now trying to catch up with all the things I missed.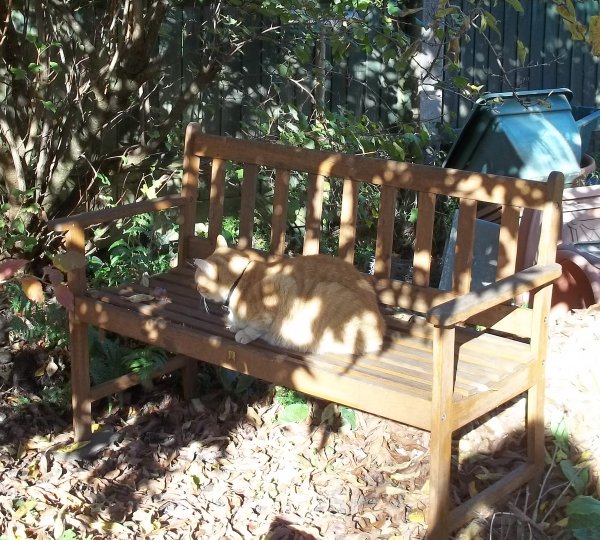 Tyjer's new perch. Off the cold wet ground and catching the autumnal sun.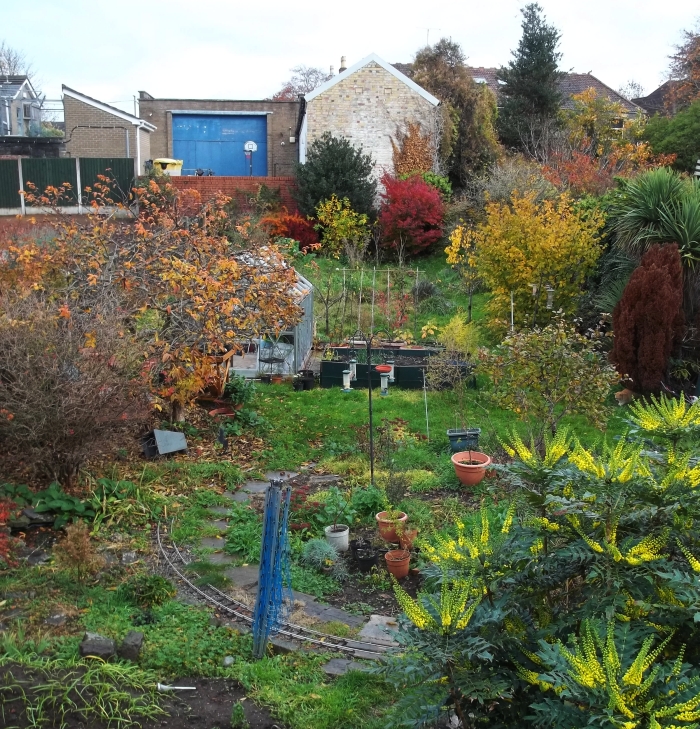 My garden is a beautiful array of glorious colours, even on a wet, cold, autumn morning...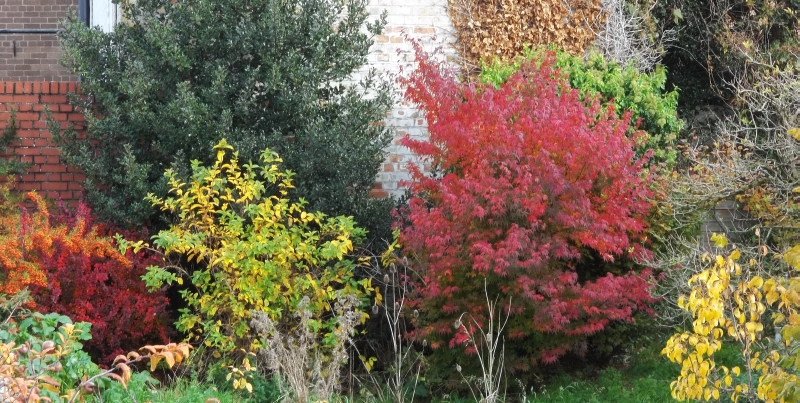 All is going well. The excavation licence for the dropped kerb HAS now been applied for, according to Highways, and should be authorised soon.

Watching: we're coming to the end of Millennium season 1 - ye gods it's good! Very disturbing, frightening in places, but a damn fine phenomenon. Ken and I watched Fireflies in the Garden, which is a fine, understated but very well-acted film. Ryan Reynolds continues to surprise, charm and delight. We've also recently watched Little Buddha which is strange but interesting... and Dangerous Liaisons (both to indulge my Keanu Reeves guilty pleasure!): the latter is an amazing film, best described by one of the comments on the IMDb - "Costumes and sets are beautiful. Watch this one if you are in the mood for betrayal, deception and characters that you want to slap."

Ken and I went out to Westbury-on-Trym last week - Ken to visit the library there and me to scour the village's excellent charity shops. Came home with a pile of DVDs - Groundhog Day (haven't seen it in years but Kai likes it and Youtube's Looper recommends it as one of the 8 films to see before you die...), The Light Between Oceans (I like Fassbender's acting), A Dog's Purpose (saving that one for Yule), Green Wing season 2 (for the hell of it), The Story of the Total Eclipse (the 1999 one we saw in Babbacombe), Red Dwarf's Back to Earth (should be fun!), Yakuza Apocalypse (because after Wild Zero I have a hankering for some more Japanese "demented brilliance", as the YA cover says), and Aqua Teen Hunger Force Vol 1. I watched some eps of this on Adult Swim back when we actually had decent cable channels and want to see if it's as insane as I remember it to be...

Celestial Geometry is being printed as a paperback! This is great news. Even better - or possibly worse - is when we were forwarded a letter from a US university member pointing out a truly awful error on page 124 of the hardback: a letter that was sent in Feb 2016!! [sigh] There are very good reasons why we've only just got it but it looks very bad to any outsider...

Anyway - she complained that the caption made no sense, and when we checked she's absolutely right. The correct caption for the pic is:
Phases of the moon. As the Moon orbits the Earth in a monthly cycle, the proportion of its orb that sunlight makes visible to us changes, to create the lunar phases from new to full moon and back again. The red lines indicate the Earth-facing hemispheres at each point in the cycle.

To our horror, we found that some idiot editor at the publishers had changed it to:
Which is, of course, a cack-handed partial description of lunar ECLIPSES and absolute nonsense when referring to moon phases... Not at ALL happy...

AND it was changed AFTER we'd OKed the final proofs of the book. [headdeskheaddeskheaddesk] The publisher has apologised but has no idea why or how it happened: we've stressed that it needs to be corrected for the paperback: I've written back to our American commenter to apologise and explain. (The upshot is we've asked for her name to be included in the Author Acknowledgements on the last page.)

Oh, and we're rehoming Rosa. I finally just got fed up with being wholly responsible for her. It's been 15 years and she was never my choice of pet in the first place. It'll be a shame to see her go but I want to shed responsibilities at this stage - Ken and Kai agree. I joined the Tarantula Hobbyist Facebook page and posted a general query, and had 19 replies in the first hour! Anyway, a member of the Invicta Arachnid Club (over Kent way) is collecting her next week, so I think I can be sure she's going to a good home.

Lastly, Ambit Security are booked to come and rejig our alarm system in Dec (replacing all the old magnetic catches and fitting motion detectors as well), then in Jan we're having an external camera fitted to watch over the garden (and the fence area specifically. Since BND can't be trusted not to cause more damage to our property, and lies continually about his actions, we have no option but to record what he does, either with the fence paint or anything else). The camera will be standalone (integration with the internet makes hacking a possibility), with its own monitor and a 1 terabyte harddrive (holds about a month's worth of recording before starting over, and sections can be taken off on a pendrive - should do the job).

Oh look. I did manage a proper post anyway! Need a lie down now...

Later!
Labels: books, busyness, DVDs, films, garden, medical matters, spiders