K&K and Dawn went to Goblin Combe today: Ken's just rung and they're on their way back (invited Dawn to join us for dinner - diced pork in creamy apple and cider sauce on white and wild Basmati rice with beans from the garden, a bit thrown together but should taste nice...) I've had a relaxed day taking a bit of a stab at next!Poppy: haven't got all that far, but I do know where it's going now and will see about getting more done over the next few days. Not much planned this week - well, there'll be nibbling away at painting and gardening, of course - so fingers crossed...

Kai came shopping with me yesterday, and a strange and almost magical thing happened...

50-odd years ago I used to regularly pop into The Blue Boy glass and ceramics shop in Princesshay, Exeter (I believe it was named after the Blue Boy statue. Ken remembers the shop - I expect Wendy will as well. No idea if it's still there but I rather suspect it isn't). The goods in there were hugely expensive, even for the time, and especially to a child. There was beautiful glass paperweight there that I used to metaphorically drool over. It's difficult to describe how I felt about it at the time: now I remember it as looking like a planet above and disappearing into a black hole, but back then I just used to gaze at it and imagine I was falling through it into a different universe. Yes, I was a pretentious little brat, how can you tell? I remember it costing £30 (which was a LOT back then), but me and numbers didn't really get on very well until the last five years, so that's probably wrong. I remember it was FAR too much for me, at any rate.

... I think it may still have been there when I got to college...

Anyway - we popped into St Pete's Hospice shop in Sandy Park Rd on the way from the Library (to pick up more garden waste collection bags) to Sains... and a damn near identical paperweight was there - white and silvery instead of blue and silvery, but otherwise the same.

For £1.49.

I bought it.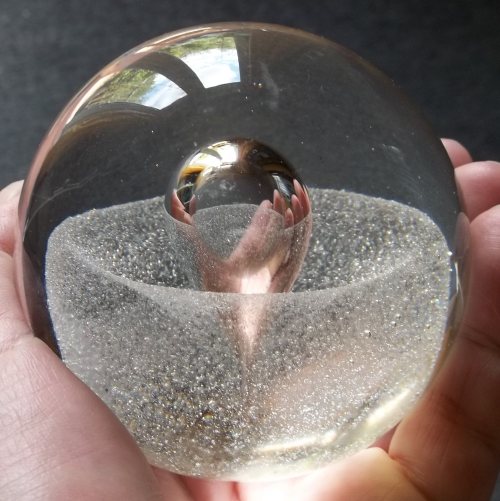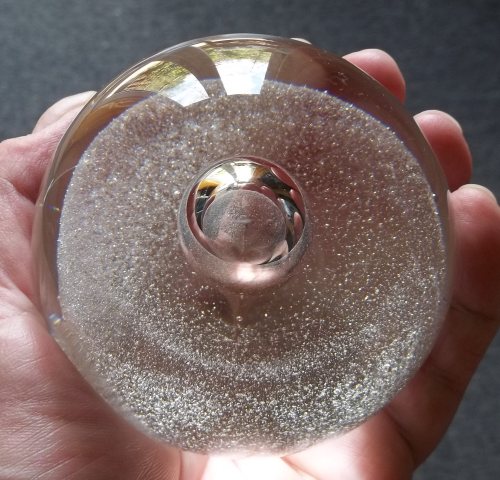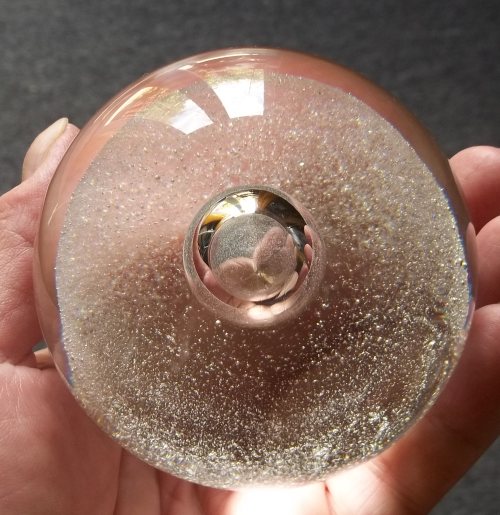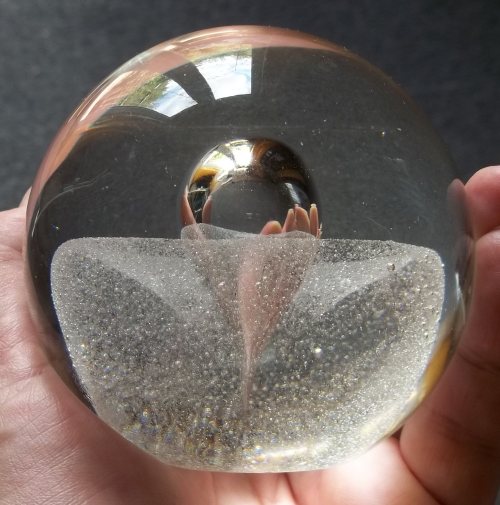 It still has the same effect even now. Maybe more so. It's beautiful - more so than it looks here, I'll try to get a decent photo at some point.

Synchronicity striking again?

It's inspiring.
Labels: days out, strangeness and charm
Quick update before I start the book covers I've been sent to upload to the F&H site, with Madame Butterfly on in the background...

Yesterday Claire (daughter of next door - the girl whose first words to us 27-odd years ago were, "Do you think it's OK for my dad to hit me?") arrived with a colleague (she's in the police now, gawd 'elp us...) to clean the greenhouse. Nothing like keeping it in the family, I suppose. But credit where it's due, although she insisted it wasn't deliberate (believe me, it was), they have done a fantastic job: all the paint has gone from the glass and the metal frame (not the bricks of the base, but they are less important). Took just over an hour. I stayed inside as he was out there, whinging and bitching as usual. I just tune him out these days. He has nothing to say of any interest to anyone with half a brain.

Discovered my Vampires was released in a Finnish version! It's proving difficult to get a copy though - it's now out of print as it's so old, and the seller won't ship secondhand books out of Finland. Currently trying to find some we know who knows someone in Finland to see if we can arrange something. In the meantime will add it to the WW site. That makes books in seven languages for us!

The Hurrans trip on Sunday was successful: hedgehog food bought and crickets ordered from Pets@Home, P plates bought from Halfords, and they were selling orchids for just £6 at the garden centre, so of course I couldn't resist...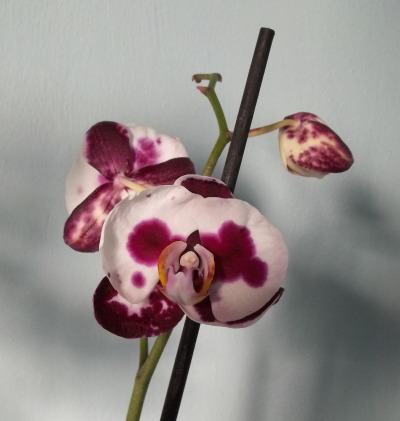 Pretty little alien faces...
I'm due £27.05 in reward points on my membership card with them (haven't had them for a while as the letter with the first lot was returned as 'gone away' - i.e. it was put in the wrong letterbox and sent back to the company, but fortunately they don't close the a/c in that instance. Apparently it happens a lot.) so may go buy another one (or two!) once that arrives.

We're getting the first Waitrose delivery this morning. Be good to see how it goes!

Waking Kai. He's off out with Dawn today - Bath-wards I think - giving me the place to myself for a few hours. Will go swimming tomorrow am instead of today.

GoodTwin, sorry, I've had no time to get car stuff organised: will probably need to postpone the visit. Will email with more details later.
[Insert standard disclaimer about frantic busyness here...]

K&K are off to Midsomer Norton (in Ken's case, to hunt for pink balloons. Long story involving a project where groups of people have 15 seconds on film to produce a story...) so I have a little time to myself...

I've lost track of what happened when, so will just note the things I remember.

Watched Battleship Island by myself. It's a very good, if grim film, not casual viewing at all but compulsive.

Last Fri I was all set to do a little more painting in the hall when Kim arrived. We'd talked about going out that day but not confirmed it... well, Kim had, earlier that morning by text, but I hadn't yet turned Sideswipe on. But it was fine - I hadn't started the painting and it only took me a couple of mins to change.

We had a lovely day out. I asked if we could go the easiest way to Almondsbury Garden Centre (which involved navigating the Cumberland Basin interchange: I paid close attention to the entire route). It takes us past the Riverside Garden Centre, which is also a favourite, so we stopped off for a quick look and for me to ask if they could supply us with large holly trees: they can't, but Chew Valley Trees can, and at a reasonable price too. (It's a 'last resort' contingency plan in case he causes any more damage. One or two of these behind the greenhouse would provide serious protection. That the shade they'd cast when they get bigger only allows moss to grow in their shadow is not my problem: I checked the bye-laws and one is permissible, at least!) I did find a little glass bauble for Ken to put his airplant in though, at £3.99, much cheaper than any others I've found, so picked one up.

The it was off to Almondsbury. The easiest route avoiding town is not that easy to memorise, so will have to give it a go once we have the car. Had a delicious lunch - bacon, Brie and cranberry panini, the best I've ever had there - then a slow wander (because hot) around. Found nice planters for my bamboo, and the washing basket with extendible legs I saw last time - so much easier that having to bend right down, which makes my back hurt (like this but fawn coloured and a lot cheaper!) It was so good to catch up on all the news too - really great day!

Over the weekend we repotted Rosa, shopped, tidied, and watched A Walk in the Clouds... It's nicely made, if very predictable, and Keanu is good in it, but it's hardly compulsive viewing. Pleasant enough to sit with while resting legs.

Phone call on Mon arranging police visit - 10 am on Friday...

Paul the builder came to measure the front to work out a price for the drive we want. It's a bit too pricey for us at the moment, but I reckon we'll have enough in a couple of months. In the meantime K&K have started levelling the raised grassy area to the left of the gate: they've removed the stone steps we had from the patio up to Kai's railway and levelled it into a much gentler slope - much easier for me to manage. Kai's using the turves and the rest of the soil for his project at the top of the garde: he's thinking of extending the railway, which will be fun!

So, yesterday, Friday 13th, usually a lucky day for me. Gareth the police officer arrived at 10.30 - half an hour late (he'd been at another 'incident' but the guy involved hadn't turned up). Was sympathetic and very helpful - but the police won't be able to press charges as, thanks to Kai's shady nook, which hides the greenhouse from the house pov, we didn't see who actually did the spraying (and BND says it was the lad he had helping him as due to his poor health he can't use the sprayer. Yeah, right. Ken took photos of him using it the following day). He couldn't say it wasn't his responsibility though, as even police could see it was deliberate. He has to arrange to have it cleaned.

It's not the outcome I'd hoped for, but it's a lot better than nothing, and at least proves I WILL NOT be bullied. I headed off to meet Ken from work to get a little shopping (hadn't decided on Fri and Sun dinners), and Ken suggested dinner at the Lodekka to save me having to cook. Between the stress and the heat I've had buggerall sleep this week. Rang Kai at home to let him know and get him to lock everywhere up, then Ken took the shopping back home while I went to reserve a table.

It was just after 4.30 pm, and not at all busy, so finding a nice seat in their 'conservatory' was easy: normally we'd avoid it in summer as it gets very hot, but we had clouds and rain - and thunder and lightning while we were shopping: wonderful! - and it was the coolest place in the building. And while waiting I scoured the menu and discovered a couple of new things: Friday is BOGOF day on burgers, (and I was fancying a burger too), and they have an informal 'over 60's club' (Mon-Fri Golden Years), with smaller portions (which I need as I just can't eat that much any more - between that and swimming I've lost half a stone in the last couple of months) at two courses for £4.99 (additional course for £1.50) which is really really good value! Shall give that a try next year...

They make up for it with their drinks though - £2.19 for a large diet Coke (and they only do large these days). I suppose that with less people drinking alcohol these days they have to recoup costs somehow.

K&K arrived - Kai had a double burger, I ordered a southern fried chicken, one of the tastiest burgers I've ever had, on BOGOF, and Ken had his usual fish and chips - and Kai told me that while I was gone, a woman came to the door and asked if it would be OK for 'them' to come round on Mon, 10.30 - 11, to clean the greenhouse. With hot soapy water.

...

Yeah, good luck with that. The first time he did this to my old greenhouse, it took me two hours of careful dabbing with nail varnish remover - the only thing I found that would remove it. It's not paint, it's coloured wood preservative, a completely different substance. So unless they've changed the formula, nothing else will work.

Will let you know what happens.

Dinner was very nice, most enjoyable. When we got back we watched Green Zone, which was interesting but a little too cerebral for me, knackered as I was. Will have to watch again when I'm more awake.

And so to today. I'm currently trying to get next!Poppy sorted, working on a small series of Animal Avatar articles that Soul and Spirit might be interested in (I've written for them before), and wrestling with a synopsis for a wip, Freedom of Flying Horses (not at all keen on title but it'll do for now), as a companion book to Wisdom of Unicorns. Not likely to ever be as popular, but I want to write it for my own satisfaction, so if a publisher is interested... we'll see.

And that's about it. Ken and I are planning to go to Hurrans tomorrow, via Pet@Home for crickets for Rosa and Halford for P plates. The hunt for the car is proceeding slowly: at the moment my instinct is to go with Motorzone (Tiley have some dreadful reviews), or see about another seller elsewhere in the city. But I liked Motorzone. Like the feel of the place and their attitude was great. Again, we'll see!

Time to put a DVD on - Wimbledon is about to start - again. Have had Lord of the Rings on in the background last couple of days: time for Return of the King!
Labels: Almondsbury Garden Centre, days out, films, garden