A day (well, a few hours at least) to myself! K&K have gone to Goblin Combe, to take a day out in the summer air without burning in this abominable heatwave thing we seem to be suffering. Honestly, a week and a half of 26 - 29 degree heat. I'm melting. And sleeping is almost impossible - especially when you're woken up at 4 am by caterwauling right outside the wide-open-because-HOT bedroom window. Well, obviously not right outside, the local cats haven't quite learned to levitate yet. But give it time, give it time...

So let's try a catch up.

First up, Kai passed all his exams, well enough, we think, that he can go on to take his M.Eng. Big relief.

The Summer Solstice came and went but we didn't do anything much. Hope everyone had a happy day anyway!

Decorating: the hall is half finished (took me three coats of gloss to cover the hall cupboard door, dammit, and I've yet to tackle the radiator, which means stripping off the old gloss first...) Problem is, I can't hold a paintbrush for more than about 10 minutes before the carpel tunnel starts making my hand go numb, and then it takes another fifteen minutes for me to exercise feeling back into it, so everything is slowed down to a snail's pace. Bloody frustrating. But I should have it all done by Yule - hopefully including the kitchen, which I'm dreading.

Garden: having to use hosepipe to water the fruit and veg - main waterbutt now only half full so I'm using that water for the greenhouse. Extra work, but it's quite fun. Everything is doing well in the beds - we're already eating fresh-picked mini munch cucumbers, blueberries, mange tout, sugarsnap peas and dwarf beans, which is all going down very nicely. And it looks like I'm going to have a wonderful plum harvest this year. Thursday afternoon Kai and I spent a bit of time cutting down and chopping the old (dead) ivy tree - I have a compost bag collection Tuesday so it can all go out then. Still have the 'trunk' to tackle (it's just a lattice of branches around what was a tree trunk before it rotted away) but some of them are quite thick: will need Ken or Kai to cut them.

Watching: Definitely, Maybe, which is a delight. Touch season 2, which is, as expected, a bit disappointing after the excellent season 1. GoodTwin found me Millennium (complete, all three seasons, 18 discs...) which I remember loving when we first saw it (ye gods, was that really 27 years ago? Ouch...) We've saving that for the autumn, I want to watch Starhunter next. I've also picked up Soylent Green and The Handmaid's Tale (the original film, not the current series, although I am considering getting the latter...) Both s-f classics at silly prices at Sains: seemed like a good idea at the time. And La La Land was half price at Tesco yesterday: picked it up to watch tomorrow afternoon, after Kai's venesection.

Swimming: 36 lengths once a week is now my norm - though limping home afterwards in this heat is no fun. Still, it's all downhill I suppose.

Criminal Damage/Harassment: had a phone call from the police on Monday evening, apologising for taking so long to get back to me. The case has been handed to the senior officer for this area, who is on leave atm, "because of who he [Wilson] is". Not entirely sure what that means, although we know he's used his 'position' as ex-police to bully and abuse other people too. Hope they aren't too long though, it's stressful going into the greenhouse every day and seeing the horrible mess he's made of the glass.

Last Friday: Lesson went very well indeed, even the infamous Hick's Gate roundabout - the cause of so many local learners failing their first test - twice. The second time from the Bath side, where there are currently no road markings... GoodTwin and Adrian arrived soon after I got back. After toasted sammijes for lunch we headed off to Bedminster on a car hunt. Checked out Tiley and Motorzone, sat in quite a lot of cars (and were able to dismiss ones that simply weren't comfy for both Kai and I) and came away with a shortlist of models we liked - Ford Fiesta, Suzuki Alto, Nissan Note and the Skoda Roomster, although I don't think we'll be going for that one, despite all the room. Have checked out insurance too, and our cheapest is with Aviva (where our pensions are) so will probably go for that (half the price of the next cheapest at confused.com). So it's all coming together, although we still need to go back and test drive a car or two. The ones we've seen so far have only been between 1 and 1.3 litre engines, and I think we need a 1.4 at least.

Oh, that reminds me! Finally found out what I've been taking refresher lessons in - a Renault Clio 1.5. Very nice car - may see if we can find one second hand...

And so to yesterday's lesson...

I asked if we could go tackle the Cumberland Basin, which is a confusing interchange down where Bedminster and the New Cut meets the River Avon.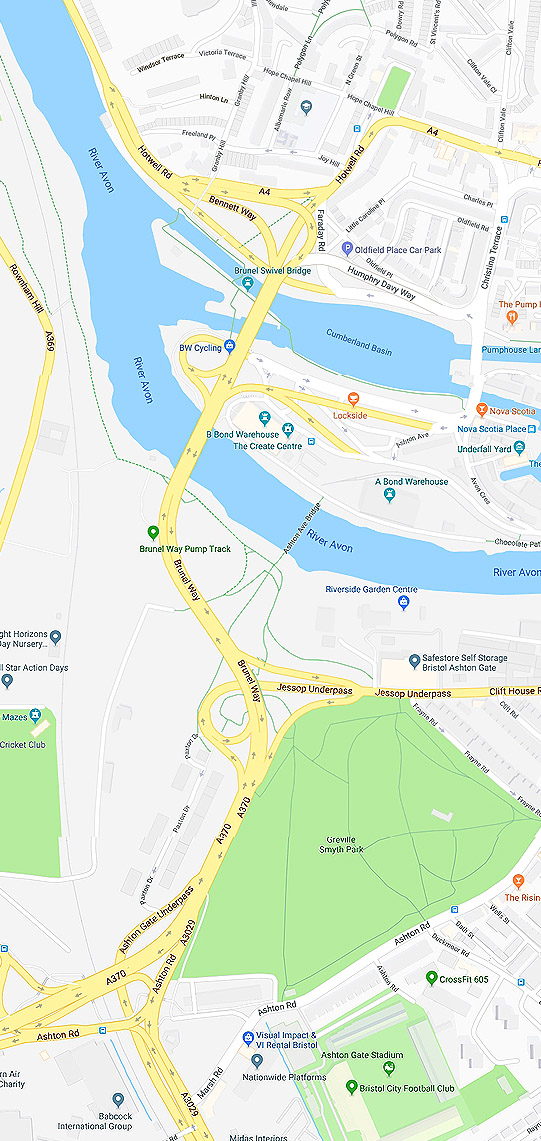 Stitched together from google maps - hope it's clear enough!
Traffic moves pretty fast here, and unless you know exactly where you're going it's very easy to take the wrong lane/exit. I've only ever been on it as a passenger, but it's the main route out of the city for half the places we want to get to, without going through the city centre, so I do need to learn it.

So off we set. Nice driver let me turn out of the crossroads at the top of our road into the Bath Rd. Traffic was crawling along by Totterdown Bridge and the Fingerpost: one lane of the roundabout over the first bridge was closed but that was OK: easy run along Coronation Rd, past the Riverside garden Centre: and then...

We got lost. Four times. Instructor didn't know the area either!

First we missed the Long Ashton turning, and ended up going around the turning near Barrow Gurney, back up on the dual carriageway, then over the basin and up along the Portway. To turn around to go back and try again he had me drive up the insanely steep and bendy road up the side of the Gorge, out through Clifton, and then around the horrible junction where Whiteladies Rd meets Clifton Down. Bloody Bristol drivers, no-one would pause for a second to let me out - instructor had to wave at one to get him to be courteous. Then it was back down the gorge road, back across the bridge, around to the right and then... not quite the road I was after but it worked out OK as we ended up heading to Long Ashton. Halfway through the village we turned to retrace our path - by creeping down a country lane so narrow the bushes on either side brushed the car...

My exclamation of "Ah! Pavement! Civilisation!!" when we reached the bottom made him chuckle.

Then it was a hill start on a steep hill at a give way sign on a blind corner - with a large VW van far too close behind me. Didn't quite stall, but the car rolled back, only a couple of inches but it was enough for the driver behind to move smartly back a few feet, which made it a tad less stressful.

So - out of Long Ashton and back to the interchange. Managed the one way nearly circular turn there - then took the wrong exit again, so we ended up going back over the bridge and up the Portway a second time. This time we drove further: it's a 50mph limit along there so I was able to get into 5th gear. (Heh. Never had a fifth gear on the old car and I nearly went into reverse - recovered quickly but I won't be doing that again!).

It's actually a nice stretch of road, along the river, fairly straight, not too much traffic. A bit before Shirehampton I was thirsty, so we turned right at the junction that leads to the Almondsbury Garden Centre, then right again into a residential area and pulled up correctly between driveways and with nothing parked opposite - which was just as well as I'd no sooner opened my coke when a bus came trundling by!

Couple of mins later we headed off again, took a right turn that we found, seconds later, was a dead end. So that was me reversing into someone's drive to turn round and retrace our steps...

Back on the Portway, over the bridge again, and I finally managed to get onto the road I wanted, that leads past the Ashton Gate Football Stadium and through the Bedminster industrial estate, round several mini-roundabouts, up the hill (where the traffic lights turned red before I reached the junction, another fun hill start), down past where Kim Lives - and then I missed the turning into St John's Lane...

[headdesk] So we drove on a few yards and turned left into a tiny narrow street with cars parked both sides and I'd guess about two foot clearance on either side. Oh joy. The idiot stepping out without looking didn't help either. But then it was a right turn back onto familiar territory, navigating past cars pulling out unexpectedly, a school just turning out for lunch, and the Malago Brook junction, which isn't difficult but I was a bit frazzled by then.

And then I missed the turn off to Talbot Hill that I had planned to take, and ended up at the bottom of the Wells Rd instead. More hill starts at traffic lights, more cars parked on the road, and I had to pull into a bus stop to get out of the way of a fire engine racing down the road, all sirens blazing. After that, coming down the other side of Talbot Hill and along to home was a doddle.

That was pretty much every driving situation you can get into in the UK, all packed into 2 hours (well, OK, barring getting stuck behind a tractor for miles, ending up stuck in the middle of a stream, or navigating the city centre), and the instructor was very pleased indeed. Said yes, I really am a good driver, did incredibly well, and am now absolutely fine to be let loose on the roads. (I was from two lessons back but Friday definitively confirmed it.)

And the daft thing is, I thoroughly enjoyed it! I think it was the challenge. We all know I like a challenge. Wonderful boost to the self-confidence too. Now itching to get the car and start taking everyone out.

Which reminds me - must ring Paul the builder and get a quote for the planned drive...

Later folks!
Labels: decorating, driving, exams, films, garden