Right. [rubs hands together and cracks knuckles] Let's try to get this written before Kai wakes up...

First, while I remember, Kai fixed my computer speaker for me (GoodTwin and Sue may remember the plug thingie on the master speaker broke off when they were here last). The pair of speakers are ancient - decades before USB speakers appeared on the scene - but really really good. The volume on them is window-rattlingly loud at just half-mast... Anyway, Kai handed it to me with a grin and said I shouldn't nag him about his boxes full of old computer bits any more, as he found the replacement plug amongst them. (I promised I wouldn't - not that I did much, anyway - but asked him to try to keep them tidy...)

It's wonderful to have music again!

Last post Lutra commented - "First the tetra of immortality, now the everlasting orchid... I'm detecting a theme!" Well, it gets odder. Every time we've had workmen come in the last year and a half, their partners have either just had babies, or are about to. Tom the plumber, Steve and boss's son the Crystal Clear window installers, even the guy who came to fix the fridge freezer!

Gravity goes a bit strange in this house too, occasionally, especially in the greenhouse. I usually start the salad leaves off there, and bring them into the house when they're big enough to use...

Didn't quite work last time!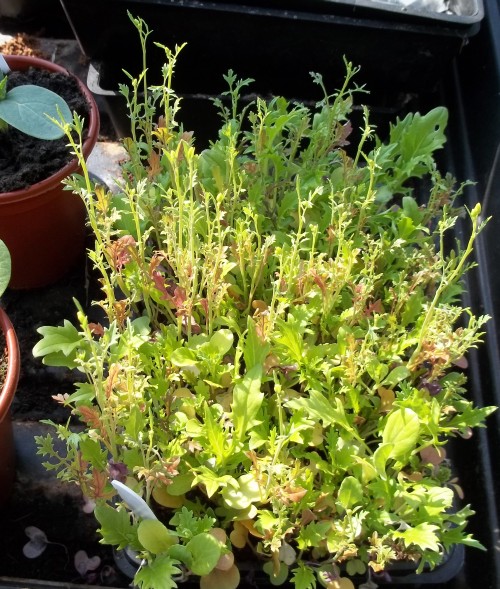 Greenhouse, last sowing.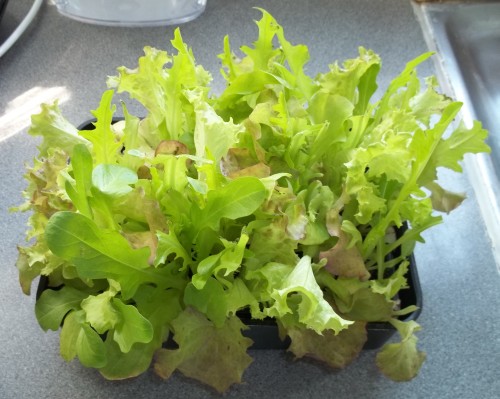 What they should look like (although this is only half the usual amount as the rest has been used in sandwiches etc.)
(The recipe for the Japanese pickles is at the end of this post, btw.)

We seem to have a (semi)resident fox... Back in March, after the snow had melted, I saw something moving in the garden. At first I thought it was another cat - but Tyjer was sitting watching it rather than attacking, so I looked a little closer. It was a very poorly fox, all the fur gone from its tail and left shoulder and limping badly...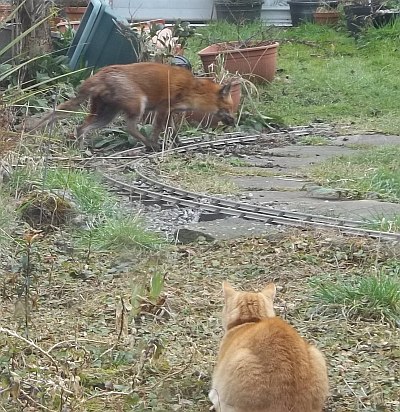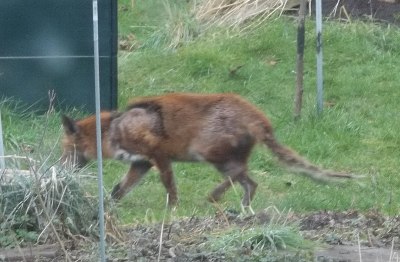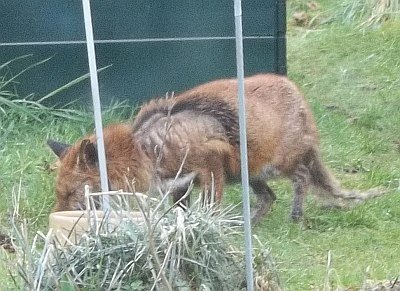 I rang the RSPCA, who asked if it was mobile (which it was, if only just: they can't do anything if it's still walking around) and said could we try feeding it for a few days to see if it improved. We keep dog food in anyway, to put out for the foxes when the weather is really bad, so we gave it a go. Fox visited every lunchtime for five days, obviously improving, ears perking up and the limp getting better, then stopped coming. We thought that either it was self-sufficient now, or had died (we didn't know what had caused all the fur loss: it could have been from an accident, maybe with a car?, or mange, which we know can be deadly.)

Then last week Ken said he'd seen a fox wander down through the garden. That's not unusual, but this wasn't the usual fox, who we recognise because he is a magnificent specimen, big, strong and with a bushy full tail. Then on Friday last Kai went out to fill the bird feeders at the top of the garden, only to see a fox lying in a sunny spot up behind the privet he has planted at the edge of the new meadow. It saw him and slunk away through the damaged fence panel - but it was there the next day too, and he got a better look. If it is our poorly fox, it's made a full recovery, although its tail fur still hasn't quite regrown completely. And the hole in the ground in the new meadow is a lot bigger than it used to be... We put some food out for it, which vanished fairly quickly.

Kind of tickled that it feels safe enough to use the garden in daylight!

So, quick run-down of last week.

Mon: major shop at Wilko for me - paint, wall hooks to hang up the mower, pair of telescopic grass shears that I can use without bending over - and Kai said the exam wasn't too bad.

Tues: Kai's second exam, also not too bad, he thinks/hopes. I couldn't go swimming as the end of Hampstead road was closed for roadworks (like half the bloody city at the moment) Tues and Wed (and in fact was still closed to traffic on Thurs...) Spent much of the day getting ready for the window installers, shifting stuff away from the windows as best we could. Watched Kingsman: the Golden Circle in the evening, and thoroughly enjoyed it.

Wed: Crystal Clear arrived at 9... There followed an extraordinary amount of noise, drilling, sawing, and kicking down the kitchen door as I couldn't find the old key!

They actually got the windows completely in on Wed, and just had to finish off tidying up on the Thurs.

It all looks fantastic - and it's so quiet. And warm - the temperature is the same right the way through the house now, so much better than having to go out of a warm room into a cold one (no more ill-fitting Critalls windows that we couldn't even close properly). Not to mention the security aspect! We've waited 25 years to get it done, but it's been worth it.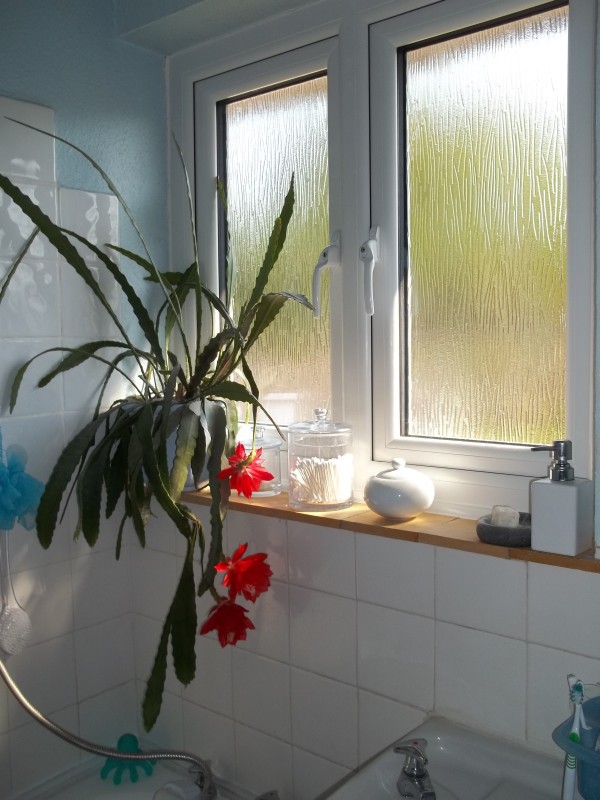 Fri: young Will came to install the stair rail - it's lovely pine, so is wonderfully in keeping with the natural unpainted look we're aiming for for the wooden fittings in the house. And it makes getting up and down the stairs so much easier.

Sat: I started painting in the kitchen while Ken bought and sawed the wood for the shelves I wanted across the new panel that's replaced the old kitchen door. Great big non-opening window for my indoor food plants!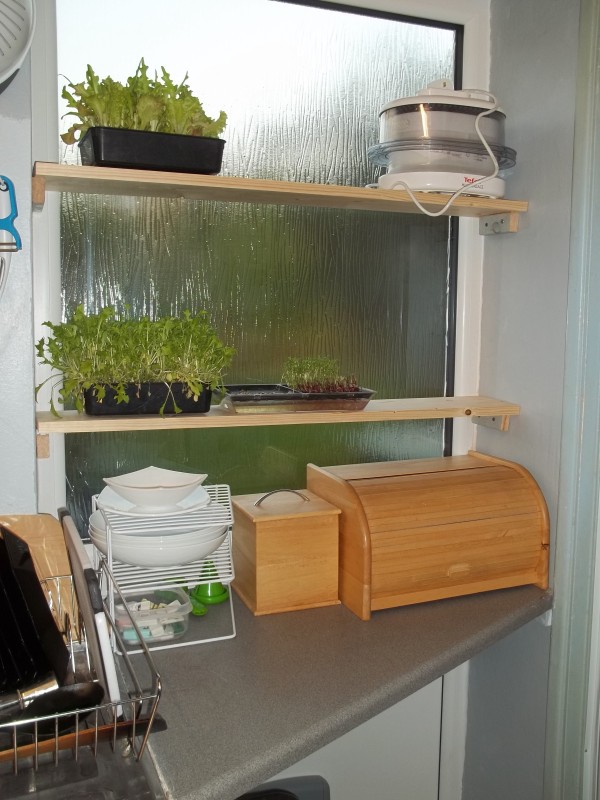 Sun: shopping and chilling. And finishing watching Stan Lee's Lucky Man season 2 - great stuff. Waiting now for season 3...

Other bits of news... Driving lesson on Thurs went OK, though I was very tired and had to cut it short after just over an hour as I was losing focus and (obviously) didn't want to cause an accident. Next lesson is tomorrow, 4 - 6 (rush hour, oh joy... Still, I have to do it sometime so why not now...)

Dr has given me new meds to see if they help with the pain in my back, hips and legs - amitriptyline, which confused me as it's primarily an anti-depressant, but also used in neuropathic conditions, which is what I have. Felt positively dopey when waking the first week: that's now eased off, but the pain is worse. Though apparently it takes 4 - 6 weeks for it to start working, so hopefully the effects will kick in in a week or so. Fingers crossed.

We have a Wecare technician coming at 1, with a contractor, to give us a price for replacing our downpipe with a new one. The old is asbestos and came with the house: about 12 years ago it developed a hole - which we patched up with butyl rubber and superglue (Blue Peter fans, anyone?) - then a leak, which we treated the same. It's done well since then, but now it's got rather beyond us and is a health risk: we really need it replaced. I'm dreading the cost, but it needs to be done. More later.

Go read Jonathan Day's Enlightenment. It had me LOLing loud enough to wake the neighbours!

Lastly, I've treated myself to four films going really cheaply (like, 1p and 50p) on amazon and ebay - Buried (because I like Ryan Reynolds, although I know I'm going to find the film claustrophobic), and - because Keanu Reeves is my guilty pleasure - Little Buddha, A Walk in the Clouds, and Dangerous Liaisons, an early film in which he only has a smallish role (I think?), but having recently watched the Korean version of this classic, I thought I'd get an English one as well...

And that's the most of the news! Later, all...

Japanese pickles (From the Curry recipe collection by Sainsbury's (p. 42, no ISBN number that I can find) - a great find in a charity shop!)


50mls rice wine vinegar
1 tbsp caster sugar
1/2 a cucumber, halved, deseeded and sliced thinly
1 carrot, peeled and sliced into thin ribbons
75g radishes, trimmed, thinly sliced
2cm piece of fresh ginger, peeled and very thinly sliced


Bring vinegar, sugar and 1 tbsp water to the boil and simmer gently until the sugar has dissolved. Put the veg in a bowl and pour over the liquid, stir well and leave to cool, then cover and chill in the fridge.
Delicious, but it doesn't keep for very long without the veg going limp. Not that it stays around for long here, I love it!
Tyjer on the back of my recliner...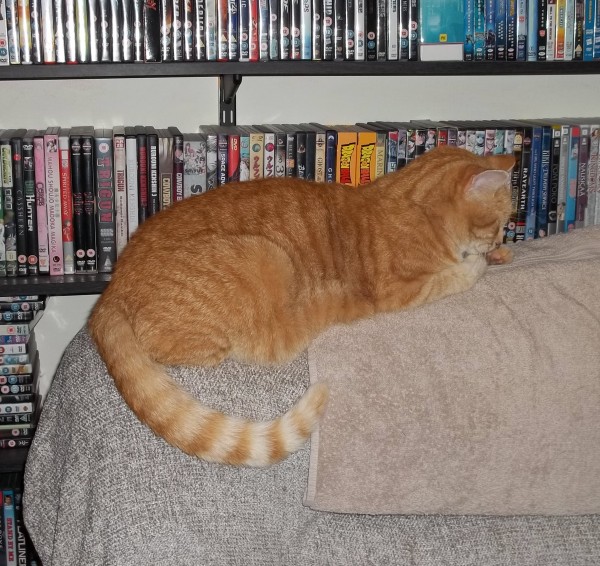 Labels: busyness, cooking, decorating, drama, driving, films, foxes, garden, hardware, Kai, medical matters, Tyjer
How did I ever have time to update every day?...

I declare this the Year of the Radish (in this house, anyway...)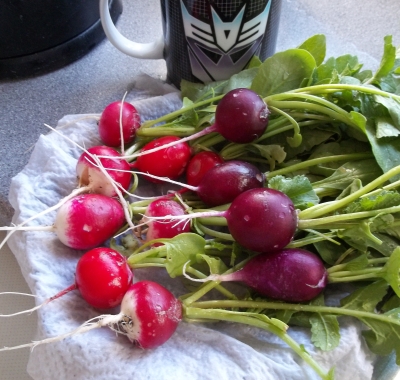 First pick, to thin them out rather than anything else. I did say everything is hurrying to catch up after the snowy start to the spring...

Shall be making some Japanese pickles later (radish, carrot and cucumber in a mirin and white wine vinegar and sugar syrup).

So, what's been happening?

Watching... Kai had said he'd heard good things about Stan Lee's Lucky Man: found a copy cheap on amazon so bought it. It's actually rather good - we found ourselves watching at least two eps a night, and liked it enough to order the second season (it's a speedy watch, only 10 x 45 minute eps per season so easily done). I also found The Café on the Ioffer site (specialises in TV films/series' that never got officially released - I've bought from them before and found them pretty good). This one isn't perfect - the season 2 second disc stalls in a couple of places - but most of it is fine, and most enjoyable. I picked up Kingsman: the Golden Circle cheaply, but we had to watch Kingsman: Secret Service first, as Kai hadn't seen it. Did that last night and loved it!

In the house... I now have an over-the-bath seat, and this morning young Will from the council fitted the bath grab rail and the curved rail on the newel post at the top of the stairs (he's coming back to fit the stair rail asap). I've started redecorating the stairwell and hall (we're going for cream and gold - or possibly moss green - this time): most of it will be done once the last of the windows have been replaced (Wed and Thurs this week). Ken has started stripping the six or so layers of paint off the banisters - the wood underneath seems to be a mix of pine and possibly oak - rather nice and beautifully grained. Kai has said he'll carry on stripping the paint off the main rail this summer: once it's all finished it will look pretty good.

My everlasting orchid is doing its thing again...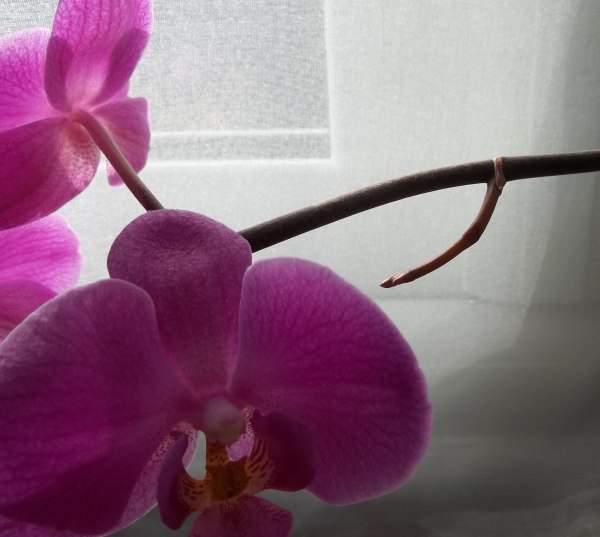 Yes, that's another flower spike coming off the current flower spike...

Kai's had his two vivas and sits his first (of four) exams this afternoon. Not looking forward to it, but he's studied hard and just has to pass it, so fingers crossed. This is the one he's most worried about, so we'll be glad when it's over. He has another tricky one tomorrow but again, has done a lot of work towards it. His last two are next Thurs and Fri - then he's on summer break. Until October. We have a lot of things planned for the summer...

In the garden... Everything is going well. Most of my seeds have sprouted now, and some sweetcorn is ready to be planted out (sprouting's been uneven this year). The tomatoes and peppers have started flowering in the greenhouse, and - a small miracle - the spindle tree seeds that I planted two years ago have now sprouted. I've repotted them in compost mixed with chalk dust (from GoodTwin's Salisbury Plain chunks of chalk from a very long time ago - I still have a fair number left!) Mum T wants one, Kai another, the third will probably go into the front garden. They can grow very big though...

Kai had a go at using the lawn mower - and it packed up, blowing the fuses in the shed as it did so. Not his fault, it's a mechanical fault somewhere. We've bought a Flymo instead - lighter and easier to use!

There's more - there always is - but that's the most memorable (for me). Later!
First refresher driving lesson 11 - 1 today. Instructor is young (late 20s, I'd guess) even-tempered and patient - pretty much perfect. Drove us to Knowle then swapped seats and went through all the car controls - quite a few of which I'd never seen before (well, the Petal was old in 1986: things have come on a bit since then. Love the customisation!) Once I knew what everything did, he let me take over...

Knowle is lots of small quiet residential streets, cars parked half on pavements on both sides of the road, several mini-roundabouts and lots of turnings - pretty good place for a first refresher...

Quite surprised myself. My clutch control is not at all bad given the 25 years since I last drove (used to be excellent so I expect to get back to that level quickly): observation also pretty good (though needs some work as I'm not used to using both wing mirrors), and general handling of the car is surprisingly good too.

And then I turned sharp left into a small side road, just over a speed bump, with someone driving a bit too close behind me for comfort, and a cyclist (teen, no helmet) in the middle of the road I was turning into. Veered too close to the kerb...

And punctured the sidewall of the front nearside tyre.

[HeadddeskheaddeskHEADDESK]

Ooops.

[sigh]. Obviously this is why the lessons are so expensive, to cover insurance for damage. He was OK though - said I'd actually done very well, all things considered, and was happy to book another lesson for the week after next (and will make up the half an hour we had to call short, as the car wasn't safely driveable after I broke it). He also rang for a taxi for me to get home, which was very good of him.

So, not an unqualified success, but much better than I anticipated, and more importantly, I enjoyed it. Going to take it slowly, see how I do next lesson then book another, as I need to try driving in town (which I always hated) even though we'll mostly be using the car for countryside trips and occasional shopping (and I know all the routes around Bristol to avoid the centre. But just in case of emergencies I need to be able to navigate around the city centre, oh joy). Kai has exams this month, so we're going to start car-hunting early June in the hopes we'll have the car by the middle of the month. Once we have it I can apply for my Blue Badge, and ask how I go about organising a disabled parking bay to be painted outside the house (because we can't afford the hard standing until end of this year/beginning of next at the moment.) And we can start having fun days out!

All quite exciting!

In other news...

Ken and I bussed to Hurrans last Sunday, to pick up a trough and some more seeds. I've started clearing the grass away from the patio area (we want to get rid of as much as possible: Ken hates mowing, and although Kai has offered to take over, it would be easiest if he just mowed the bits he wants to keep - which is NOT the patio or my growing area up by the raised beds and greenhouse...) and set up the trough and newly cleared manhole cover -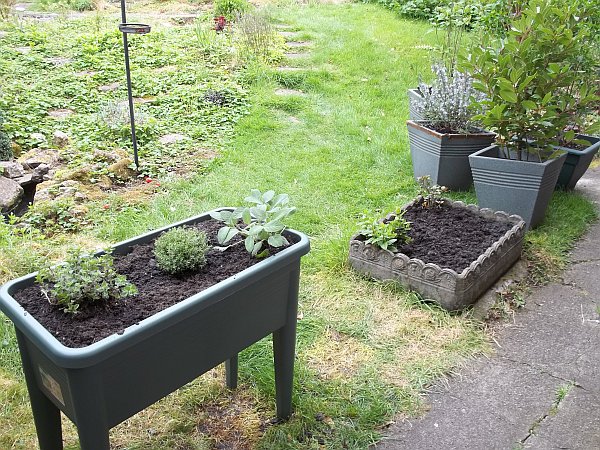 In the trough are oregano (transplanted - and much happier for it - from a tub up by the greenhouse), thyme and sage from Hurrans, with garden mint (nearer) and chocolate mint (further - tastes like After 8s) in the manhole cover (there's chives and rocket seeds there too, as yet unsprouted). My potted bay tree and rosemary - far right - aren't in the right places yet: once the grass is dead we plan to put down artificial grass (or stone slabs if we can afford it this year) and add another trough or tubs with other herbs (I've started using them more in cooking so it makes sense to have them all close to the house). It's coming along nicely. Oh, and the bamboo? FULL of happily sprouting new leaves! Now looking for larger, prettier tubs for it, with room for a base support so I can get it growing a little more upwards rather than out.

And because she loves my garden, here's a current panorama from the patio for Lutra.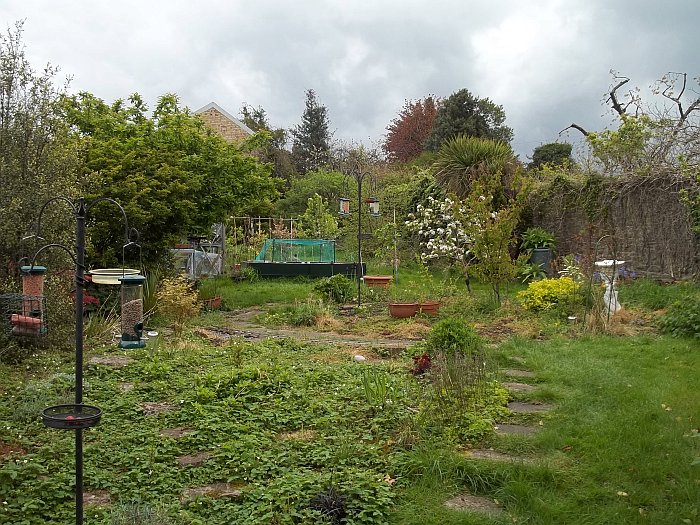 As you can see, there's now netting on the higher bed, as my mange tout and dwarf beans are sprouting. (Actually, so is everything else: two different sorts of onions, three of carrots, three radish varieties and a row of spring onions). Everything's trying to make up for lost time...

Watching: we finally finished House. All 176 eps of it. Never again.

Next up is Starhunter, then Touch, but we probably won't be starting until next week: tonight the next ep of Marvel's Runaways is on, followed by the first two eps of Siren (what can I say, I love mermaids...) And with the weather suddenly improving, I think we plan to spend as much time outside as we can, although on Sat, while K&K are out exploring woods at Portbury, I will be starting the hall/stairwell/landing repaint, as we're having a secondary banister put in opposite the one that came with the house to make it easier for me to get up and down the stairs, and I need to paint the wall before it goes in. Had the over the bath seat delivered now and it's brilliant!.

Hm. Anything else? I think that's it for now. Off for a lie-down I think - the driving was quite tiring!
Labels: drama, driving, garden, gardening, nothing's ever easy 'round here...