First, a recommendation. Dive over to The Jonathan Day Fiction Site and try some of the stories. I love this author's writing - it's funny, bitingly witty, dryly incisive and deliciously subversive by turns. And free fiction? What's not to love?

Go check them out, but bear in mind they may be addictive, as I suddenly found at 3 am when I had to get up early the next day and had to make myself stop reading.

Onto the garden...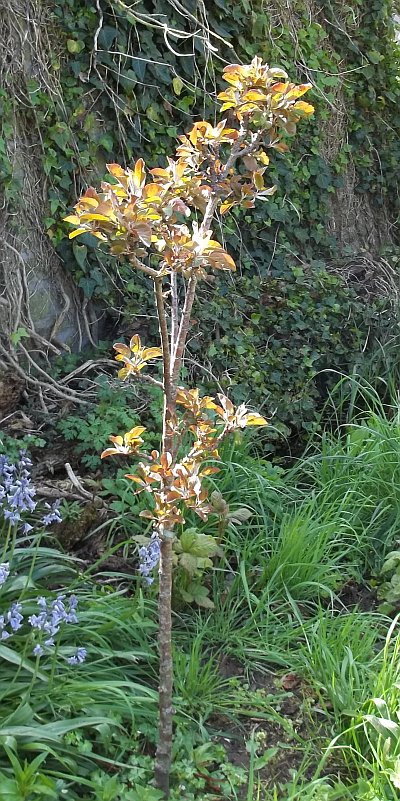 Sue's little Valentine apple tree! Not sure if it will fruit this year, but it's looking very happy and has settled in nicely.
Tulips...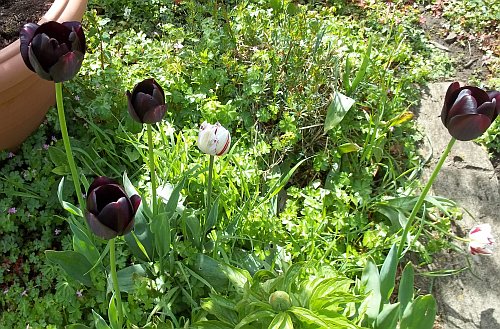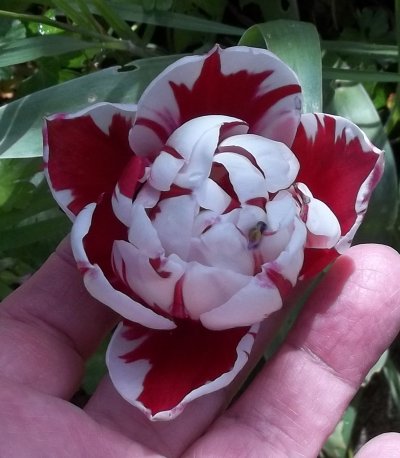 Watched: Tiny Robots, which is 45 minutes of my life I want back. It's dire. The Opera Australia version of The Mikado, which was a blast (although some of the politicised verses were a bit beyond us...). Pathfinder, which is so-so. And Kai and I are now on season 8 (the last one) of House. It's now a matter of gritting teeth and finishing the course, as I absolutely loathe the character.

May is going to be extra busy: Kai has exams, I have drs appts (hoping to try to persuade her to book me for another steroid injection in my right hip - fingers crossed) and people coming to fit grab rails around the house (and a slatted seat over the bath so I can get in and out safely to shower), and Ken has a week off now and is hoping to get out and about a little. And of course there's the garden every day too. Well, it's all good exercise! (Which reminds me, swam 24 lengths at the pool last week and didn't suffer too much the following day, which is good news!)

Off to make lunch - sossij and Puy lentil soup as it's ridiculously cold today.
Labels: films, garden, medical matters
Just a quick one.

With the warmer weather the garden and greenhouse have exploded. My seedlings seem to have doubled in size every time I check them (the first climbing beans - only planted in peat pots last week - need planting out today and I haven't finished the framework for them yet!) Radishes, spring onions, and even the first carrots have sprouted in the higher raised bed, and the bamboo seems to be recovering well, although it's a bit early to be completely sure. We have a pair of long tailed tits now regularly visiting the patio feeder: they are so cute. They take a fruit suet nugget in their beak, flit to the physocarpus, hang upside down from one of the thicker branches, then take the nugget into a claw and delicately eat it in little nips.

Sue's amelanchier!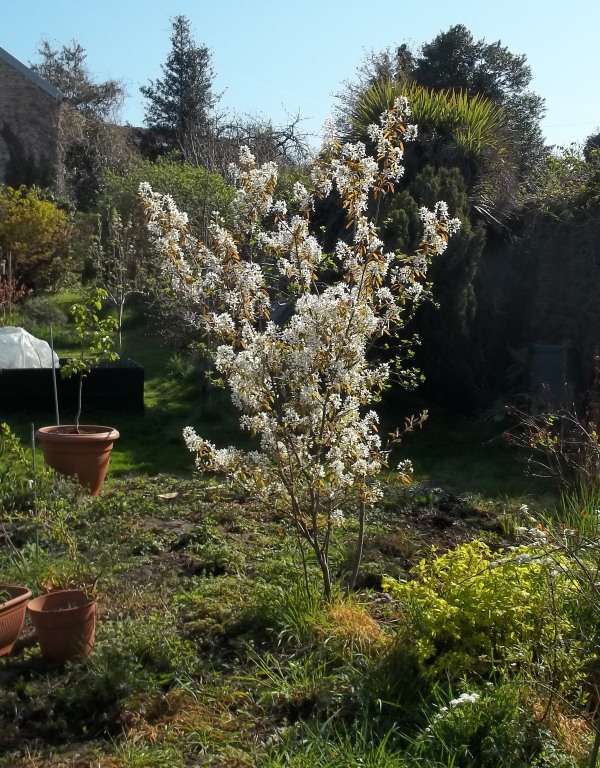 Beautiful little tree. (Your valentine apple tree is coming on well too, but the leaves start out red and don't photograph well against the wall backdrop. Will try later.)

Watched THX 1138. I saw it first at uni Film Club, but rather to my surprise remembered practically none of it. It's pretty good, though will never be a favourite. Kai enjoyed it though. He also really enjoyed Split, which I found extra cheap at Tesco and bought because of McAvoy, who is a very fine actor. And he was excellent in this too - but I hadn't noticed it's a Shyamalan directed film. I don't like his films. They all start off really well, but have horribly anti-climactic and/or stupidly unbelievable ends. This was, alas, no exception.

But that's just my opinion. Hundreds of thousands of people disagree.

Time to get started on the garden!
Ooops I did it again...

[sigh] Catch-up...

Easter weekend with Bank Holiday Mon was relaxed. I actually bought us chocolate eggs this year (well, Tesco had a salted caramel one and I couldn't have that for myself without K&K having their own, could I?!) Watched films, continues with House, got a little gardening done (everything is coming along splendidly in the greenhouse) - that sort of thing.

On Mon evening we had the fun of dragging the old sofa out for collection the next day. I'm keeping the cushions, one armrest and one back in case the other sofa ones get damaged.

Tues - I think this was the day Kim and I went to Almondsbury. I'd planned to pick up the conifer I saw last time we went (to go in the front garden to add to the screen so next door can't peer into my house) but they didn't have any. Damn. Oh well, next time...

Wednesday caught the morning over 50's swim (the first bus gets there a bit early, so shopped at Broadwalk first), but I was aching so only managed ten pool lengths. But that's not too bad really. Walking back wasn't fun though. Have made a dr's appt for beginning of next month.

Spent the rest of the week doing the usual, I believe, as I can't remember anything specific. Kai and I still ploughing on with House (seasons 7 and 8 have now arrived).

Mon was chasing around to find out info about replacing the downpipe, as our patchy repairs are now failing and the whole thing needs replacing. But it's most likely asbestos. The local tip will take smallish amounts of asbestos, and apparently if you play water over it while breaking it up it kills the dust and minimises the danger, but it's a lot of work. However, Wecare believe they can help: am waiting to hear back from them. Also arranged for Andrew of Crystal Clear to come round tomorrow as we're now in a position to get the rest of the windows (and the kitchen door) replaced.

Windows sorted: after dinner watched Star Wars: the Last Jedi... Kai loved it, I was less impressed, although at least in this ep there was no deathstar (although as Kai pointed out, the cannon took its place). Great acting, and it's wonderful to finally have powerful female characters, but the story was disappointing (for me, at any rate. Then again, as I've said before, I've seen so much it's not that easy to impress me any more!)

Had to miss swimming Tues and Wed as my stomach was upset. Took it easy for a couple of days (well, as easy as I ever do...)

Sat - planting, and tidying up for window surveyor's visit. The garden is looking pretty good at the moment, the delayed spring is now in full flower...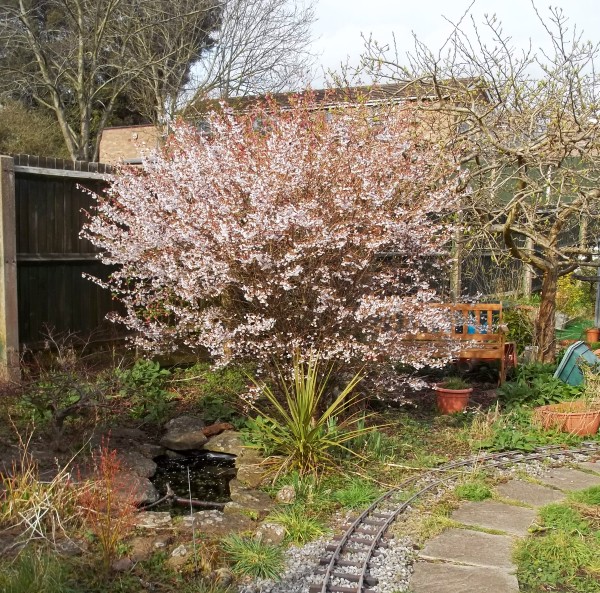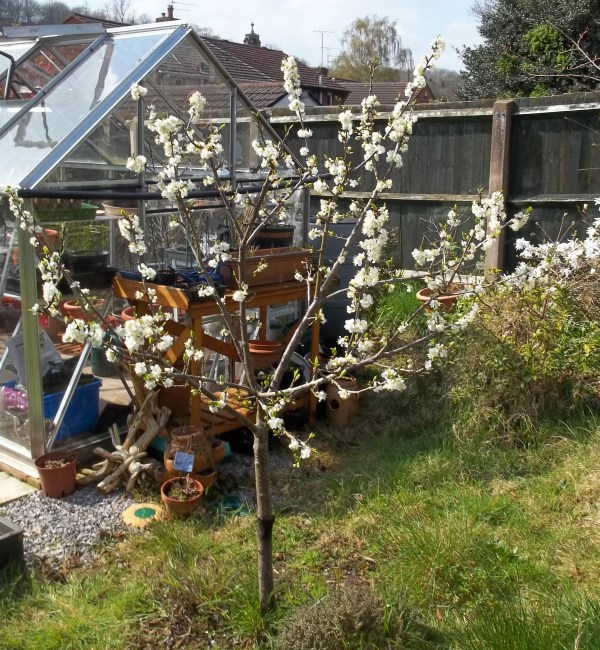 My plum tree! Hoping for a good harvest this year...
Yesterday the weather was gorgeous, and K&K decided to go to Wells to check out the charity and antique shops. They arrived back ten minutes later with their arms full of bamboo plants that the house on the corner at the end of the road had dug up and were getting rid of, and were happy for them to be taken away... Not sure if I mentioned, but I've been looking for sensibly priced bamboo to grow in pots outside the patio doors to hide that ugly monstrosity of a fence, but up to now they've been too expensive and too small. Now -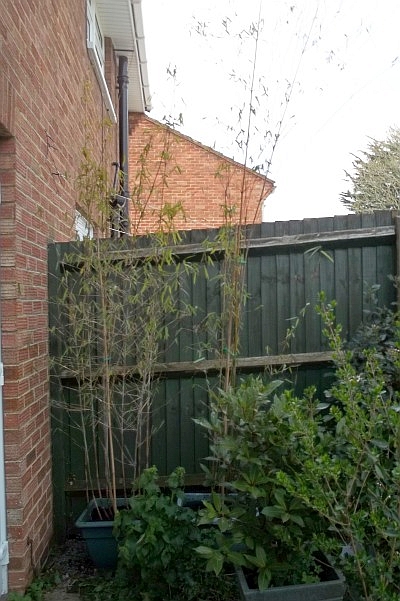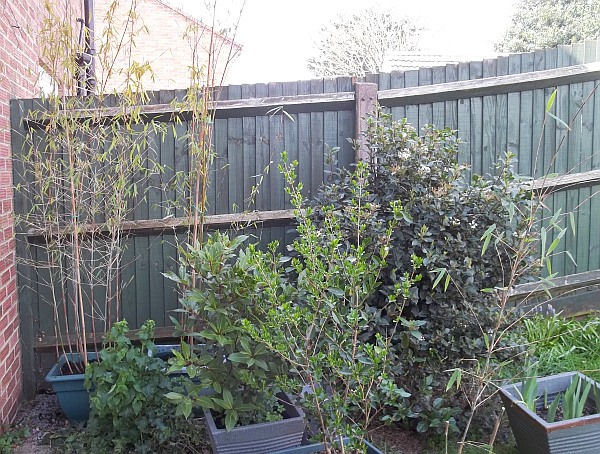 [grin] Rather pleased about that! When they've recovered and thickened up a little they'll completely hide the fence.

We have plans for the patio area: aiming to make a small potted-plant-screened little 'courtyard' (which will hopefully stop Tyjer going bonkers every time anything moves out there). Photos whenif it happens.

Window surveyor will be here at lunchtime to measure up, and we've decided what patterns we want on the glass for the door panel, bathroom and hall. Suppose I'd better clear the bathroom windowsill!

Oh, last thing... Remember my adorable little colletes hederae stingless bees from September 2015? Remember next door attacked the ones on his side, first with a sulphur gun then with a flamethrower? And then covered the bare earth with sheets of black rubber? He took them up a couple of weeks ago, and now he has this...


Foxes. Heh. Should probably have stuck with the bees!