... and has photos...

Catchup time again!

Wed.... what happened last Wed...? Usual shopping etc I think.

Thurs. Uh... um... gah! Really must write up blog more often!

Fri - usual shopping and house stuff in the morning, Maplins in the afternoon. This wonderful chain is closing down, and having an up to 70% sale. Came back with a whole heap of treasures! (Well, Kai did! Though I found a lightweight telescopic window cleaner perfect for the greenhouse, and magnetic L plates and a tyre pressure gauge and tread depth set from Halfords next door, and later in the week found a sturdy footpump and spray de-icer at Wilko. That's my car kit started! Still need a lockable petrol cap and a steering wheel lock (visible deterrent more than anything) and spare bulbs, though won't get those 'til we know which car we're getting.) Halfords also sell a 3-bike rack which fits most hatchbacks, for a very reasonable £59: Kai and I were wondering if we can persuade Ken to get a bike... Then after dinner it was Sucker Punch, which I found for 49p at Broadwalk. Extraordinary film, surreal in places, gorgeous cinematography. Need to watch it again, I think...

Sat - took a day off for a mammoth film fest. Robot and Frank - an unusual, subtle and complex little film, well deserving its IMDb rating - then The Adventures of Buckaroo Banzai Across the Eighth Dimension, which Kai had never seen (and Ken and I hadn't watched since before he was born), which was most enjoyable! Later it was more House for Kai and I.

Sun - planted out my tomato seedlings in the greenhouse (just in time for the cold snap forecast for next week. Glad I bought cloches end of last year!) Glorious sunshine: K&K went for a walk. I hung the washing out for the first time this year (and it mostly dried!)

Monday - K&K were off to Torquay for mum T's birthday (it was on Sat but train tickets on Saturdays are three times the price they are during the week). I've begged off: at the moment sitting down for any length of time is very painful for the legs. We're hoping to all go down again later in the year - possibly by car.

I read my birthday present Lady Killer in bed (that's a treat these days!) It's good, but I didn't enjoy it enough to want to collect them. Well worth a look though. Shopped in the morning, and found the perfect recliner at the Furniture Shop down the road, on the way to Sains. (Been pricing these up as sitting with legs up on the sofa makes the sciatica worse: sofa is a tiny bit too short for it to be comfortable. Problem is most of them have the back lower as the leg part rises, and that's not what I want.) Furniture Shop one is a Kinman, £250 (originally £600ish, according to the guy in the shop), and felt wonderful. Needed to check the finances and get Ken's opinion, so said I'd be back.

In the afternoon treated myself to Wild Zero (link full of spoilers so if you ever plan to watch the film, don't click!)...

It's hysterically bad. Plan 9 and Santa Clause conquers the Martians bad. But hysterically daft with it. I mean, the baddie wears very tight, very short shorts that lace up the side, ankle boots and dreadful wigs. (... nice legs though, and he's actually quite convincing when he isn't talking...) Guitar Wolf rides a bike with flames shooting out of the exhaust (and out of his microphone when he... sings may not be quite the right word...) Bass Wolf and Drum Wolf spend most of their time combing their greased back quiffs. And one of the zombies seems to think she's supposed to be a baglady and roots through bins instead of attacking the living...

It's insane, completely bonkers, and is absolutely screaming out for fanfic (there isn't any, of course). I couldn't recommend it, but I thoroughly enjoyed it once I got over the initial '... wut??...'.

Tues - deliveries, swimming in the afternoon (20 lengths. While I was there the delivery note for Megatron arrived - more below), then I went back to buy the recliner, which was delivered at 6.10 that evening. Absolute bliss!

On Wed Wendy visited for the day. I met her from the train station after picking up a few things from the Wed Market. Lovely relaxed day, with The Hobbit trilogy on in the background, as she hadn't seen it. Great day!

Thursday was supposed to be a quiet day, but I had to go and ransom Megatron (£24.16 for import duty) from the delivery office.

He was not very happy with me making him wait...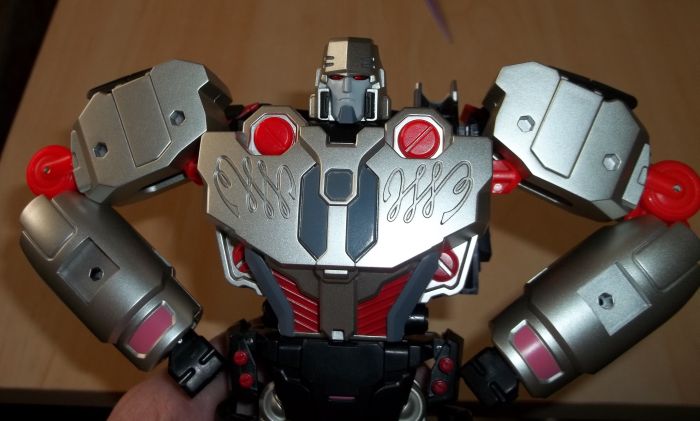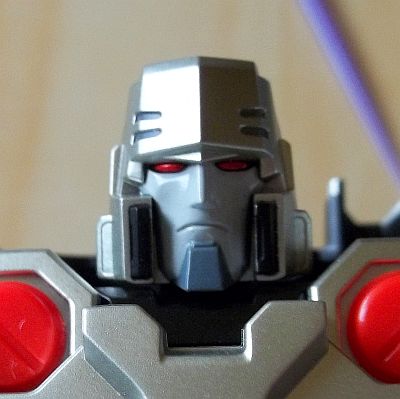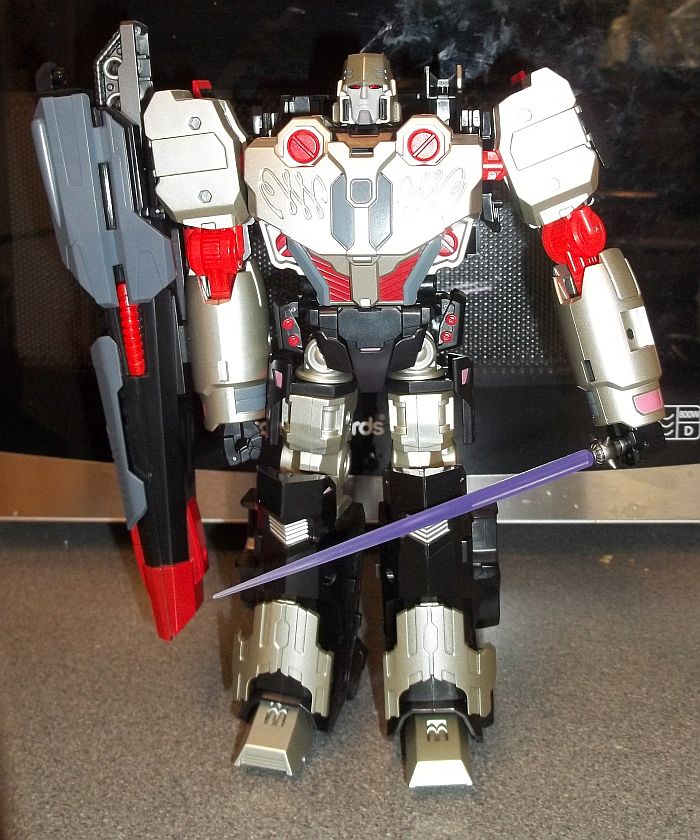 This is the end of the fusion cannon you don't want to be at...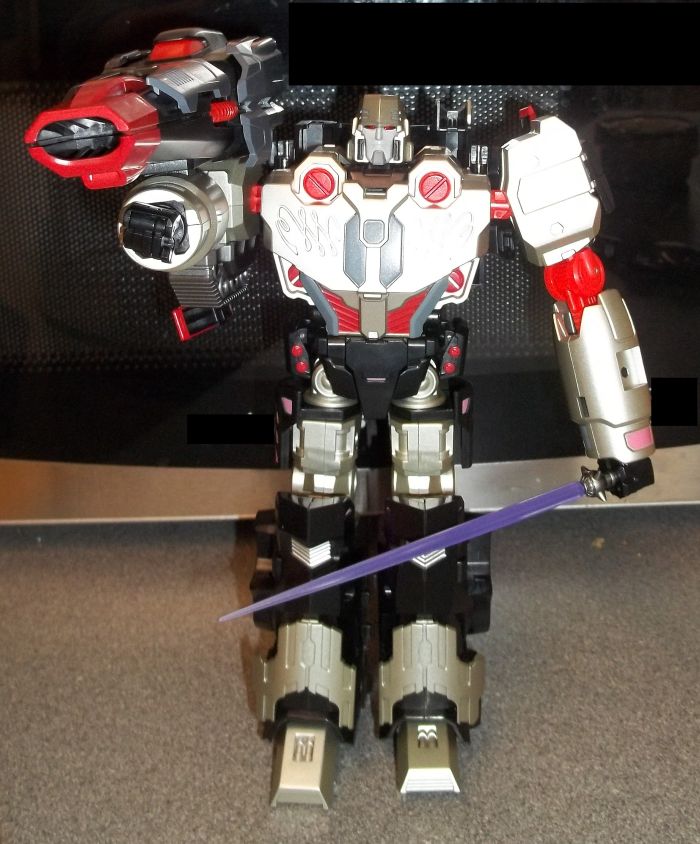 Gorgeous gorgeous quality. I am very happy.

Caught the no 2 bus up the Wells Rd on the way back to pick up my glasses from SpecSavers at Broadwalk (they're absolutely fine now) and found this in St Pete's Hospice...


It's a rather stylish shark (I think) bottle opener. But it's the other side that made me have to have it.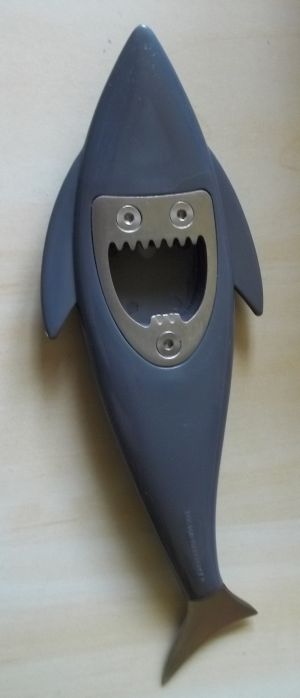 That's either the happiest - if manic - shark ever, or the creepiest!

Yesterday I took off. Well, emailed a complaint to Staples about the printer cartridge they sent us, did a little work on the Fox and Howard website, and made caramelised red onion marmalade (which failed badly as the caramel part burnt without me realising it and it tasted awful. [grump] Lot of work for nothing...) before we sat down for Power Rangers (cheap at Tesco). It's OK, fun, nice sfx, OK acting, but basically brain candy for a rainy afternoon. Which this was.

Today? Well, the rain is stopping, and Ken has offered to hoe my higher bed so I can finally get the peas, beans, carrots and radishes on the go (should have been done at the beginning of March but the weather was so awful everything's been delayed). He may be going out this afternoon: I'm going to watch an hour of Masterchef before getting anything else done. The recliner is working marvellously: only had it three days and the sciatica is already drastically improved (didn't need to take any painkillers at all yesterday - first time in years). Kai has work to get done - team project for one of his uni courses - which he wants to clear as quickly as possible as he has venesection tomorrow and BMT Clinic on Wed. So another relaxed day. We're getting there!
Labels: action figures, busyness, films, medical matters, Transformers, visits