It snowed quite heavily last night - huge soft flakes sleeting down completely covering the ground - and the silence was extraordinary. Alas, it was melting by sunrise, and the usual dull city noise was back...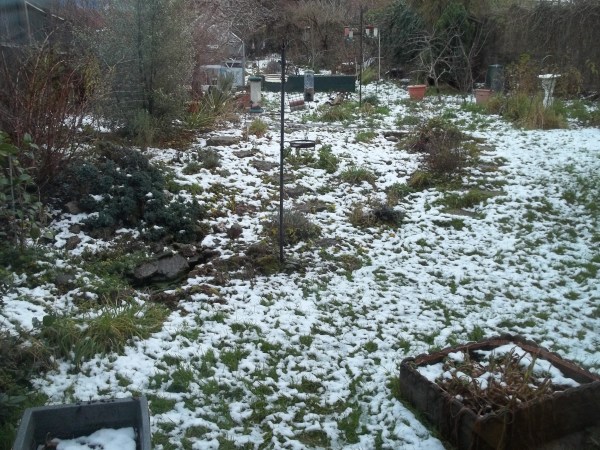 I told Kai, who watched out of the landing window as a fox trotted through the garden, silhouetted against the white. I missed it, was in the bathroom, but reminds me we should put food out tonight. The weather's turned colder for a spell.

Xmas eve we watched Valerian and the City of a Thousand Planets... Luc Besson has been involved with some very good films. This, unfortunately, isn't one of them. Fabulous cinematography, great sfx, the overall plot was sound, but the acting... Valerian was a Marty Stu and completely unbelievable, with soddall chemistry with Laureline (it should probably be mentioned that Cara Delevingne's acting was very much better than Dane DeHaan's). And what the hell was that abomination of a scene with Bubble? It served no purpose other than titillation, apparently... Very disappointing.

The day itself was very nice (well, except that Ken has gone down with a nasty stomach bug, but I honestly can't remember a time when one of us wasn't ill at Yule. He's had to take Wed and Thurs as sick leave..) The presents were all wonderful - thanks GoodTwin and Sue! - and we enjoyed Masters of the Universe after dinner (duck with all trimmings. Sorry Lutra, I completely forgot to take any photos of food at all this Yuletide...) Wonderfully awful film! Much hilarity resounded. Kai will never watch the latest Money Supermarket advert the same way again...

(If this loads the Divaram video from Baahubali, as it keeps doing for me, refresh the page a time or two, that should fix it. Otherwise, watch it on Youtube here.)

Then after the Doctor Who Special (I can't comment. I kept nodding off) we settled in with The Dark Tower which, by contrast, is much better than the preceding two films. Still nothing very new (but then, what am I expecting these days, given the number and variety of films I've seen?) but good acting, an intriguing premise, and very nice cg.

On Boxing Day friend Dawn came over for the usual running buffet and a Bollywood fest - both Baahubali films back to back... Absolutely brilliant. Love those films - and Dawn enjoyed them too. Butter chicken curry for dinner then a couple of Black Books eps before K&K walked her home. Very nice day!

Today's been quieter. Both deliveries, some tidying and making sure as much as possible went out for recycling (all bins tomorrow). And the bird feeders are full and the fox food is out in the garden: forecast is for freezing weather for the next couple of days, oh joy. I need to shop tomorrow...

GoodTwin - to explain my comment in my thank you email... My main present was the gorgeous (and IDW accurate) Rodimus figure (from the Big Bad Toy Store. I've now found an equally wonderful Megatron, who is half as much again (and comes with both miner and tyrant forms!) and the damn near perfect Dinobot, which I am going to pre-order and put all my Yule and birthday money for the next two years towards!)

I think Ken is bemused. If you believe the ads you'd think that most women want expensive clothes, shoes, jewellery and perfume as presents. Me, I want custom Transformers!

Quite where I'm going to put them I'm not sure. I think I need to reorganise my display cabinets...

Anyway - Rodimus came with two heads, one with a grim and serious expression, and one with his usual trademark smirk. It took us half an hour and a Youtube video to figure out how to change the heads as there were no instructions for that bit. This is him in his temporary home. I'll take him out and get some more pics later - you can't see his bow here.