The busyness continues...

On Friday evening Ken and I met at Screwfix up the Bath Rd to pick up the kitchen sink, then on Sat bussed out to Cribbs Causeway to the vast B&Q to order the unit itself (and the drawer, and the cupboard doors and drawer front, and the hinges and the handles, because B&Q can screw you for more money if you have to buy every single item individually...) That's all due to arrive today, along with Kai's third and final shelf and a 125litre bag of potting compost for the greenhouse. While we were out there we checked out Dreams: our current mattress is a good one, Silentnight ortho, firm support, and only three years old, but with the various joint and back problems it's not as comfortable as it used to be. I've been wondering about the new Tempur mattresses, and Dreams had several different sorts (pure gel in different support grades, and hybrids): I spent a good few minutes trying them all out. And WOW. Their adverts say it's like lying on clouds, and for once they ain't lyin'. I felt completely weightless...

However, they cost around £2,000 for the double, which is wince-worthy (we could finish having the rest of the windows and the back door replaced for that!) So I did a little research... There have been a few reported problems with the mattresses, although generally people are very happy with them. Then I found the Emma mattress, which looks very good (and gets a Which? best buy validation, always a huge plus) and is a lot more reasonable at around £600 (I'm not penny-pinching: Ken says given we spend a third of our lives in bed it's vital we sleep well, so comfort is essential). It's a German company but the mattresses are made in the UK. I like the look of the construction, though I'm not so keen on it coming rolled (though that's probably me being old fashioned. It's a mattress. Mattresses are supposed to be flat...) Anyway - can't afford it until the New Year at the earliest, but it's a definite contender.

Sun Ken helped me make a start on sorting out the shed... Heh. It's a major job and the rest will have to wait a bit, but at least we can get in there now, and were able to pull out the Yule decorations.

Mon was my dentist appt. Everything fine: don't have to go again for nine months (next Sept).

Tues I had my hair cut. 'OORAY!! I can see again!

Yesterday Kai and I strung the new lights in the windows and put up the new tree... Did I mention this before? We were in Wilko last year (or maybe early this year?) and found a slimline, snow-covered six foot artificial tree (exacly what we'd been looking for) on special for £5. We thought at the time that couldn't possibly be the right price, but they let it go through and we hauled it home... ye gods. It's gorgeous, really fantastic quality. We're sure they dropped a zero there, as it's more like £50 quality-wise. Here, have a look!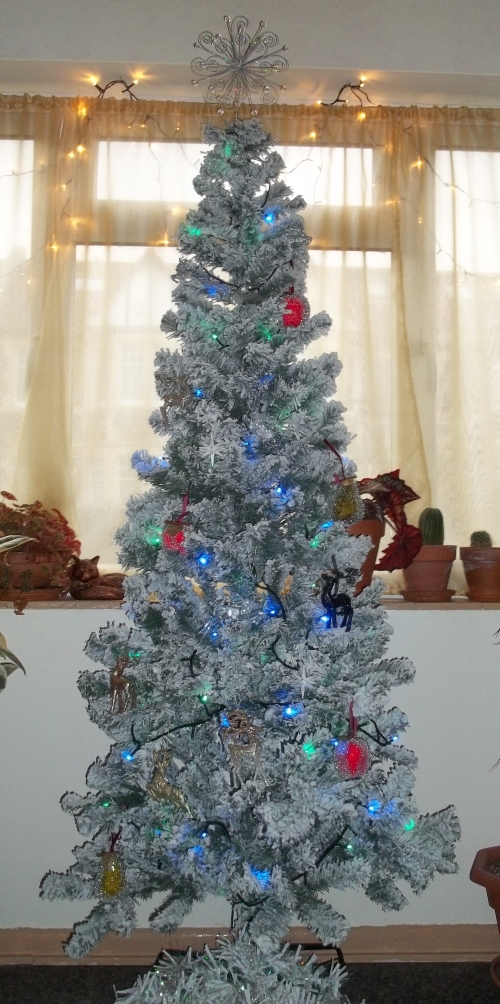 Blue and green lights...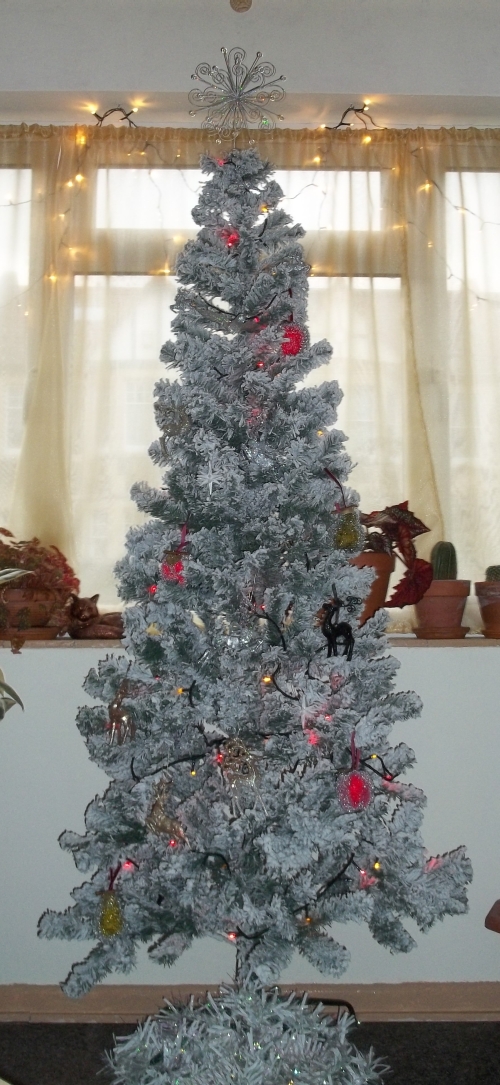 Red and gold lights
The lights don't show properly here, of course (they're set to gently fade from red and gold to blue and green), and I need to find some sort of tiny spotlight to show up the tree topper, but it gives some idea. Kai chose the decorations. When the lights are on (and the lounge main light off) it looks magical. Dead chuffed.

And it's plenty. Not putting up ceiling decorations this year.

B&Q just rang - they're on their way. This week's Tesco delivery is late though, should have been here by now.

And lastly - I found this in the garden this morning...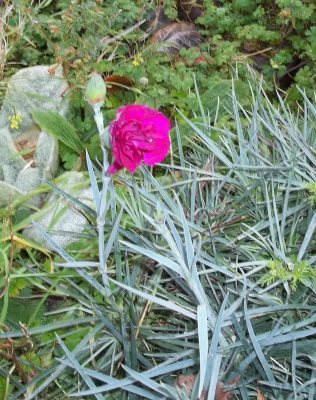 I love my garden.
Labels: busyness, home improvements, Yule