Saturday, January 02, 2021
It's 2.1.21, and it snowed!

Not enough to really settle, but it was pretty while it lasted.

More later. Just wanted to say that.

Wishing everyone a safe and healthy 2021.
Labels: Happy New Year, snow
Sunday, December 20, 2020
Later edit...

It was raining when I wrote the earlier bit. Then it stopped, and I looked out the bedroom window, and there they were - the sky had cleared. So Kai lugged the telescope out, and we had a good look, and he took a load of photos just using my little point and click camera, so not the best quality. But there they are...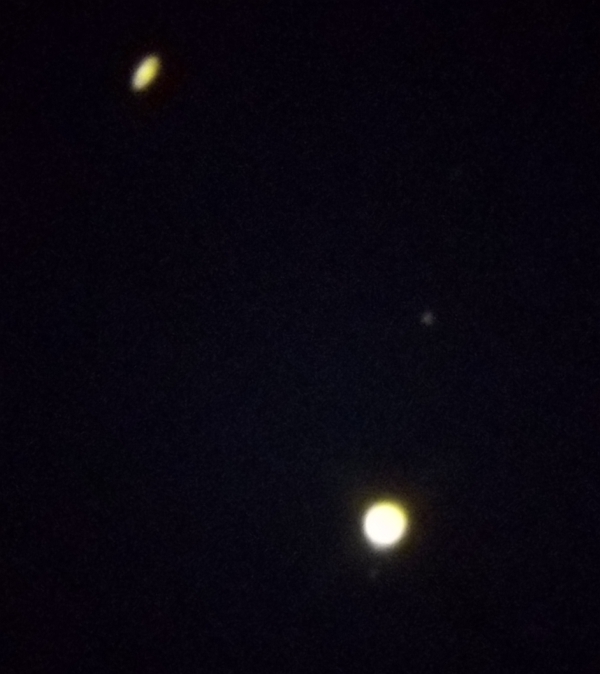 Saturn above, Jupiter below. If you squint, you can make out two moons - one of the three we saw at 1 o'clock, and one, very close to the planet, directly opposite.
Magical!!

Hoping it's clear tomorrow so we can see the closest approach, but if not, at least we've seen this. Best anniversary present ever.



Quick update, as I forgot to say earlier...

It's our 31st wedding anniversary tomorrow (for some reason I keep thinking it's the 32nd...) and it's also the occasion of the closest conjunction of Saturn and Jupiter for 800 years. We checked last night and we can see them above the houses on the other side of the road from outside the greenhouse - as long as there are no clouds. So whether or not we'll be able to actually see the moment is open to question. I've been pestering the weather gods with appeals for a couple of hours of clear sky just after dusk... please keep fingers crossed.

EO's new sprig is coming along nicely.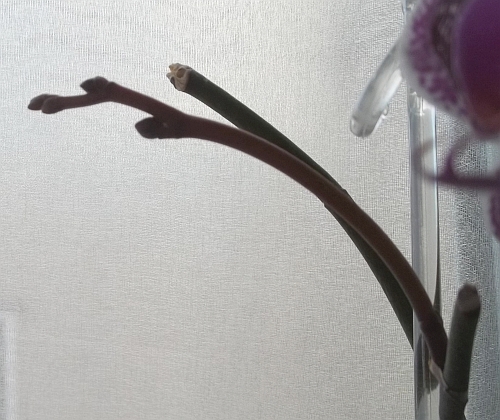 AO's flower spike is also doing well (it refused to allow me to get it to spiral around the support, but that's how it goes when your orchid has a mind of its own...)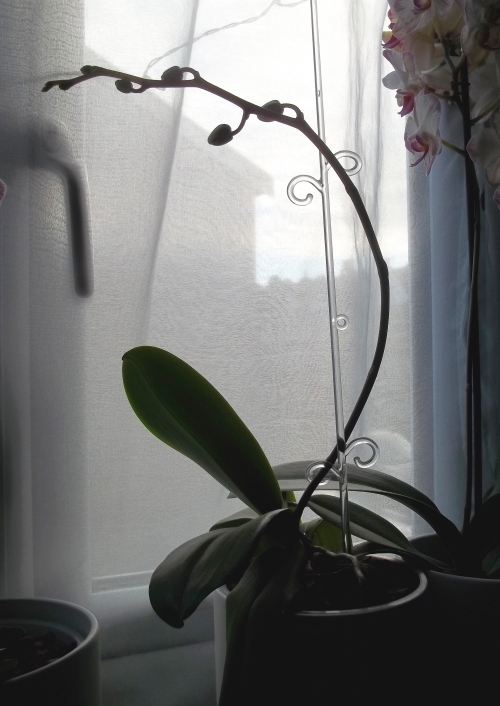 One contented, warm and well-fed cat!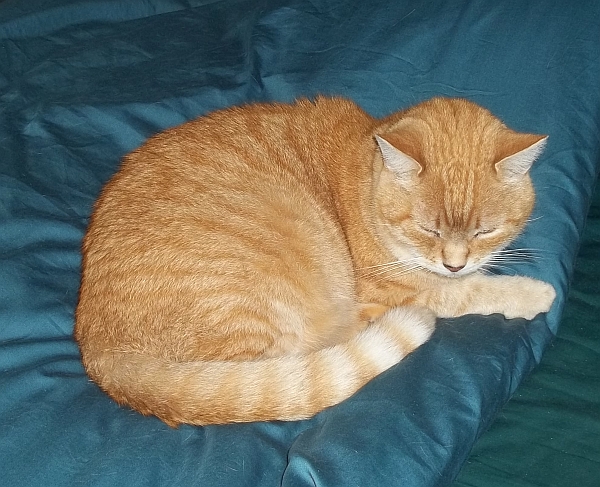 Labels: astronomy, orchids, Tyjer, wedding anniversary
Thursday, December 17, 2020
Well I never!

I do enjoy being pleasantly surprised/proved wrong. Two young engineers arrived at the PDSA around lunchtime today: first I knew was when one phoned as we were finishing lunch (vegan 'pulled pork' - made from a tin of jackfruit and a completely delicious home made sauce - in a toasted bun, lovely!) and introduced himself. I went out to the top of the garden and had a nice discussion with him: he said he'd see if the wiring would make it possible to move the light to the side of the big building there - thus pointing parallel to our house, not straight at us - and angle it so it made life easier. I said that would be absolutely ideal, crossed my fingers, and left him to it.

And he did! We now have a little star instead of a floodlight and a mellow glow hitting the PDSA courtyard there as the light is angled down. Obviously we can still see it, but the difference is amazing. Our wildlife have their nature reserve back, and we have our privacy.

I am very happy! Going to drop round there tomorrow (or Sat if it's raining too hard tomorrow) with a card, a thank you note to the manager, a donation and a box of chocs for the staff. They certainly deserve it.

And Kai took his bike in to the new bike place on Sandy Park Rd - he qualified for the new council/govmt £50 voucher to get one's bike serviced: a one-off thing to encourage people to bike instead of drive that has been taken up widely across the city - and a couple of hours later was able to collect it! Apparently they did a great job and he was able to ride it home.

So for once it's been a very successful day, and a major source of stress is gone.

Would be nice if everything went as smoothly, but I'm not complaining!

Later, all!
Labels: YAY
Wednesday, December 16, 2020
So, update.

The noise...

Kai and I went outside a couple of times to check it wasn't coming from anywhere else, and I gestured angrily towards BND's house - which I guess he saw on his security camera, because after that the TV (or more likely speaker? I don't know or care how he's arranged his living room as long as it doesn't bother me) volume dropped right back down to normal. Well, the TV is still a little loud, but not enough to cause stress, so we're ignoring it. I suspect it's because Suzanne's hearing isn't so good, I vaguely remember him barking something like that back when we were still letting him speak at us...

Now we have a new problem. Back in 2010 the PDSA at the back of us had a security light installed. It wasn't blinding, but it shone directly into the garden, so I contacted them and asked if they could do something about it. At the time they changed the angle a little, and while it was far from perfect, it did alleviate the glare by enough to allow us to skywatch without too much hassle. Well, on the 24th November they had a new one installed - higher up the wall and absolutely blindingly glaring into the back of the house and all of the garden. It casts shadows through the bathroom and landing windows, floods the garden with an appallingly brilliant white light, and leaves us feeling like we're living under a prison floodlight.

I rang them omn the 25th, explained the problem, and asked if they could do something about it. At some point the engineers turned it - very slightly, nowhere near enough to make any material difference. So I wrote to the manager, dropped it off this Mon, and on Tues had an apologetic email saying they'd referred it to the engineers for them to deal directly with us. Yeah, sure. I'll believe that when I see it.

Well, if they haven't got back to us by next Mon, I'll get their contact details from the PDSA - and probably contact their HQ as well, as this is just ridiculous. We have no privacy and no chance of skywatching (tried to watch for Geminids on the 13th, couldn't see a bloody thing), our wildlife have no security, our quality of life has gone down and my stress levels way up. After all we've done for them, too!!

Very unhappy. Will let you know what happens.

Media... we had a splurge on films. I found The Loft cheap on amazon (bought it for Wentworth Miller, one of my favourite characters in Legends of Tomorrow - we already have Equilibrium, which stars my other favourite LoT actor Dominic Purcell). It was... interesting. Very unpleasant characters but the story was intriguing.

Revolver is fun but has a strange ending. I think it could be taken in several different ways - a method of harmonising character traits, perhaps, or psychological control over 'enemies'... An interesting, open-ended watch. Thanks Wendy - we rather enjoyed it!

Also have to thank Wendy for sending me Her. Kai wanted to see this as well, and... wow. It's one of the most complex, emotionally brutal and oddly uplifting films I've ever seen. We absolutely loved it, and for me it's now a yardstick by which to measure future films. Superb. Not an easy watch, but an I-can-run-out-of-superlatives-SO-easily triumph of cinema.

(Made the mistake of seeing what else the director had done... Jackass?? WHY!!???...)

Kai took out a subscription to Netflix (it has stuff he really wanted to see) so we all settled down to watch Over the Moon, which is beautiful (I caught the main song on tumblr and was intrigued...) Adorable, whimsical, gorgeously animated - yes, we thoroughly enjoyed it.
What I didn't enjoy was going down with a week's dose of gastroenteritis a couple of weeks ago. No fun whatsoever. Would very much like to NOT get that again, plskthnx.

We're currently working our way through Jonathan Creek (got to the end of Season 3 of Deep Space 9 and decided to take a break until after Yule, as we have quite a pile of new films to watch over the season). Such fun!

Then this happened - I cried.
There's more, of course, but nothing too important. We're pretty much ready for the celebrations, and Ken has our anniversary and the next day off, so a short week next week. Our tree and lights went up last week of November - house is very pretty - and all cards have been sent off. Now just planning to take it easy. We're lucky, we don't have visitors over Yule anyway and don't usually go out much, so the tiers/lockdown don't really affect us much.

I did treat myself to something though - My Little Prime (or Optimus Pony, if you prefer...)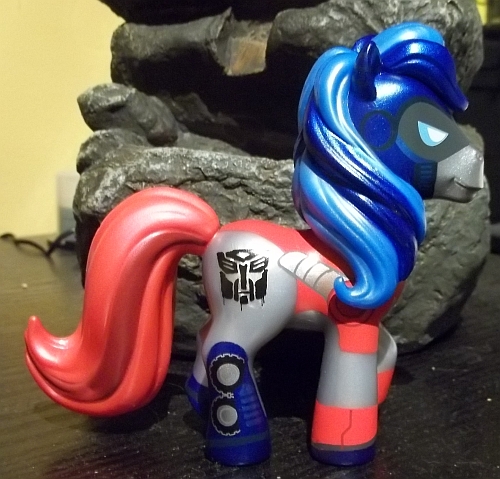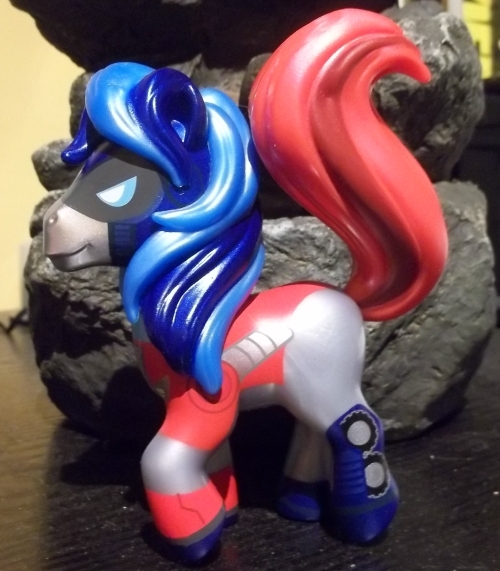 The tail moves through 360&deg.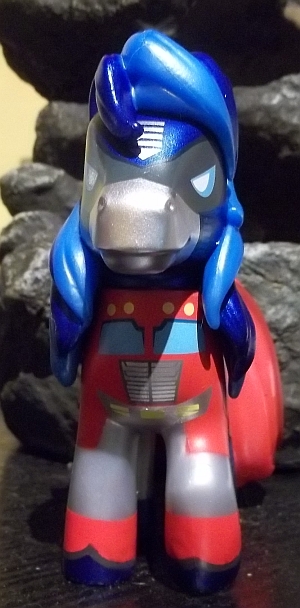 Big Bad Toy Store, of course. So cute!

All for now. Please stay safe and well, everyone, and we hope you have a relatively stress free Yuletide.
Labels: BND, films, medical matters, MLP, Transformers
Saturday, November 21, 2020
I spoke too soon. The noise is back, louder than ever. Will explore the options open for dealing with noisy neighbours...
Labels: BND
Friday, November 20, 2020
Later edit: Well, the volume from next door is back to its normal, only-discernible-by-me-if-I-listen-VERY-hard level, so I guess the TV has been moved back to where it was originally. Goodgood.


Here we go again.

Well, it hasn't quite been a month, and it has been busy, plus I spent the last week suffering from a rather unpleasant dose of gastroenteritis and felt too ill to do very much, but that's now cleared up and I have a little time to spare.

Photos, of course.

I treated myself to a new miniature rose...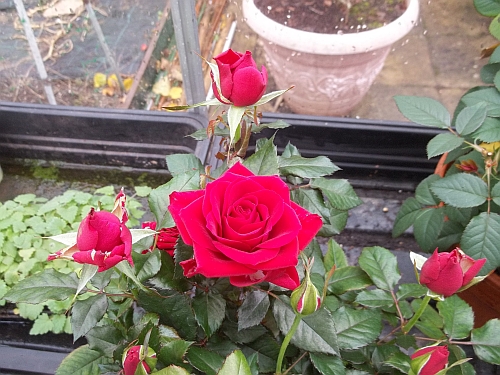 ... and found that the original one was sprouting buds. (It's not supposed to do that until next year, even if it IS in the greenhouse.)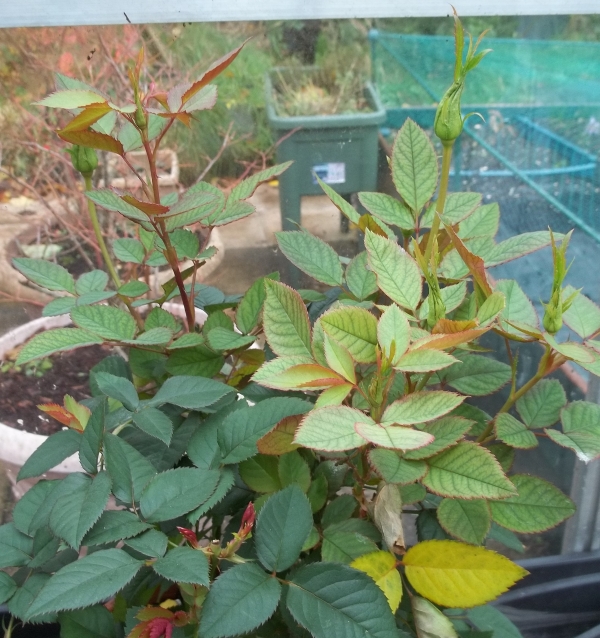 I think I mentioned I bought 30 or so saffron crocus bulbs earlier in the year (to see if I can grow my own saffron: Ken loves it and it's bloody expensive to buy). Well, the 30 have turned into 65, and I have the first flowers appeared (they aren't supposed to do that until next year...)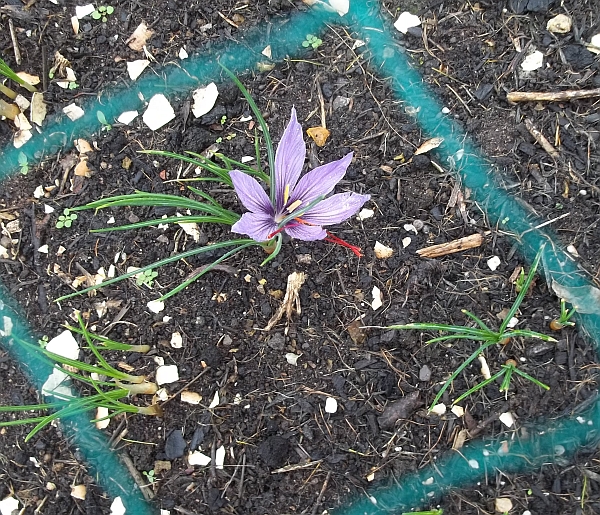 Then again, I seem to have this knack with plants. They seem to like growing for me. This is in Derpy's windowframe (yes, alright, I know she needs cleaning!):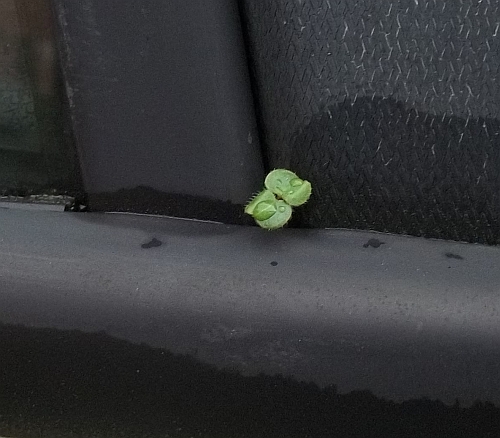 Even the teazels are doing unusual things...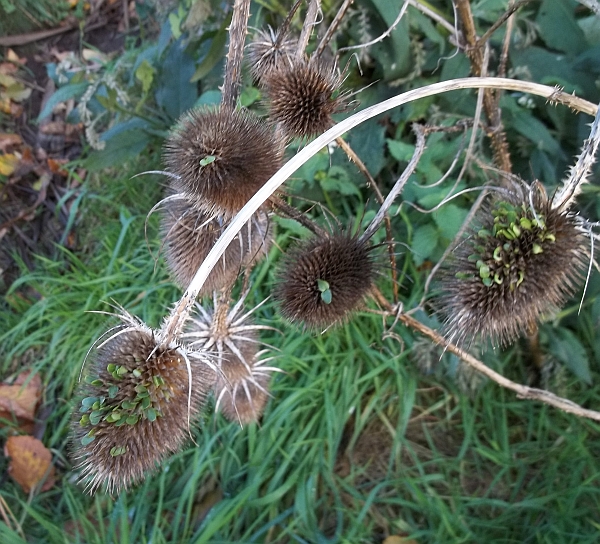 (At least, I've never known them do this before. Perhaps it's a natural thing for teazels?)

AO's new flower spike is coming along well...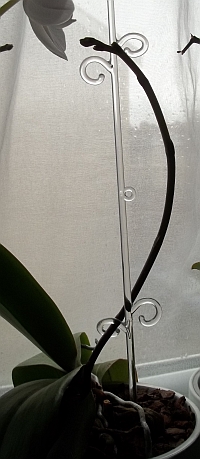 And EO's latest flowers have finished - and the next flower spike appeared...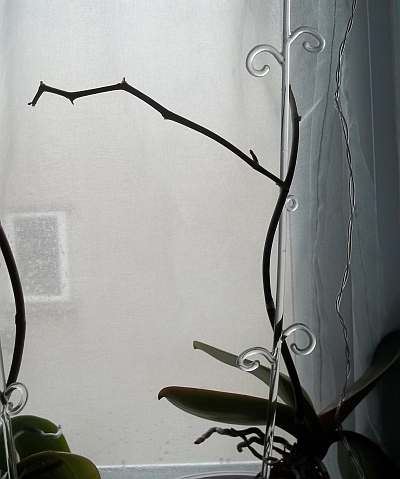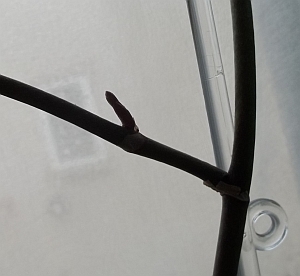 In other news, Ken's room is just about finished and looking pretty good - just needs a quick touch up of the doorframe paint, the new door, and a lampshade. Found one we like, but it's a bit small. May buy it anyway, for the time being.

I treated myself to an indoor fountain, which is absolutely beautiful, and I'm sure is doing my BP a lot of good.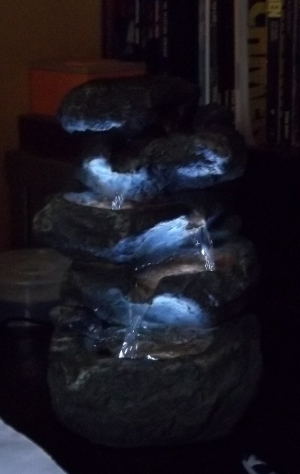 Which is just as well, as BND has got himself satellite TV, and mounted the TV itself on the (hollow) chimney breast. Which means it echoes right through our house, overwhelms our TV volume, and disturbs Ken while he's working. I'm going to give him the benefit of the doubt and assume he didn't realise what he was doing and write to him advising him. Will let you know what happens.

(Oh yes, and he got someone in to fix the leaking guttering - not a cowboy for once, Apex Building Sevices summin, though which one I'm not sure, there are several of similar names around here. It seems to have done the job, and meant I was able to cancel the Anglian appt I'd made for the 25th Nov.)

Kai and I risked a trip to Keynsham before the lockdown - I had to buy some wholefood stuff for a couple of new recipes, and Conscience Foods is currently the easiest shop to get to - so we had a look through the charity shops. Picked up a few DVDs (saving three of them for Yule), but not much else and the weather was less than wonderful, so weren't there for long.

Kai's now completed the paving right around the greenhouse, and it's wonderful! Soooo good to have a safe, non-trip, solid surface to walk and work on. It could do with a little expansion, but that can wait, the basics are done. Photos when it's not raining!

That's the most important news. We're still working through DS9 (middle of season 3 now) and alternating with Jonathan Creek (just finishing season 2). I have a hankering to rewatch Swamp Thing (probably by myself, next year) and we still have the first couple of seasons of Continuum to dip into. I've bought and frozen the Gressingham duck for dinner on the 25th Dec: the rest I'll pick up on weekly visits over to Tesco. Yule tree going up this weekend!

Will catch everyone later - hope you're all safe and well and coping OK with the current situation, wherever you may be.

(While I remember - ongoing apologies for any typos in these posts. I haven't yet found a way to spell check in this new format.)
Labels: decorating, garden, medical matters
Monday, October 26, 2020
Found this. Watched it. Kept saying - it can't get any bigger - can it? And then it did.

... wow...

Watched it again. And again. Had to share...

Best with the soundtrack, but works fine without.

Oh dear... it's getting longer between posts again...

Soooo... starting with medical stuff. I yet again managed to kick the exercise bike support end and I think I fractured a toe. It's taken until now for the bruising to go and to stop hurting (I think I managed to do it just after my last post, but it may have been a couple of weeks before. Time is doing strange things at the moment... No, it was even longer ago: the first time I tried to wear old and comfy trainers was when I went for hair cut, and at that point I thought everything was healed. It wasn't, and wearing them made the problem flare up again.) Anyway, I can now wiggle my toes - to some extent, it's my right foot, the one with the flexor tendinitis and bursitis, because of course it is. Nothing's ever easy 'round 'ere. [sigh] At least I should now be able to wear my driving shoes again (instead of sandals, which is all I've been able to get on for the last 9 weeks...)

Hobbled up to get my hair cut on the 4th! Jeff took my temperature as I arrived - and it was lower than normal. Might have been because it was very cold and pissing down with rain, but anyway... He was in full face visor, I had to wear my mask, so not the most comfortable of experiences, but YAY! My hair is no longer all in my face.

I think I've previously said how much I like Ryan Reynolds as an actor, and how much I love the Deadpool films. Well, I found this and just had to have it. So it's ordered for next year's Yule present... I must be mad. But what the hell. Some people like expensive cars, or jewellery, or clothes, or shoes - I like custom action figures. Sue me, I dares ya!

It's been at least as busy as usual. We're redecorating and reorganing Ken's home office - the bookcases on the far wall are now gone (one in the shed, one broken up - Kai's put the long planks in the loft to act as supports for storage) and the old but sturdy and near perfect work station has gone to a young woman via Nextdoor (free of course.) Half the painting has been done, the new bookshelves put up on the wall, and it all looks cleaner and less cluttered. Still have to buy and put up the curtain rails (and make the curtain - hoping Dunelm has the fabric I want) and generally tidy up a little, but it's much better already. Photos, perhaps, when it's finished (with a couple of before ones - as you know, I photograph everything.)

In the garden... the egg that mysteriously appeared has just as mysteriously vanished...

The paving is coming on well. It's taking time, as Kai can't really work out there when the soil is wet, and it's rained a lot recently, but every little bit done makes it easier to manouevre around the growing section. Should all be done before Yule.

The holly trees around us are doing wonderful things at the moment - so many berries!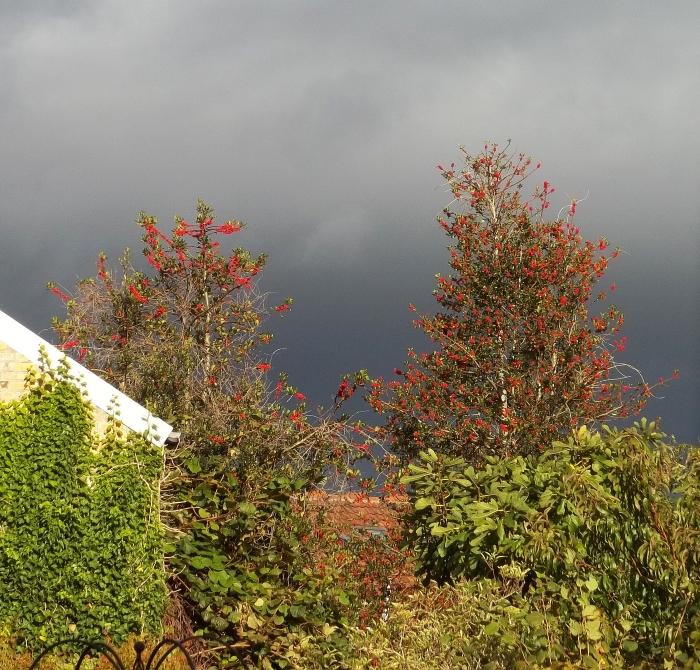 I found this at Tesco for £3 and treated myself...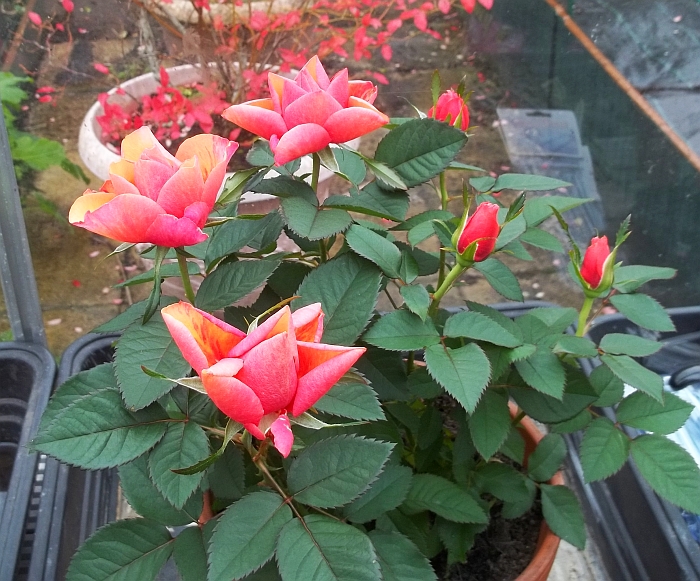 I've not had much success with roses in the past, but the colour of this plant is fabulous, so I'm going to see how it does. It'll stay in the greenhouse until next spring, then move to the patio area: might pick up another couple of different colours to make a pretty display. It smells wonderful.

Thompson and Morgan had a special order on a month or so ago - buy one citrus plant and get another for 1p. I ended up buying one orange, one lemon, and one lime. Always wanted to try citrus fruit, and they'll sit happily in the greenhouse for most of next year (they're on the windowsill in the lounge at the moment with all my succulents and cacti). Fine down to 5&deg according to the instructions, so hopefully will do well. I just wish I had a conservatory for them, but... we'll see how we go.

We have been working through the backlog of things to watch. Now started on Deep Space 9 and enjoying it. I managed to find an English subtitled copy of Deathnote: Light up the NEW World on ebay: it was fun to watch but very confusing. Maybe another one you had to be Japanese to fully understand? Worth a second watch, anyway! Then it was Donnie Darko... whoa! That was... very good, but very complex and quite scary - though not as much as Coraline, which we watched last night. Nightmare fodder, that one. But very very good.

That's all I can think of for now, though no doubt there's more I've forgotten. Now I need to go move planters out of the way so Kai can move the slabs that are going to make a level platform for the telescope and lay a few for my potting bench - currently at the back of the greenhouse, needs to come to the front. The weather's not too bad today, sunny spells and quite nice. There's rain forecast for the rest of the week, so we'll get as much done as we can.
Labels: domesticity, drama, garden, medical matters, YouTube
Friday, October 02, 2020
Ye gods, is the busyness ever going to end?...

OK. So, in reverse order... we've had the plumbing system cleaned - Tom the Plumber drained everything, put a cleaning lquid through the pipes on Monday - we've had the heating on twice a day to activate it until he came back today to drain it and refill it with inhibitor to help keep everything clear in the future. Can be topped up every few years to keep everything flowing freely. He's replaced all the horrible old pipes in the bathroom with copper, fitted new bath and basin taps, serviced the boiler and replaced the tatty old hall radiator. He recommended us getting a new boiler (the current one was fitted when Kai was about 5 and isn't the most efficient in the world) but that will cost about £3K, and we'd rather spend the money on having the roof replaced, solar panels installed, and going all electric. Which will cost a lot more, but be much more eco-friendly. I'll start saving...

Anyway, that's all done and safe now, and should be fine for the next decade or so.

Yesterday - probably the last dry and sunny day for the foreseeable future - Kai and I picked the last of the fruit from the trees, put all the windfalls into the compost bin, and I pruned back the fruit tree branches. Hopefully next year I'll be able to save more fruit (pear branches broke this year as they were too long to support the weight of the pears, and an awful lot of apples were blown off in the high winds we had).

The clouds were very pretty yesterday...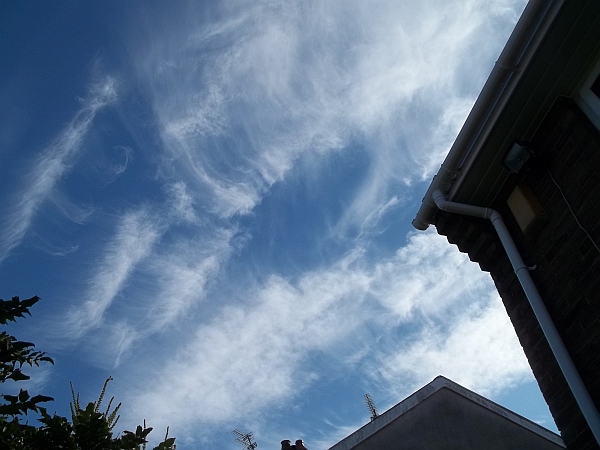 There is an egg in the garden.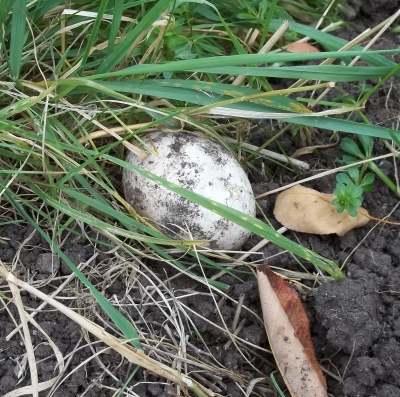 We can only assume either a random hen has visited or one of our foxes has brought us a present. Not entirely sure what to do with it, so we're just leaving it there for now.

Maybe one of our magpies will eat it...

I painted the areas of the bathroom that still suffer from occasional mould (the window wall mainly) after Tom had left on Monday. Looks great! Ronseal anti-mould paint blends in perfectly with what was already on the walls and made the job a lot quicker and easier. Happier with it now, and it's healthier for us all.

Kai constructed my soft fruit bed last weekend!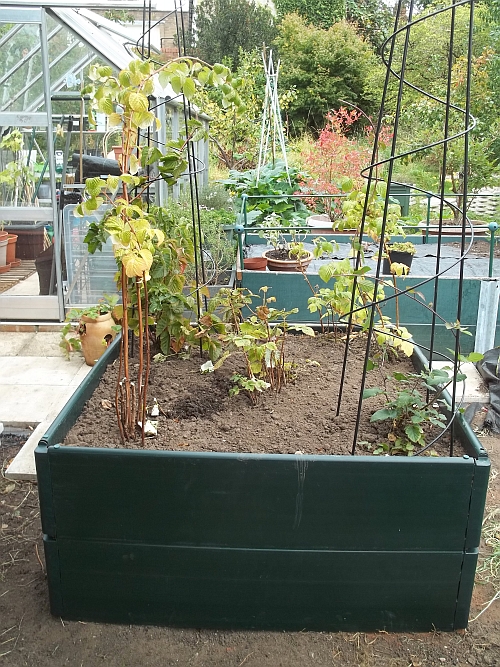 We've had to cover the open soil with rocks as we found yesterday the foxes had tried to dig holes. [sigh]

Did I mention Kai has finished putting up the wisteria supports in the front wall of the house? Two rows of long, strong vine eyes every 18 inches with 2.5mm steel wire strung through them (borrowed a ladder through the local Nextdoor community group - I joined a couple of years ago, incredibly handy! - for the top row, as our ladder wasn't long enough to be safe) and has been climbing up and training the fronds along it. It's going to be beautiful once it's properly established. Photos next spring, hopefully!

In the search for my missing spiral orchid supports Kai and I risked venturing into the left hand end of the shed. Didn't find them: I've had to order some less nice ones as I need them now - AO definitely has a flower spike coming -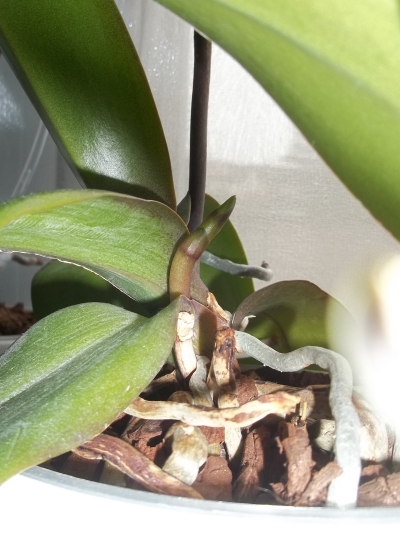 - and I need to start training it in a spiral very soon. They should arrive this afternoon. However, we were able to clear out some rubbish (and get my Tf action figure boxes up into the loft, where they'll be a lot safer. Kept them as the figures are worth more with their original display packaging.) Will have another go at tidying it all up next reasonably nice weekend we get.

RO is doing splendidly! Quite proud of this as it's the first one I've brought on completely by myself.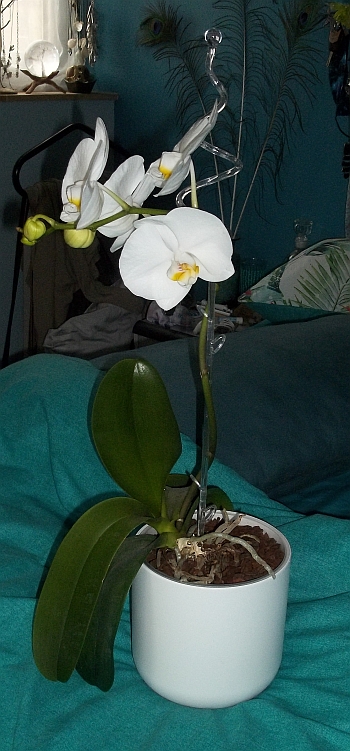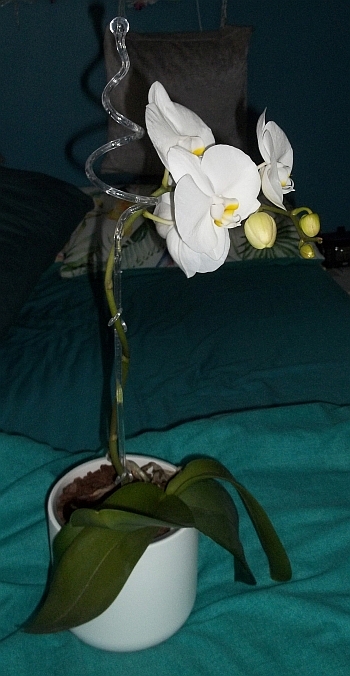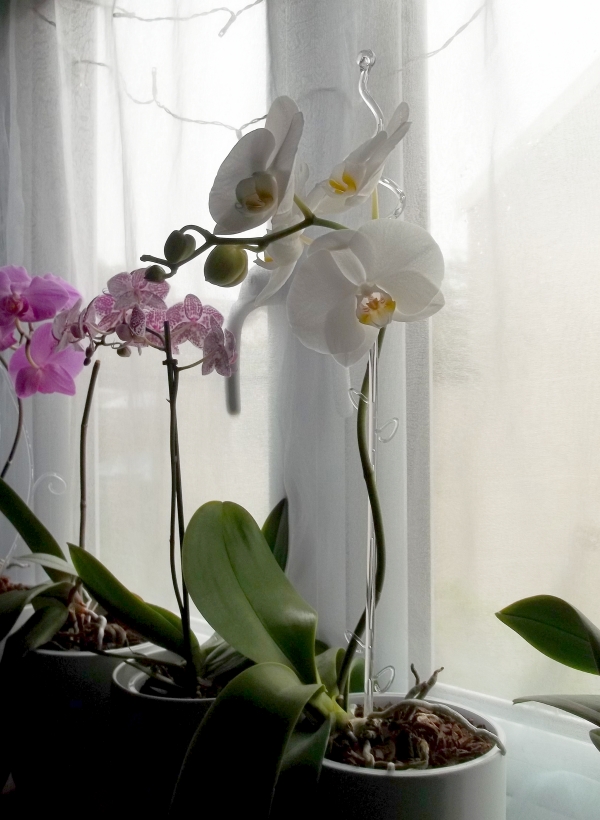 I've just had a 'parcel' delivered...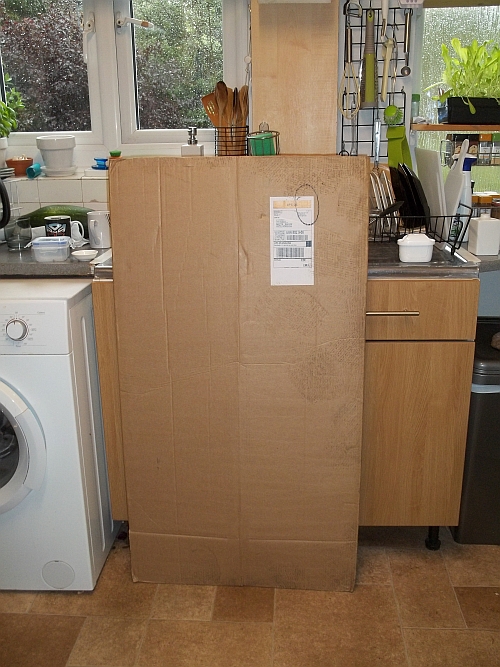 It's my orchid supports...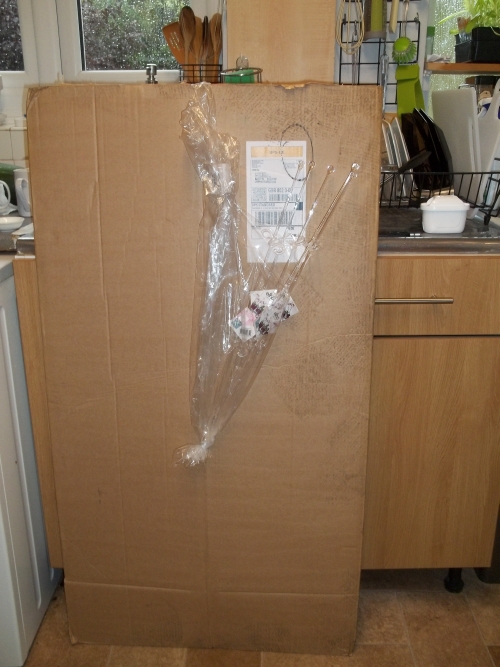 [Shakes head in... something...] Might be slightly OTT that...

Will get one in place for AO after posting this.

Kai and I had our flu jabs. Reaction hit me very fast and I felt awful for 24 hours - then it just vanished and I was fine. Lasted a bit longer for Kai, but it's now done and hopefully we'll be fine this winter.

Media... The Librarian boxed set arrived and we've watched 1 and 2 - rollicking silly fun, perfect for a rainy Saturday afternoon matinée. And Legends of Tomorrow season 5 arrived, and Ken and I have been racing through it. We thought season 4 was bonkers: season 5 is even more so! Wonderful stuff.

Considerably less wonderful is that some of our post is going missing - stolen, we think. Ken has been collecting old postcards of Brislington for a possible book, buying mostly from ebay. Not overly expensive, but some are incredibly rare - and they haven't been arriving, even with proofs of posting (and one was sent recorded delivery). This goes back to two envelopes containing money sent to us (for work Kai did) earlier in the year from a technophobe acquaintance (who has now been convinced to BACS payments instead) which also never arrived. Envelopes containing Ken's postcards look very similar, and we're sure someone in the PO system is stealing them in case they also contain money. I've opened an official complaint with Royal Mail, as needless to say we are VERY angry about this. So far 5 postcards have gone missing, all of which are pretty much irreplaceable. Not to mention it does Ken's rep no good at all for him to keep having to request refunds from the sellers.

Will let you know what happens.
Labels: busyness, domesticity, films, garden, medical matters, nothing's ever easy 'round here..., orchids, Royal Mail, theft
Monday, September 21, 2020
I'm beginning to think the little peeping spike on AO is going to be a flower spike...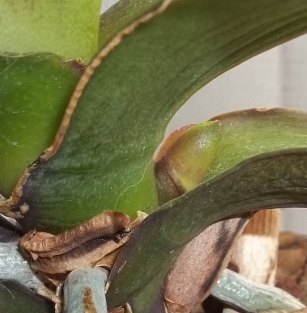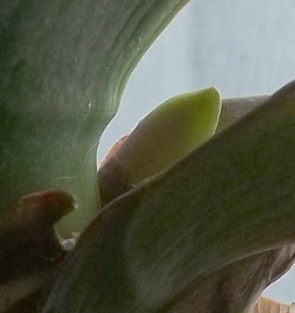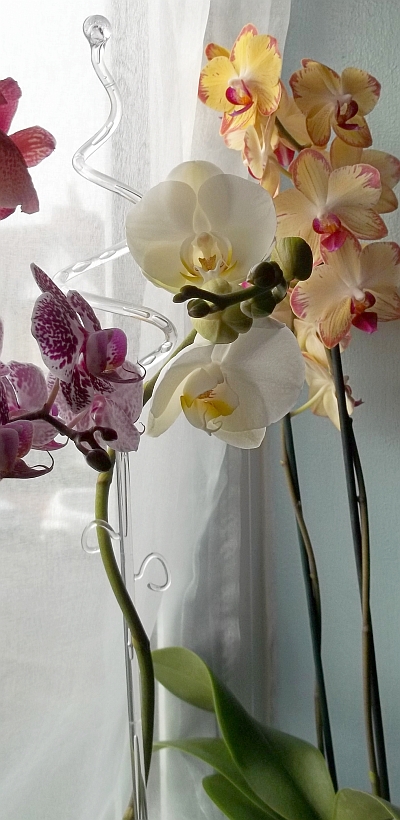 There is now no stopping RO...
Gantz: Perfect Answer is amazing!