Yes, I'm still here...

Something GoodTwin - or Sue - said on their thoroughly enjoyable visit earlier made me start thinking about why I just have to have music playing all the time (even if it's just in my head). I think it goes back to the first piece of music I ever remember hearing - Telstar - when I was age 4 (or maybe 5). I fell in love with it, and have needed music ever since. Windmills of Your Mind, Born Free, Ring of Bright Water, Bright Elusive Butterfly of Love to start with, then The Monkees, Tyrannosaurus Rex (and later T. Rex), Focus (saw them at Exeter Uni when I was in College), The Adverts, The Cramps (saw both in concert at Stirling Uni), and from there it just exploded, from rock to punk to heavy metal to classical to anime tracks to oriental to trance and beyond. Latest finds are Gåte and Einar Solberg (Kai's recommendation - am buying cds of both as Yule presents.)

There is more music on the planet than I can ever get to hear, alas!

Many many years ago I bought The Far Pavilions, and enjoyed the read. I found it again at Tesco recently (they have a small bookshelf with donated books you can buy for whatever you think they're worth, but please at least 50p as it's for charity) so bought it, reread it, then rewatched the series The Far Pavilions. It's a nice complement to RRR, which remains a firm favourite and which I now have on DVD!

Other watches...

Escaflowne - actually rather good, and rather sweet, with an intriguing ending. Glad we have it.

Found the complete The Champions in a charity shop in Wells a couple of years back, and we finally got around to watching it. Hm. Well, it treats Sharron as equal to the males, which is a definite positive given its age. But the rest has NOT aged well at all.

I picked up Continuum series 1 a few years back, and we watched it, and enjoyed it enough to want to watch the rest, but not at the prices anyone was asking! Then Sue loaned us series 2 and 3 - many thanks Sue! - and I was able to pick up series 4 at a sensible price. It's... interesting, but not enough to want to get the missing seasons.

I'd heard about Transformers: Earthspark some time back, but wasn't too keen on the character depictions, plus apparently Starscream wasn't in it. Then I found he was, so I bought the first 10-ep DVD...

Well! Right from the start I was pulled in. It's astonishingly inclusive for the time. The main (and extremely strong) female character is an African-American ex-marine with a prosthetic leg: her Polynesian husband is the gentle cook and housekeeper of the family: their son and daughter are treated absolutely equally. There's a female Muslim agent in GHOST (Global Hazard Ordinance Strike Team), and Nightshade is the first non-binary transformer (and a beautiful design too!) The story is great. I can't WAIT for the rest to become available on DVD!

See here for more info - T:E at Wiki


Kai and I decided to rewatch some old films... Defence of the Realm (I guess you had to be there), The Illustrated man - not great, but imaginatively done. The book is better. Nope, still most enjoyable once you get into it! And The Dish, which is a quiet little classic, great fun.

And Space Sweepers!! Finally managed to buy it! Fantastic film. Also found that there's a sequel to The Wandering Earth (The Wandering Earth 2, appropriately enough) which I've preordered. Should get it in time for Yule.

I seem to have developed a passion for Korean films...

I bought the complete The Expanse series of books - all nine of 'em! Kai's finished them all, I'm on book 6, and Ken's just got to book 2. I was planning to finish the lot before rewatching the complete six series The Expanse DVDs, but we couldn't wait. It's an amazing phenomenon (though series 6 does leave a lot of open questions and feels hurried, but it does bring the TV version to a satisfying end, so there's that, I guess...) Really enjoying the books!


Just so you know, Somerset is twinned with Atlantis, apparently...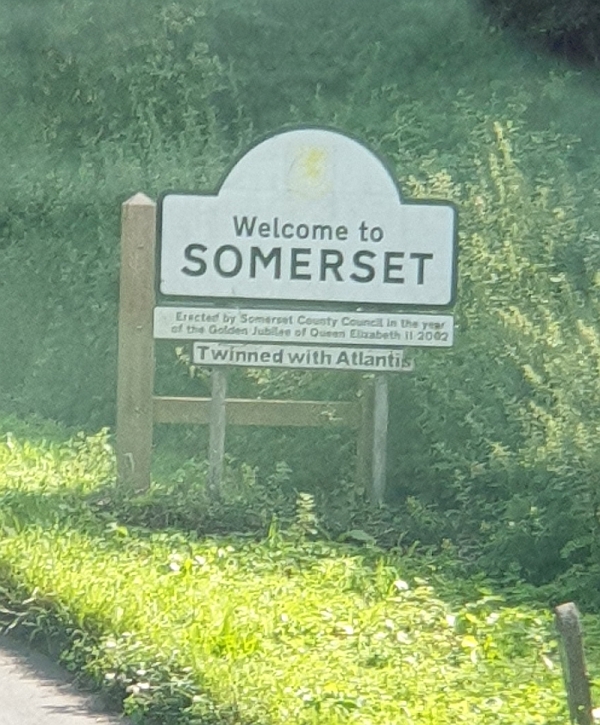 New radiator (and wall paint.) Badly needed, and looks SO much better now.

Old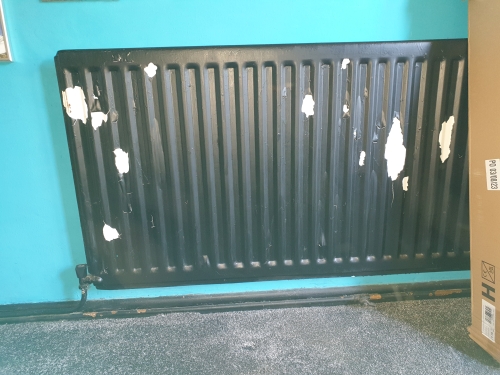 New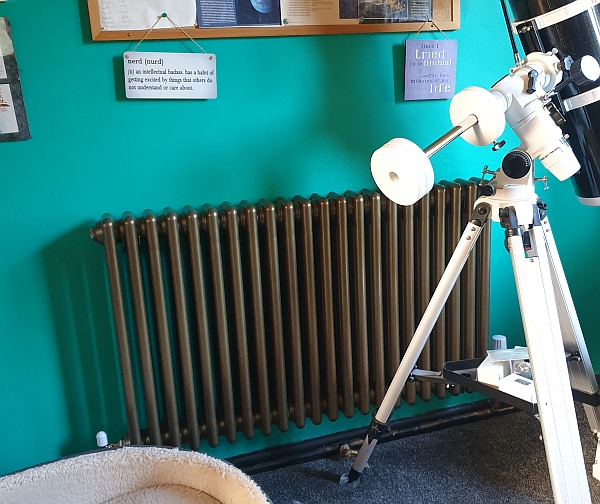 Babbacombe.

Back in late August (I think it was) we got a phone call on a Saturday letting us know that mum T had had "a very nasty turn" (the doctor's words) and been taken in to hospital, and of course was worried about the dogs. Neighbour had made sure they had food and water, and that the lights were on, but couldn't stay - so Kai and I ended up getting the train down after our 'flu jabs.

Oh wot fun... the trains were gridlocked around Temple Meads: the one we aimed for was nearly two hours late leaving, so we had to get a taxi from Newton Abbot to Babbacome. It was dark and quite cold when we got there, and the key wasn't in the keybox, so I had to go wake the neighbour for us to be able to get in. (No, we don't have one yet, mum had her lock changed a while back and forgot to get us one.)

Well, the dogs were OK, but the flat is now in a disgusting state, dog crap everywhere and it smells horrible. (Apparently mum lost her sense of smell after a bad bout of 'flu a few years ago, so she doesn't notice it.) I tried to sleep on her bed, which although it's a hospital bed it's set up for her and was unbelievably uncomfortable for me - took a week for my back to recover - and as the old recliner is now in terrible condition Kai opted to sleep on the floor - not at all healthy but we had no choice.

After a few hours dozing on and off we pretty much gave up and just endured til morning. I went shopping to get a few bits in for meals, and when I got back we had a call saying mum had discharged herself (with her doctor's agreement) and was on her way back by ambulance...

She didn't look great, and apparently had automatically expected us to stay on to look after her and the dogs, as when I told her we had to get back to Bristol, she got annoyed, then sulked and wouldn't speak to us for an hour. Where she thought we were going to sleep I do not know. Anyway, we took the dogs out for walk (the first and probably last in a month) and headed back to Briz soon after getting back. Didn't arrive home until after dark, aching and tired and really not very chuffed.

To add insult to injury, it meant I missed my one and only chance to see the entire Unicornfest unicorns all in one place before they were auctioned off - really pissed off about that. We hadn't been able to see them all as they were widely scattered across the county. I did manage to find a massive pdf of the auctions though - have turned it into a much smaller couple of jpgs here

I'd like nos 1, 19, 27 and 49 please...

Current upshot with Babbacombe is mum has a personal assistant going in twice a day, every day (Ken sorted that out), but she's no longer on the Cinnamon Trust's list as she simply wouldn't accept the times their dog walkers were available - wanted to have them at her chosen specific times. So what's going to happen to the dogs later I really don't know. Debbie at the Cinnamon Trust advised me that kennels and dog homes are not legally allowed to take in unvaccinated dogs, and while Poppy and Misty were jabbed originally, that was about 10 years ago and they've had no boosters since. And the Pomeranian Rescue group I was in touch and had things organised with no longer exists...

Families!! 'ood 'ave 'em?


Have some random photos...

I found the bell jar I was looking for for Deadpool in a new charity shop in Keynsham.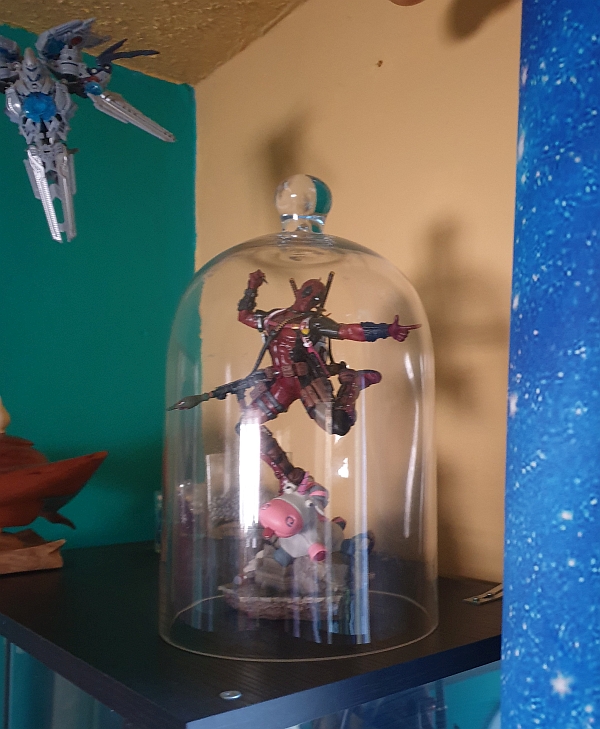 My smaller Deadpool has changed position, because why not?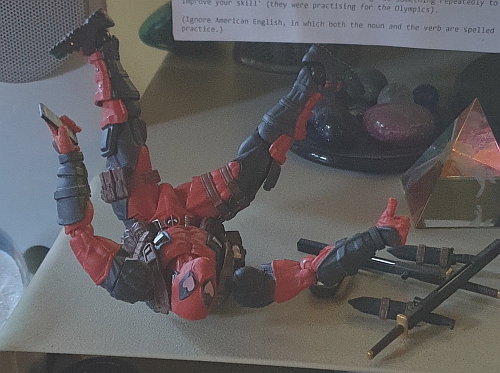 The people at the end of the road have an owl on their roof (not sure what it's made of but it's kind of cute)...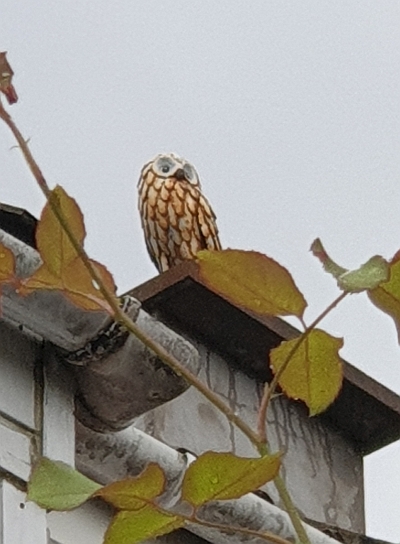 Kai and I found a very angry pig in the St Pete's charity shop. I couldn't resist it...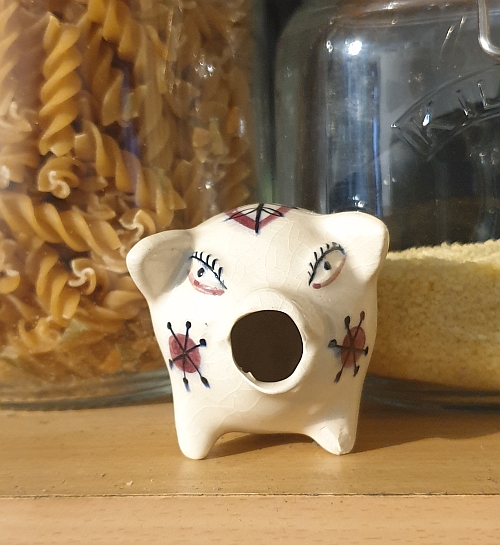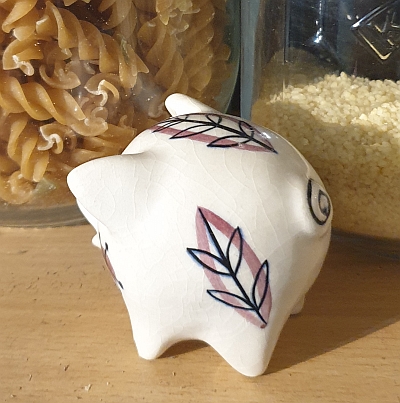 People are still putting knitted toppers on our local Post Boxes -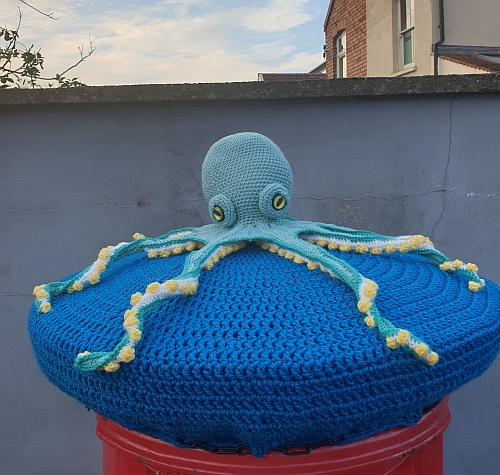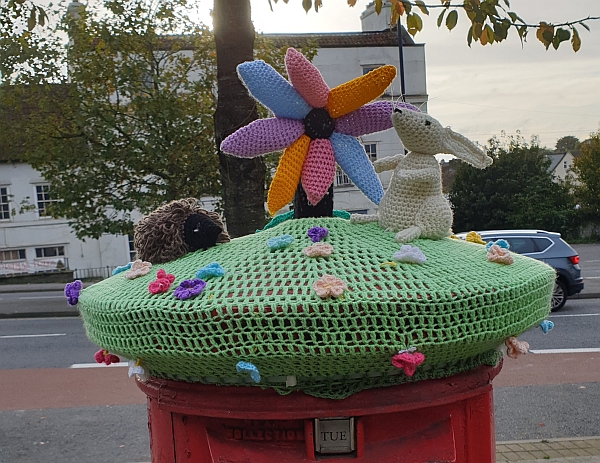 Our solitary pumpkin did us 3 meals!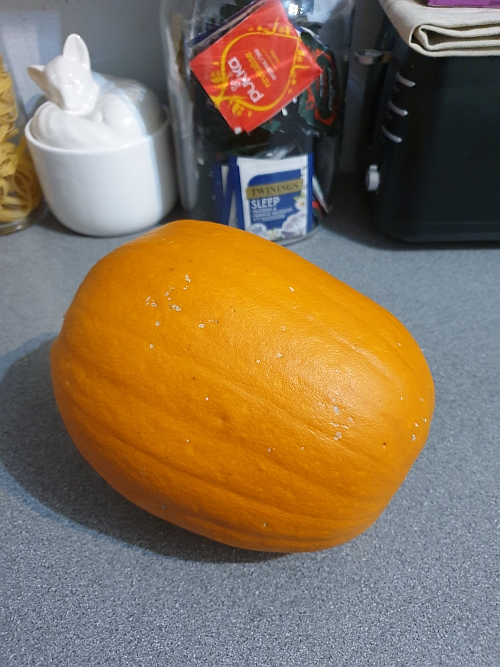 Our last raspberries, picked in November.
Over the last... 20? 30? 40?... years I've picked up a surprising number of rather nice perfume bottles. They get horribly dusty here though, so I found a really good display case for them.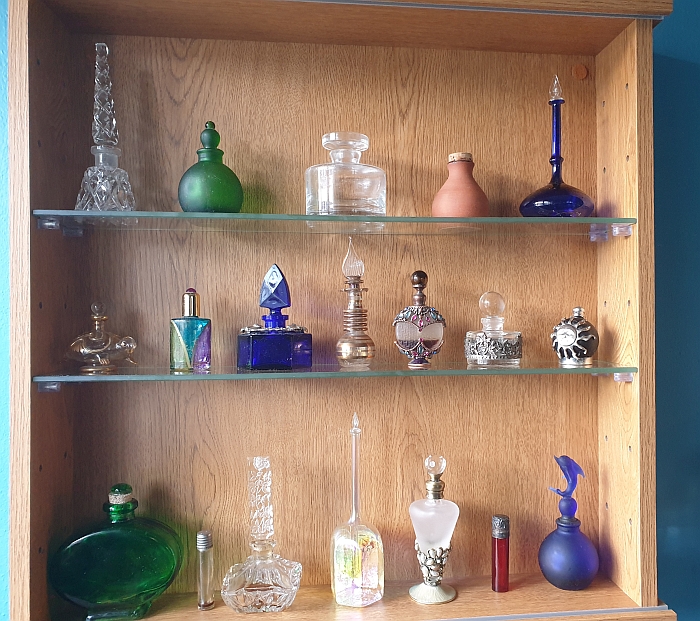 PLEASE NOTE!!! I am NOT collecting perfume bottles, so please don't get me any more!

The garden is beautiful at this time of year.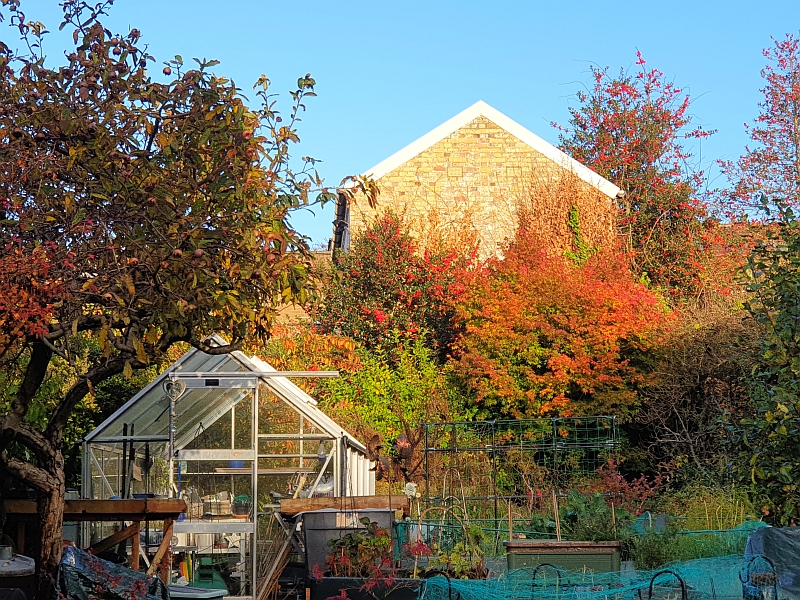 Ella, relaxing.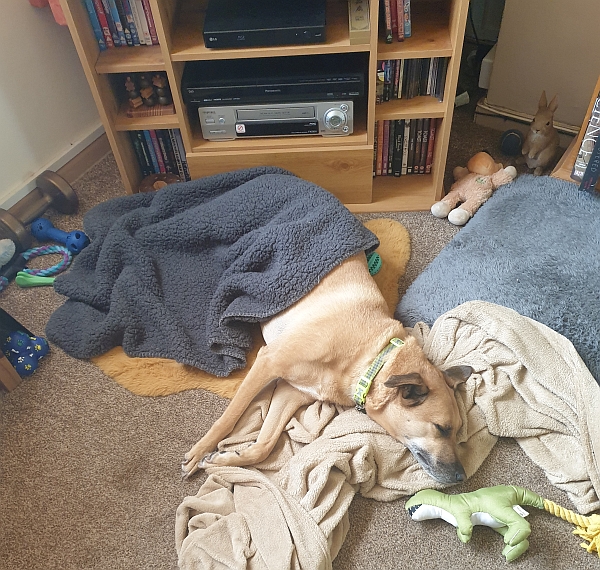 We're now rewatching Jason Bourne films, just for a bit of mindless violent fun (no, that's not really fair, you have to keep your wits about you to make sense of what's going on). Kai and I are planning to rewatch Drawn Together at some point, it's been years and I remember it as being the least PC, raunchy if not downright pornographic cartoon ever. And an awful lot of fun!

Found Warehouse 13 complete series: will be watching that after Yule.

Now looking for the complete series of Sanctuary...

It's our 33rd wedding anniversary this year (22/12/23) and for once we're going out to dinner - 2 pm at the Black Castle, our old regular when we first bought the house. The new tradition is 33rd is amber or iron, so we've gone for amber. Photos later, if they turn out!