Found this. Watched it. Kept saying - it can't get any bigger - can it? And then it did.

... wow...

Watched it again. And again. Had to share...

Best with the soundtrack, but works fine without.

Oh dear... it's getting longer between posts again...

Soooo... starting with medical stuff. I yet again managed to kick the exercise bike support end and I think I fractured a toe. It's taken until now for the bruising to go and to stop hurting (I think I managed to do it just after my last post, but it may have been a couple of weeks before. Time is doing strange things at the moment... No, it was even longer ago: the first time I tried to wear old and comfy trainers was when I went for hair cut, and at that point I thought everything was healed. It wasn't, and wearing them made the problem flare up again.) Anyway, I can now wiggle my toes - to some extent, it's my right foot, the one with the flexor tendinitis and bursitis, because of course it is. Nothing's ever easy 'round 'ere. [sigh] At least I should now be able to wear my driving shoes again (instead of sandals, which is all I've been able to get on for the last 9 weeks...)

Hobbled up to get my hair cut on the 4th! Jeff took my temperature as I arrived - and it was lower than normal. Might have been because it was very cold and pissing down with rain, but anyway... He was in full face visor, I had to wear my mask, so not the most comfortable of experiences, but YAY! My hair is no longer all in my face.

I think I've previously said how much I like Ryan Reynolds as an actor, and how much I love the Deadpool films. Well, I found this and just had to have it. So it's ordered for next year's Yule present... I must be mad. But what the hell. Some people like expensive cars, or jewellery, or clothes, or shoes - I like custom action figures. Sue me, I dares ya!

It's been at least as busy as usual. We're redecorating and reorganing Ken's home office - the bookcases on the far wall are now gone (one in the shed, one broken up - Kai's put the long planks in the loft to act as supports for storage) and the old but sturdy and near perfect work station has gone to a young woman via Nextdoor (free of course.) Half the painting has been done, the new bookshelves put up on the wall, and it all looks cleaner and less cluttered. Still have to buy and put up the curtain rails (and make the curtain - hoping Dunelm has the fabric I want) and generally tidy up a little, but it's much better already. Photos, perhaps, when it's finished (with a couple of before ones - as you know, I photograph everything.)

In the garden... the egg that mysteriously appeared has just as mysteriously vanished...

The paving is coming on well. It's taking time, as Kai can't really work out there when the soil is wet, and it's rained a lot recently, but every little bit done makes it easier to manouevre around the growing section. Should all be done before Yule.

The holly trees around us are doing wonderful things at the moment - so many berries!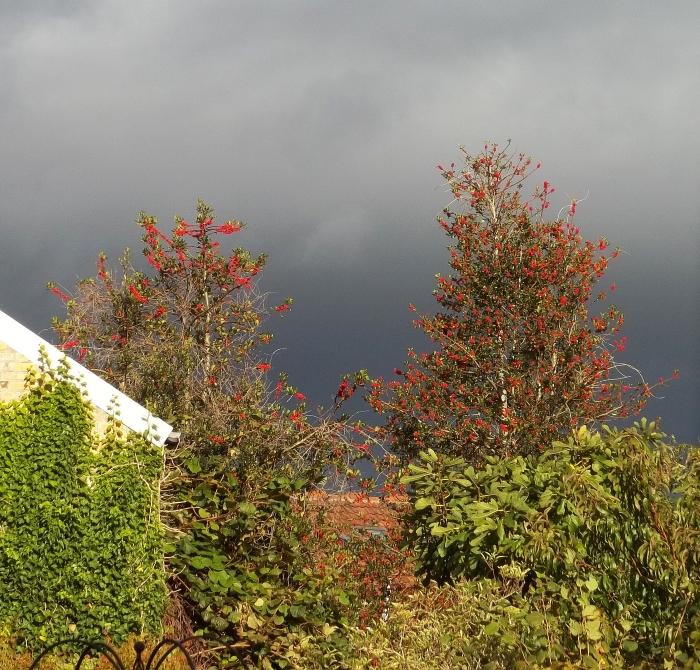 I found this at Tesco for £3 and treated myself...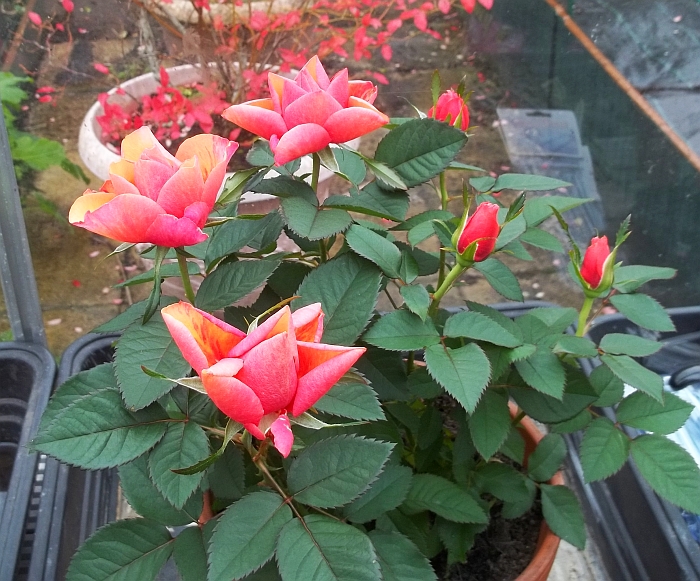 I've not had much success with roses in the past, but the colour of this plant is fabulous, so I'm going to see how it does. It'll stay in the greenhouse until next spring, then move to the patio area: might pick up another couple of different colours to make a pretty display. It smells wonderful.

Thompson and Morgan had a special order on a month or so ago - buy one citrus plant and get another for 1p. I ended up buying one orange, one lemon, and one lime. Always wanted to try citrus fruit, and they'll sit happily in the greenhouse for most of next year (they're on the windowsill in the lounge at the moment with all my succulents and cacti). Fine down to 5&deg according to the instructions, so hopefully will do well. I just wish I had a conservatory for them, but... we'll see how we go.

We have been working through the backlog of things to watch. Now started on Deep Space 9 and enjoying it. I managed to find an English subtitled copy of Deathnote: Light up the NEW World on ebay: it was fun to watch but very confusing. Maybe another one you had to be Japanese to fully understand? Worth a second watch, anyway! Then it was Donnie Darko... whoa! That was... very good, but very complex and quite scary - though not as much as Coraline, which we watched last night. Nightmare fodder, that one. But very very good.

That's all I can think of for now, though no doubt there's more I've forgotten. Now I need to go move planters out of the way so Kai can move the slabs that are going to make a level platform for the telescope and lay a few for my potting bench - currently at the back of the greenhouse, needs to come to the front. The weather's not too bad today, sunny spells and quite nice. There's rain forecast for the rest of the week, so we'll get as much done as we can.
Labels: domesticity, drama, garden, medical matters, YouTube